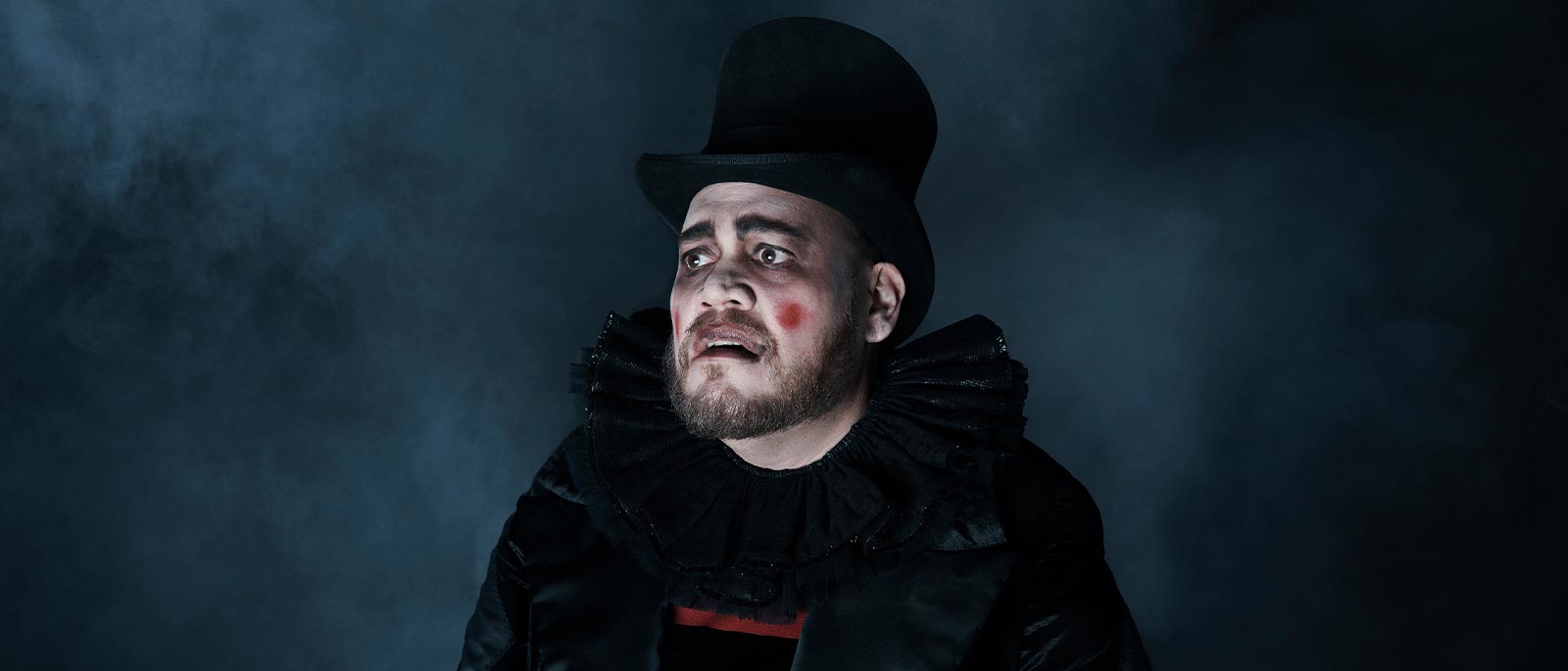 Rigoletto
An opera in three acts, sung in Italian
Music by Giuseppe Verdi
Libretto by Francesco Maria Piave
Based on the play Le Roi s'Amuse by Victor Hugo
First performed March 11, 1851,
at the Teatro La Fenice, Venice
The Story
ACT I Germany, during the era of the Weimar Republic
In the great hall of his lavish palace, the Duke boasts about his luck with the ladies. No woman is off-limits as far as he is concerned, and lately he has taken to flirting with the Countess Ceprano, the wife of one of his best friends. Rigoletto, the court jester, mercilessly teases the Countess's jilted husband. The Duke's courtiers enjoy Rigoletto's jokes, but they do not think of him as a friend. Instead, they cruelly laugh at him behind his back and mock his physical deformities. Ceprano wants to get back at Rigoletto for his insults, so he and his fellow courtiers decide to kidnap the woman they've seen in Rigoletto's apartment, whom they assume to be Rigoletto's mistress. All of a sudden, Monterone, a wealthy nobleman, forces his way into the crowd and accuses the Duke of seducing his daughter. When Rigoletto responds to Monterone's fury with his typical jokes, Monterone curses him, wishing Rigoletto to suffer the same pain and embarrassment he is feeling. The Duke's men arrest Monterone and drag him away.
That night, after the party, Rigoletto thinks about Monterone's curse. A solitary figure introduces himself to Rigoletto: It is Sparafucile, a hitman, who tells Rigoletto he can "make problems disappear." Rigoletto returns home, thinking about Sparafucile's offer.
Rigoletto's home
In fact, the woman who lives in Rigoletto's apartment is not his mistress. She's his daughter, Gilda. Rigoletto is terrified that something will happen to Gilda, so he has asked her to stay home and not venture out. Gilda agrees to this rule, promising that she will leave home only to go to church. What Gilda doesn't tell her father is that she has recently fallen in love with a young man she saw while praying.
The Duke appears at the apartment, and Gilda instantly recognizes him as the young man from the church. He introduces himself as a poor student named Gualtier Maldè (gwahl-tee-YEHR mahl-DEH) and declares his love for Gilda. Unaware that the sensitive young man is actually the cruel Duke in disguise, Gilda is overjoyed.
Meanwhile, the Duke's courtiers have gathered outside Rigoletto's home to kidnap his "mistress." When Rigoletto arrives, they say they are abducting the Countess Ceprano and ask Rigoletto to help. The courtiers blindfold Rigoletto, who holds a ladder for them as they kidnap Gilda. When Rigoletto discovers that his daughter has been taken, he is horrified and heartbroken. He wonders if this tragedy has anything to do with Monterone's curse.
ACT II The Duke's palace
Alone in his chambers, the Duke reflects on his encounter with Gilda and wonders if he might actually love her. Soon his courtiers arrive. They laugh as they tell him how they kidnapped Rigoletto's "mistress" and left her in the Duke's bedroom. The Duke realizes it is Gilda and hurries off to see her. Rigoletto enters, looking for Gilda. When he reveals that she is actually his daughter, the courtiers are surprised. Nevertheless, they refuse to help Rigoletto find her. Soon, Gilda appears, disheveled and deeply traumatized. She tells Rigoletto how the Duke wooed her, and of her abduction by his men. Monterone is brought into the palace to be executed. In the commotion, Rigoletto quietly vows to take revenge on the Duke.
ACT III The outskirts of town
Despite everything that has happened, Gilda still loves the Duke. Rigoletto, by contrast, knows that the Duke is a scoundrel. Wanting Gilda to see what the Duke is really like, Rigoletto brings her to the seedy inn where Sparafucile lives with his sister, Maddalena. They watch through a window as the Duke shamelessly flirts with Maddalena. Gilda is heartbroken. Rigoletto begs his daughter to disguise herself in men's clothing and leave town, saying it is no longer safe for her to remain. After she leaves, Rigoletto hires Sparafucile to murder the Duke. He grimly looks forward to dumping the Duke's dead body in the river.
As storm clouds gather in the night sky, Gilda, worried for the Duke's safety, returns to the inn. From outside, she overhears Maddalena urging her brother to spare the Duke and kill Rigoletto instead. Sparafucile refuses to kill Rigoletto, but he says that if he can find another body to give Rigoletto in the Duke's place, he will save the Duke's life. Gilda decides that she will sacrifice herself to provide the body Sparafucile needs. Disguised as a man, she knocks on the door and says she is a traveler looking for shelter from the storm. Sparafucile stabs Gilda and ties up her body in a bag for Rigoletto to collect. When Rigoletto arrives, he naturally assumes that the limp body in the bag is the Duke's. He gloats over his revenge … until he hears the Duke singing inside the inn. Horror-stricken, Rigoletto opens the bag to find his own daughter, fatally wounded. Gilda asks her father to forgive her and the Duke, then dies in his arms. Mad with grief, Rigoletto declares that Monterone's curse has come true.
The Source
The play Le Roi s'Amuse by Victor Hugo
The novels, plays, and short stories of French writer Victor Hugo are inseparable from the politics of his day. Born in 1802, Hugo lived through a dizzying series of revolutions and political upheavals in France. He would also endure a 19-year exile for his political views. Hugo was a staunch liberal dedicated to a secular, democratic, egalitarian France, an ideal which is readily discernible his novels The Hunchback of Notre Dame (a tale of love and redemption set amidst the cruelties of the medieval inquisition) and Les Misérables (in which a merciless police inspector tenaciously pursues a reformed convict while young revolutionaries find love and death on the Parisian barricades). Le Roi s'Amuse (The King Amuses Himself) is less well known than Hugo's epic novels, yet it, too, clearly reflects Hugo's political leanings, featuring a villainous king so deeply corrupted by his own power that he will stop at nothing to get what he wants. The play premiered in 1832, two years after the overthrow of the absolutist Bourbon monarchy and the establishment of a constitutional monarchy in France. Yet even the new, relatively liberal government found Hugo's depraved king to be an unforgivable insult to the throne, and the play was banned the morning after its premiere. Hugo fought hard to have the ban lifted, but to no avail; Le Roi s'Amuse would not be performed again for 50 years.
Fortunately, the ban on performances of Hugo's play did not extend to its dissemination in published form, and Le Roi s'Amuse—its popularity bolstered, no doubt, by its notoriety—enjoyed relatively wide distribution. One of the many readers impressed by this irresistibly gritty drama was Giuseppe Verdi, who in 1850 called it "the greatest story of modern times." Unfortunately, the censors in Venice, where the new opera was scheduled to be performed, were less enthusiastic about Hugo's work. Citing the "disgusting immorality" of the plot, they threatened to ban Verdi's opera unless the story were rewritten to cast the Duke in a more favorable light. Verdi responded that he would rather scrap the project entirely than adopt such an illogical adaptation: Without the Duke's tyrannical absolutism and unrepentant lasciviousness, Gilda's rape and Rigoletto's ill-fated revenge would make no sense. The Venetian censors finally backed down. Rigoletto went forward as planned, and the result is now one of the most iconic operas of all time.