School Spirit
IN PREPARATION
For this activity, students will need the reproducible handouts entitled School Spirit, a sheet of staff paper, and the audio tracks.

CURRICULAR CONNECTIONS
Music History, Music Theory, Chorus, Orchestra, Band

LEARNING OBJECTIVES
To familiarize students with the music and story of Porgy and Bess
To deepen students' understanding of spirituals, blues, and jazz
To develop students' music and performance skills through guided improvisation activities

COMMON CORE STANDARDS
This activity directly supports the following ELA-Literacy Common Core Strands:
CCSS.ELA-Literacy.RL.7.9
Compare and contrast a fictional portrayal of a time, place, or character and a historical account of the same period as a means of understanding how authors of fiction use or alter history.
CCSS.ELA-Literacy.RL.8-12.11
Interpret, analyze, and evaluate narratives, poetry, and drama artistically and ethically by making connections to: other texts, ideas, cultural perspectives, eras, personal events, and situations.
---
Introduction
The score of Porgy and Bess, like the great American melting pot itself, is made up of numerous influences and elements. Jazz rhythms, musicalized street sounds, the hummable melodies of popular song, the emotional stance of the blues, and many more characteristics are brought together to form Gershwin's distinctly American style. But it is the African American spiritual that contributes one of Porgy and Bess's most distinctive musical characteristics. Gershwin's respect and care for this genre is clear through his treatment of it in the opera score, particularly in moments of great emotion and solemnity; it is also evidenced by the time he spent studying Gullah music off the coast of Charleston while composing the opera.
Through a series of close listening exercises and a structured improvisation game, this activity will introduce students to two of Gershwin's spiritual-inspired songs, as well as some of the attributes of Gullah music more generally. By completing this activity, students will deepen their knowledge of Porgy and Bess's story and music, learn about a crucial genre of American folk music, and develop the confidence to perform in front of a group of their peers. Students will:
Listen to excerpts from spirituals recorded in a Gullah community in South Carolina and develop a working knowledge of this musical genre
Analyze how Gershwin adopted and approximated elements of the spiritual style in Porgy and Bess
Learn about a common spiritual structure ("call and response")
Develop an improvised spiritual
Steps
Students will begin their study of the African American spiritual by listening to music from the Gullah community, the community in coastal South Carolina whose music and traditions inspired both DuBose Heyward's novel Porgy and Gershwin's opera. They will then turn to a selection of excerpts from Porgy and Bess, finding points of similarity and difference between the true Gullah spirituals and Gershwin's approximations thereof. Finally, the class will participate in a group improvisation, drawing on the knowledge they have developed and their own personal experiences to perform a new composition.
Several of the musical terms referenced in this activity are included in the Ten Essential Musical Terms. You may want to review these terms with your class before beginning the exercise, using your voice or musical instruments as necessary to illustrate the ideas and techniques described. Alternatively, you may prefer to discuss the terms as they occur over the course of the activity.
Step 1
Begin the class with a brief introduction to Porgy and Bess. Explain to students that the opera is set in Charleston, South Carolina, in the 1920s, and that it portrays a group of African Americans and their loves, losses, and challenges. The chorus plays a particularly important role in this opera, responding to and commenting on the action through song. Also explain that a vital aspect of Gershwin's music is its usage of styles borrowed from the African American spiritual.
As a class, discuss students' prior understanding of and experience with spirituals. Can students think of any examples? (Students may be most familiar with "We Shall Overcome" or other freedom songs of the Civil Rights Movement.) If students are unfamiliar with the term, you may wish to take a step back and ask them to discuss what the adjective "spiritual" means and then, based on their responses, guide them toward a definition of the spiritual as a musical genre.
Finally, explain that the spiritual holds a highly esteemed position in African American heritage and has been used as a means of demonstrating black American cultural achievement as well as responding to the long history of racial oppression in America.
Step 2
Let students know that, whilc composing Porgy and Bess, George Gershwin spent five weeks in the Sea Islands of South Carolina, where he learned about the local Gullah culture, attended prayer meetings, and studied the inhabitants' performance of spirituals. To delve further into this rich heritage, we will now listen to two recordings of Gullah spirituals, provided on Tracks 1 and 2. Distribute the reproducible handouts and ask students to jot down their impressions of what they hear, using the space provided. Draw students' attention to the text, the distribution of the voices, and any pitches or scales they can discern. As students are able, they should incorporate musical terminology from the Ten Essential Musical Terms into their written observations.


Track 1 | "Lay Down Body"
Performed by Mrs. Bertha Smith (lead) in Moving Star Hall
Each line of the text alternates between a solo singer and the full group, an excellent example of "call and response" structure. The text for the full group remains the same throughout ("Lay down a little while"). The singers employ many blue notes (on the third, fifth, and seventh scale degrees; note the particularly expressive bending on the fifth scale degree), but the range is narrow, and all pitches in the melody are drawn from a small collection of notes. The performers keep time by stomping along to the beat. Although simple, the text expresses a desire for rest for a body worn down by hardship.
Track 2 | "Been in the Storm So Long"
Performed by Mrs. Mary Pinckney in her living room
The voice enters in a rhythmically free style, ornamenting and bending notes. The range is narrow, and the melody is drawn from a blues scale. The text is a reflection on hardship and weariness.


After listening to both excerpts, invite students to share their observations. What are some attributes that these spirituals have in common? You may want to list some of the characteristics students have identified on the board.
Step 3
Now let's turn to Gershwin's music. Although many of the songs from Porgy and Bess are widely known (such as "Summertime," "I Loves You, Porgy," and "It Ain't Necessarily So"), the excerpts featured in this exercise are less frequently performed outside of the opera and will thus be less familiar. Have students turn to the next section of the reproducible handout, which contains the texts for the excerpts from Porgy and Bess presented in Tracks 3 and 4. As they listen, students should make notes on the characteristics these excerpts have in common with the Gullah spirituals they studied in the previous step.

Track 3 | "Where Is Brother Robbins?"
After a fully orchestrated introduction, a solo voice enters in a rhythmically free style, accompanied by a much thinner texture with a sustained drone. The chorus responds in a call and response style. Solo voices alternate with the repeating responses of the choir, set to the unchanging text of "He's a-gone, gone, gone, gone, gone, gone, gone." The melody includes blue notes—namely, lowered seventh and third scale degrees. This text presents the loss felt by the community at the death of one of their own.
Track 4 | "Oh, Doctor Jesus"
The solo voice proceeds in a rhythmically free, speech-like style, accompanied only by a sustained chord. At the ends of Serena's phrases, other voices enter in a call and response style. Their lines repeat some melodic material and also include spoken interjections. The melody uses a number of blue notes (on the third, fifth, and seventh scale degrees); the singer also uses additional bending of pitch for expressive purposes. The text is a prayerful entreaty for healing and delivery from hardship.


Referring back to the list of characteristics of spirituals on the board as well as their notes, students can now draw conclusions about how Gershwin approximated the style of spirituals in his music. How are Gershwin's operatic spirituals different from the Gullah spirituals?
Step 4
We will now begin practicing some elements of improvisation, using a common characteristic of spirituals (and a feature of several of the examples above): call and response. Remind students that in call and response, different groups seem to respond to one another as they sing consecutive lines of music.
Begin by having students explore rhythm alone. If space allows, have students stand in a large circle. Start with a basic 4/4 meter and have the class clap a pattern of four quarter notes. Repeat this several times so that students are able to internalize the meter. Next, let students know that each of them will be asked to fill in a measure (four claps) with an improvised rhythm. It can be any combination of quarter notes, half notes, eighth notes, triplets, dotted rhythms, or syncopation—or any combination of the above—as long as their rhythms fill a complete measure.
Give students a moment to think about the possibilities, then explain how the exercise will work. The entire class will clap a "response" of two plain measures of four quarter notes. In the second measure, you will identify the student who will improvise a call. (Bonus points if you recite the student's name rhythmically within the space of the measure—for instance, "Next is James!" could be chanted to the rhythm of two quarters and a half note.) After you announce the responder, the class will drop out for a measure while that student performs their rhythmic improvisation. Immediately upon completion, the class should resume clapping quarter notes. The goal is to achieve seamless transitions between group and improviser, so that a regular beat is never disrupted. Cycle through the entire class so that everyone has a chance to perform their improvised measure.
Step 5
Next, we will use a similar format to improvise melodic material. The structure we will be working within is a variation of a blues scale—namely, the version Gershwin uses in "Oh, Doctor Jesus" (transposed to a range more comfortable for the student voice). On the board, write out the following scale:

Point out that the scale includes several blue notes: a lowered third, a lowered fifth (in additional to the perfect fifth), and a lowered seventh. Play the scale on the piano several times, then have students vocalize it on a neutral syllable or play it on their instruments. Repeat this several times. After several iterations, play a D-A drone on the piano: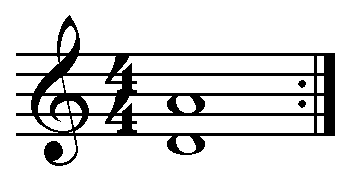 Next, divide the class in half. Have one part of the class sing or play the drone while the other half plays the blues scale, then switch parts and repeat.
Before proceeding, explain how the exercise will work. Operating within the context of the same 4/4 meter from Step 4, each student will have a chance to improvise a melodic pattern drawn from any of the notes in the blues scale, in any order. It may proceed by step or interval. Each improvisation should be one measure long and may use any rhythm, including straight quarter notes if students prefer. Each performance (or "call") will alternate with two-measure-long group "responses" of the drone. During the second measure, you will identify the next student to perform. Make sure that the scale is visible on the board. At various points over the course of the exercise, be sure to reassure students that there are no wrong creations; it doesn't have to be perfect, and no one will laugh.
Step 6
We will now bring all the elements of the preceding steps together to construct a new spiritual. Explain to students that in the next step of the activity, they will perform a spiritual-style improvised call and response with pitch, rhythm, and words. Ask students to think back to the structure of "Lay Down Body" and Gershwin's "Where Is Brother Robbins?," in which a soloist alternates lines with the full chorus. Let them know that in our piece, each student will perform their own "call," and the whole group will answer with a "response," which will be the same each time. While students are performing their individual calls, the rest of the group will hum along with a drone to help maintain the pitch centers.
Remind students of the earnest and plaintive tone of the spirituals we've studied, in which the singer laments the difficulties of life—a common feature of both spirituals and the blues. Ask students to be respectful of that heritage as they brainstorm the text they will sing in their calls. They will have two measures to sing a brief line describing something they find a hardship, difficult, or sad. Give students a minute to collect their thoughts; they may like to write down their text as well as some sketches on how they will rhythmicize this text and add pitch.
After students have made their notes, move on to composing the response. For this repeating section, specify that you will use "Yes, it's hard, hard, hard, hard, hard" as the text. As a group, develop a rhythm that accommodates all of these words within the space of two measures, using an upbeat for "Yes, it's." Notate your rhythm on the board, and have students write the notation down on their own staff papers as well. You might develop something like the following:

Or, you might incorporate a greater degree of rhythmic complexity, with dotted rhythms and syncopation in a more jazz-influenced style, such as in the following:
Next, beginning with your rhythm, use the same process of group decision-making to develop a melody using the blues scale from Step 5 above. Make sure your melody ends on the first scale degree. Your result could be as simple as this:

Or it could look more like this:
For more advanced classes, you could even add a simple harmony:

Give students time to notate the result of the group composition on their own staff paper, then lead the class in performing the response. Divide the class into parts if necessary, then practice the response until everyone is comfortable with the music.
Take a moment to explain the performance process. The improvisatory performance will begin with the entire class humming the drone for two full measures. During this time, you will identify the first student to sing his or her "call." The rest of the class will continue humming while the soloist performs. At the end of the second measure, the entire group will enter with the "response"—keeping in mind that it enters on an upbeat. At the close of the response, the class will once again hum the drone for a measure. During that time, you will announce the next student to sing a "call," and so on, until each student has had a chance to perform their call. It will likely be helpful for you to keep everyone on track by conducting, clearly indicating the downbeat and other entrances. A sample of this process is notated below.
Follow-Up
The practice of improvisation can feel alien and uncomfortable. Reassure students that overcoming their fear and making daring choices are an integral part of artistic expression: Everyone has to do it! Congratulate students on their work in the lesson and thank them for sharing not only their improvisatory musical choices but also their personal experiences in their choice of text.
As a follow-up activity, encourage students to take notice of their sound environments. What are the pitches or rhythms that they encounter in their everyday lives, either through music or the ambient sounds that surround them? Ask students to repeat and internalize some of those sounds, and then use them as the basis for free improvisation.