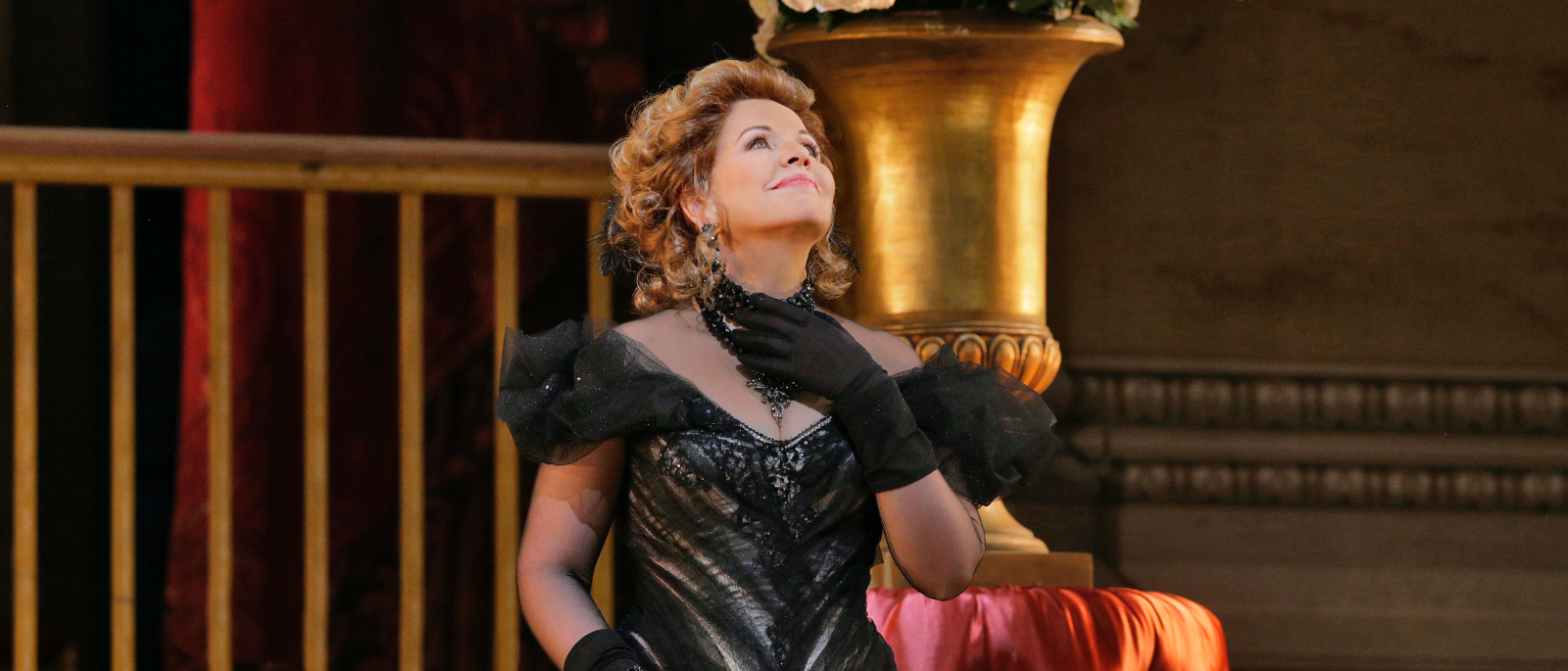 The Merry Widow
Your wealthy husband just died, leaving you piles of money. The Pontevedrian ambassador in Paris wants to be your matchmaker. And your old boyfriend just appeared out of nowhere. What's a girl to do? Such is the conundrum facing Hanna Glawari, the "merry widow" at the heart of Franz Lehár's effervescent operetta. Based on a French play from the mid-19th century, The Merry Widow is one of the most successful romances ever written for the operatic stage, a delightful concoction of elegant romance, screwball comedy, and biting social critique, all wrapped up in infinitely hummable melodies and unforgettable dance tunes.
In director Susan Stroman's hands, The Merry Widow is also a story of self-discovery, as its title heroine endeavors to make sense of her changing social status. A woman raised in the Pontevedrian countryside and now comfortably ensconced in the richest echelons of Parisian society, Hanna has learned to navigate a country and culture not her own. Yet in a broader sense, too, Hanna occupies a sphere few women in the 19th century would have had the opportunity to enter: that of financial and social independence. Wily, resourceful, and savvy enough to surmount both romantic mishaps and diplomatic entanglements, Hanna is a woman unwilling to let societal expectations dampen her joie-de-vivre. And she's strong, smart, and has grace in spades, ably emerging from her fellow Pontevedrians' madcap schemes with her fortune, her independence, and her heart still very much intact.
This guide invites students to examine the world of The Merry Widow through Hanna's eyes. More than simply serving up laughs, Lehár's work unveils many of the social and legal challenges that women have faced for centuries. As Hanna dances her way through the halls of the Pontevedrian embassy, students may enjoy exploring the broader socio-political landscape in which a woman like Hanna would have lived. The following pages include a selection of both primary and secondary sources that will serve as a road map to this 19th-century world. By engaging with Lehár's operetta as a socio-historical document, students may find a deeper understanding of contemporary works of music, literature, and art that they know. Yet above all, The Merry Widow is meant to be enjoyed, and this guide aims to help students come away from it with a sense of joy—and a sense of appreciation for the work's clever comedy, tender romance, and enduring charm.