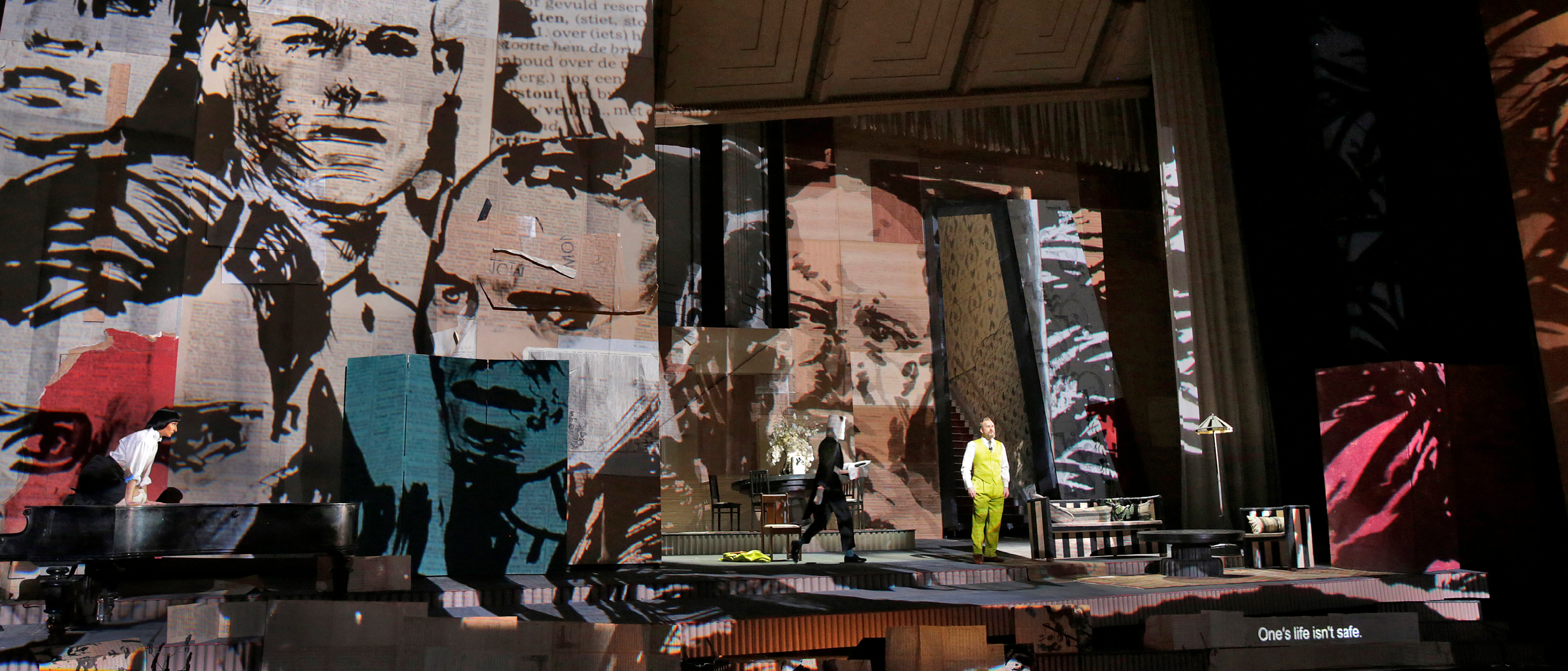 Lulu
An opera in a prologue and three acts, sung in German
Music by Alban Berg
Libretto by the composer
Based on the plays Earth Spirit and Pandora's Box by Frank Wedekind
The Story
PROLOGUE
An animal trainer in a circus introduces his many exotic animals. He presents Lulu, the star of his collection, as "the snake."
ACT I
Lulu is sitting for a portrait. The painting session is initially observed by Dr. Schön, a wealthy newspaper publisher with whom Lulu is having an affair, but after Dr. Schön leaves, the Painter tries to seduce Lulu. Just then, Lulu's husband, the Physician, is heard at the door. Forcing his way into the room, he sees the Painter making a pass at his wife, collapses from shock, and dies. Lulu, who is strangely unmoved by what has just happened, realizes she is a rich widow. The Painter wonders what her future will hold.
Lulu and the Painter have married. She is surprised to learn that her former lover Schön has become engaged. The Painter leaves, and Schigolch enters. Schigolch, an old man, clearly has a long history with Lulu: It is implied that he may be her father or her former lover, although their true relationship is never made clear. In any case, what he wants from Lulu now is money. She agrees to pay him.
As Schigolch leaves, Schön arrives. Schön, who years before found Lulu as a waif and paid for her upbringing and education, has kept her as his mistress, but now he wants her out of his life so that he can marry another woman. When the Painter returns, Schön tells him about Lulu's past. Horrified, the Painter kills himself by cutting his own throat. Schön, seeking to avoid a scandal, calls the police. He is shocked by Lulu's cold reaction to her husband's suicide. Lulu, as shrewd and calculating as ever, says that Schön must marry her or risk losing everything.
Sometime later, Lulu is appearing in a ballet composed by Schön's son, Alwa. In her dressing room, she tells Alwa of her latest admirer, the Prince, who wants to take her away to be his wife. After Lulu has gone on stage, the Prince appears and talks to Alwa of his love for her. Suddenly Lulu storms back in: She has seen Schön in the audience with his fiancée, and she refuses to dance for the new woman. Schön soon enters the dressing room and demands to be left alone with Lulu. He begs her to stop standing in the way of his marriage, but when she mentions her plans to marry the Prince, he realizes that he is incapable of letting her go. Following Lulu's directions, he writes a letter to his fiancée, breaking off the engagement.
ACT II
Schön and Lulu, now married, live in a luxurious home, but she continues to attract admirers. Among them is the lesbian Countess Geschwitz, who has just invited Lulu to a ball for women artists. Schön regrets that he must now engage with a social circle that he considers beneath him, and he leaves. Schigolch, an Acrobat, and a Schoolboy appear. All three declare their love for Lulu, but they hide when Alwa enters. Alwa assumes that he is alone with Lulu, and he also declares his love. Meanwhile, Schön has returned unnoticed and observes the scene. He drives his son away and hands Lulu a revolver, demanding that she shoot herself to protect his reputation. The Acrobat runs from the room, and Schön, searching everywhere, discovers the Countess and locks her in an adjoining room. Lulu justifies herself, declaring that she has never pretended to be anything but what she is. Raging, Schön forces her to her knees, but the Schoolboy's cries for help distract him. Lulu fires five shots into her husband's back. Alwa rushes in, and Lulu throws herself at his feet, begging him not to turn her over to the police.
An orchestral interlude depicts Lulu's arrest, murder trial, imprisonment, illness with cholera, commitment to the hospital, and the plans for her escape: The Countess, who has allowed herself to be infected with the same disease, is to take Lulu's place in the hospital.
Alwa, together with the Countess and the Acrobat, awaits Lulu's return to Schön's former apartment. When she arrives on Schigolch's arm, the Acrobat is appalled by her wasted appearance and leaves, threatening to betray her to the police. Alone with Lulu, Alwa again proclaims his love and agrees to go to Paris with her.
ACT III
The Acrobat proposes a toast in honor of Lulu's birthday to a crowd assembled in Alwa's Paris mansion. Several of the men present have invested in the Jungfrau Cable Railway and question a banker about their prospects. The Marquis, threatening to reveal Lulu to the police as Schön's murderer, tries to blackmail her into working in a brothel, but she defies him. Everyone has been winning at cards, and the Jungfrau shares are booming. When the crowd has gone to dinner, the Acrobat also tries to blackmail Lulu. Next, Schigolch appears, asking her for money. Lulu breaks into tears. She and Schigolch hatch a plan to dispose of the Acrobat: They will make him believe that the Countess is in love with him then persuade the Countess to take him to Schigolch's lodgings, where he will be killed. There is an uproar as the news spreads that the Jungfrau shares have collapsed—everyone is ruined. In the general confusion, Lulu escapes, just as the Marquis arrives with the police.
In a shabby garret in London, Schigolch and Alwa, now syphilitic and homeless, await Lulu's return from her first night as a prostitute. They hide when she enters with a client, the Professor, who remains silent throughout the proceedings. After his departure, the now destitute Countess appears, bringing with her Lulu's portrait. Lulu and her three admirers contemplate its beauty and consider how their lives have changed since it was painted. Lulu goes into the street again, followed by the Countess, while Alwa, alone with Schigolch, reflects on the mess he has made of his life. The men hide again when Lulu returns with another client, an African Prince. In a clumsy attempt to protect Lulu, Alwa attacks the Prince, who smashes his opponent's skull and leaves. Lulu, in despair, rushes out into the street once more. Schigolch drags Alwa's body out of sight and disappears. The Countess returns. Gazing at Lulu's portrait, she considers suicide, but her thoughts are interrupted by Lulu's arrival with yet another customer, Jack the Ripper. Lulu asks Jack to stay the night. They argue about money, and then she leads him into her room. The Countess remains behind, still contemplating the portrait. Suddenly Lulu is heard screaming as Jack stabs her. The Countess rushes to her aid, but Jack stabs her as well. He washes his hands and leaves as the dying Countess cries out for Lulu.
The Source
The plays Earth Spirit and Pandora's Box by Frank Wedekind

One of a small number of opera composers who wrote their own librettos, Berg drew from two plays by German playwright Frank Wedekind when crafting the text for Lulu. A controversial figure, Wedekind used his writing to attack what he saw as the hypocritical morality of turn-of-the-century society. For instance, his first major play, Spring Awakening (1891), features rape, a well-meaning but ill-advised attempt by the victim's mother to cover up the resulting pregnancy, and the horrible death of the teenaged girl after a botched abortion.
Wedekind's unsparing social critique is similarly apparent in Earth Spirit (1895) and Pandora's Box (1904), his so-called "Lulu" plays. The enigmatic central character of this dramatic diptych is defined by her dangerous and unrestrained sexuality: In classic femme-fatale fashion, Lulu unapologetically uses sex to control those around her. Yet Wedekind also makes clear how Lulu's upbringing—her impoverished childhood, her "protection" by the predatory Dr. Schön—have taught her to harness her sexuality for her own survival. Lulu may be guilty of blackmail and murder, but ultimately it is capitalist cronyism and the jockeying of men for money, power, and her attentions that lead to Lulu's lupanarian demise. As the Viennese critic Karl Kraus observed, "Lulu became the destroyer of all because she was destroyed by all."
The frank discussion of social taboos in Wedekind's works often attracted the notice of state authorities and censors and even led to his brief imprisonment in 1899. Nevertheless, his work did find a number of admirers in Vienna's artistic circles, including the young composer Alban Berg. In 1905, Berg attended a private performance of Pandora's Box hosted by Kraus, with Wedekind himself playing Jack the Ripper and Wedekind's future wife, Tilly, playing Lulu.
---
Critical Inquiry
Frank Wedekind's works are part of a long list of books, plays, movies, and even songs that have been censored or banned. What do you think of censoring books? Are there some kinds of books that should be banned? Why or why not?