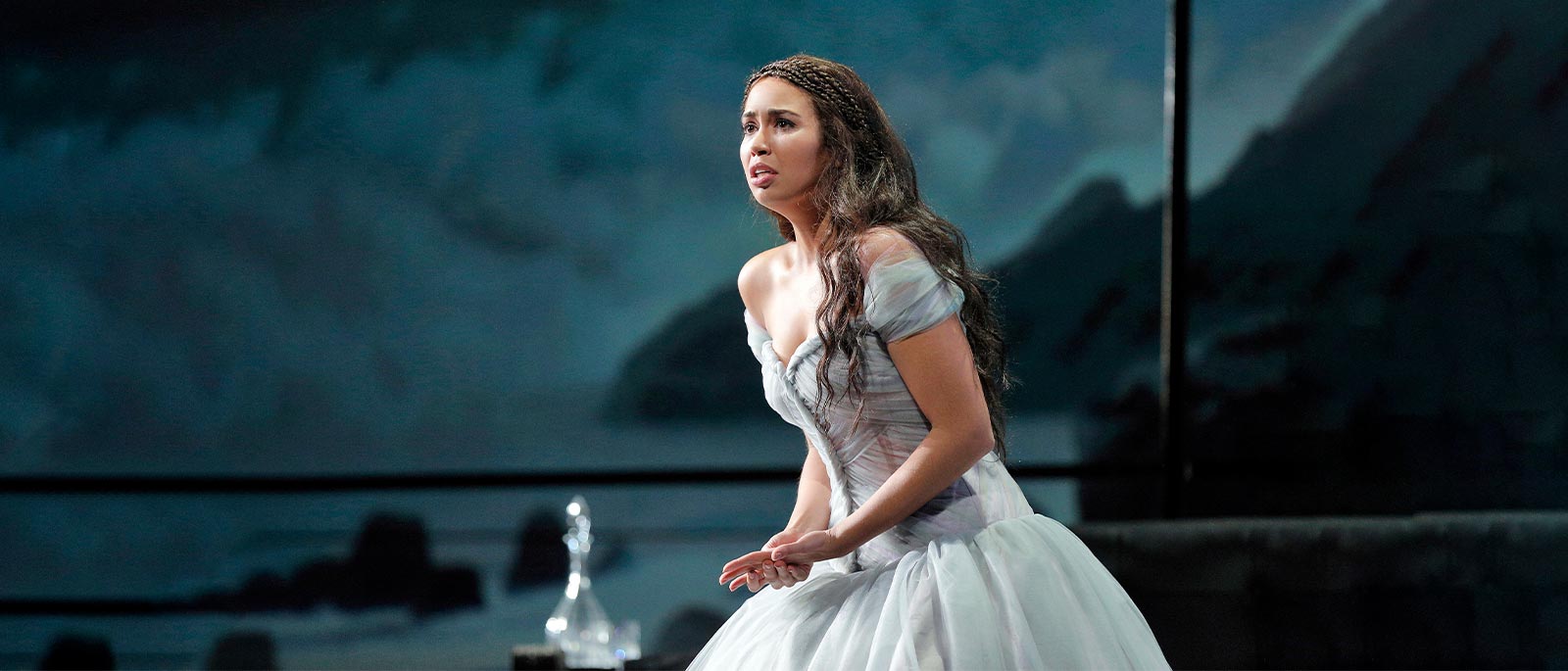 Lucia di Lammermoor
Murder, madness, and a blood-spattered bride: For more than 200 years, the spine-tingling story of Lucia di Lammermoor has left audiences shivering with delight. In 1819, Sir Walter Scott published a novel about an ill-fated maid from the Lammermoor hills. Loosely based on a real-life murder that scandalized 17th-century Scotland, Scott's novel was grisly, gory, and one of the most popular books of its day. Emotionally raw and irresistibly morbid, the story soon made its way across Europe; a Danish musical based on the novel even featured a libretto by Hans Christian Andersen! Yet it was Gaetano Donizetti and Salvadore Cammarano—two of Italy's brightest operatic stars—who in 1835 gave Lucia her immortal voice.
Simon Stone's new production for the Met transposes Scott's story to the contemporary American Rust Belt, where the economic struggles of the working class are deepened by drug addiction, misogyny, and patriarchal abuse. In this decaying environment, Donizetti's Lucia emerges as a lost outsider. "She moves through that world but feels no connection to it," Stone explains, "and feels disgusted by the principles and the priorities of those around her." Lucia's madness is tied up with her addiction and with the abuse she suffers, and her famed mad scene is augmented by Stone's unconventional use of video montage: Alongside the main narrative unfolding on stage, video footage displays Lucia's subjective experiences, helping the audience follow her psychological journey. The unforgettable story of passion, vengeance, and familial loyalty, in which heartbreaking drama blends seamlessly with breathtaking vocal acrobatics, takes on additional contemporary resonance when Lucia and Eduardo communicate using social media like Facebook. Yet this new multilayered production remains connected to the chills of the plot and the virtuosity of the soprano—the elements that have always been responsible for Lucia di Lammermoor's status as one of the most popular and thrilling operas of all time.
Even though the Met's new production separates the story from both its original 17th-century setting and Donizetti's own 19th-century time period, it is worth exploring the medical, technological, and musical advances that marked the 1800s and heavily influenced the composer. This guide thus invites students to delve into the 19th century, considering how Lucia's experiences reflect both the scientific developments and the social structures of the day. At the same time, it asks students to view Lucia's story through a more modern lens, drawing on their understanding of psychology, gender roles, and even urban legends to analyze, evaluate, and sympathize with this great opera and its heroine's plight.