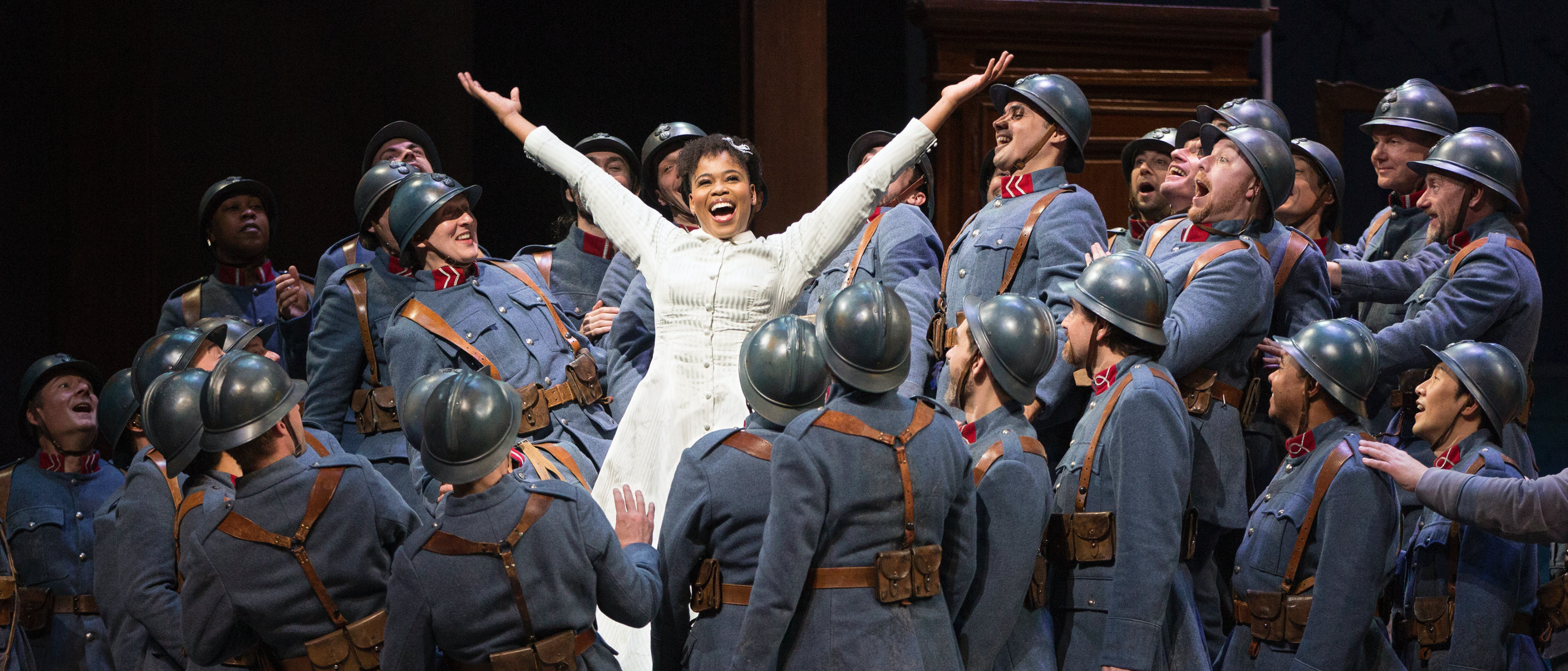 La Fille du Régiment
An opera in two acts, sung in French
Music by Gaetano Donizetti
Libretto by Jules-Henri Vernoy de Saint-Georges and Jean-François- Alfred Bayard
The Story
ACT I Tyrol, a small yet patriotic region in the Austrian Alps.
As a French regiment marches on a small Tyrolean town, the terrified villagers pray to the Virgin Mary for protection. Armed only with pitchforks and hoes, they fear their humble defenses will be no match for the French army. Joining the villagers in prayer is the Marquise of Berkenfield, a noblewoman traveling to her country estate. Although the Marquise is frightened by the battle, she is more concerned about the inconvenient delay the war has caused her. When news arrives that the French have halted their attack, the villagers are surprised but relieved. The Marquise orders her butler, Hortensius, to scout a safe passage for their journey onward. Leaving the village, Hortensius runs into Sulpice, the friendly sergeant of the 21st French regiment, which is camped in a field nearby.
Meanwhile, in the soldiers' camp, a young woman cleans a huge pile of laundry. It is Marie, the "daughter of the regiment." Abandoned on a battlefield as a baby, she was found and raised by the soldiers of the 21st. She proudly thinks of herself as a soldier like her "fathers," but her allegiance to the French regiment has not kept her from striking up a friendship with a young Tyrolean named Tonio. Sulpice has heard rumors about Marie's budding romance. He sternly reminds her the French are at war with Tyrol—and thus any Tyrolean is an enemy. When some of the soldiers find Tonio lurking near their camp and accuse him of being a spy, Marie rushes to his defense. She says that Tonio saved her from falling off a cliff while she was picking flowers one day. The good-natured soldiers agree that anyone who saved Marie's life must be a friend after all, and they invite Tonio to drink a toast to France. Tonio is torn: As a proud Tyrolean, he hates the French invaders. On the other hand, being friendly with the regiment means he can visit Marie whenever he likes. When Marie sings the regiment's theme song, Tonio happily joins in.
Later that evening, Marie sits by herself peeling potatoes. Tonio enters and tells Marie he loves her. Marie says she loves him, too. Sulpice, however, is furious when he discovers Marie kissing the Tyrolean villager. He reminds Marie that she promised to marry one of the regiment's soldiers. Marie declares she'd rather remain single forever. Tonio says he will simply ask one of Marie's "other fathers" for permission to marry her, and Sulpice threatens to have Tonio shot for treason. Their argument is interrupted by the arrival of the Marquise, who asks Sulpice to escort her to Château Berkenfield, her country estate. When Sulpice hears the name, he recognizes it from a letter he found with the infant Marie, signed by a "Robert Berkenfield." The Marquise is overjoyed. She declares that Robert was her sister's husband and Marie is her long-lost niece. Tonio enters, dressed in a French army uniform. He has joined the regiment, and Marie can now marry him without breaking her promise to marry one of the soldiers. But when the Marquise announces that she is taking Marie to her new home at Château Berkenfield, Marie must bid a tearful farewell to both the man she loves and the only family she has ever known.
ACT II Château Berkenfield, the day of Marie's wedding.
Meanwhile, the Marquise has a secret: Marie is not her niece. In fact, the Marquise never had a sister at all, and the "Robert" who signed the letter found with Marie was the Marquise's boyfriend. In other words, Marie is the Marquise's own daughter. Forced to abandon the baby, the Marquise never lost hope that they would one day be reunited. Unfortunately, since Marie was born out of wedlock, she has no right to the Berkenfield fortune. Thus, the Marquise has arranged for her to marry the nephew of the phenomenally wealthy Duchess of Krakenthorp. She knows Marie does not love the young Duke, but the marriage will ensure Marie's wealth and social standing.
Marie enters the parlor for her singing lesson. She is surly and frustrated by the Marquise's constant demand that she "act like a lady," and the desperate Marquise has called Sulpice to the castle in the hope that he can convince Marie to behave. When Marie sees Sulpice, however, she can't resist saucily peppering the elegant French love song she is supposed to be singing with melodies from the regiment's theme. Frustrated by the constant interruptions, the Marquise storms out.
Left alone, Marie recalls her happy childhood. She would gladly give up her new wealth and jewels to return to her life as a soldier. Hearing the regiment's theme song in the distance, Marie realizes that her "fathers" and Tonio have come to see her. She is overjoyed. The Marquise, however, is annoyed by the unwelcome visitors and outraged when she sees Marie with Tonio. Tonio explains that he loves Marie with all his heart, yet the Marquise cannot believe that a poor soldier is worthy of Marie's love. When the guests arrive for Marie's wedding to the Duke, they are scandalized by the grubby soldiers' presence. The Marquise, realizing that her daughter's happiness is more important than money, finally relents. The curtain falls as the guests celebrate Marie's marriage to Tonio.
The Source
An original libretto
by Jules-Henri Vernoy de Saint-Georges
and Jean-François-Alfred Bayard
Unlike most operas, which are based on pre-existing literary or historical sources, La Fille du Régiment features an original story developed by the librettists Jules-Henri Vernoy de Saint-Georges and Jean-François-Alfred Bayard. Th e opera has all the elements of a great romantic comedy: a slightly absurd premise (a young girl raised by an entire regiment of soldiers); warring factions (the French and the Tyroleans); a pair of young lovers who must overcome this rivalry to be together; and a happily-ever-after ending. Saint-Georges and Bayard also added a signifi cant dash of French patriotism to the story, a choice likely intended to guarantee the opera's commercial success. In 1840, when La Fille du Régiment premiered, France had been mired in political upheaval and bloodshed for half a century. Thus, the opera's upbeat ending, with its cries of "Long live France," was sure to lift local spirits—and, hopefully, inspire the Parisian public to buy tickets.
La Fille du Régiment is an example of "opéra comique," a genre that features spoken text between individual songs. Unlike recitative (the accompanied, declamatory style of singing which is oft en used for dialogue in opera), this spoken text is entirely unpitched and unaccompanied. Th us, individual productions can modify the dialogue to suit the director's vision; in the Met's current production, which is set during World War I, the dialogue features humorous references to cars, tanks, and even the Olympic bobsled team.
---
Critical Inquiry
Politics and political events have long been used as the inspiration for operas, musicals, and other kinds of art. Can you think of any works of art inspired by recent political events? Can you think of any recent works of art inspired by political events from history?