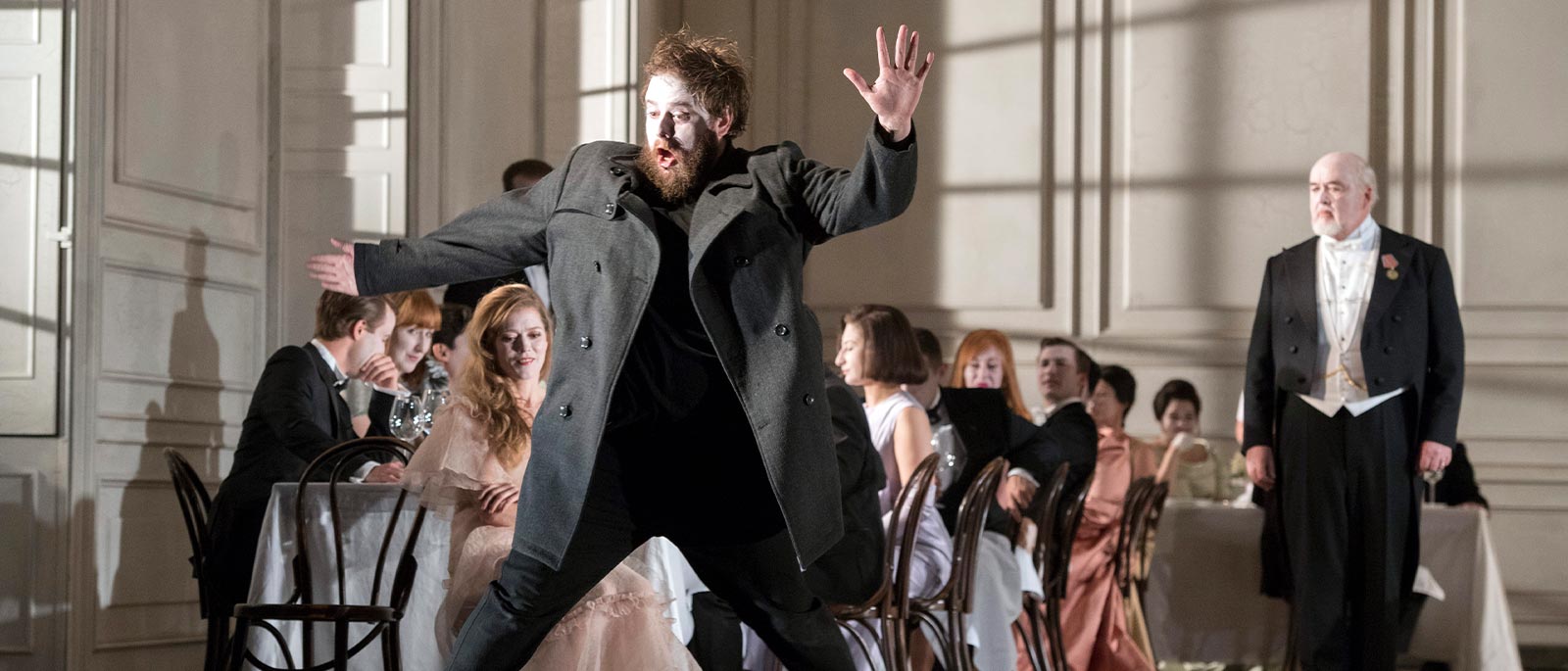 Lucia di Lammermoor
An opera in two acts, sung in English
Music by Brett Dean
Libretto by Matthew Jocelyn, based on Hamlet by William Shakespeare
The Story
ACT I Elsinore Castle, Denmark
Hamlet is alone beside his father's grave following the old king's funeral. He thinks about his father's virtues. The wedding of his mother to his uncle (his father's brother) suddenly interrupts his contemplations.
Claudius, Hamlet's uncle and the new king of Denmark, celebrates his wedding to Hamlet's mother, Gertrude. Among the wedding guests are Polonius, Claudius's counselor, and his children, Ophelia (who is in love with Hamlet) and Laertes. Hamlet's friends arrive to join the celebrations, but Hamlet is understandably upset by the sudden wedding. He sees a vision of his dead father and makes a plan with his friend Horatio, who has had a similar vision, to watch for the Ghost later that night.
The Ghost appears to Hamlet again and tells him that he was murdered by Claudius. He orders Hamlet to avenge his murder, and Hamlet agrees.
Claudius has invited two of Hamlet's college friends, Rosencrantz and Guildenstern, to Elsinore in the hope that they will be able to figure out what is bothering Hamlet. Polonius claims Hamlet is acting strangely because he is in love with Ophelia. But when Ophelia startles Hamlet, he angrily denies ever having loved her.
A group of actors arrives at Elsinore. Hamlet convinces them to insert a scene into their performance mimicking Claudius's murder of the king. He hopes that Claudius's reaction will reveal his guilt. Claudius is indeed troubled by the scene in the play and gets up to leave, bringing the performance to an abrupt close.
Claudius, alone, is praying. Hamlet overhears him confess to murdering his brother. Although his suspicions are now confirmed, Hamlet decides not to kill Claudius while he is in prayer. Instead, he will find another moment to seek his revenge. He goes to tell his mother the truth about her new husband.
In Gertrude's room, Hamlet and his mother argue. Polonius hides behind a curtain so that he can listen to their conversation. Hamlet hears a noise and, thinking it is Claudius, plunges his sword through the curtain, killing Polonius. Hamlet tells his mother of Claudius's part in his father's death. The Ghost reappears, demanding to know what is delaying Hamlet's revenge. Gertrude, who cannot see the Ghost, is convinced that her son has gone mad.
ACT II
Laertes, who has been traveling in France, comes home to avenge his father's death. Claudius tells him that Hamlet killed Polonius and persuades Laertes to kill Hamlet. Ophelia, who has been driven mad by Hamlet's rejection and her father's murder, enters. Rather than expressing sympathy, Laertes is angered by Ophelia's behavior. She exits, and a short while later, Getrude enters with the news that Ophelia has drowned herself in a nearby stream.
Hamlet and Horatio stumble upon a gravedigger preparing for Ophelia's funeral. When Laertes sees Hamlet, he becomes enraged, despite Getrude's efforts to calm the situation.
Rosencrantz and Guildenstern tell Hamlet that Claudius has bet that Hamlet can beat Laertes in a duel. Hamlet accepts the challenge to fight Laertes, and members of the court gather to watch the duel.
Claudius is determined to use this opportunity to kill Hamlet. He has arranged for Laertes's sword to be dipped in poison. He has also prepared a cup of poisoned wine, which he will offer to the prince. Unfortunately, Gertrude drinks the wine before Claudius can stop her, and although Laertes wounds Hamlet, but they have inadvertently picked up each other's swords. Hamlet now wields the poisoned foil, and when he stabs Laertes, the wound is fatal.
The queen dies. Laertes dies. Hamlet tries to stab Claudius but kills Rosencrantz and Guildenstern instead. He finally manages to kill Claudius before dying of his own wound.
The Source
The Tragedy of Hamlet, Prince of Denmark by William Shakespeare
William Shakespeare's play The Tragedy of Hamlet, Prince of Denmark, most commonly referred to as just Hamlet, was written around 1600 (the exact date is uncertain). The story itself comes from a Norse legend transcribed by the Danish author Saxo Grammaticus in Latin in about 1200, although a theatrical setting of the story—referred to as the Ur-Hamlet and thought to be written by Thomas Kyd in 1587—is likely the text through which Shakespeare became familiar with the plot. While this Ur-Hamlet does not survive today, we do know that it was performed in London and included a ghost who cried, "Hamlet, revenge!"
There are three extant early versions of Shakespeare's play: the First Quarto (published in 1603), the Second Quarto (published in 1604), and the First Folio (published in 1623). These publications differ in content, and each has elements that are missing from the others. The First Quarto is by far the shortest of the three, and since Brett Dean's opera Hamlet necessarily sets only a portion of the original text, the composer and his librettist, Matthew Jocelyn, used the First Quarto as their primary source.
This was a somewhat controversial choice, as the First Quarto is sometimes called the "Bad Quarto." In the preface to the First Folio (published shortly after Shakespeare's death by a group of his friends), the 1603 version is dismissed as a pirated text, one of the "stol'n and surreptitious copies, maimed and deformed by frauds and stealths of injurious impostors." Scholars now believe the that First Quarto was in fact reconstructed from the memory of actors who had previously performed the play, more a bootleg of sorts than an out-and-out fake. Today, these many versions of Hamlet also invite us to consider what, exactly, Hamlet really is: A single written text? A performance piece with a long and varied history? An 800-year-old story that has inspired writers, composers, and other artists in a variety of genres? Or perhaps all of the above?