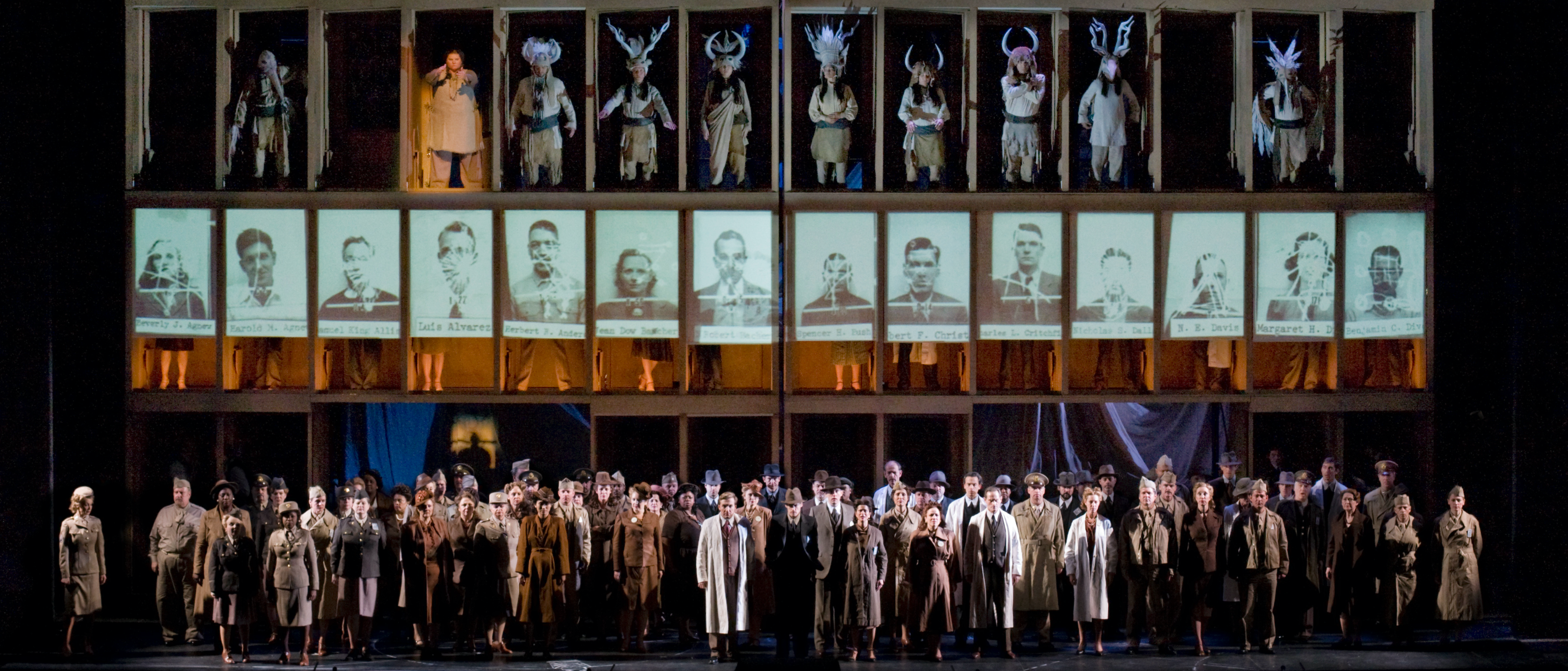 The Composition of Doctor Atomic
1947
John Adams is born in Worcester, Massachusetts, on February 15. His earliest music training will be clarinet lessons with his father, and he will begin composing at age 10.
1957
Peter Sellars is born in Pittsburgh, Pennsylvania, on September 27.
1965
Adams attends Harvard, where he receives both bachelor's and master's degrees in music. The Harvard composition faculty is deeply invested in the musical modernism currently in vogue in Europe, and Adams will initially embrace the sharp dissonances and complex forms of the style.
1971
Adams moves to San Francisco to teach at the city's music conservatory. As he gets to know the city's thriving new music scene, Adams broadens his compositional palette to include minimalism and other distinctly American styles and forms.
1978
Adams is hired as by the San Francisco Symphony to serve as their advisor on new music. He founds the orchestra's New and Unusual Music series and soon becomes one of the United States' most important voices for contemporary classical music.
1980
Peter Sellars graduates from Harvard. By this time, he has already made a name for himself by staging wildly reimagined versions of opera and theater—including an abridged version of Wagner's Ring cycle with puppets. Throughout the 1980s, his productions of canonic operas will challenge performers and audience members alike to reconsider these works' place in the modern world. For instance, he sets Mozart's Don Giovanni in Harlem; places the philandering and womanizing men of Mozart's The Marriage of Figaro in Trump Tower; and casts the epic hero of Handel's Orlando as an astronaut stationed at Cape Canaveral.
1983
Adams and Sellars begin working on an opera based on Richard Nixon's 1972 visit to China. Nixon in China, which features a libretto by Alice Goodman and is directed by Sellars, premieres at Houston Grand Opera in 1987. The opera receives both Emmy and Grammy awards, and its recording is named one of the "ten most important records of the decade" by Time.
1989
The Adams-Sellars-Goodman collaboration continues with The Death of Klinghoffer, an opera about the hijacking of a cruise liner in 1969 by members of the Palestine Liberation Front. The work immediately sparks furious backlash, and the resulting controversy pushes Adams to take a long break from opera.
1999
Pamela Rosenberg is hired as the general director of San Francisco Opera. Early in her tenure, she oversees the production of a series of operas based on the Faust legend. Wishing to create a new opera that will serve as an "American Faust," she selects the story of J. Robert Oppenheimer, a man who, like Faust, found himself caught between his thirst for knowledge and his own sense of ethics and morality. Rosenberg approaches Adams about writing a score for this new opera, and he once again decides to collaborate with Sellars.
Initially, Adams and Sellars ask Alice Goodman to write the libretto for Doctor Atomic, but when Goodman drops out, Sellars agrees to take over the task of preparing the opera's text.
2005
Doctor Atomic premieres on October 1 at San Francisco Opera.
2008
On October 13, Doctor Atomic is performed for the first time at the Met.
---
Critical Inquiry
Pamela Rosenberg thought of Oppenheimer's story as an American version of the Faust myth, a 400-year-old story about a scholar who sells his soul to the devil in exchange for vast knowledge and insight. Why might she have viewed Oppenheimer as a modern-day Faust? Can you think of any other myths or stories that are similar to the plot of Doctor Atomic?