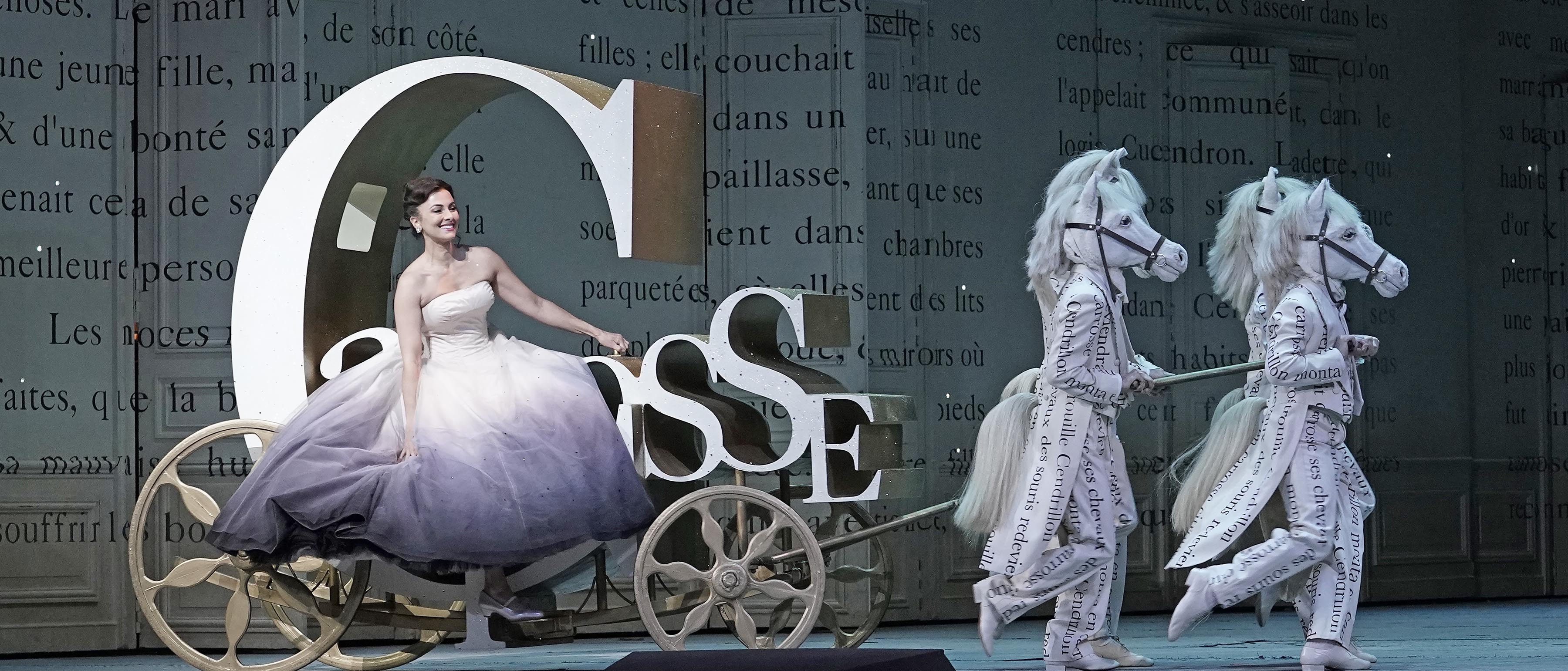 The Creation of La Cenerentola
850
The Chinese fairy tale Ye Xian, in which the main character loses a shoe on her way home from a royal party, is included in a collection of folk tales by a poet of the Tang Dynasty in China. It is one of the earliest recorded precursors of the Cinderella tale.
1634
The first extant European version of the Cinderella story, entitled La Gatta Cenerentola (The Cinderella Cat), is published in Il Pentamerone, a collection of stories by the Italian poet Giambattista Basile.
1697
Charles Perrault's Cendrillon is published as part of his Histoires ou Contes du Temps Passé ou Les Contes de Ma Mère l'Oye (Stories or Fairy Tales from Times Past or Tales from Mother Goose). Possibly intended originally for Perrault's own children, these tales preserve such well-known folk tales as "Puss in Boots," "Little Red Riding Hood," and "Sleeping Beauty."
1810
The French composer Nicolas Isouard uses Perrault's story as the basis for his opera Cendrillon, which premieres at the Paris Opéra-Comique on February 22. Although it is not the first operatic adaptation of the Cinderella fairy tale, it finds immediate success and remains popular for several years.
1817
Gioachino Rossini composes La Cenerentola, his opera buffa version of the Cinderella story. It forgoes several of the most distinctive elements of Perrault's fairy tale: There is no fairy godmother, glass slipper, or magic. The opera is popular across the globe within years of its premiere, and since its revival in the 1920s, it has never left the standard repertory.
1842
Jules Massenet is born on May 12 in Saint-Étienne, France. The youngest of 12 children, he begins taking music lessons with his mother, who is a talented pianist and composer.
1847
Massenet and his family move to Paris after his father's business fails, and his mother begins giving piano lessons to earn extra income. By the time he is ten years old, Massenet is accepted into the piano class at the prestigious Paris Conservatoire.
1861
Having achieved awards in his piano studies, Massenet begins composition lessons at the Conservatoire. He helps fund his education by playing timpani in the orchestra for the Théâtre Lyrique, where he is exposed to the works of contemporary French composers such as Gounod and Berlioz.
1867
Massenet's comic opera La Grand'Tante premieres at Paris's Opéra- Comique. His first opera to be staged, it runs for 17 performances and is well received.
1877
Massenet's opera Le Roi de Lahore premieres in Paris and is enthusiastically received. A series of commissions for new works follows, and with the recent death of Georges Bizet, Massenet is left as the preeminent French stage composer of his generation.
1887
Massenet completes Werther, his operatic adaptation of a novel by Johann Wolfgang von Goethe. It is rejected by the impresario at the Opéra-Comique, who considers its subject matter too depressing for the stage. The opera will not receive its premiere until 1892 at the Vienna Hofoper. Together with Manon, the opera is now one of the composer's most popular works.
1894
While in London with his librettist Henri Caïn for the premiere of their opera La Navarraise, Massenet makes preliminary plans to adapt Charles Perrault's fairy tale Cinderella into an opera. He rents a house in the French countryside and composes the opera over several months, finishing it while staying in Nice.
1896
The premiere of Cinderella is delayed in order to accommodate a performance of a newer work, Massenet's Sapho.
1899
Cinderella premieres at the Opéra-Comique on May 24. Enhanced by a lavish set and the full support of the new director of the Opéra-Comique, the work is an immediate success and is soon performed across the world.
1907
Despite gradually worsening health, Massenet continues to compose at an impressive rate, producing five new operas and a number of smaller-scale works in the last five years of his life.
1912
Having suffered from cancer for some time, Massenet dies in Paris in August at the age of 70.