Opera in Jazz
Curricular Connections
Music History, Music Performance
Introduction
Terence Blanchard, a six-time Grammy Award–winner, trumpet player, and composer notes that his opera Champion is an opera in jazz, not a jazz opera. In an interview he shares, "I'm trying to take American folklore that I know, that I've experienced, which is jazz, and bring that into the operatic world, but not totally use the entire piece to make a statement about jazz." In this activity, students will be introduced to the genre of jazz, explore the history of jazz, and improvise using the blues scale.
Steps
STEP 1. INQUIRE AND DISCUSS
Begin by showing students the National Museum of American History's brief clip titled "What is Jazz," available on YouTube.
Dr. John Edward Hasse, Curator of American Music at the Smithsonian's National Museum of American History, shared "Jazz is like love. It's something we recognize when we encounter it. It's very hard to define." Ask students the following questions:
What do you make of Dr. Hasse's idea that "Jazz is like love"? What does he mean? Do you agree or disagree with his statement?
In what ways does jazz express, as Dr. Hasse noted, core American values—freedom, risk-taking, cultural diversity, innovation, creative collaboration, and democracy?
Terence Blanchard, the composer of Champion, expressed that his work is an opera in jazz, and not a jazz opera. What do you think he means? What are the differences between the two?
Champion is scored for chamber orchestra, jazz quartet, soloists, and chorus. How might singing an opera in jazz be different from singing an opera composed by Mozart, Rossini, Puccini, or Verdi?
Do you think the infusion of music traditions outside of the classical realm enhances opera? If so, in what specific ways?
If you were composing music for a new opera, what types of music might you be interested in infusing into the classical tradition?
What do you think the future sound of opera is? Do you think composers will continue to create operas infused with music from other traditions outside of the classical realm? What other possibilities, aside from jazz, do you think composers might utilize in the future when writing a new opera?
STEP 2. DISCOVER
Create a shared Google Slides deck (or any other digital resource) that your students can access to with a title slide that reads "History of Jazz." Add a slide for each of the following topics:
Ragtime (1900–1930)
New Orleans Jazz/Dixieland (1900–1930)
Big Band Swing (1930s)
Bebop (1940s)
Cool and Hard Bop (1950s)
Avant Garde/Free Jazz (1960s)
Fusion (1960s)
Modern Jazz (current trends)
Place students in small groups. Have each group create a slide that includes musicians, sound clips, and style features. Once each group has completed their slide, play the slideshow, and have each group stand up and present on their aspect of jazz history. After each group has presented, have students discuss what similarities and differences they heard from the excerpts played from each period of jazz history. Do any of the sub-genres include aspects of others that came before it? Alternatively, are any of the sub-genres of jazz reactionary to what came before it?
STEP 3. IMPROVISE
Jazz music is rooted in improvisation (spontaneous performance where musicians determine what they play or sing as they are performing), polyrhythms (poly- from the ancient Greek word for "many"; where multiple patterns are superimposed on top of one another), syncopation (emphasizing offbeats), a vocal tone quality (the quality of pitches played by instrumentalists are often described in similar ways to the voice: "dark," "light," "airy," "growly," "raspy," "bluesy," "throaty," or "nasally"), higher tertian harmonies (stacking thirds to create 7th, 9th, and 13th chords), and a variety of scales (organized sequence of pitches). Whereas most music in the Western classical tradition is primarily major or minor, there are many different scales that are incorporated in jazz music that widen the tonal and harmonic palette. One scale that has been used often in jazz music is the blues scale.
While the blues scale has roots in the pentatonic scale, you may be thinking, "How can that be? The pentatonic scale doesn't sound blue… It's very bright and joyful; the opposite of blue!" This is because the blues scale is more closely related to the La-pentatonic scale which sounds much darker in nature. First, sing and/or play the Do-pentatonic scale:

By simply keeping the order of the notes in the Do-pentatonic scale the same, but now starting on La instead of Do, the timbre (the tone color, or quality of sound) is much different. Now, sing and/or play the La-pentatonic scale.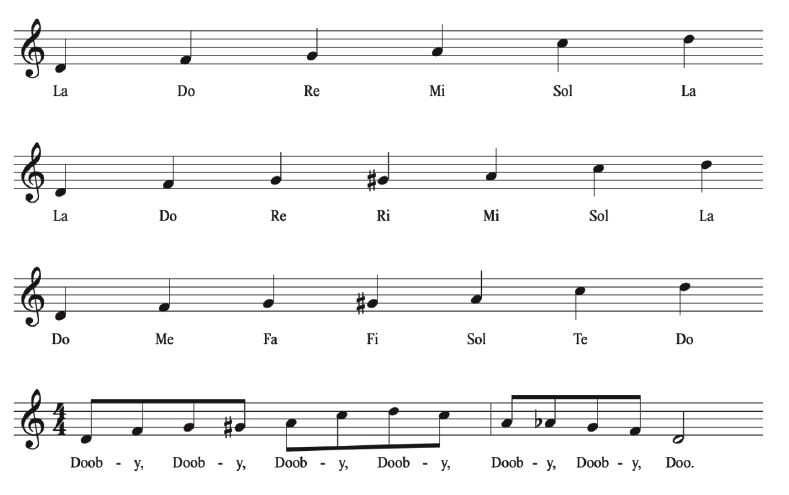 From here, the La-pentatonic scale, the blues scale is near complete. By adding to the La-pentatonic scale Ri, the raised second of this scale, we now have a blues scale.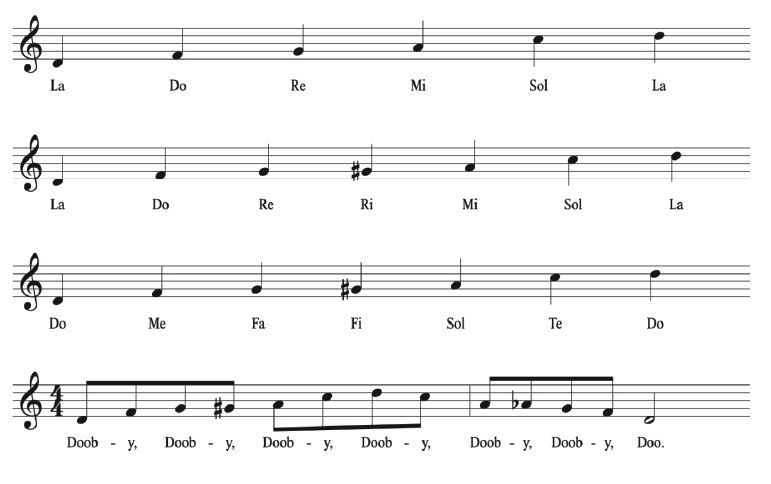 Practice singing and improvising the blues scale on neutral syllables such as "Dooby-Dooby-Doo," in common time (4/4)—a simple quadruple meter. Singing with such syllables is an example of scat, also called "scat singing"—using onomatopoeic and nonsense syllables in lieu of words when improvising. Rhythmically, swing all eighth notes—another style feature of blues music.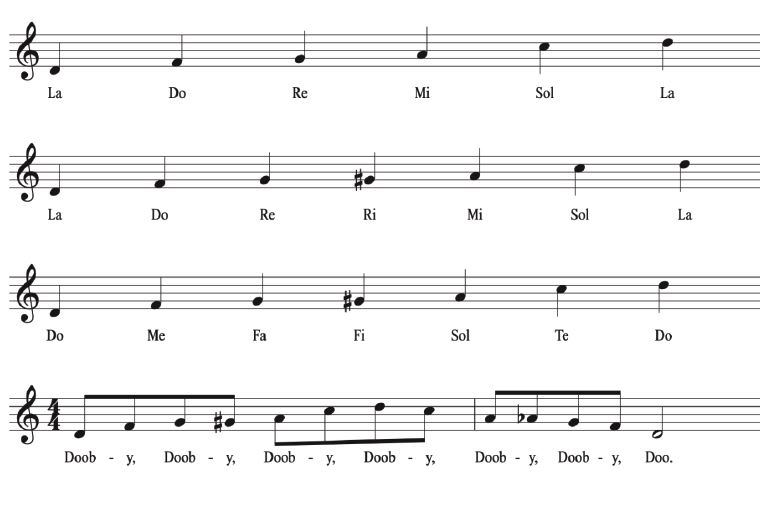 Go around the room improvising using the blues scale where one person sings a call, and another sings a response—a style of singing that is rooted in African folk music and yet another style feature of jazz music.
Diving Deeper
Better Together
Terence Blanchard's opera is a unique fusion of jazz and opera that fluidly moves across and within disciplines. If students show interest in digital composition, have them create a fusion track by completing the following steps:
Record an excerpt of a piece of classical repertoire that they or a friend are working on.
Upload the audio recording to a DAW (Digital Audio Workstation)* of their choosing.
Compose new music or use the DAW's loop library to layer a different style of music that complements the classical style of the recording, creating a new fusion track.
Export the track and share it, seeking feedback.
*Professional grade software includes Ableton Live and Logic Pro. GarageBand, available on iOS devices, is a more accessible industry standard software. Other software options include BandLab and Soundtrap which are both browser-based, free, and user-friendly to use on any device.

Exploring the Archives
The National Museum of American History in Washington D.C. houses countless jazz artifacts and hosts numerous jazz performances and programs throughout the year. If you're unable to visit in person (1300 Constitution Ave. NW, Washington, DC 20560), the Smithsonian's website is an excellent resource to further discover the rich history of jazz.