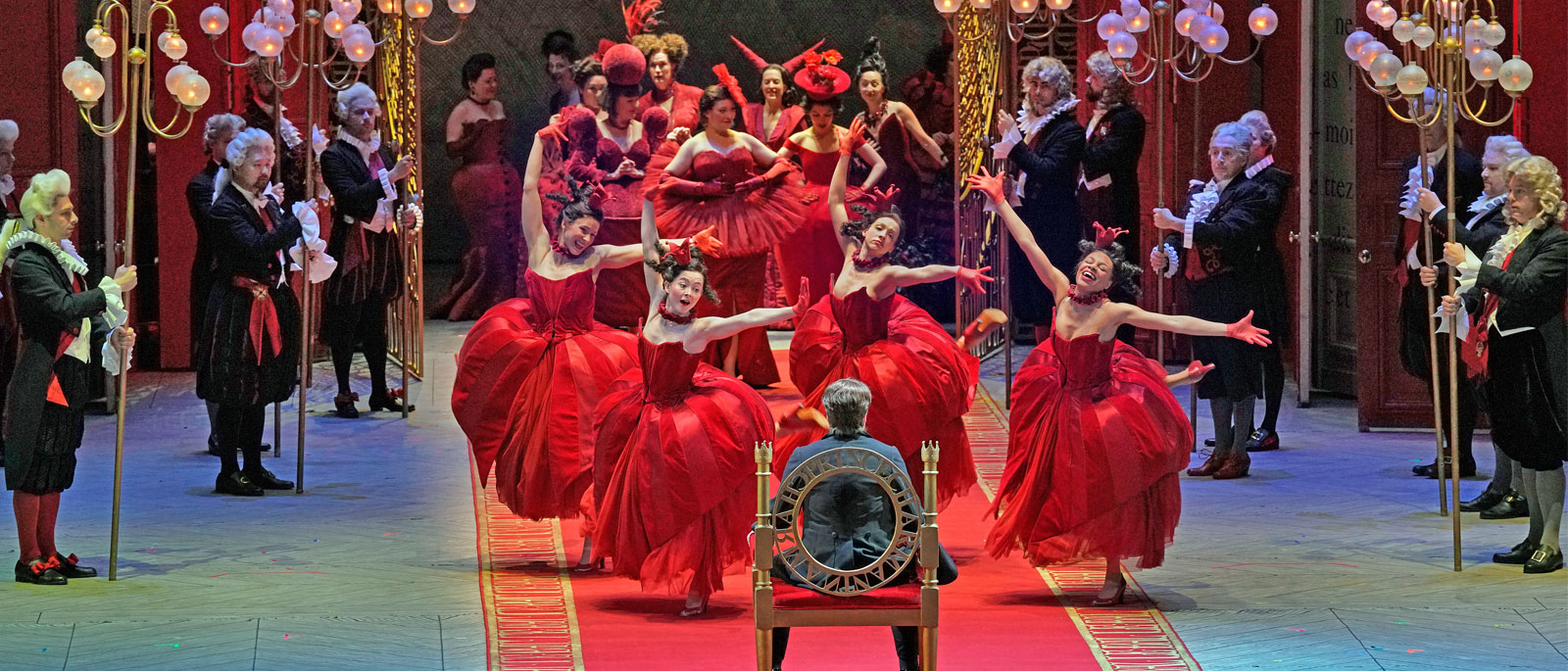 Cendrillon
An opera in four acts, sung in French
Music by Jules Massenet
Libretto by Henri Caïn
Based on fairy tale Cendrillon by Charles Perrault
The Story
ACT I
Madame de la Haltière's townhouse.The servants of the household are complaining about Madame de la Haltière when Pandolfe, her husband, enters. He agrees that his wife is cruel and bad-tempered. He regrets marrying her and worries about his daughter, Lucette (called Cendrillon), who is forced to do household chores and is denied the expensive clothes worn by her stepsisters. Just as he swears to put a stop to their bullying, Pandolfe hears his wife coming and runs out of the room. Madame de la Haltière enters with her daughters, and they discuss preparations for the royal ball being held that night. An army of tailors and hairdressers enter and dress the three women. While the servants laugh at the ridiculous outfits they have chosen, Pandolfe joins his wife and stepdaughters, who are convinced they will win the prince's affections. After her family has left, Lucette enters alone and thinks longingly of her stepsisters' attendance at the ball, although she tries to convince herself to find enjoyment in her chores. Eventually she falls asleep, dreaming of the royal celebrations. While Lucette dozes, her Fairy Godmother appears. She summons an army of fairies to transform Lucette's rags into a beautiful gown. Lucette awakens and is amazed by her transformation. As she climbs into a magical carriage, her Fairy Godmother warns her that she must leave by midnight, when the spell will end.
ACT II
The royal palace. Prince Charming is withdrawn and sad, despite the best efforts of his courtiers to entertain, and he longs for someone to love. The King then enters and commands the Prince to attend the evening's ball. He instructs the Prince to choose a daughter of a noble family to marry. The Prince is introduced to a parade of women who are all desperate to be his bride, including the Haltière sisters. When Lucette arrives at the ball, her beauty and poise stun the crowded room, and the Prince is immediately enthralled. Once they are alone, the Prince expresses his admiration for her. But just as he declares his love, the clock strikes midnight, and Lucette is forced to flee.
ACT III
Madame de la Haltière's townhouse. A frightened Lucette arrives home, realizing she has lost her slipper. Shortly afterward, her family also returns, complaining about a mysterious woman who offended the Prince at the ball. They claim that after this unknown lady left, the Prince and the royal household mocked her. Lucette is visibly horrified by this false report, and seeing her distress, her father is goaded into finally standing up for her. He kicks his wife and stepdaughters out of the room and promises Lucette that they will leave the city and return to the countryside where they were once happy. Lucette, however, is heartbroken and decides she cannot burden her father with her grief. She runs away.
The Enchanted Forest. The Fairy Godmother summons her fairies, who report that Lucette and Prince Charming are both wandering in the darkness, miserable and alone. Although they cannot see one another, each can suddenly hear the other's voice. They beg for the Fairy Godmother's help. The Fairy Godmother appears and demands that the Prince hang his bleeding heart from the oak tree. He does so, and the Fairy Godmother magically unites the lovers. They fall into an enchanted sleep in each other's arms.
ACT IV

Lucette's room. Pandolfe watches his sleeping daughter, remembering how he found her, nearly frozen, next to a stream. When Lucette awakens, she asks about her condition. Pandolfe tells her that, in her semi-conscious state, she was babbling about Prince Charming, an enchanted oak tree, and a glass slipper. Believing it all to have been a dream, a devastated Lucette consoles herself by looking forward to the return of spring. Just then, Madame de la Haltière arrives with the news that the Prince is summoning princesses from around the world in search of the owner of the lost glass slipper. Realizing it wasn't a dream after all, Lucette begs her Fairy Godmother for help.
The royal palace. The world's princesses all arrive at the palace to try on the slipper. The Prince is desperate to find his unknown love. The voice of the Fairy Godmother rings out, and Lucette appears. She has come to return the Prince's heart; he insists she keep it. The crowd acknowledges Lucette as their future queen. Lucette's family arrives, and an astonished Madame de la Haltière loudly expresses her adoration for her stepdaughter. The entire company turns to the audience and celebrates the story's happy conclusion.
The Source
The fairy tale "Cendrillon" ("Cinderella") by Charles Perrault
Charles Perrault (1628–1703) was a civil servant and writer during the long reign of Louis XIV of France. Yet he is best known today for one of his retirement projects. In 1697, just a few years before his death, Perrault published the Histoires ou Contes du Temps Passé (Stories or Tales from Past Times)—and sealed his reputation for posterity. The Histoires, which soon became known by their unofficial title of Contes de Ma Mère l'Oye (Tales of Mother Goose) were a collection of literary fairy tales, including such modern favorites as "Puss in Boots," "Sleeping Beauty," and, of course, "Cinderella." Perrault's stories had little to do with the folk tales on which they were distantly based: Written in a polished, sophisticated style, they were intended to appeal to aristocratic audiences, who enjoyed hearing them read at gatherings of intellectuals and fashionable society events. Because the readers were primarily adults, Perrault attached a cynical rhyming moral to each story, which typically offered a religious interpretation of its plot and reinforced the strict class divisions of French society. Despite his intended readership, Perrault's "Cendrillon" is essentially the classic version of the Cinderella story children know and love today—wicked stepmother, enchanted pumpkin, glass slippers, and all. (Disney's animated film from 1950, for instance, follows Perrault quite faithfully.) Although Massenet and his librettist Henri Caïn made a few adjustments to Perrault's tale (most notably the addition of the scene in the enchanted forest), their opera largely hews to its 17th-century source and credits Perrault's work explicitly as the basis for the libretto.
---
Critical Inquiry
In the Aarne-Thompson-Uther Index—a vast catalog of folk tales from across the globe, named after the scholars who invented and refined it)—Cinderella is categorized as a Type 510 (or "Persecuted Heroine") story. Tales in this category can be boiled down to five essential components: 1) a mistreated heroine, who 2) receives supernatural assistance, 3) meets a prince, 4) must prove her identity, and 5) marries the prince at the end. Can you think of any other stories that follow this outline? If you were to come up with a few essential components for the story of Cinderella, what would they be?