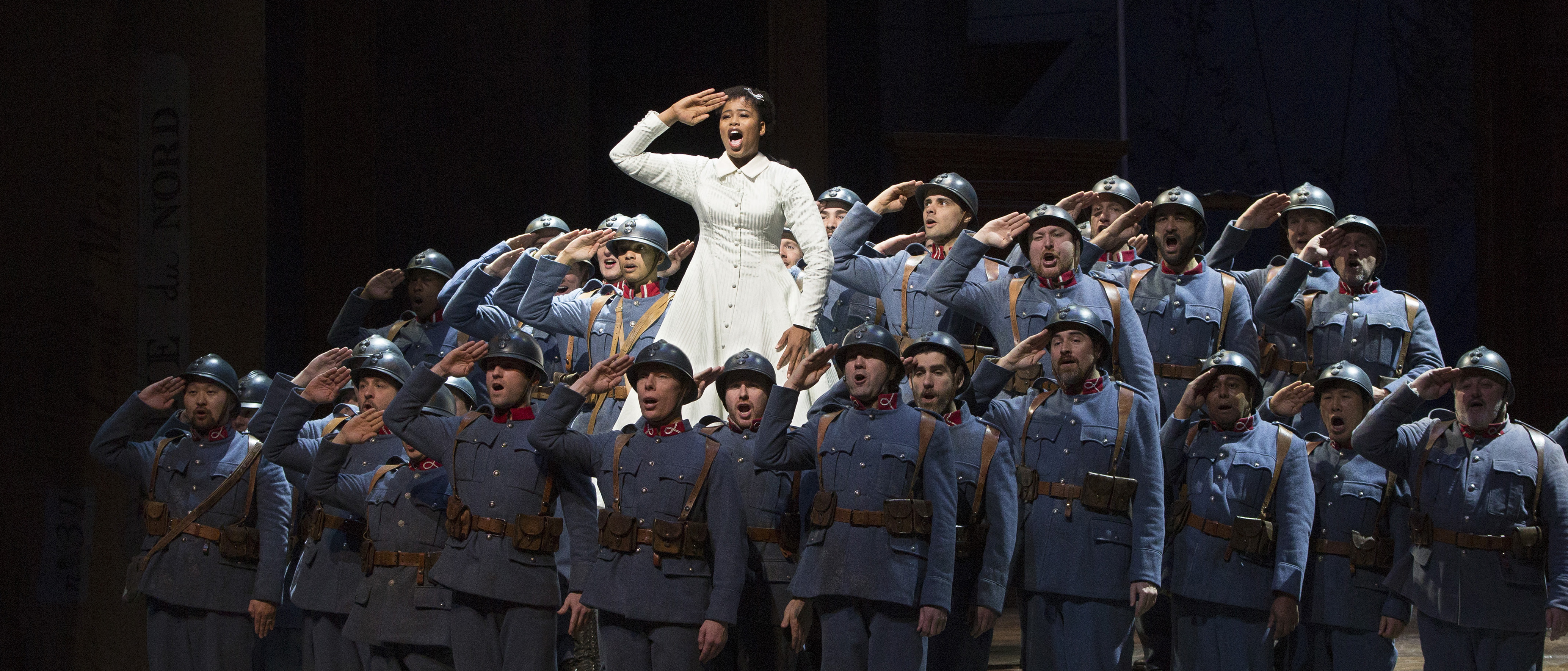 La Fille du Régiment
Youthful rebellion, family drama, and tender young love—La Fille du Régiment revels in both the hilarious mishaps and the heartfelt moments of adolescence. Set high in the Austrian Alps, this delightful rom-com tells the story of Marie, an intrepid young orphan raised by a regiment of French soldiers. When the man of her dreams turns out to be a rebel fighting against the French "family" she has always known, Marie will have to overcome war, fatherly disapproval, and even the discovery of her own noble birth to make her own happily-ever-after ending come true.
By the time La Fille du Régiment premiered in 1840, Gaetano Donizetti was the most famous composer in Italy and a quickly rising international star. Yet there was one major operatic city he had yet to conquer: Paris. Joining forces with two French dramatists, Donizetti set about writing an opera that would make the French capital surrender to his compositional charms. La Fille du Régiment was an instant triumph, and it cemented Donizetti's position in the French capital. Yet the composer wasn't the only person who enjoyed a career boost from this captivating work. Indeed, the opera's lead roles—which demand astonishing vocal agility, impeccable comic timing, and undeniable romantic chemistry—have helped launch the careers of some of the 20th century's most famous singers.
This guide presents La Fille du Régiment as both a coming-of-age comedy and a window into the turbulent politics of 19th-century Europe. In 1840, the conflicting forces that the opera's protagonists must navigate—including competing national identities, noble versus plebeian birth, and ongoing political strife—were shaking Europe to its very core. Yet alongside these historical catalysts, the opera features a narrative theme that will be familiar to young viewers the world over: Deep down, Marie and Tonio just want to figure out where they belong. By inviting students to explore these two aspects of La Fille du Régiment, this guide will present the opera as a vehicle for both historical inquiry and personal discovery—as well as an enchanting comedy with some of the funniest moments ever brought to the Met's stage.

Included in the 2018-19 and 2020-21 seasons of HD Live in Schools.