Young and in Love
This month's revival of Mozart's La Clemenza di Tito features some of opera's biggest names, including Joyce DiDonato and Matthew Polenzani. But the cast also includes two outstanding young artists in major roles: soprano Ying Fang, who graduated from the Met's Lindemann Young Artist Development Program in 2016, and mezzo-soprano Emily D'Angelo, who was a winner of the Met's National Council Auditions that same year and is currently in her second year of the Lindemann program. Fang and D'Angelo, who sing the lovers Servilia and Annio, recently sat down with the Met's Jay Goodwin for a conversation about Mozart and the company's work with rising singers.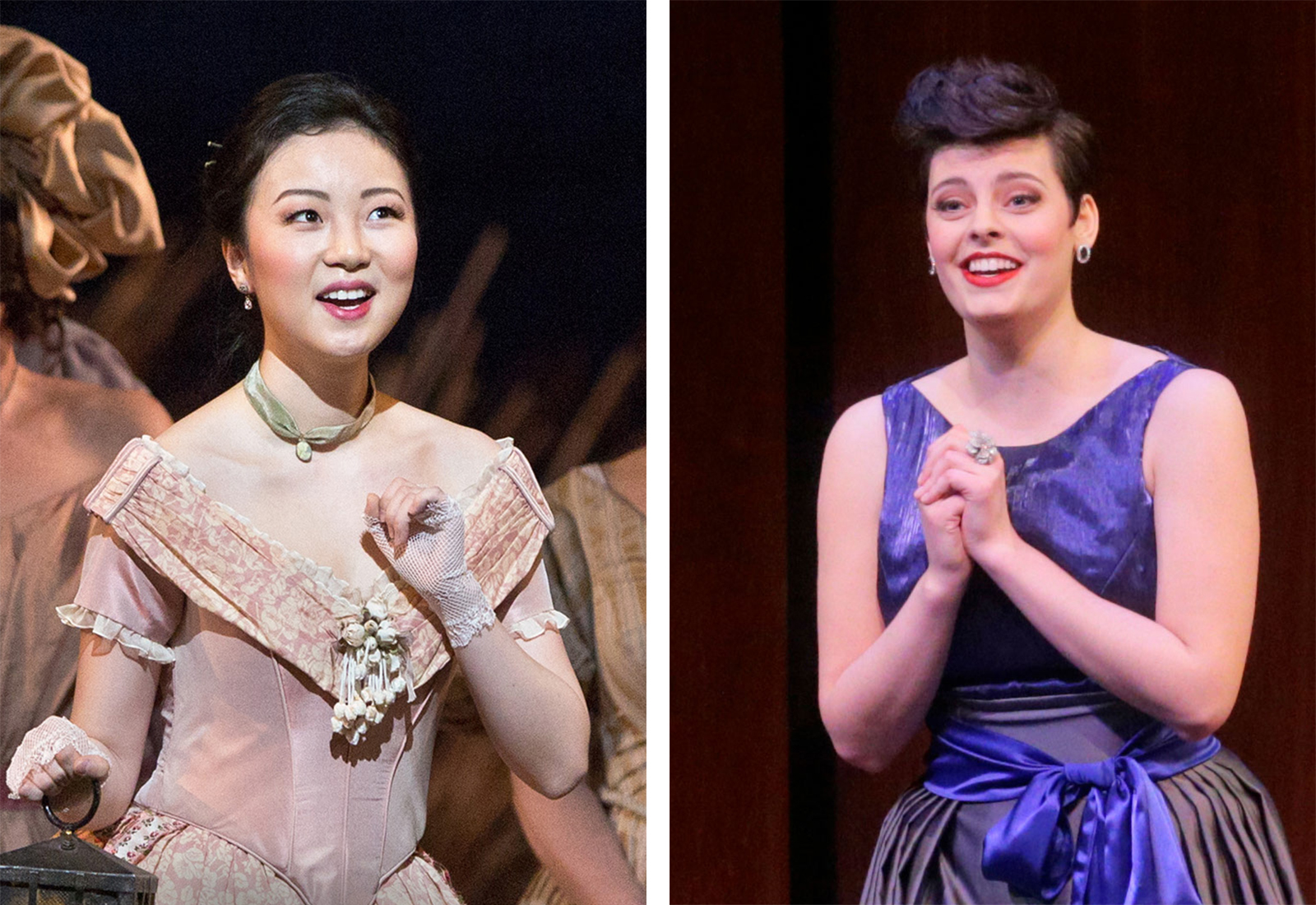 Left: Ying Fang, in L'Elisir d'Amore; Right: Emily D'Angelo, in the National Council Auditions Grand Finals Concert
How do you think Clemenza fits into Mozart's body of work, and what makes it unique?
YING FANG: Well, first of all, musically, this piece just has so many of Mozart's greatest arias—
EMILY D'ANGELO: And duets.
YF: And duets. It's just amazingly beautiful.
ED: And I think it's very cool that he went back to opera seria after it was so out of style, but made it modern in the way that he tells the story through the music. That's one of Mozart's tricks, to be forever relevant in a way that blows my mind every time I open a score. He really made it something that was celebrated to go against the norm and take the high road. That can be a message for our current time, and for any time.
As you said, Mozart was revisiting an old Baroque genre with Clemenza, while at the same time working on an extremely forward-looking opera, Die Zauberflöte. When you sing Clemenza, do you feel closer to The Magic Flute or to Handel?
ED: Oh, gosh—I have to say I'm not thinking about either when I'm singing this music. I mean there's a little more musical freedom for ornamentation, which makes it feel a little more Baroque. But it's always Mozart.
YF: And it's also kind of hard to believe that it was composed at the same time as Magic Flute because musically and dramatically, it's so different.
EF: Though he does come back to morality in both pieces. Both are about virtue and goodness. But he goes about it in very, very different ways.
Another striking thing about Clemenza is that even though it has this grand backdrop of political intrigue and struggle for power, it's such an intimate piece.
YF: Yes, it's about real people and real emotions, and the human experience—love, envy, forgiveness. You can feel that in the music when you're singing it.
ED: No matter how powerful you are, no matter how famous, we all experience human emotions on a very basic and visceral level. So these are important people within society who have major issues on their hands, and the lives of so many people at stake, yet they are still fighting with the emotional problems that we all face.
The two of you are a couple in the show, and you have a gorgeous duet in Act I. How do you work together to make something like that as good as it can be?
YF: We have to feel each other. The musical choices, the phrasing, and where that emotion is taking us—we have to be together.
ED: That's the amazing thing about opera. You have all these amazing people in one room who have strong opinions, and have a strong emotional connection to the music. And you have to put that all together to bring the music up to what it can be, what it should be.
Has either of you sung your role before?
YF: Nope, role debut.
ED: Really? Wow—it doesn't sound like it's your first time singing it. For my part, this is actually the first role I ever sang, when I was in a summer program as a teenager. I had never cracked the score of an opera before.
YF: You started with Clemenza? Bizarre!
ED: I know, right? And then I did it in St. Louis for my American debut, but it was in English. So I've been through a few stages with this role.
Let's talk a little bit about the Lindemann program. How does it help a "young artist" become an "artist"?
YF: I joined the Lindemann program right out of school, knowing nothing about the real business or how an opera house functions. And I was able to work with all of the best resources and coaches, and watch all of the best singers rehearse and perform. That was mind-blowing, especially to see how they work in rehearsal with the conductors, expressing their own opinions and combining them with the conductor's ideas to come to a beautiful place together.
ED: It's an amazing experience working at such a high level and being surrounded with people who are at the top of their field. We have the best singers in the world, the best conductors in the world, the best pianists, coaches, administrators. Literally every single person is here because they're really good at what they do. I feel so fortunate to be around that every single day.
I'm curious what the experience is like when you're here working in the Lindemann program and you get your first opportunity to do a role on the Met stage.
YF: Well, for me, it was in Shostakovich's The Nose, so it was the most crazy possible Russian opera. But luckily, my part was really lyrical and beautiful. I was just so excited to be singing on that magical stage, and I still remember, before the first rehearsal onstage, I was looking back on my path, of studying, singing, coming to the States—and I just had a moment with myself. It was just so special.
ED: I felt the same way when I made my debut in The Magic Flute this season. You can't really feel any other way than just lucky to be here. It comes after a lot of work, and there's a lot of work ahead, but to make a Met debut is very, very special.


Jay Goodwin is the Met's Editorial Director.