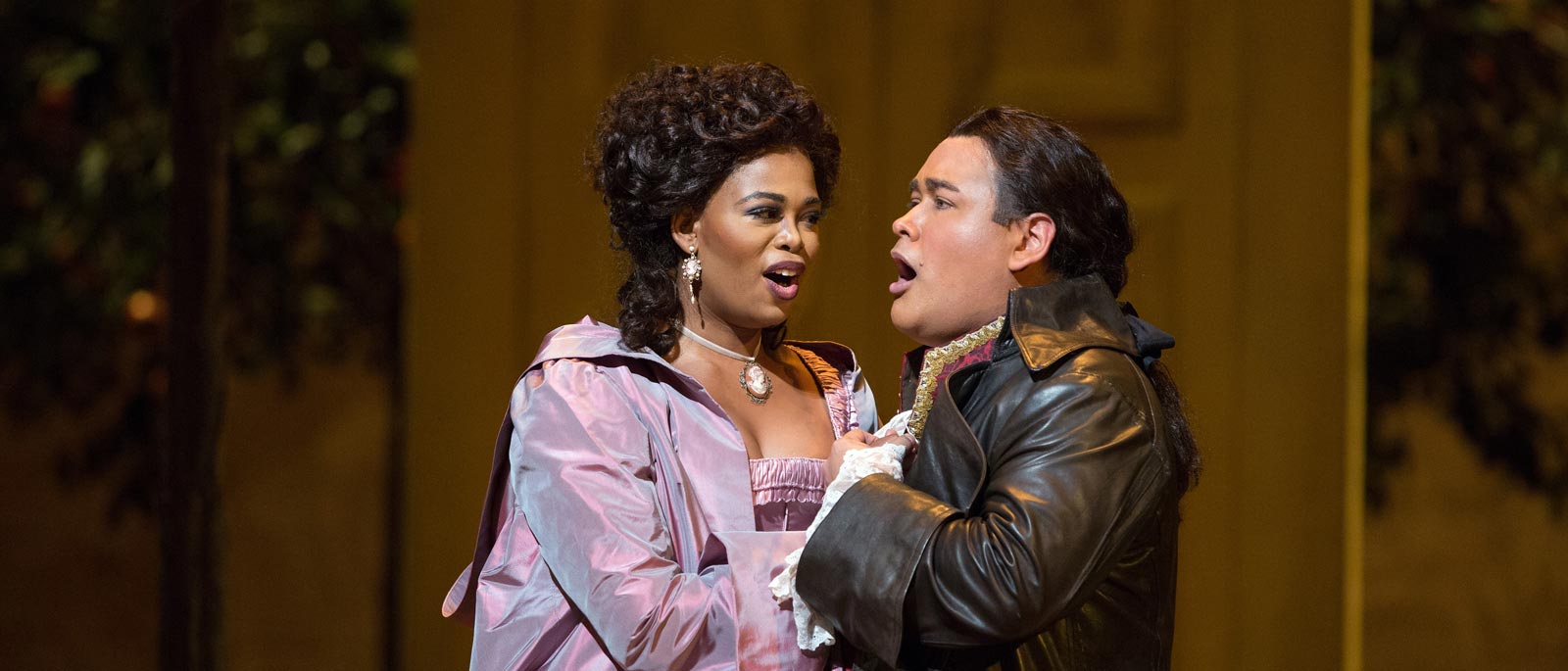 Twice as Nice
November 05th, 2018
Pretty Yende and Javier Camarena, who thrilled audiences in Il Barbiere di Siviglia in 2017, return this season in Bizet's Les Pêcheurs de Perles (The Pearl Fishers), beginning November 14, and Donizetti's La Fille du Régiment, which opens in February. The dynamic duo recently sat down with the Met's Christopher Browner.
What can audiences who love Carmen, Bizet's ever-popular hit, expect to find in Pearl Fishers?
PY: Bizet always writes such fantastic melodies. Of course, they'll know the tenor baritone duet "Au fond du temple saint," but the score also includes fantastic arias, and duets, and choral moments.
JC: Both operas are very human. In Carmen, we find the fire that jealousy can create, and this fire is also in Pearl Fishers. In the end, though, unlike in Carmen, love and friendship actually win.
PY: There's great drama and an interesting story. And this production is wonderful.
What are some of your favorite moments in the score?
PY: That's a tough one. I love the duets that Leïla has with Nadir and Zurga—they're so intense. I know everybody will be waiting for her aria, but when you explore beyond just the highlights, you discover even more treasures in this piece.
JC: I'm definitely looking forward to the big duet, especially since I love working with Mariusz Kwiecien. I sing it a lot by itself in concert, but it's much richer when you get to perform it in the original context and show the deep friendship that these two characters share. But, as Pretty said, Bizet has written beautiful melodies for every character—each one will touch the audience's hearts.
Both of the operas that you'll perform at the Met this season give you the opportunity to sing in French.
PY: I've loved singing in the French language for a long time—the repertoire is so lush and so beautiful.
JC: There's a lot of passion when you sing in Italian. It's very open, very temperamental. But French music has a more elegant way of expressing passion. Pearl Fishers is one of the jewels of the French repertoire, but it's not like the grand operas of Gounod, Massenet, or Meyerbeer. It's much more intimate.
La Fille du Régiment is a farce. Does comedy come naturally to you?
JC: Well, it helps to have a dynamic production like we do at the Met. Every role is so well defined, and the comedy is very spontaneous.
PY: It's just brilliant. There's a lot of activity that we have to do, but everything is inspired by the words and the music.
Christopher Browner is the Met's Associate Editor.