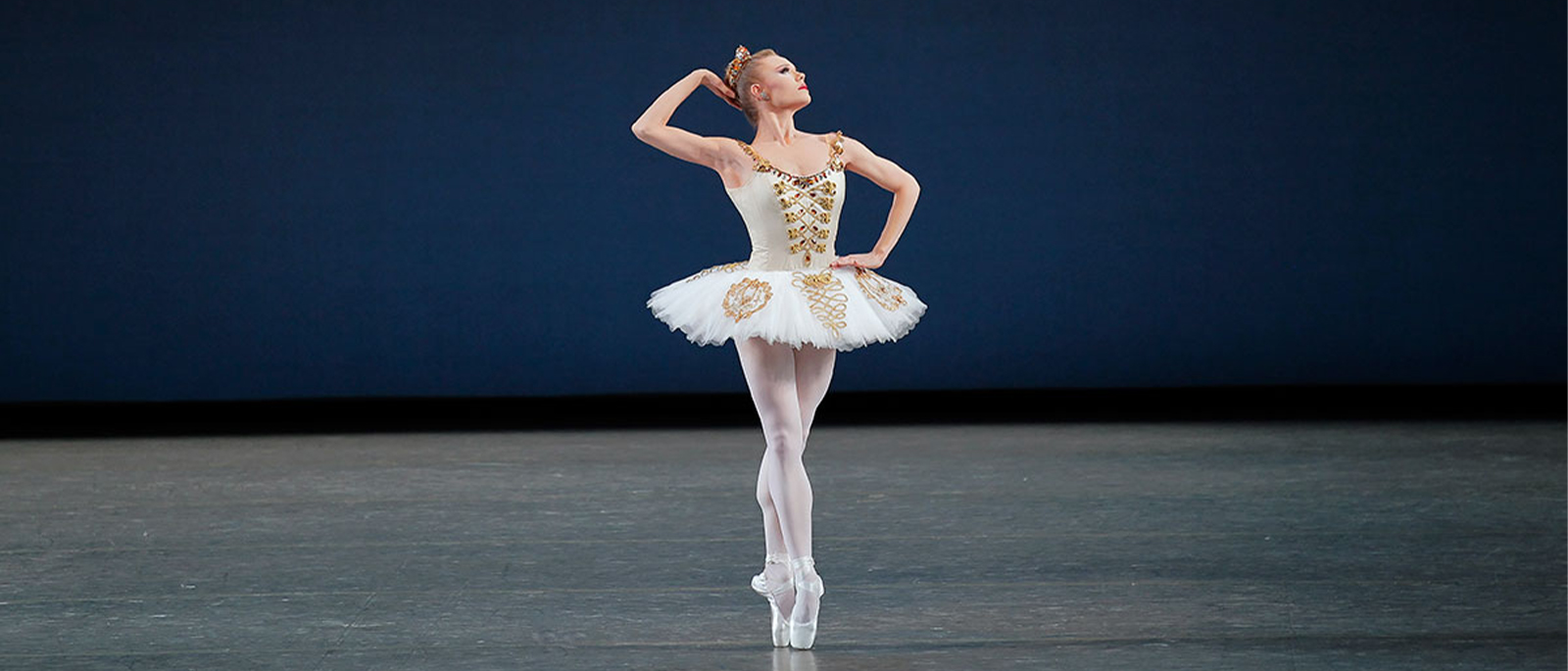 Turning Pointe
Although she makes her Met debut on January 10 in a solo dancing role in La Traviata, ballerina Sara Mearns is no newcomer to Lincoln Center. A principal dancer at New York City Ballet since 2008, Mearns has earned broad acclaim across the plaza. She recently spoke with the Met's Joel Rozen about reinventing herself as an artist, pirouetting into new roles on Broadway—and now, leaping into Verdi for the pivotal masked-ball scene in Act II of Michael Mayer's vibrant production.
How new is opera for you as a genre?
I'm a big classical music fan in general and I try to see as much as possible. But opera is newer for me, and I'll admit I was a little nervous that I wouldn't understand it at first. When I went to my first opera, which was Wagner, I thought, this is amazing! I honestly don't know why I waited this long, and the Met's been here right next to me all these years. I'm hooked. I even went by myself the other night to Akhnaten.
Have you started working with La Traviata choreographer Lorin Lotarro yet?
I've had a couple of conversations with her, and we're both really excited. The dance in the masked ball scene was made with somebody else in mind, so sometimes you have to switch things up so it makes sense for another person. I think she's open to making the scene new for me, and sort of catering it to what I would want to do—which is great, and makes it very personal.
Are you looking forward to sharing the stage with singers?
This past March, I was part of a musical called I Married an Angel at City Center, and people were singing all around me while I was dancing. So I'm not foreign to that part of it. But opera is a whole different spectrum for me, with even more spectacle, so I expect it to be a little more challenging.
It must be exciting to explore all these new theatrical genres and styles.
Well, I think there comes a time in your career where you hit a different age, and are established enough that you're not scared to step out of your bubble. I started taking that risk five or six years ago with other guest projects, and it created a snowball effect where I would do one thing and it would open my eyes to something else. Here in New York City, you have every opportunity that you would ever want; you just have to go out and get it, and be open to anything.
Joel Rozen is the Met's Staff Writer.