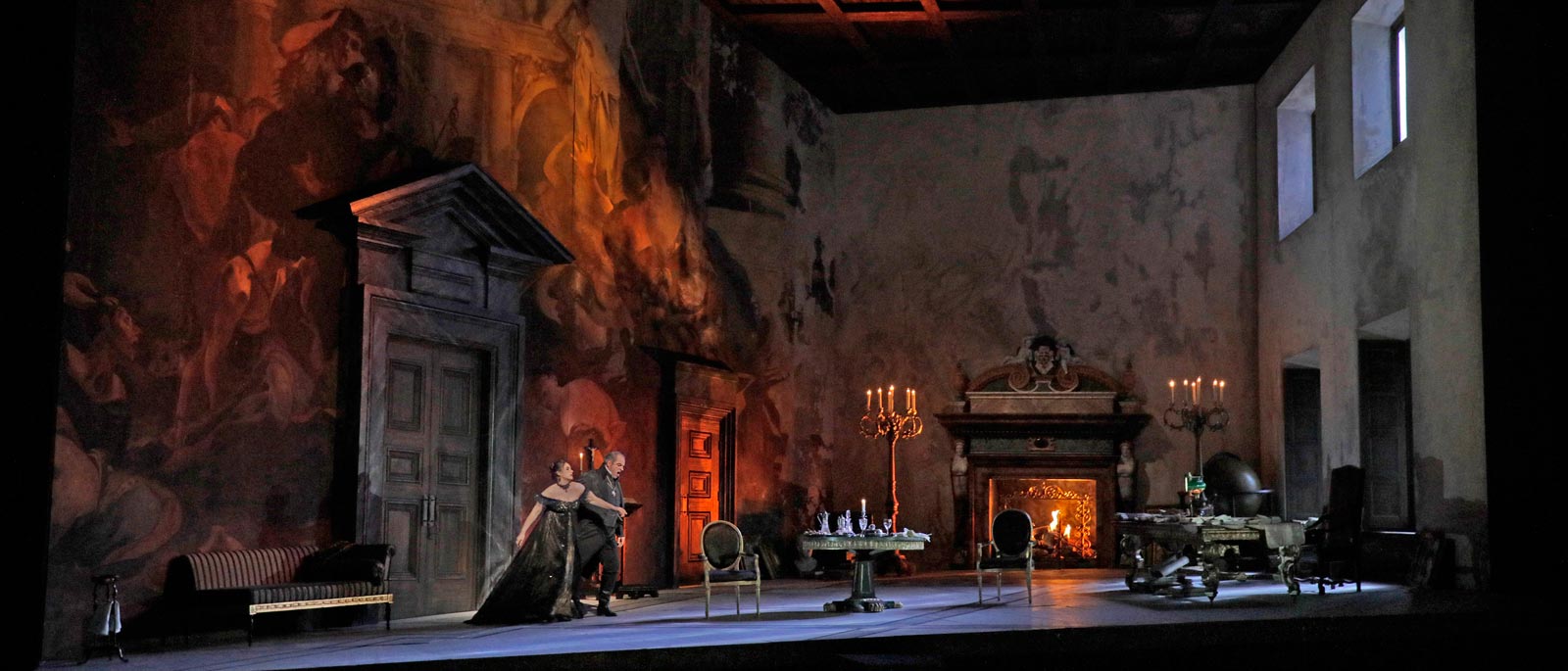 Tosca Trio
Three dynamic singers—Jennifer Rowley, Joseph Calleja, and Wolfgang Koch—headline the spring return of Puccini's Tosca. The Met's Joel Rozen explains why their star turns are cause for celebration.
The three performers heading any cast of Tosca, Puccini's thriller set in Rome in 1800, must be hybrids: powerhouse singers, but also equally secure and convincing as actors—whether conveying Baron Scarpia's calculated cruelty or the passionate yet tender relationship between the pious actress Floria Tosca and her ardent lover Mario Cavaradossi. Fortunately, the three headliners for Tosca's spring run at the Met—soprano Jennifer Rowley, tenor Joseph Calleja, and bass-baritone Wolfgang Koch—are all acclaimed singing actors.
Starring for the second year in a row in Sir David McVicar's modern-classic production, Rowley is quickly racking up credits as a major exponent of the title role. Last season alone, the Cleveland native—who debuted with the company as Roxane in its 2017 production of Alfano's Cyrano de Bergerac—sang the tempestuous diva in three different venues: at the Met, Nashville Opera, and a concert performance with the Philadelphia Orchestra led by the Met's Jeanette Lerman-Neubauer Music Director, Yannick Nézet-Séguin.
Hailed by the New York Times as a singer of "enormous gift and promise," Rowley also triumphed at the Met last year as Leonora in Verdi's Il Trovatore and, this past January, in the lead role of Cilea's Adriana Lecouvreur. The exquisite focus and "clean and clear" voice (New York Times) she brought to the prison scene in Trovatore, for instance, impressed critics and won her new fans.
But singing aside, a realistic characterization—and the ability to stay true to an opera's driving action—is what Rowley values most. "When the pressure is really high," she told Playbill in 2018, "it helps to focus my mind and tell this story. That's what we're doing: We're telling a story with our voice."
Storytelling is also of prime importance to Calleja, whose golden-age voice has earned him a loyal following among opera attendees. A mainstay at the Met since his first time playing the Duke in Rigoletto in 2006, Calleja has quickly secured his reputation as a gleaming interpreter of core 19th-century repertoire. At the Met, his 2014 Rodolfo in La Bohème was declared "pure poetry" (Observer); his 2017 Pollione in Norma "stylish" (New Yorker). Admirers can also point to his winning 2009 Met performance in the title role of Offenbach's Les Contes d'Hoffmann for evidence of his comic chops.
In a tragedy like Tosca, which he has already performed to acclaim last year at the Met opposite Sondra Radvanovsky, Calleja plays the bravura role of Cavaradossi with great élan and musicianship, as seen in his affecting rendition of the aria "E lucevan le stelle."
As the villainous Scarpia in his debut performance at the Met, Koch is making a grand first impression. The dramatic baritone is celebrated in his native Germany for his singing of Wagner and Strauss—his Wotan in a Bayreuth production of Wagner's Ring cycle was "compelling" (New York Times)—but he is equally adept at Puccini, and can turn the composer's villainous regent of police into a truly terrifying presence.
For five more performances this spring, Rowley, Calleja, and Koch will breathe passionate life into one of the repertory's most dramatic spectacles.


Joel Rozen is the Met's Staff Writer.