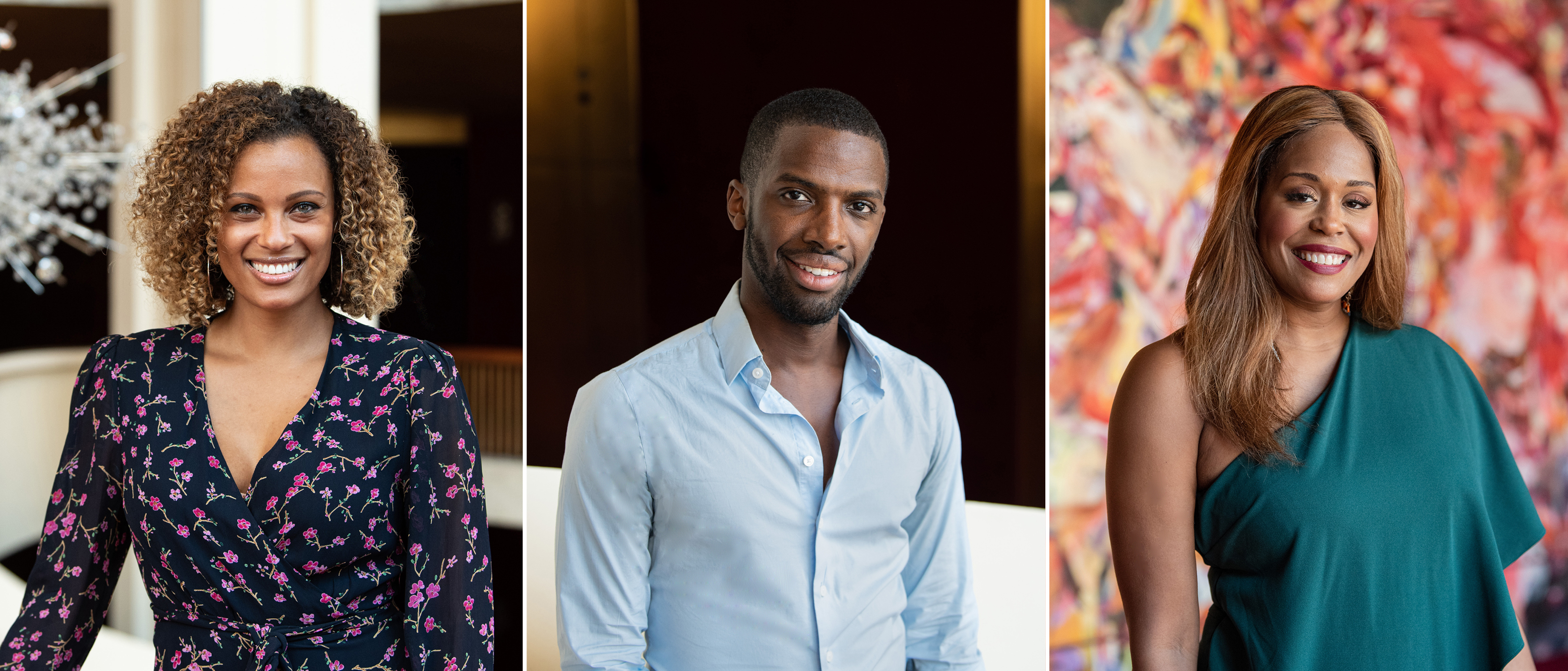 The Many Faces of Catfish Row
On Opening Night of the 2019–20 season, nearly every member of the 60-person chorus of Porgy and Bess will be performing on the Met stage for the very first time. This talented group of singers was hand selected for James Robinson's new production, which put particular emphasis on the vibrant community of Catfish Row. As The Gershwins' great American opera prepares to make its eagerly awaited return to the Met, a few of the members of this superb ensemble spoke with the Met's Christopher Browner and Catherine Hancock.
What does it mean to you to be performing at the Met for the first time?
Rebecca L. Hargrove, soprano: I'm still pinching myself. Growing up in Baltimore, my early voice teacher was a member of the Met's extra chorus, and he would commute back and forth. He would tell me about his experience and really brought me up knowing about the greats—Leontyne Price, Jessye Norman, Kathleen Battle. So when I was looking at colleges in New York, I made my mom stop in Lincoln Center, so I could see the Met in person. I said to her "That's my future place of employment. I'm going to work there one day."
Wayne Arthur Paul, baritone: For me, being in Porgy and Bess at the Met is like a homecoming. I went to high school right across the street at LaGuardia High School of Music & Art and Performing Arts. My teacher was actually Priscilla Baskerville, who sang Bess at the Met in the 80s and 90s. We did a highlights version of Porgy and Bess when I was a senior at LaGuardia, and I played Porgy.
Brittany and Rebecca, have you performed in other Porgys before arriving at the Met?
Brittany Renee Robinson, soprano: My first Porgy and Bess was at the opera house in Dresden. I was in the chorus and covering Clara. Eventually, I sang performances as Clara and then as Bess. My most recent Porgy was this past summer at the Teatro Regio di Torino in Italy, where I played Bess.
Hargrove: I did my first Porgy and Bess at Princeton in 2014—so then, when I heard that the Met was holding auditions for this production, I knew instantly I had to apply.
Considering that this is the first time that the Met is presenting Porgy and Bess in nearly 30 years, what is the feeling like in rehearsals?
Hargrove: It's amazing. The production team is so supportive and knows exactly what is going on culturally, religiously, and historically in this complicated piece. Plus, to share a room with Denyce Graves—I'm from Maryland, and she is a D.C. icon—it's overwhelming.
Paul: Something incredibly meaningful for me during this process has been working with [choreographer] Camille A. Brown. She specializes in the social dance of black peoples. Not all of us are specifically African American from the United States. My family comes from Belize, but we still have this connection across identities. Her directions in terms of the choreography and movement have grounded us all in where we're coming from. Even if you're not a dancer, you feel empowered to move.
Hargrove: And we should mention that some of the excitement comes from the fact that so many of us of know each other already.
Really?
Hargrove: People would ask me if I knew anyone in the cast, and I would say "Who do I not know in the cast?" Wayne and I did a summer program ten years ago in Italy. Brittany and I sang in church together.
Robinson: I've known some of the other ensemble members for at least 15 years, from other productions of Porgy and Bess or other operas and musicals. I'm used to performing at different venues, out of town and overseas, and while it's wonderful to meet new people, to be able to perform with friends is extra special.
Christopher Browner is the Met's Associate Editor.
Photo: (left to right) Rebecca L. Hargrove, Wayne Arthur Paul, and Brittany Renee Robinson