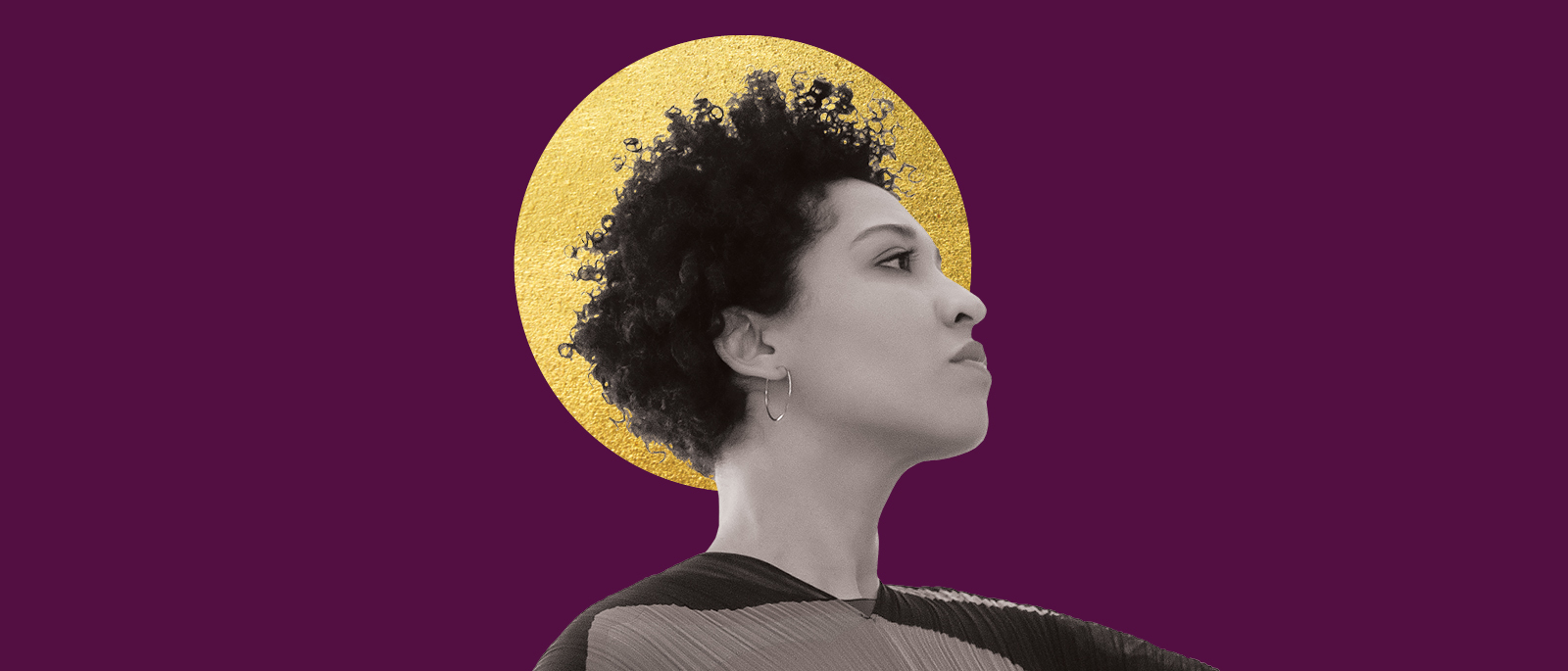 The Gospel According to Mary
On April 23, eminent American composer John Adams returns to the Met for the company premiere of El Niño, his dramatic reimagining of the Nativity story. The vibrant new production marks the Met debut of Lileana Blain-Cruz, one of the theater world's most daring young directors, and also sets the stage for the debuts of three fierce champions of new music: distinguished maestro Marin Alsop on the podium and soprano Julia Bullock and bass-baritone Davóne Tines, who join mezzo-soprano J'Nai Bridges to form a powerful trio of next-generation stars. By Jonathan Minnick
In the weeks leading up to the world premiere of El Niño in Paris in 2000, John Adams described his unique opera-oratorio as "my way of trying to understand what is meant by a miracle." The fourth of his works to take the Met stage, it approaches the traditional story of the Nativity from several new angles. The familiar elements are all here: Mary and Joseph's arduous journey to Bethlehem for the birth of Jesus, Herod's barbarous Massacre of the Innocents, and the sacred family's flight across the desert into Egypt. But to make the story simultaneously more immediate, more universal, and most importantly more dramatic, Adams and his longtime collaborator Peter Sellars vastly broadened their scope, incorporating both biblical and secular texts in English, Spanish, and Latin, ranging from pre-Christianity to the 20th century.
"How can you tell this story today and not have a woman's voice?" Adams says. "Seldom in the officially sanctioned stories is there any more than a passing awareness of the misery and pain of labor, of the uncertainty and doubt of pregnancy, or of that mixture of supreme happiness and inexplicable emptiness that follows the moment of birth." Taking center stage in the soprano role and portraying both the Virgin Mary and the angel Gabriel in her highly anticipated Met debut is Julia Bullock, a trailblazing soloist, community activist, leading advocate for contemporary works, and passionate champion of Adams's music. Named the 2021 Musical America Artist of the Year and hailed by The Times of London as "one of the most exciting singers of her generation," she is the undisputed face of El Niño today, having performed the piece extensively since 2018.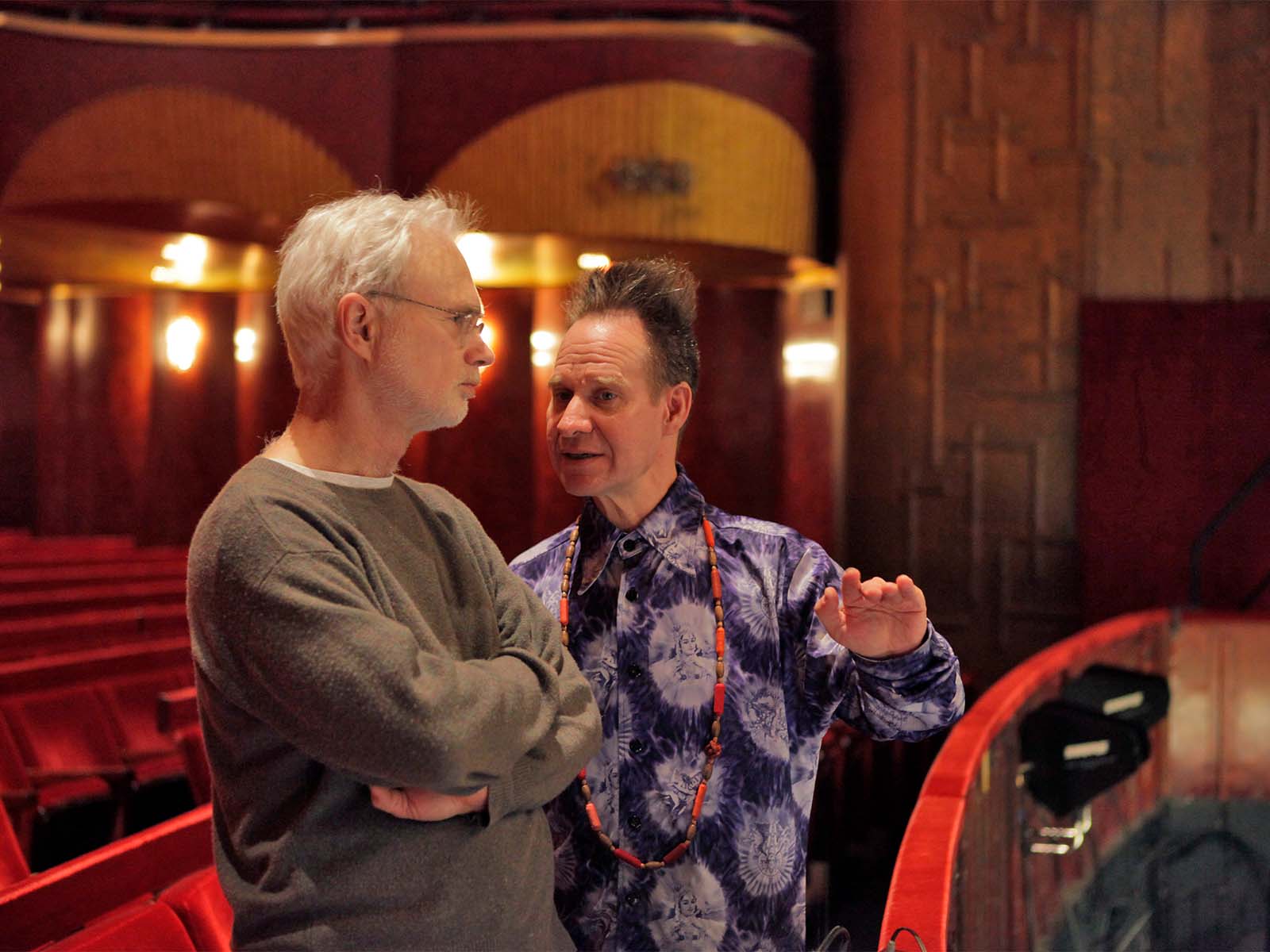 Composer John Adams, left, with Peter Sellars, his collaborator on the libretto for El Niño
Bullock stars in a dynamic debut production by Lileana Blain-Cruz, whose celebrated maximalist productions have powered a meteoric rise in the theater world. Resident director at Lincoln Center Theater, Blain-Cruz is an innovative young theatrical voice with an affinity for dense and layered stories that allow her to encourage audiences to actively think and feel a sense of participation in the onstage action. Invoking her Puerto Rican heritage and her Catholic upbringing—and hoping to build on the 21st-century concepts that Adams explores in the libretto—Blain-Cruz structures her production around migrant stories, especially important to her as immigration becomes increasingly contentious—and dangerous. "Immigration is so terrifying. People are looking for a safe passage or a place to land," she says. "In many ways, these stories mirror Mary and Joseph looking for a safe place to give birth to their child."
Immigration is just one of many contemporary issues examined in this new production of El Niño, alongside authoritarian regimes, feminism, and our changing environment. These questions come to the fore thanks to a libretto, assembled by Adams and Sellars, that brings prominent 20th-century Latin American literary figures into the story. In addition to adapted passages from the New Testament Apocrypha, the 15th-century Wakefield Mystery Plays, a Christmas sermon by Martin Luther, and a hymn by Hildegard von Bingen, Adams and Sellars included the poetry of Rosario Castellanos, Gabriela Mistral, Sor Juana Inés de la Cruz, Rubén Darío, and Vicente Huidobro—all set in Spanish—to add a modern perspective and also, through these female voices, focus on Mary's experience and the miracle of childbirth in general.

A storyboard for Blain-Cruz's new production
The title also drives home the universality of this story and the relevancy of its themes. Adams explains that changing the title from How Could This Happen? (inspired by the birth of his first child) to El Niño was influenced by the Spanish language in the libretto as well as the eponymous weather pattern—particularly relevant today as we experience increasingly extreme weather resulting from climate change. "The association with storms and violent weather is right—a miracle is not without its alarming force," says Adams, quoting Sor Juana. "Christ was referred to as the 'Wind,' a tempest that blows away all that comes in its path and transforms it. Herod knows this. We all know it when a child comes into the world."
The tempestuous nature of childbirth, especially the birth of Jesus, is illuminated in one of El Niño's most gripping and emotional scenes: the moment of reflection following Herod's Massacre of the Innocents in Part II. Here, with Bullock in the spotlight, Adams draws connections between this biblical passage and modern society by evoking the 1968 Mexico City Massacres—when the Mexican Armed Forces opened fire on students protesting the Olympics—through the poem "Memorial de Tlatelolco" by Castellanos. "This is one of the most inspiring pieces of poetry for me, and I think it will be a peak moment in the production," he says, but he also finds it increasingly troubling as time passes. "We think this is something that couldn't possibly happen now," he says, "but then you read about what's going on in Ukraine and realize that this is just a terrible aspect of human behavior."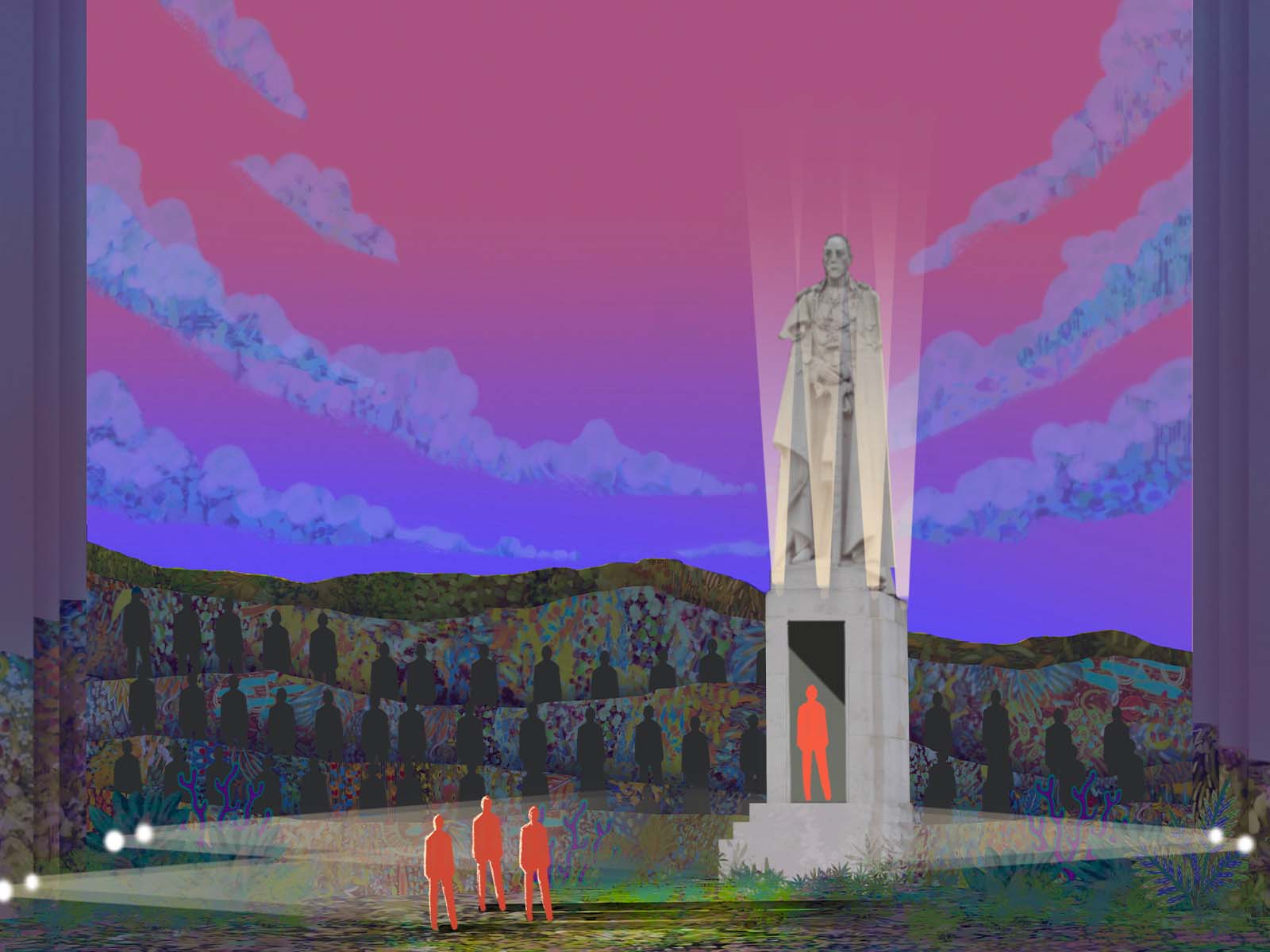 A storyboard for Blain-Cruz's new production
To bring all this to life on stage, Blain-Cruz has reconvened the innovative creative team she assembled for her Tony-nominated Broadway production of The Skin of Our Teeth. A genius with color, set designer Adam Rigg's immersive scenery reflects the journeys that many Latin American migrants experience, with vibrant evocations of tropical rainforests starkly juxtaposed with dry desert plains and impenetrable border walls. And the costumes by Montana Levi Blanco emphasize the characters' relationships to their surroundings while also mixing in a touch of Afrofuturism and traditional biblical iconography. Yi Zhao paints the landscape with his vivid lighting design, working in concert with Hannah Wasileski's projections, which appear like moving illustrations. James Ortiz simultaneously fills the stage with larger-than-life puppets, creating magic with dragons and a fiery Christmas Star. "El Niño is about color," Adams says, "and I think this production is going to mix perfectly with the music and the emotion of the piece."
Intricate, sonorous, and evocative, Adams's score exhibits his hallmark style—minimalist but flexible, and expansive when called for by the drama—and incorporates passages of both extreme intimacy and raucous outburst, offering plenty for the Met Orchestra and Chorus to sink their teeth into. Guiding them from the podium in her long-awaited Met debut is Marin Alsop, a towering presence on the new-music scene who has led more than 200 world premieres over the course of her career. Adams and Alsop have been close friends for decades, and according to Adams, there's no one who understands the American contemporary music scene as well as she does. At a time when the Met is presenting more works by living composers and stories that are relevant for today's audiences, Alsop, who grew up in Manhattan and frequently attended performances at the Met, can't wait to take the podium for El Niño. "Art is constantly evolving," she says, "and the Met's commitment to bringing alive works of our time is wonderful. I'm excited to be part of something new and different at the Met."

Davóne Tines (left) and J'Nai Bridges
Alsop conducts a compact cast of principal singers who move fluidly among the multiple roles they each portray. Starring alongside Bullock in the complex and demanding baritone role—appearing as Mary's confused and questioning husband Joseph, the ruthless tyrant Herod, and the booming voice of God—is Davóne Tines, who makes his company debut after garnering tremendous praise for previous performances in this role in Paris, London, Los Angeles, Houston, and Cleveland, among other locales. Following acclaimed Met performances in Philip Glass's Akhnaten, mezzo-soprano J'Nai Bridges completes the principal trio, at times taking the role of a narrator and at others offering a parallel perspective of Mary alongside the soprano. The cast also features three countertenors who appear as the three wise men as well as the angel Gabriel—a perfect match for their ethereal sound.
For all involved, the Met premiere of El Niño represents something larger than themselves. "I feel very privileged to have a work chosen by an artist like Lileana and with a cast that expresses what this country is," says Adams. "We're a country of inclusion, and we've been battling that, and it continues to be a challenge." For her part, Blain-Cruz hopes to kindle a love for the work among Met audiences, and for the art form itself in young and first-time operagoers. "I'm excited for them to watch the curtain come up and be dazzled by color, life, light, and people that look like themselves on stage."
Jonathan Minnick is the Met's Associate Editor.