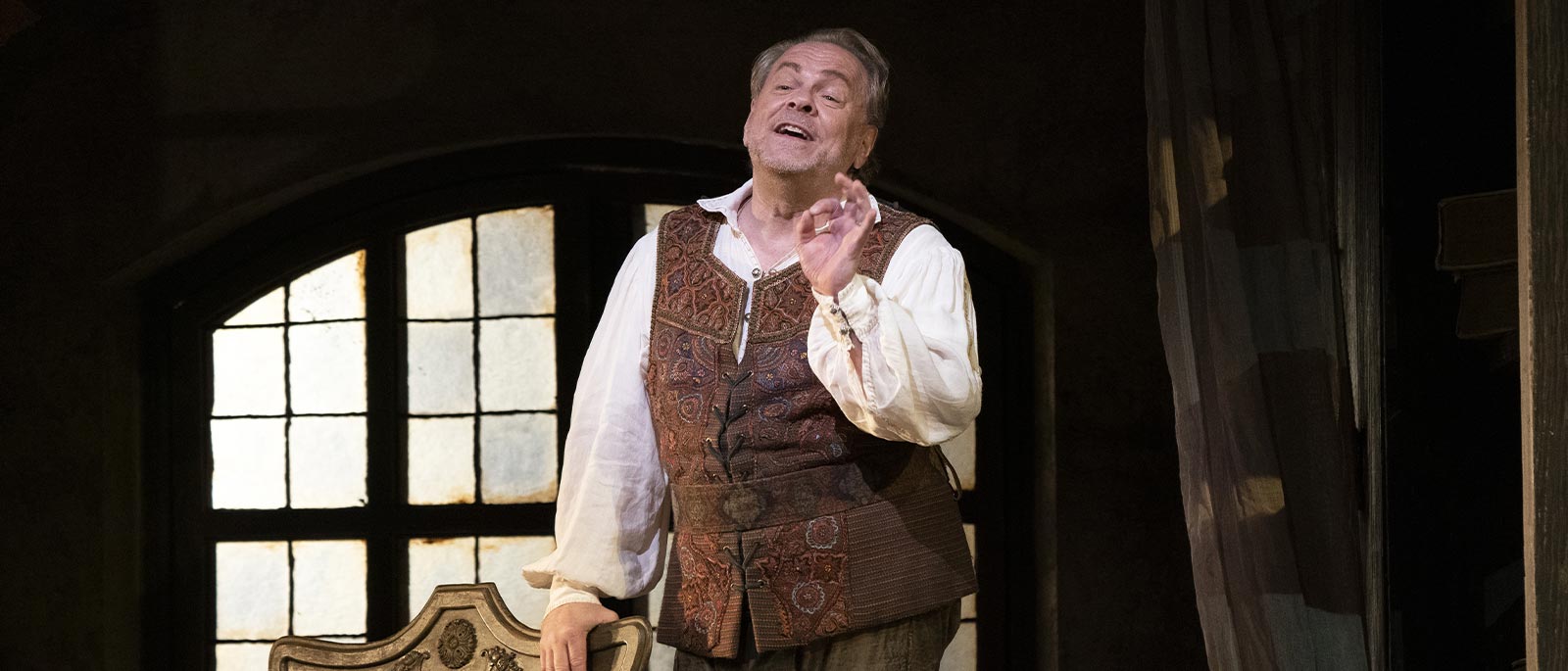 The Best Medicine
German baritone Michael Volle has been one of the Met's leading Wagnerians in recent years, giving memorable performances as Wotan in the Ring cycle, Hans Sachs in Die Meistersinger von Nürnberg (pictured above), and the Dutchman in Der Fliegende Holländer. But this month, Volle appears in his first Verdi opera with the company, starring as Shakespeare's uproarious and inexhaustible knight in the title role of Falstaff. He recently spoke with the Met's Jay Goodwin about singing what he calls "one of the greatest roles you can imagine" in Verdi's sublime final masterpiece.
Does your vocal and dramatic approach to Verdi differ from the way you sing Wagner?
No, there is really only one way, whether you're doing Sachs in Die Meistersinger or Falstaff. You have to sing in the best manner of bel canto. Even in Wagner, the music demands the most beautiful way of singing.
Sachs is obviously a character who has a lot to teach us, but Falstaff does too in his own very different way. What do you think we should learn from him?
In the end, once the disguises have come off and all the tragicomic mischief is over, Falstaff acknowledges his bad behavior and admits that he deserved the other characters' mockery. But he argues that without him, nothing would be interesting. He is the salt in the soup. He has had many adventures and experiences, has found a lot of success and made many mistakes, all of which have value. Also, it's like real life: We learn that the ladies are always the smarter ones.
It's a role that demands a lot of physical comedy. Does that make it particularly fun?
Absolutely. You cannot play Falstaff standing still and only thinking about producing good singing. You have to act, and if you don't enjoy it, you shouldn't do it. I learned very early in my career that comedy is a hundred times more difficult than tragedy—each joke must be placed on the exact right millisecond, can't be overplayed, and has to mesh perfectly with the ensemble.
What stands out to you musically in Falstaff?
Verdi created an absolutely unique masterpiece as his last work. There are so many aspects that are like nothing he ever did before, but for me the key thing is the magnificent Baroque fugue at the very end. It's like a return to the beginning of everything—for Verdi and also for me, because Baroque music, particularly Bach, is part of my biography, and I could never live without it. And Verdi chose a fugue for the final chapter of his last work, with the words "Tutto nel mondo è burla." "Everything is a joke," Falstaff says, so don't take life too seriously, and try to laugh and enjoy it. Verdi was in his 80s, at the end of a long life during which he suffered many disappointments and personal tragedies, yet he looks back and writes something like that. It's marvelous.