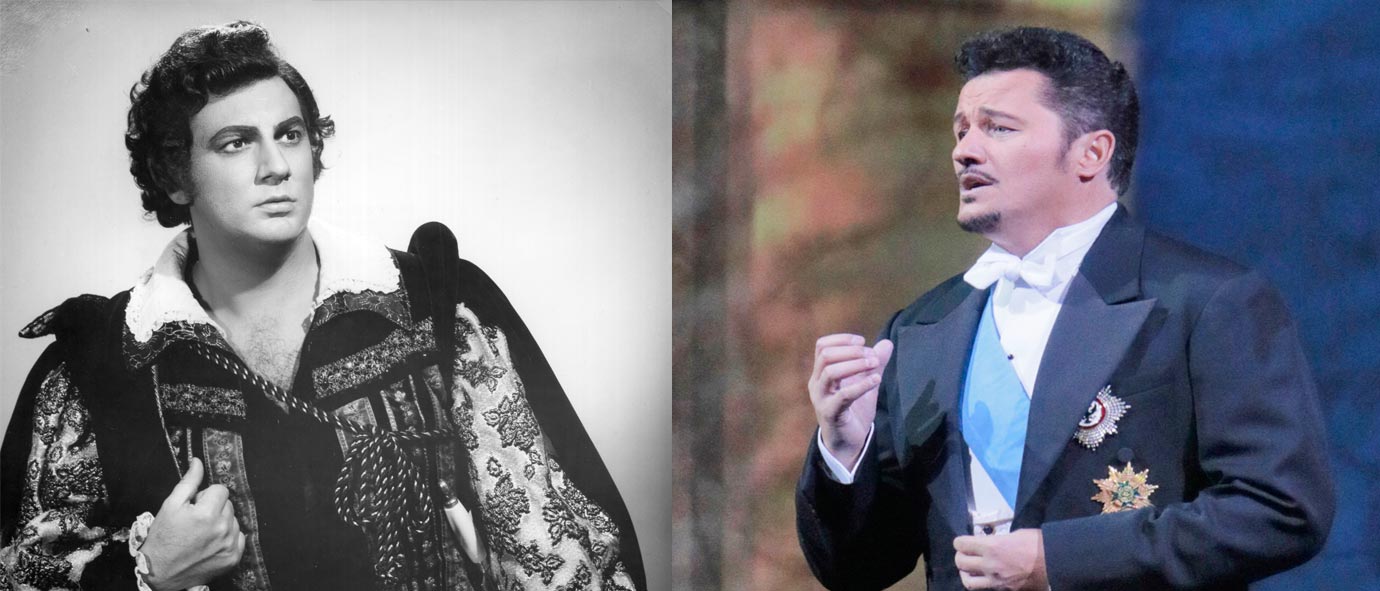 Tale of Two Tenors
February 20th, 2018
The Met's revival of Verdi's early masterpiece Luisa Miller, which opens March 29, features the first onstage collaboration between tenor Piotr Beczała, as Rodolfo, and the legendary Plácido Domingo—who sang Rodolfo with the company in 1971 and 1979 and now takes on the baritone role of Miller. Before rehearsals began, the two singers connected with the Met's Jay Goodwin on an international conference call to discuss the opera, the links between their two distinguished careers, and their upcoming Met engagements for the 2018–19 season.
PLÁCIDO DOMINGO: Piotr, are you in New York?
PIOTR BECZAŁA: No, no, I'm in Vienna.
PD: Oh, you are in Vienna, and I am in Beijing.
JAY GOODWIN: And I'm in New York, so we've come together across three continents.
PD: I'm looking forward to joining you at the Met for this wonderful opera, Piotr.
PB: Yes, it will be fantastic. I'm hoping to wear your costumes.
PD: [Laughs.] But it was a different production when I last sang it.
PB: Ah, too bad, because I just sang my first Don José in Vienna, and parts of my costume were originally yours. [Laughs.]
PD: Yes, I'm sure, because that production hasn't changed in years. And I heard you had a great success, so congratulations.
PB: Thank you, thank you.
JG: So Piotr, was Plácido a big influence on you when you were a young artist?
PB: Well, of course. For who not? When I was a student, what made the biggest impression on me was Franco Zeffirelli's movie version of Otello starring Plácido. It was such an amazing thing, and also his Don José and Tosca. All these fantastic productions I saw on TV, and that really motivated me to be an opera singer.
PD: And I have been a great admirer of Piotr's from the very beginning, especially after I conducted him in Verdi's Requiem in Poland after the death of Pope John Paul II [in 2005]. In every opera that I've seen him do, he has been really fantastic—the easiness of hisvoice, the beauty of the sound. I'm so gladthat he'll be Rodolfo in this Luisa Miller with me. To me—and I think Piotr will probably agree—this is one of the most difficult tenor roles. It's lyrical, but it also has some heavier dramatic moments. I think it's going to bea phenomenal part for him with the way his voice has been developing.
PB: Yes, and I do agree that Rodolfo is very complicated. In Act I, it's written almost like Donizetti. But then going forward, it becomes more spinto and more dramatic. And by the last scene of Act III, he's almost like Otello, with his cruelty to Luisa and the complexity and development of his character. I'm really looking forward to singing it.
PD: You know, it's interesting that you mention the parallel between Luisa Miller and Otello because it's true—how he decides to kill Luisa because of all the mistakes and misunderstandings. He comes to punish her, just like Otello. It's very similar, even though it was written many, many years earlier.
JG: Verdi wrote many memorable father-sonand father-daughter roles, but Luisa Miller actually has two of these great pairings—Luisa and her father, and Rodolfo and his father—and those relationships are the foundation of the opera. What makes the separent-child relationships so powerful?
PD: Well, first of all, there are the tremendous emotions Verdi had himself as a very unhappy father who lost both of his children as infants. And perhaps because of that, some of the most beautiful music that he wrote is between fathers and daughters—Rigoletto and Gilda, Amonasro and Aida, Simon Boccanegra and Amelia. And the two Act III duets between Luisa and her father in Luisa Miller are just amazing, unspeakable. He really suffered with losing his children,and he's incomparable in these moments between parents and children.
JG: Absolutely. And Verdi's music for Miller is, of course, less flashy than Rodolfo's, but it's so beautiful …
PD: Yes, he is a suffering character, and unlikemost of Verdi's baritone roles, he's not the villain in this opera. He just tries to protect his daughter. And his music is absolutely glorious.
PB: Also the trio at the very end of the opera—for Luisa, Rodolfo, and Miller—is for me the most touching moment of the opera. It's so simple and just plays to the heart.
JG: The third member of that trio at the Met this season, of course, is soprano Sonya Yoncheva.
PD: Yes, and I'm so proud because she's a winner of my Operalia competition. She's a phenomenal artist and an impeccable musician and actor. But we haven't been lucky in scheduling performances together, and so this will be our first chance to work on an entire opera together. I can hardly wait.
JG: Looking ahead to next season—Piotr, you'll be starring in a new production of Cilea's Adriana Lecouvreur as Maurizio, which happens to be the role in which Plácido made his Met debut in 1968 and also the last tenor role that he sang at the Met more than 40 years later in 2009.
PB: I just did my first Maurizio a couple of months ago with Anna Netrebko in Vienna, and I really enjoyed it because it was my first big step into the world of verismo. I love the music, and it really opened new doors for mein my mind. It's just different from everything else that I've sung, and It's an exciting discovery.
JG: And Plácido, you will be singing the title role in Gianni Schicchi, part of Puccini's Il Trittico. Are you looking forward to doing some comedy?
PD: Yes, it will be a change, and I enjoy the role. It's also important because it will be my 50th anniversary with the Met and the 100th anniversary of Il Trittico's world premiere, which also happened at the Met. So that's special.
JG: We are all looking forward to those productions, and also what should be amazing performances of Luisa Miller coming up.
PB: Absolutely. I'm in Vienna for a couple of weeks, and though I have some concerts, I'm basically sitting here and studying Luisa Miller. I discover something new every day as I get to know the music more and more.
PD: It's the same here. I have the telephone in my hand and the score in front of me.
PB: Me too. As we speak, I'm sitting at the piano in front of my score. [Laughs.]
PD: That's life.
Jay Goodwin is the Met's Editorial Director.