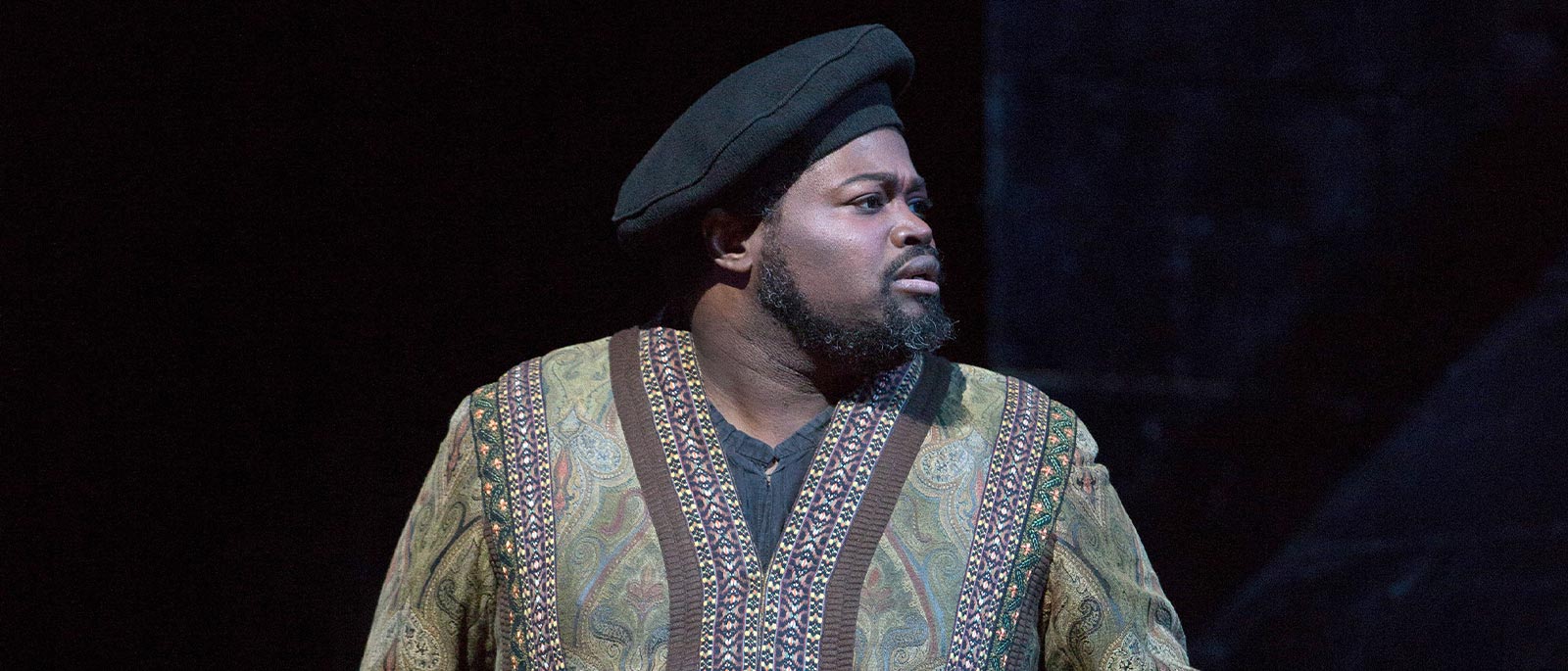 Taking the Lead
When Russell Thomas made his Met debut in 2005, it was in the supporting role of the Herald in Verdi's Don Carlo. Fast forward 17 years, and the Miami native is one of today's most in-demand heroic tenors, returning to the company this month to sing the opera's high-flying title role. Thomas recently spoke to the Met's Christopher Browner about his affinity for Verdi's music, as well as the important work that he is doing beyond the footlights.
In addition to Don Carlo, you're headlining performances of Otello, Ernani, and La Forza del Destino around the world this season. What especially draws you to Verdi's music?
Verdi's music really requires that your voice be able to do everything—sing some coloratura, sing in various colors, sing high, soft, and loud. And it requires a lot of attention to detail. But I've always enjoyed singing Italian music and really understood the style, and fortunately it sits well in my voice.
What are the particular challenges of singing Don Carlo?
It's a ton of singing—he's on stage all the time. And in terms of the roles I am singing these days, the tessitura sits higher than most. It's also complicated to find the right balance in the characterization. He's sort of an outcast. He has beautiful music and exciting scenes, but if I'm not careful, he can come off as just a petulant child, and that gets boring after a while.
How does your extensive experience with Verdi affect your approach to the role?
After singing Otello, everything feels easy! That being said, I try to approach every role quite lyrically, as if I were singing the Duke in Rigoletto. And the more I know a role, the more I look for ways to really demonstrate who I am as an artist. So I'm looking for ways that I can show off a bit more, while still being true to the music, of course.
Recently, you've been quite involved with programs that reach out to underrepresented communities in the opera world. What led you to take on this work?
I've always been an advocate for singers— and for opera, generally—because the industry hasn't been interested in accessibility, and people who aren't white don't feel like they're welcome. So when I was offered the opportunity to become artist-in-residence at LA Opera, I wanted to do something that would make an impact. I came up with a virtual program for students at historically black colleges and universities to not only give feedback on their singing but also teach them all the aspects of running an opera house. And we also have a program for high-school students in LA to offer them lessons in voice, acting, music theory, and vocal health. I think this is actually more important than the work I'm doing on stage because it shows these students that, whether or not they make it as a performer, there's a place for them in opera.
Pictured above: Russell Thomas as Ismaele in Verdi's Nabucco in 2016