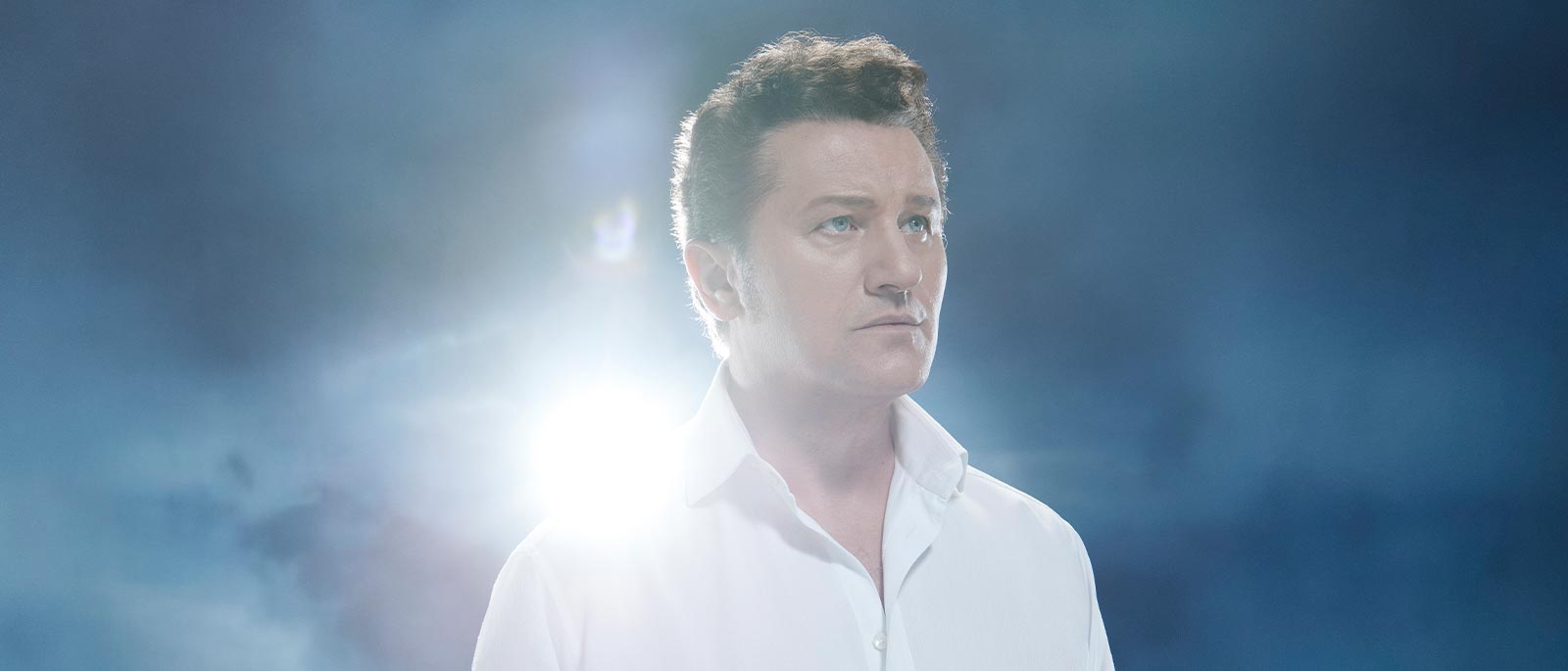 Song of the Swan
The most performed Wagner opera in Met history, Lohengrin has been surprisingly absent for nearly 17 years. But this February, fans of the composer's soaring masterpiece will have cause to rejoice as Lohengrin finally returns, with Music Director Yannick Nézet-Séguin on the podium to lead a vivid new staging by director François Girard. Picking up where Girard's transcendental 2013 vision of Parsifal left off, the production stars tenor Piotr Beczała as the titular swan knight and explores timeless issues that feel uncannily current. By William Berger
Few works challenge a director more than Richard Wagner's monumental final masterpiece, Parsifal, but when François Girard made his Met debut with a new production of the opera in 2013, it was nothing short of a triumph. The New York Times hailed it as "brilliant … [a] thoughtful and intrepid staging, full of striking imagery," and this season Girard returns with a new take on the composer's Lohengrin, bringing the opera back to the Met stage for the first time since 2006. "Once you've done Parsifal, you know the destination of Wagner's whole journey, of his whole lifetime of ideas about music and theater," the Canadian director says. "So, when you then look at the earlier operas, you see the seeds of what's to come. Knowing where it goes gives you a retrospective on what it is you're dealing with."
Girard points out that Parsifal almost acts as a prequel to Lohengrin—despite being composed 30 years after Lohengrin's 1850 premiere. In fact, in his climactic Act III aria, "In fernem Land," Lohengrin reveals himself to be a knight of the Holy Grail and son of the king Parzival. "That became a very central idea for me, this sequel-prequel relationship between the two," Girard says, explaining that he also explored the intersections between the two works in conversations with Met Music Director Yannick Nézet- Séguin, who had recently conducted the first revival of his Parsifal production in 2018. "Yannick was there from day one. He's the one who first asked me if I might be interested in Lohengrin and then followed all the half-formed thoughts—and fully formed thoughts—I had about the piece. He followed the whole thing, so I'm looking forward to revisiting it with him."
Maestro Nézet-Séguin will be on the podium for the staging's premiere on February 26, and in addition to leading the full forces of the Met Orchestra and Chorus, he conducts a supreme cast led by Piotr Beczała, who graduates from the lyric-tenor repertoire at the Met to take on the heroic title role. The production also features a pair of formidable Wagnerian sopranos, Tamara Wilson and Christine Goerke, facing off as Elsa and Ortrud, with bass-baritone Evgeny Nikitin as Telramund and bass Günther Groissböck as King Heinrich.

Tim Yip's set for Lohengrin
Lohengrin is the third of Wagner's mature operatic masterpieces and stands at the crossroads of all the musical, dramatic, and thematic issues in his complex, and sometimes controversial, output. The direct source for the tale was the 13th-century German romance Parzival by the poet and singer Wolfram von Eschenbach (Wolfram himself appears as a character in Tannhäuser, the opera that Wagner completed directly before Lohengrin). In the Medieval legend, a holy knight transported in a boat drawn by a swan arrives to rescue an oppressed woman from her attackers. As Wagner tells it, the woman is Elsa, duchess of Brabant, who is accused by the pagan sorceress Ortrud and her husband, Telramund, of murdering her missing brother, the young Duke Gottfried. The plot is set in motion when they make their case before King Heinrich of Germany, who is attempting to unite the nation and fight Hungarian invaders from the East.
The interconnectedness of the Lohengrin tale with Wagner's other works led Girard to conceive this production as a sequel to his Parsifal. He refers back to his earlier staging to elaborate: "At the end, in the last three seconds of a six-hour evening, the newly crowned Parsifal turns his head, and a dancer stands up. I was certainly not thinking of Lohengrin when I staged Parsifal, but when I was staging the first beat of Lohengrin, I realized that this dancer is Lohengrin's never-named mother."
Since he set Parsifal in the present day, this Lohengrin must perforce be in the future, but rather than concoct some kind of "futuristic" aesthetic, Girard and set and costume designer Tim Yip—the Academy Award–winning production and costume designer behind Ang Lee's Crouching Tiger, Hidden Dragon, whom Girard describes as "an incredible companion, artist, and designer"—instead chose to have the story play out in an environment that is simultaneously contemporary and fantastical, reinforcing what they see as the primary theme of Lohengrin: the collision between the magical realm and the real, human world. It's a different psychic space from the one that Parsifal inhabited, but there are still resonances between the two productions—for instance, projection designer Peter Flaherty's mesmerizing cosmic imagery from Parsifal will find its way into the world of Lohengrin.
Piotr Beczała as Lohengrin
But the otherworldly dimension is only one aspect of this opera. Lohengrin is often cited as Wagner's "dreamiest" score (indeed, Elsa introduces herself by recanting a dream that she had of a knight savior, who promptly appears); however, it is also one of Wagner's most historically specific operas. And as there is more history in this opera than in other Wagner operas, there is more history around it. It was the opera that first fired the imagination of King Ludwig II of Bavaria, Wagner's eventual patron, who grew up in Hohenschwangau Castle, on a lake said to have been visited by the "actual" Lohengrin. This was also the opera most frequently performed outside of Germany for many years—its first Met performance took place less than a month after the company's founding in 1883—and was considered a sort of "gateway" to all of Wagner's works. With its emphasis on nation building, militarism, and alarm about invaders from the East, it was also highly fetishized by the Third Reich. Girard believes that most productions since the Second World War, even many he has admired, have veered too far into abstraction in order to dissociate from the work's place in history and all its implications. Setting this production in what he calls "a diffused future" made it an echo of history rather than history itself, an entirely changed political perspective.
Unfortunately, though, history did intrude on this staging, which was initially planned as a co-production with Moscow's Bolshoi Theatre and which premiered there on the fateful date of February 24, 2022, the launch of the invasion of Ukraine. Girard and the entire cast and crew—a mix of Ukrainians and Russians—watched as their work was reflected by the events of the day. "The thing I felt was how this catastrophe highlighted our mission—as artists, musicians, theater people," Girard reflects. "That night, what we were celebrating was ultimate empathy. This is what we do for a living. We are artisans of empathy. In the absence of empathy, you have war, and that was right across the street, in the Kremlin, that same night." (Immediately upon the Russian invasion of Ukraine, the Met suspended its partnership with the Bolshoi and is creating all-new sets and costumes for the New York run.)
While Lohengrin includes many conflicts of love and enmity between characters and nations, the central conflict in Girard's conception of Lohengrin is found in the two antagonists of the libretto: the wicked Ortrud versus the righteous Lohengrin. It is not a question of conflicting dogmas but of antithetical natures, with real humans caught between them. The enigmatic swan serves both sides, as Kundry in Parsifal serves both the Holy Grail and the malefactor Klingsor. Ortrud manipulates the action from afar, as Klingsor in Parsifal had with his magic and his all-seeing spyglass (a version of which, an oculus, appears in Yip's set). Girard's goal is to open the possibilities of this multi-faceted operatic gem rather than to impose a single interpretation onto it. He warns us to "beware of directors, commentators, or anyone who has concrete answers to Wagner's unfathomable questions. Because when it comes to storytelling, the smartest person in the room is the audience. We have to believe in the imagination of the audience."
A Met writer and radio producer, William Berger is the author of numerous books about opera, including Wagner Without Fear.