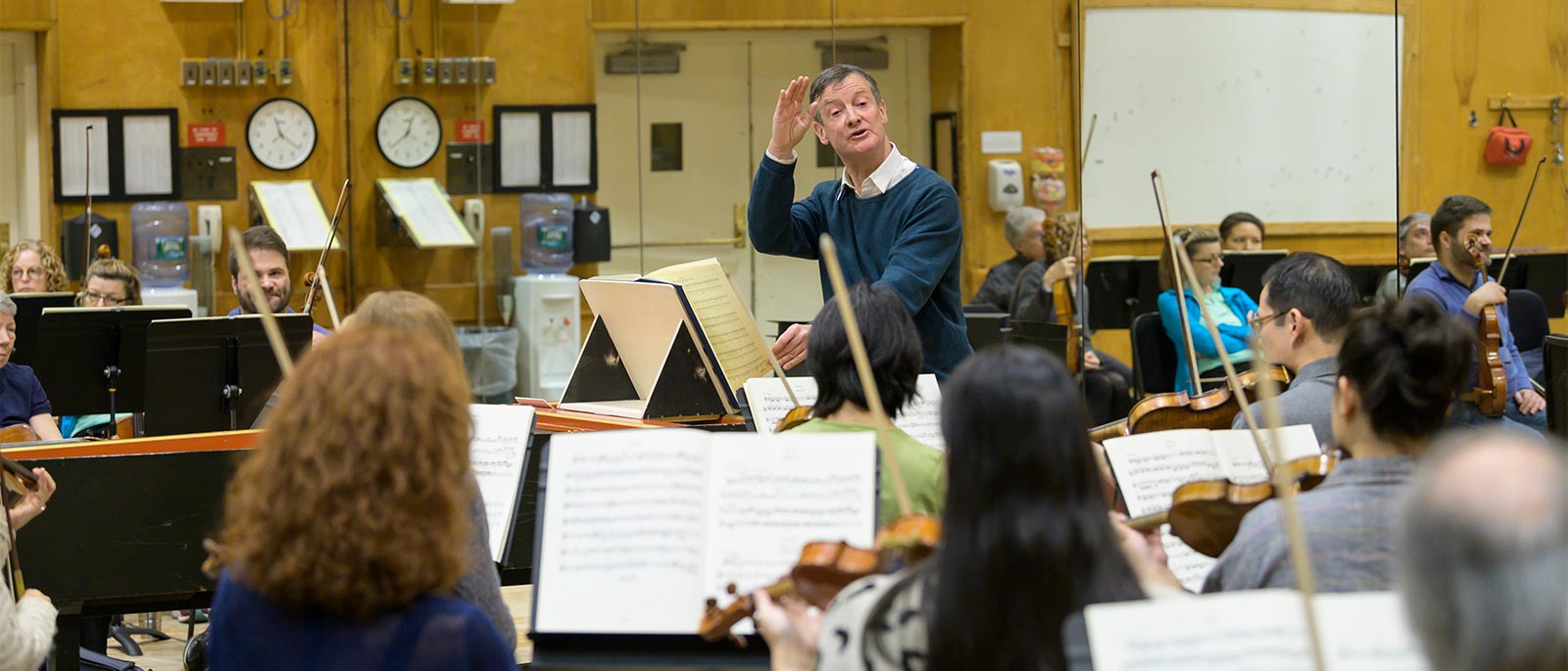 Seeing Double
This February, a pair of 18th-century comedies appears on the Met stage, but while Handel's satirical Agrippina and Mozart's elegant Così fan tutte are very different operas, they have one thing in common: their conductor. So how does maestro Harry Bicket juggle dual conducting duties?
"You have to be quite disciplined. It's more a mental challenge than a physical one," says Harry Bicket in between rehearsals for Sir David McVicar's irreverent new production of Agrippina. "Eighteenth-century music requires such concentration, and you can't turn off for a second." Handel's political satire has its Met premiere on February 6, with Così fan tutte returning to the stage in Phelim McDermott's Coney Island–inspired setting just nine days later. "In Agrippina, there are a lot of set numbers, arias, and dances," Bicket explains, "so every time we stop between them, we risk losing momentum. In Così, on the other hand, there are these magnificent ensembles—especially the big finales at the end of each act—so there's more of an architecture built into the music."
Having previously led Handel's Rodelinda and Giulio Cesare with the company, the maestro is excited to introduce another of the composer's masterpieces to Met audiences. "When he was creating Agrippina, Handel was a young man. He was writing with much more wildness and abandon than in the operas he wrote 20 years later," he says. "And he was writing in Venice, which has this great Carnival tradition of juxtaposing high comedy with the absolute depth of tragedy. You'll have some horribly real, melancholy scene, and suddenly, someone will enter, and it will be a comedy act. You have to turn on a dime—though, in some ways, that's not unlike Così."
Beyond the challenge of preparing two stylistically different scores, Bicket must contend with some very long days. There will be many in which the maestro will lead rehearsals for one opera all day and then conduct a performance of the other that evening. "Not to mention," he notes, "that I'm also accompanying the recitatives for Agrippina, so I'm conducting from a keyboard."
The true test comes on Saturday, March 7, when Bicket leads the matinee of Così fan tutte and the evening performance of Agrippina—six and a half hours in the pit. It's a marathon that he's prepared to undertake. "The only way to do this is to know the pieces so intimately and completely that, even if you're tired, your brain is sufficiently programmed to make sure that you still accomplish what you want to do with the piece."
Christopher Browner is the Met's Associate Editor.