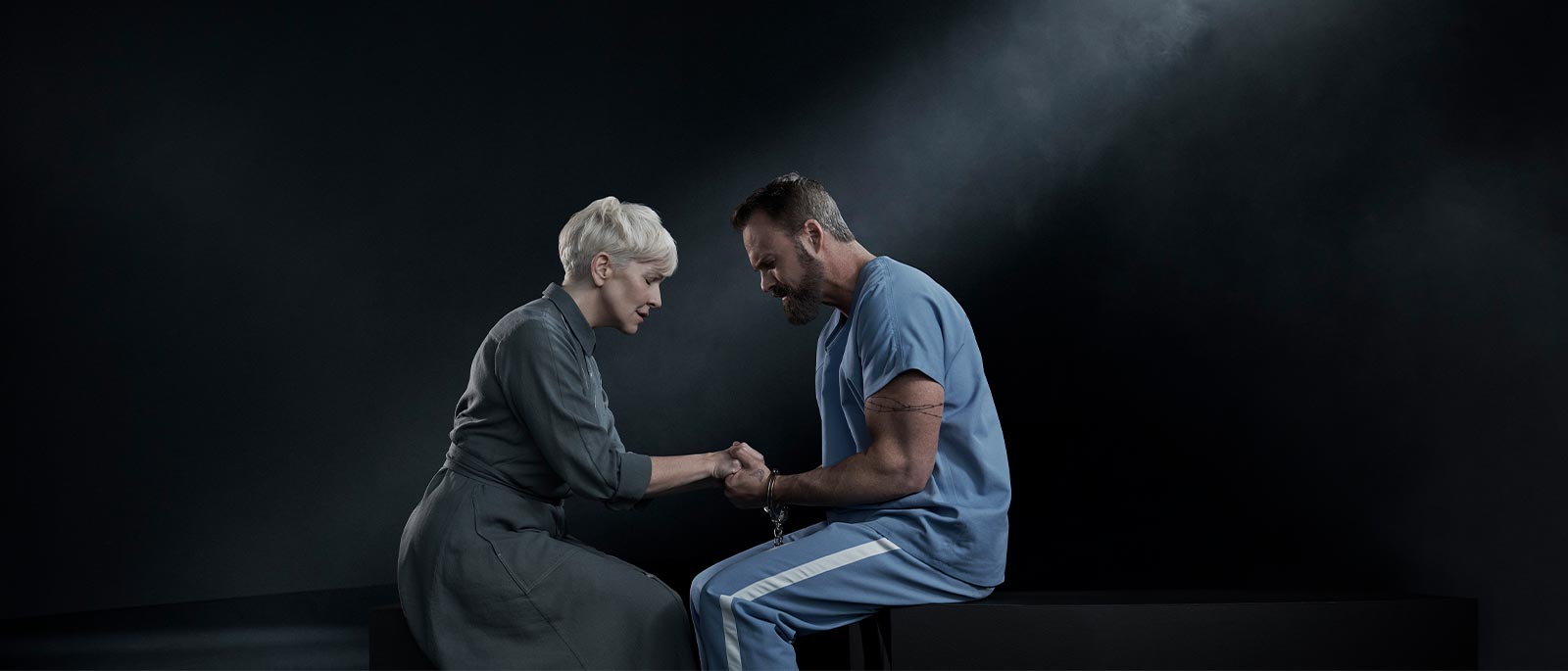 Road to Redemption
The 2023–24 season gets underway on September 26 with the Met premiere of Jake Heggie's Dead Man Walking, a soul-stirring adaptation of Sister Helen Prejean's memoir chronicling her ministry on death row. Mezzo-soprano Joyce DiDonato and bass-baritone Ryan McKinny star as the nun and the condemned killer who make a spiritual connection in the direst circumstances, with Music Director Yannick Nézet-Séguin conducting a haunting new staging from director Ivo van Hove. By Christopher Browner
"I begin to think of him as a fellow human being, though I can't for a moment forget his crime, nor can I reconcile the easygoing Cajun who writes to me with the brutal murderer of two helpless teenagers," wrote Sister Helen Prejean in her 1993 memoir Dead Man Walking, reflecting on her earliest communications with murderer Elmo Patrick Sonnier. Little did she know when she began their correspondence that she would soon find herself inextricably tied to the United States' system of capital punishment, first serving as Sonnier's spiritual advisor up until his execution and then becoming a leading advocate against the death penalty. Nor could she have imagined that her account of that experience would make its way not only onto the big screen—with Susan Sarandon winning an Academy Award for her portrayal of Prejean in Tim Robbins's film—but also onto the stages of leading opera houses around the globe. Now, a journey that began on death row more than 40 years ago arrives at the Met, when Jake Heggie's Dead Man Walking has its company premiere on Opening Night of the 2023–24 season.
The first full-scale opera by the Florida-born composer, Dead Man Walking has appeared in 75 productions since its 2000 premiere at San Francisco Opera, making it easily the most frequently performed new opera of recent decades. For mezzo-soprano Joyce DiDonato—who appears as Sister Helen and is, according to Heggie, the "definitive" interpreter of the role—the opera's popularity stems from the deep humanity of its story. "Everyone's first instinct is that this is just a piece about the death penalty, but it's so much more. It's really a love story—one of the purest that we know in opera," she says. "Even though Sister Helen sees the horror that this man has done, she continues to insist that he is a child of God. And the twist is that he's able to come to a place of love for her too."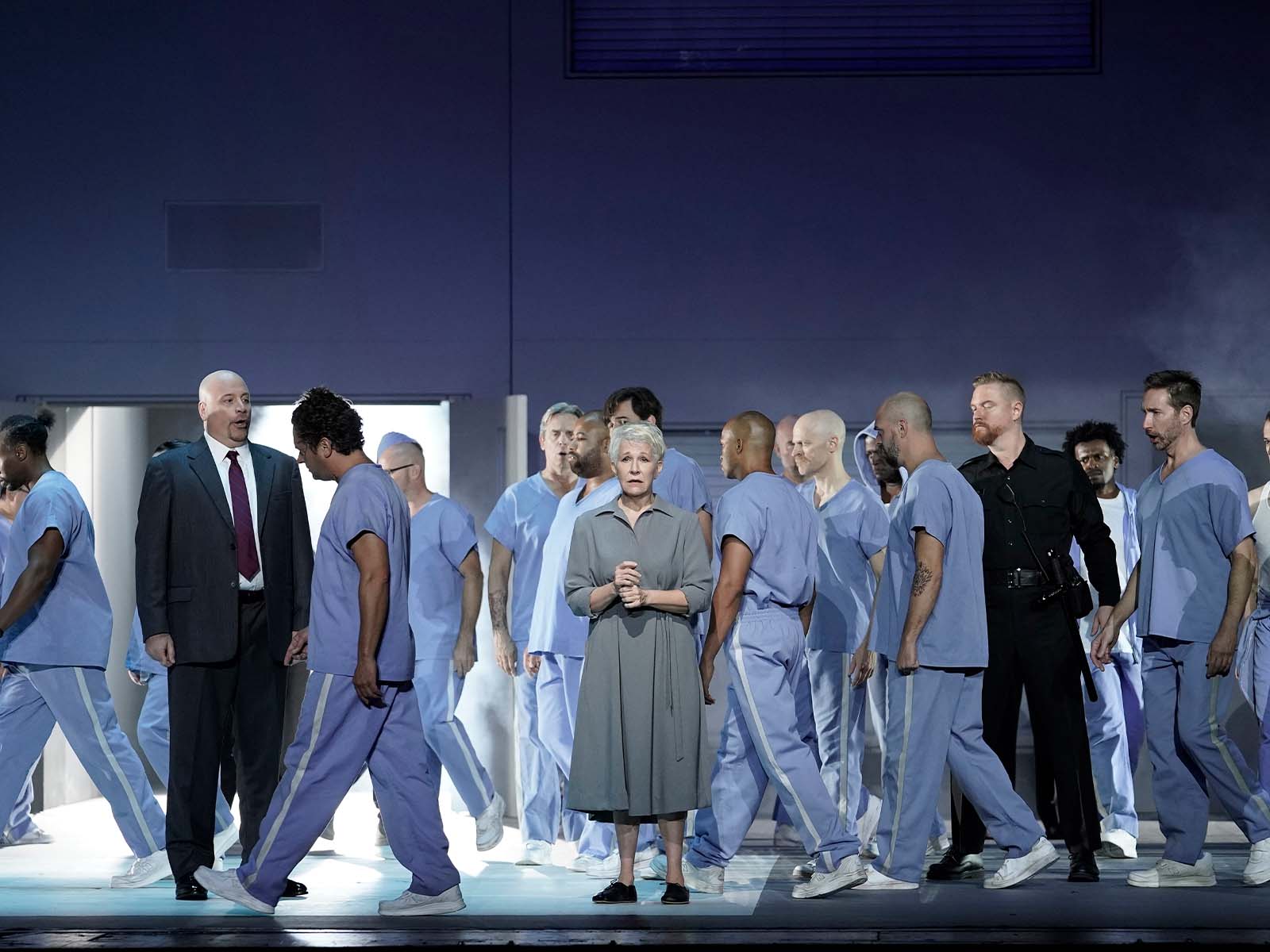 It was this quality that first attracted Heggie's attention when meeting with the opera's librettist, late Tony Award– winning playwright Terrence McNally. As Heggie recalls, McNally proposed ten potential subjects, but once he mentioned Dead Man Walking, "all the hair on my neck stood up, and I had this shiver. My mind was already going to arias, ensembles, and choruses. It had the kind of emotion that would fill an opera house." But whereas Prejean spends much of her book mounting a thorough, persuasive case against the death penalty, Heggie and McNally knew that to succeed on stage, their version would need to focus on people over polemic. "We never wanted to make an argument about the death penalty. That's only what raises the stakes," the composer says. "There's a life and a death at stake in every scene, as there should be in any opera, in any great drama."
With Prejean's blessing, Heggie and McNally took liberties in adapting the material—the inmate in the opera, Joseph De Rocher, is a fictionalized amalgamation of two convicts that Prejean counseled in the Louisiana State Penitentiary between 1982 and 1984—but they nonetheless stayed true to the spirit of her experience. The resulting opera follows Sister Helen as she mentors De Rocher, who awaits execution for the rape and murder of a teenage girl and the killing of her boyfriend. While Joseph is initially combative and unwilling to accept responsibility for his actions, Sister Helen finally breaks through, convincing him to confess his crimes and helping him face death with dignity. At the same time, she grapples with her own demons, including a crisis of faith and the painful realization that she has caused more suffering by neglecting the victims' families. But Heggie is also quick to point out that, despite its title, his opera is ultimately life-affirming and not without moments of levity—inspired by Prejean's own "great sense of humor."
Portraying De Rocher is bass-baritone Ryan McKinny, who first encountered the opera when, as a student at Juilliard, he saw DiDonato headline a production at New York City Opera in 2001. For him, the challenges of the role are less vocal—Heggie's writing "sits right in the spot of my voice that I love to sing in," he says—than psychological. "The first thing the audience sees is Joseph rape someone and kill two people. What a way to start off a character's journey," McKinny says. "And then to go from that point to building trust with this woman, to admitting his crime, and finally accepting that forgiveness is a possibility— the character arc is extremely intense."
Alongside DiDonato and McKinny, the opera also features soprano Latonia Moore as Helen's confidante, Sister Rose, and mezzo-soprano Susan Graham, who originated the role of Sister Helen in the world premiere and who now revisits the opera to give what Heggie calls a "magnificent, heartbreaking" performance as Joseph's mother. Overseeing it all is Music Director Yannick Nézet-Séguin, an ardent champion of new works. "We are entering a new era at the Met, one in which we are sharing more operas by living, breathing composers with our audiences," says the maestro. "While the masterpieces of the past can always teach us about the human experience, Dead Man Walking has a story that hopefully will resonate even more viscerally with operagoers today."
Beneath Dead Man Walking's contemporary subject matter, Heggie nonetheless sees "many of the themes classic in opera: love, loss, life, death, damnation, forgiveness, and redemption." His score likewise has its roots in operatic tradition, heightening the drama with powerful orchestral sweep and providing ample opportunities for the kind of emotional vocal outpourings only possible in this art form. Early on, Sister Helen—a lyric mezzosoprano with an "earthiness" that Heggie says reflects her life of service—wrestles with her inner turmoil in an aria aptly titled "This journey," while later in the first act, the many forces crashing down upon her are represented in a richly textured ensemble for the full cast. This charged vocalism reaches its height in Helen and Joseph's climactic duet in Act II, as together they relive his crimes moment by excruciating moment.
The composer also took a cue from Wagner, delineating individual characters and situations with quasi-leitmotifs that carry the listener along—a recurring hymn for Sister Helen, a plaintive theme for the victims' parents, a musical motif built around Joseph De Rocher's name, even a rhythmic figure characterizing his crimes—whereas the modern-day setting offered him the chance to incorporate musical styles rarely heard in an opera house. The opera opens with rock 'n' roll and smooth jazz playing on a car radio, before the mood shifts abruptly as the orchestra violently depicts the murders. Then, in stark contrast, the scene changes, and Sister Helen leads her elementary students in an upbeat spiritual. "Terrence gave me a libretto that demanded a range of American influences. It was an invitation to explore many different kinds of music," Heggie says, "to bring people into a world that felt familiar but that would still challenge them."
The realism of the piece also inspired director Ivo van Hove, who returns to the Met following his searing take on Mozart's Don Giovanni last season and who sees Dead Man Walking as a "universal drama, told in all its brutality but also in all its humanity." Collaborating once again with set and lighting designer Jan Versweyveld and costume designer An D'Huys, van Hove places the action amid imposing blank walls that are simultaneously abstract and reminiscent of Prejean's descriptions of the "Death House" where executions are carried out: "always very clean," with "bright fluorescent lights" that are "cold and greenish white."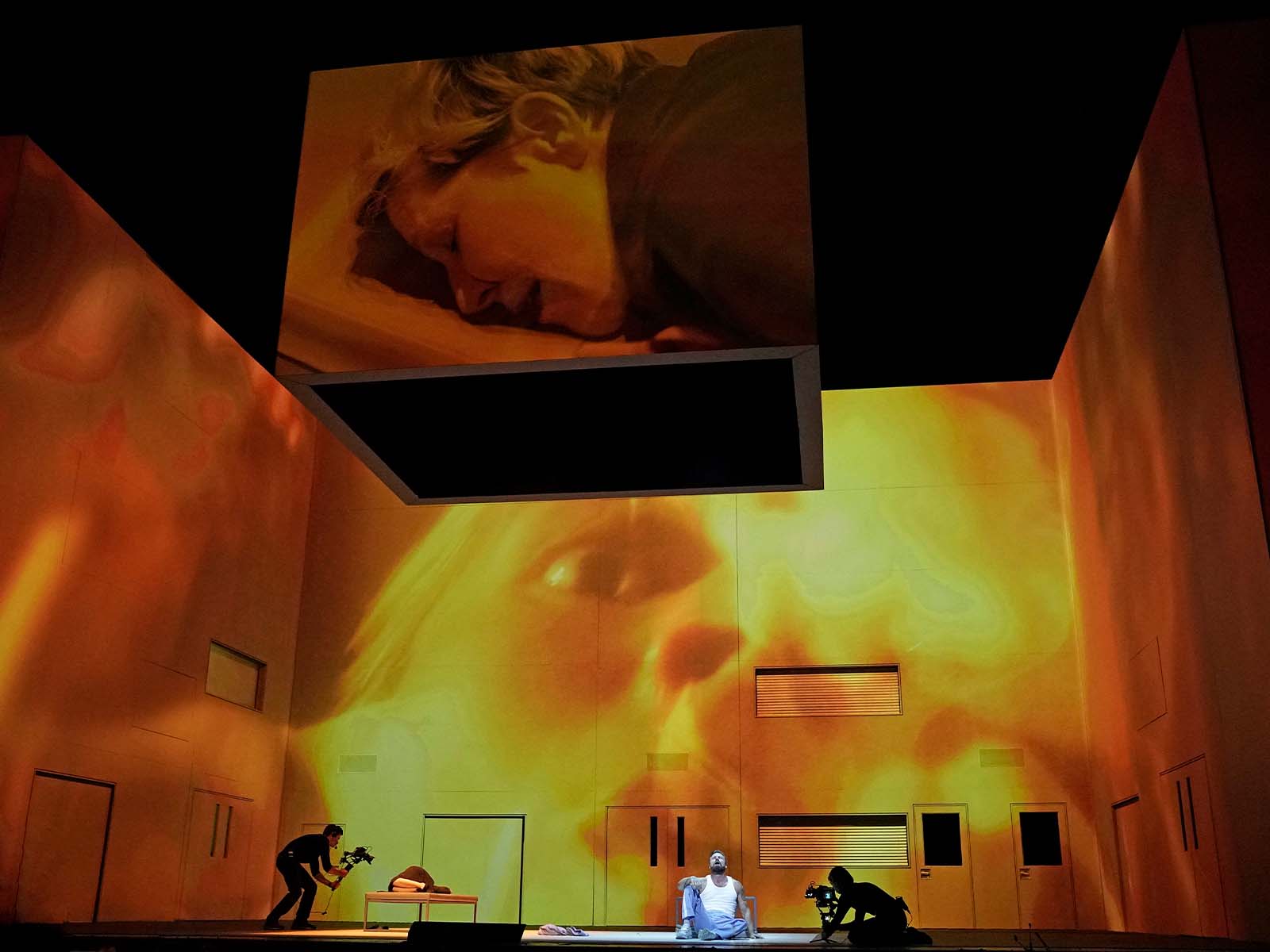 Versweyveld's scenery also serves as a giant canvas for projections by Christopher Ash, with additional ambience provided by abstract soundscapes from Tom Gibbons. Ash's video plays a particularly prominent role in the storytelling, with the murders depicted three times over the course of the opera—forcing the audience to witness the crimes from both De Rocher's and the victims' perspectives. And as the drama zeroes in on Helen and Joseph in the moments leading up to his execution, two onstage camera operators will capture closeups of DiDonato and McKinny, projecting their images larger than life across the set. "It will be like an Ingmar Bergman movie, where their faces are the most important thing," van Hove explains. "You'll be able to look into their eyes and really see inside the characters."
It all adds up to a project that DiDonato is eager to share with Met audiences, and one that she sees as particularly powerful at the present moment. "Jake doesn't back away from real emotional truth," she says. "And considering all the division in our world, this opera presents us a beautiful opportunity to invite the audience to be a source of love for that other person, especially the one that scares them. I can't think of anything else I'd rather sing about right now."
Christopher Browner is the Met's Senior Editor.