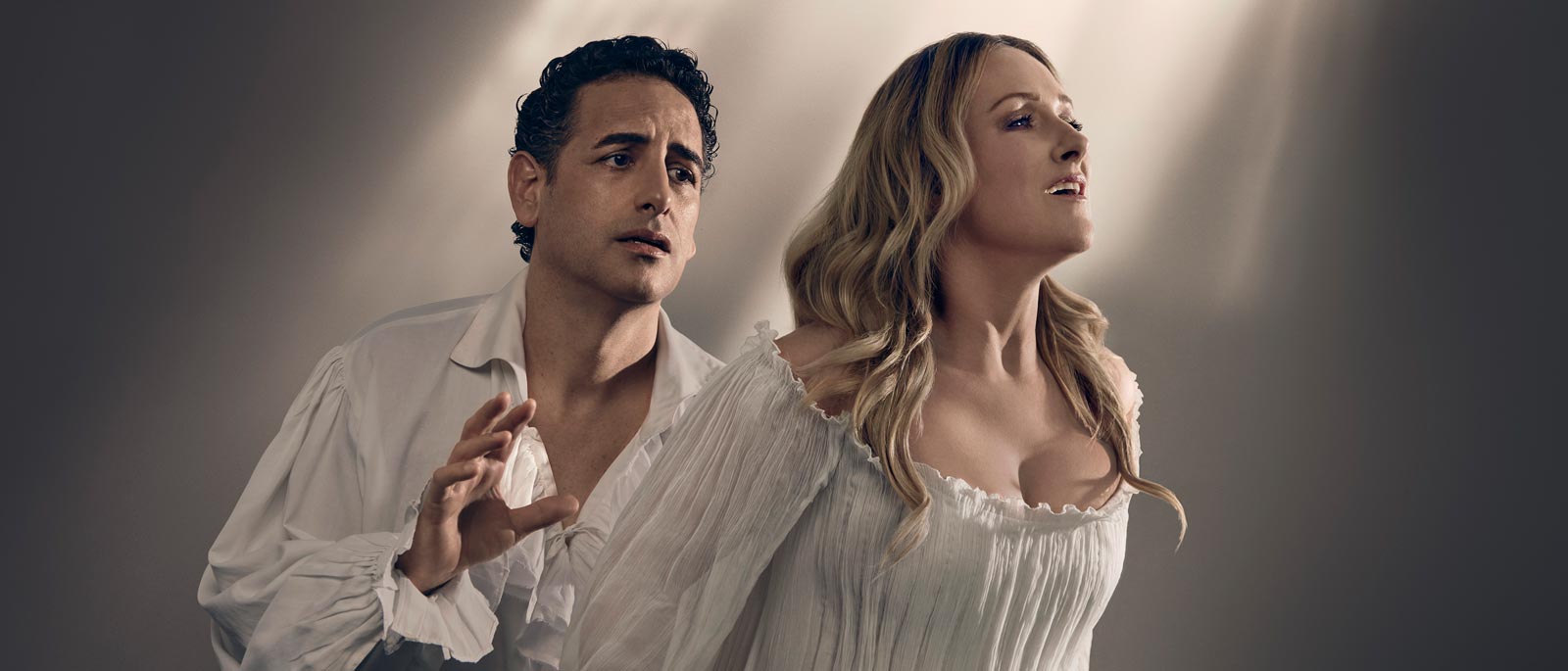 Requiem for a Dream
October 15th, 2018
In his new staging of Verdi's enduring masterpiece La Traviata, Tony Award–winning director Michael Mayer conjures a world of decadence and drama that evolves with the changing seasons. Yannick Nézet-Séguin takes the podium for the first time as the Met's Jeanette Lerman-Neubauer Music Director to conduct the production, which stars Diana Damrau as the consumptive courtesan yearning to find happiness before her time runs out, opposite Juan Diego Flórez as the man who helps her discover true love. By Christopher Browner
"I was very excited by the idea of doing a new, very beautiful, very romantic La Traviata—but in a modern way." This is how director Michael Mayer—who returns to the Met after a bold, Las Vegas–inspired staging of Rigoletto in 2013—describes his approach to this season's new production of Verdi's beloved tragedy. "My designers and I sought to both create a world that evokes a certain period from the past—in this case, the middle of the 19th century, when the opera was composed—but one that also allows for a modern sensibility." The opera opens December 4, with Yannick Nézet-Séguin conducting soprano Diana Damrau, tenor Juan Diego Flórez, and baritone Quinn Kelsey in the principal roles. And in the spring, the production returns with Anita Hartig, Stephen Costello, and Plácido Domingo, with Nicola Luisotti on the podium.
One of Verdi's most intimate creations, La Traviata (whose title literally translates as "the fallen woman") is, on its surface, a taut domestic drama based on the semi-autobiographical novel and play La Dame aux Camélias by Alexander Dumas fils. The opera focuses on the final year in the life of its heroine as she desperately struggles to find true happiness in the face of both an oppressive society and a deathly illness. The composer was immediately drawn to the contemporary story, which he described as "a subject from our own time," and the work's central conflict also held personal significance for him. While he was working on the opera, Verdi was in the midst of a scandalous relationship with the soprano Giuseppina Strepponi, who had originated the role of Abigaille in the 1842 world premiere of his Nabucco. The couple had recently taken up residence in a villa outside Verdi's hometown, and the composer's decision to live "in sin" with an unmarried mother of two illegitimate children shocked the locals. As a result, Violetta's inability to fully escape her less-than-reputable past strongly attracted Verdi to the story.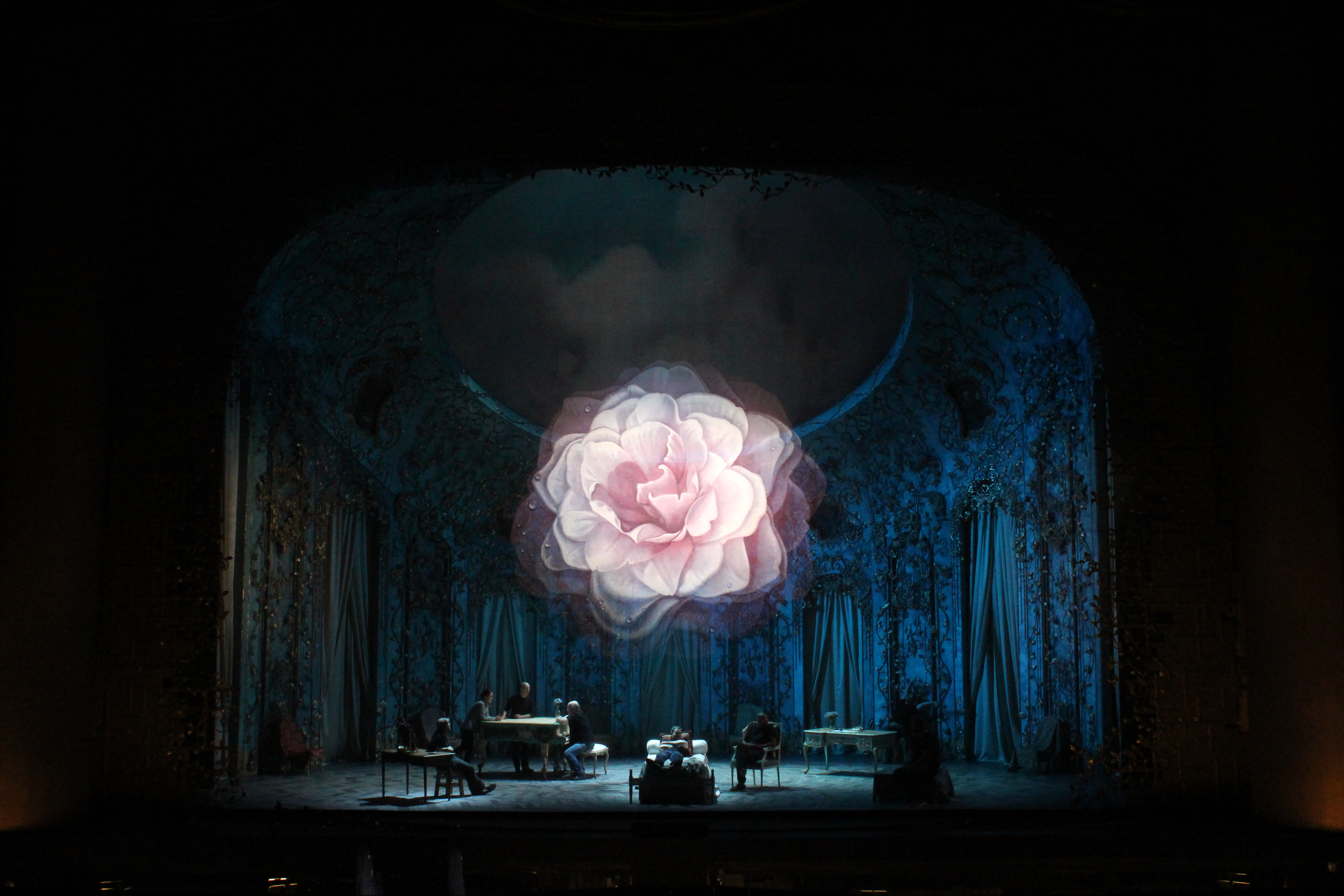 In his new production, Mayer—who also directs Nico Muhly's Marnie this fall—explores this theme throughout, setting the entire opera in a single, ornate room designed by Christine Jones, the 2018 Tony Award–winner for Best Scenic Design for Harry Potter and the Cursed Child. The set exudes the excess and decadence of Violetta's lavish yet superficial lifestyle, an impression that is amplified by the production's elaborate period costumes, designed by Susan Hilferty (yet another Tony winner). "The whole opera takes place in this one very beautiful space with tall windows and grand ceilings and gold filigree on the walls," describes Mayer. "We frame the opera as a kind of fever dream in which Violetta relives the events that brought her to her final moments on earth. When the curtain rises, we are at her deathbed in that last flickering moment of consciousness."
In a sense, choosing to place all the action within the confines of a single room suggests that no matter what she does—including her escape to a country hideout with her lover Alfredo in Act II—Violetta remains tethered to her status as a kept woman. At times, Mayer points out, the set itself even entraps its heroine: "In some scenes, the beautiful filigree actually separates from the walls and becomes almost like this golden cage."
In La Traviata, Violetta also fights the unrelenting passage of time, as illness—in this case, consumption—speeds her toward an untimely end. (Marie Duplessis, the real-life courtesan whose relationship with Dumas fils inspired La Dame aux Camélias, succumbed to tuberculosis when she was only 23 years old.) Many productions of the opera—including the Met's 2010 staging by Willy Decker, which famously featured an oversized clock on stage—have explored this aspect of the work. In his new take, Mayer drew inspiration from the cycles of the natural world. "The production progresses like the four seasons," he says, mirroring Violetta's own blossoming and withering over the course of the drama.
"When we first encounter Violetta," Mayer continues, "she's in the prime of life. It's springtime, and there are flowers everywhere. From there, we move to the country, and it's the summertime. It's the full flowering of her romance with Alfredo. The whole room is alive with color."
Everything begins to fade, however, when Alfredo's unbending father intercedes and urges Violetta to end her love affair with his son. "When Germont arrives, it signals the beginning of autumn," says Mayer, "So when we arrive at the third scene, the party at Flora's home, everything has this feeling of rust and decay. And when the dancers come in, the scene becomes a kind of dance of death." Finally, Violetta's time runs out, "and in the final act, we've come full circle. Violetta is back on her deathbed, and it's the cold, cold winter."
The production represents a new season, so to speak, in the careers of its lead couple, as well. Damrau and Flórez—whose early careers included many of the vocally virtuosic operas of the bel canto period—have costarred in nearly 30 Met performances since 2006. But this production marks the first time that New York audiences will hear them together in a Verdi opera. As Damrau sees it, though, Verdi's musical style in La Traviata has clear roots in earlier Italian opera. "Traviata, how Verdi has written it, is actually still based on the bel canto style," says the soprano. "You can hear this especially well in the first act. Violetta's first aria is almost a little mad scene. She is torn because she desperately wants Alfredo and this love, but she also knows that it's just not possible."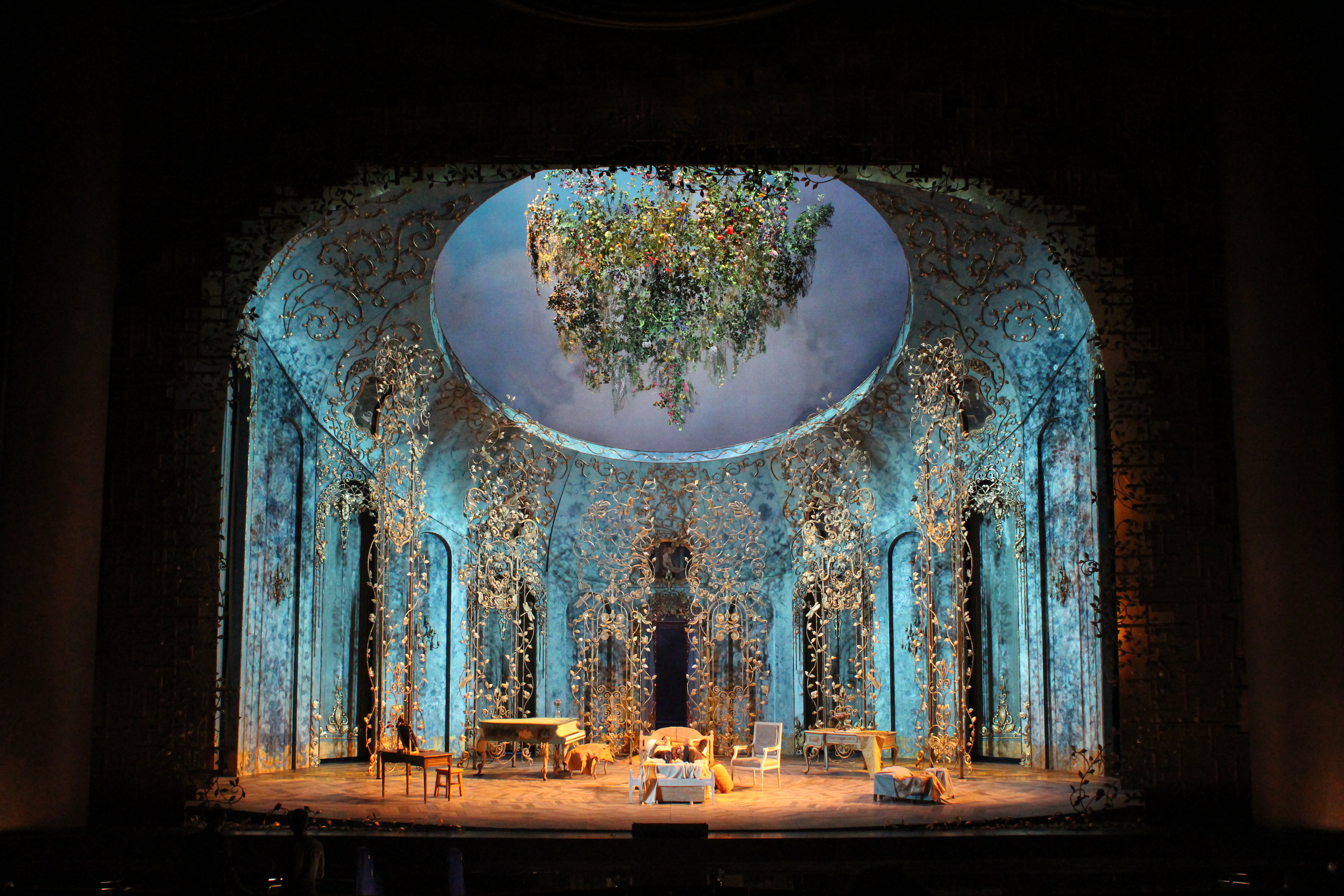 These performances also represent a homecoming for Flórez. The tenor was last seen on the Met stage in the 2015 company-premiere production of Rossini's La Donna del Lago, one of six new stagings in which he has starred in the last decade.
Kelsey, the 2015 recipient of the Met's Beverly Sills Artist Award, joins the pair as Germont, a role that he first sang at the Met in 2014. With a series of commanding performances in recent Met seasons—including Peter in Humperdinck's Hansel and Gretel, Count di Luna in Verdi's Il Trovatore, and Enrico in Donizetti's Lucia di Lammermoor all during the 2017–18 season—Kelsey has staked his claim as one of his generation's most celebrated baritones.
Presiding over everything, Nézet-Séguin is thrilled to return to this piece, which he considers "a perfect opera. It has such tenderness," he says. "In it, Verdi so perfectly balances the dramatic tension with the beauty of the music."
Damrau wholeheartedly agrees, describing how Verdi's writing intensifies with each subsequent scene. "The singing starts light, but, after Act I, it becomes more lyrical, with big, warm lines during the scene with Germont," she explains. "And toward the end, when she is very sick and dying, the singing becomes much more dramatic."
Damrau and Nézet-Séguin's history with the piece goes back to 2013, when both of them were performing it for the first time. "I had the great pleasure to conduct Traviata at the Met back in 2013 with Diana when she was making her role debut as Violetta," Nézet-Séguin remembers, "and now to be able to do a new production is very exciting. Back then, we talked about how we'd like to do a new production together, just to have time to look at the text again. So this is something of a dream."
"I'm so happy to do this new production with Yannick on the podium," Damrau says. "I love working with him. He's such an intelligent and expressive musician—but also with fire."
This is also the second time that Mayer and Damrau will collaborate on a new production at the Met. "When I directed Rigoletto, it was my first time directing an opera, and I was really lucky to have the opportunity to work with Diana, who was singing Gilda," Mayer says. "She was just magnificent. I love the way that she acts when she sings. Yes, she has a spectacular instrument, but she also has a fierce intelligence. And she moves with such natural grace and elegance."
The role of Violetta offers Damrau another chance to take full advantage of her musical and dramatic gifts. "Violetta is so strong and complex," she says. "From the very beginning, she's sick. She knows she's going to die. She's probably never experienced real love. But when she meets Alfredo, it hits her like lightning. I think immediately she feels, deep inside, that Alfredo's feelings are really sincere. Despite the illness, she gives herself into that dream and into this hope to live, for once, for love."


Christopher Browner is the Met's Associate Editor.
Plácido Domingo