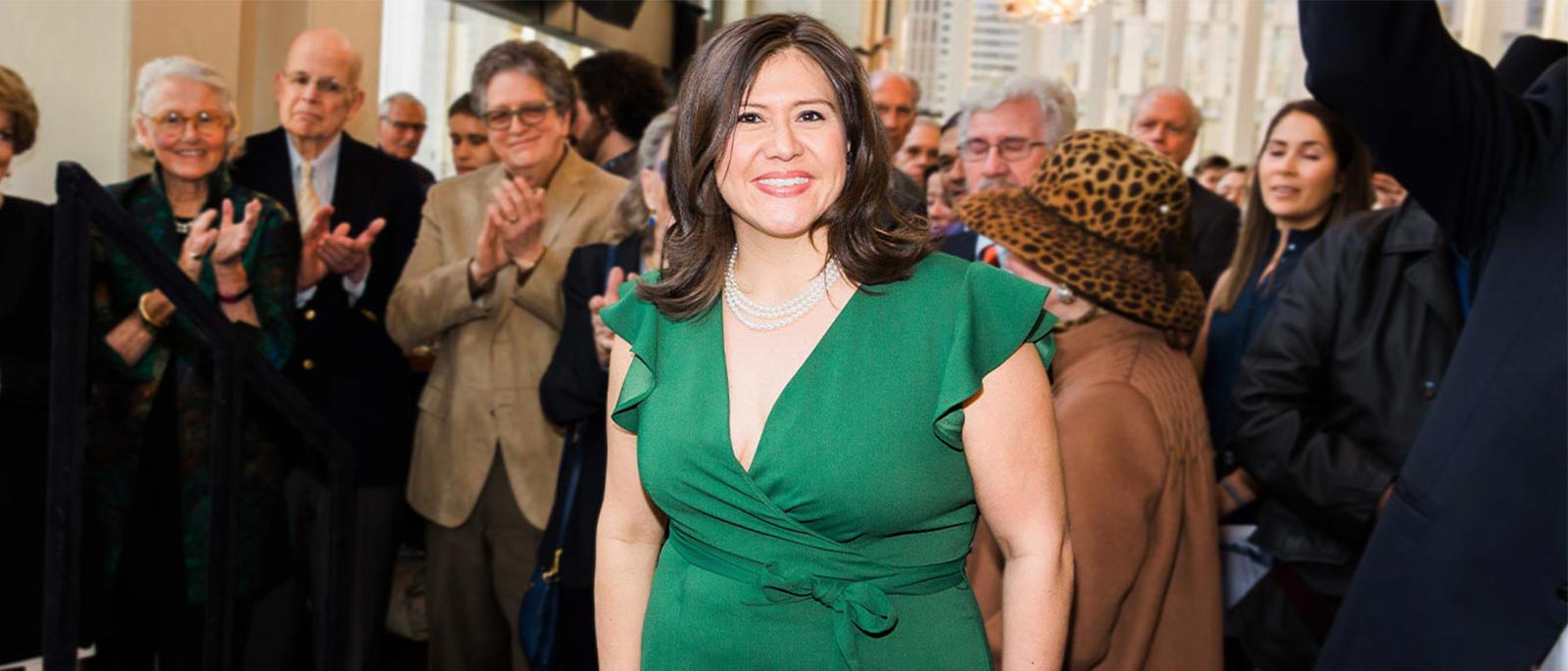 Raising New Voices
Following a virtual season during the pandemic, the Grand Finals of the Eric and Dominique Laffont Competition will return to the Met stage on May 1, with a select group of today's most promising young singers competing to win one of the opera world's biggest prizes. Together with the company's Lindemann Young Artist Development Program, the competition exemplifies the Met's commitment to identifying and supporting the stars of tomorrow, and at the helm of both programs is Melissa Wegner, who is passionate about nurturing the next generation of artists. By Christopher Browner
The list of artists who got their start in the Met's Eric and Dominique Laffont Competition (formerly the National Council Auditions) reads like a who's who of opera's biggest names. From Jessye Norman and Frederica von Stade in the early years to, more recently, Nadine Sierra, Ryan Speedo Green, and Anthony Roth Costanzo, generations of young talents have launched their careers by winning the nation's most prestigious vocal competition. But when the Covid-19 pandemic made in-person auditions impossible, Executive Director Melissa Wegner, who also leads the company's Lindemann Young Artist Development Program, was forced to think creatively. "One of our main functions is to award money to singers, and during the pandemic, that was exactly what they needed," she says. "So I decided that if there was any way to safely and ethically hold our competition, we had to try."
Wegner, her team at the Met, and a small army of dedicated volunteers quickly became experts in webcams, microphones, and judging via video, launching an entirely virtual version of the competition that culminated in a livestreamed Grand Finals Concert last spring. And while she is incredibly proud of their ability to support young singers without missing a beat, Wegner is thrilled to see the return of live auditions. "When it really comes down to it, opera is a live performance art, so there's always going to be an energy that's very different when you hear someone in person," she says.
The 2021–22 competition season kicked off in November, and—after a qualifying round in which Wegner and her colleagues sorted through more than 1,100 submissions—consisted of 37 district auditions spread throughout North America, followed by ten regional auditions. The competition will move to the Met stage later this month for the semifinal round, before the finalists join the Met Orchestra and Maestro Marco Armiliato on May 1.
"First and foremost, we're looking at the voice, its distinctiveness, as well as an artist's musicianship and ability to communicate dramatically," Wegner explains. "But our competition is unique in that we also consider potential. Sometimes the winners will be very young singers who we just think have incredible promise."
For her, future potential is also a main factor when considering new participants in the Lindemann Young Artist Development Program—some of whom she discovers while adjudicating the Laffont Competition. "There are almost always singers in the Lindemann program whom we've found through the competition," she points out. "But for the young artist program, we're looking for people who have something world class but who can still use the Met's resources—voice lessons, movement classes, language instruction, performance opportunities—to springboard them into successful professional careers."
"I think of it as if we were training Olympians," she continues. "We're not just training a volleyball team. We might have a bobsledder, a sprinter, a shot putter, and a gymnast, and they all have to be trained differently." To do so, Wegner works closely with the program's faculty, led by its artistic director, Met Music Director Yannick Nézet-Séguin, and its head of music, Myra Huang—as well as collaborating with the artists themselves to ensure that they are receiving the individualized feedback and guidance that they need to thrive.
Wegner is the first to point out that cultivating the next generation of opera stars is a great responsibility, but it is one that she feels grateful to be able to take on: "Our industry is at a significant point of change, especially post-pandemic, so I'm excited to be leading these programs at this moment, and I want to do so in a way that builds on the Met's past successes and also brings a fresh energy—and fresh ears."
Christopher Browner is the Met's Senior Editor.