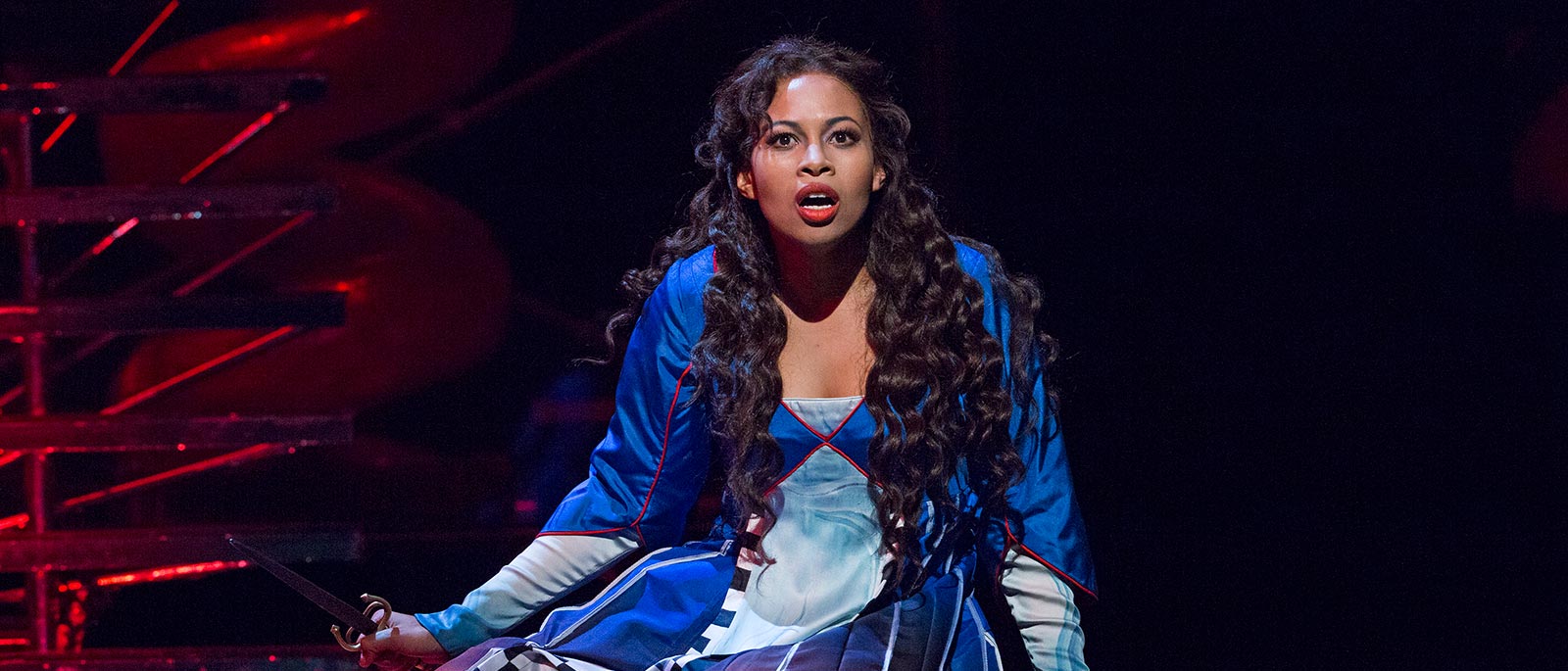 Pure Golda
January 17th, 2019
South African soprano Golda Schultz has risen to prominence in recent years with a string of notable appearances at the world's leading opera companies—culminating in her Met debut last season as Pamina in Mozart's Die Zauberflöte. This month, she returns in the eagerly anticipated revival of Robert Carsen's insightful production of Falstaff, which opens February 22. As she prepared to make her role debut as the spunky Nannetta, Schultz explained to the Met's Christopher Browner why Verdi's final masterpiece is one of her absolute favorites—and why comedy is like baking.
This season alone you're performing works by Mozart, Verdi, Puccini, Mahler, and Jake Heggie. Why is it important for you to maintain such a varied repertoire?
Honestly, I didn't do it on purpose—it just happened that way. My mom always says, "Go where people want you and like you because that will make a difficult journey that much easier." So if a role fits my voice and someone wants me to sing it, why not? The biggest challenge is just keeping all the music straight in my head. But that's also the fun part of the job. We're like archeologists finding something new every time we open a score.
Of all the composers whose music you sing, you must have some particular favorites.
Well, I first became interested in opera when I was in my second year of university as a journalism student, and it was Mozart who got me hooked. So even now, I rarely say no to singing Mozart. And of course, I love Verdi. Falstaff is actually my favorite opera to listen to and sing in.
What moments in Falstaff especially stand out for you?
I have quite a few favorite parts actually. The love music that Verdi gives Nannetta and Fenton is some of the most inspired composition in all of opera. It's amazing that an almost 80-year-old composer was so perfectly able to describe musically the pangs of young love. The way the two lovers follow each other's vocal lines, the playfulness of it all—it's perfection. And then there's that final fugue. It just can't get better than that.
The score is known for its masterful ensembles.
Oh, yeah. There's so much fascinating ensemble music, with the whole orchestra and the vocalists all bouncing around. Sometimes, you have no idea whose line goes where, but as the audience, you get to just enjoy the miracle at work. As a musician, on the other hand, you have to work really hard early on, so once it comes time to perform, you can just enjoy the whirlwind yourself.
Nannetta is a young girl with an overbearing father, but she's also pretty adept at figuring out, with the aid of those merry wives of Windsor, how to get what she wants. Do you find her to be a strong character?
I think she is a young woman who has watched very strong women make their way in a world that isn't always on their side. She's learned that women don't always have to do exactly as men want them to. But is she empowered? Not in the sense we may understand it today. Still, it's how she navigates this world of men that makes her fascinating to watch and to play—how she manages to maintain her sense of self and her sense of childlike wonder.
This piece also lets you show off your comic chops. Singers often say that comedy is more difficult to pull off than drama—do you agree?
I like to think that drama is like cooking and comedy is like baking. To cook, you just need to have even flavors and spices, but no matter what, you'll make a meal. To bake, you need precise measurements and a lot of patience. In comedies, you have to just play the situation and let the audience make it funny. If you try to overplay the joke, it loses its strength. At the same time, you need to know that the punch line is coming and set it up correctly.
Next season, you'll be making another role debut at the Met—as Clara in our new production of Gershwin's Porgy and Bess.
Yes! Porgy and Bess has always fascinated me, so I'm thrilled and honored to be part of the group bringing it back to the Met. And at a time like the one we find ourselves in today, it becomes more and more important to put diverse stories on stage. That especially excites me.
Christopher Browner is the Met's Associate Editor.