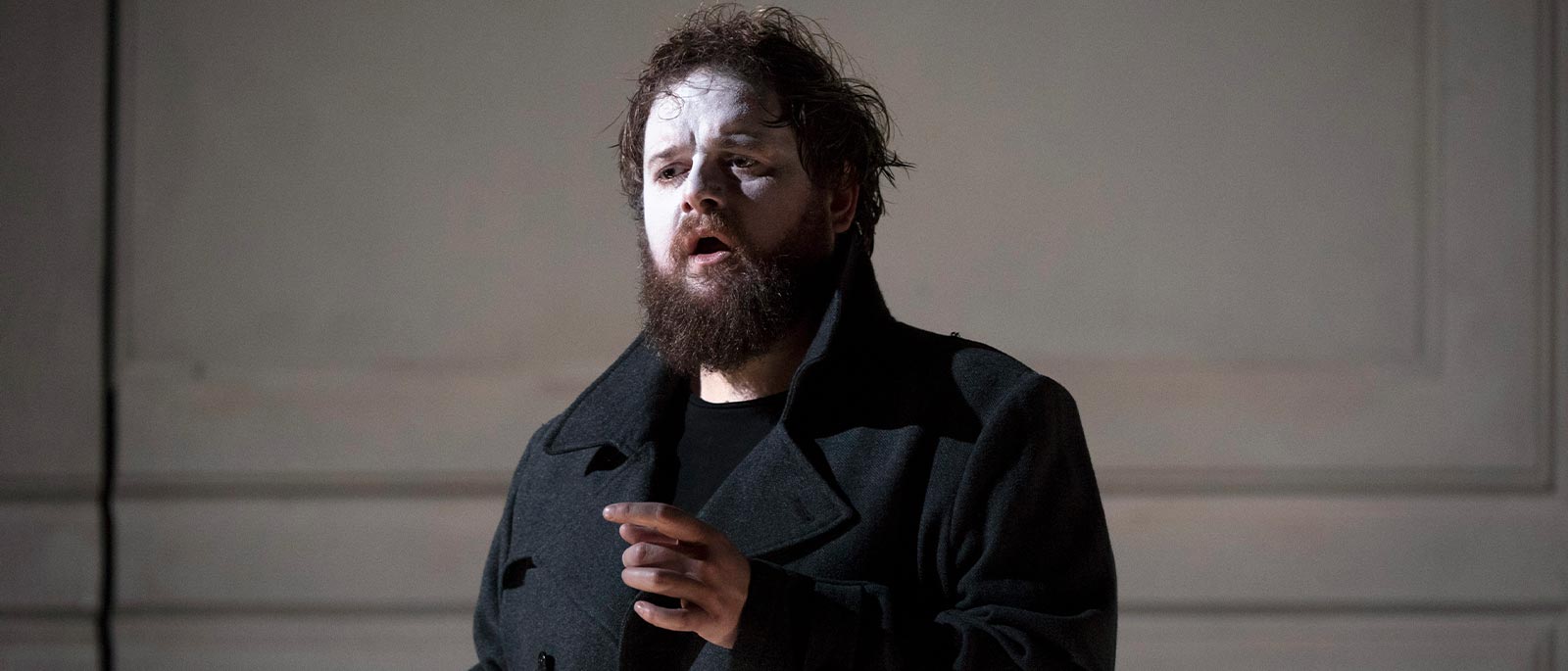 Prince of Darkness
Fresh off a triumphant turn as Britten's Peter Grimes at London's Royal Opera—a portrayal hailed by The Guardian as "tremendous … heartbreaking, supremely lyrical"—Allan Clayton is poised to make his Met debut as Hamlet in Brett Dean's shattering Shakespeare adaptation. As he dove into rehearsals last month, the English tenor spoke to the Met's Christopher Browner about returning to a role he helped create in the opera's 2017 world premiere at the Glyndebourne Festival.
How did you get involved with the Hamlet project?
Glyndebourne actually asked me to do the role before Brett had even written it yet! He had a good idea of my voice from seeing my performances at the Komische Oper in Berlin, where he was living at the time, and when we met for the first time, he asked me to read through the famous soliloquies. He wanted to hear how them in my speaking voice before setting them musically.
How did you approach taking on this iconic character?
I did as much reading on the topic as I could and watched several productions, both recorded and in person. But in this version of the piece, the choices I'm making on stage come through several prisms, first Brett's score and Matthew Jocelyn's libretto, and then director Neil Armfield's interpretation of the role. So it's really a collaborative effort.
For a role this demanding, do you do anything special to prepare before a performance?
Just get a lot of rest. It's hellishly big, and I am completely broken by the end of it. There are really only two scenes when I'm not on stage, and for one of those, I'm hiding up in the flies waiting to come down, so I don't even get to go back to the dressing room.
Next season, you'll take another intense psychological journey on the Met stage, singing the title character of Peter Grimes.
I can't wait. It's the most important piece of British music theater of the 20th century, and it tells a powerful, universal story. It's about the one person in the room who doesn't quite fit in, exactly like Hamlet. Both have characters who are seen as mad or crazy or not fitting in within their environment, and they both have tragic endings, so it'll be fascinating to do them back to back at the Met.
Christopher Browner is the Met's Senior Editor.