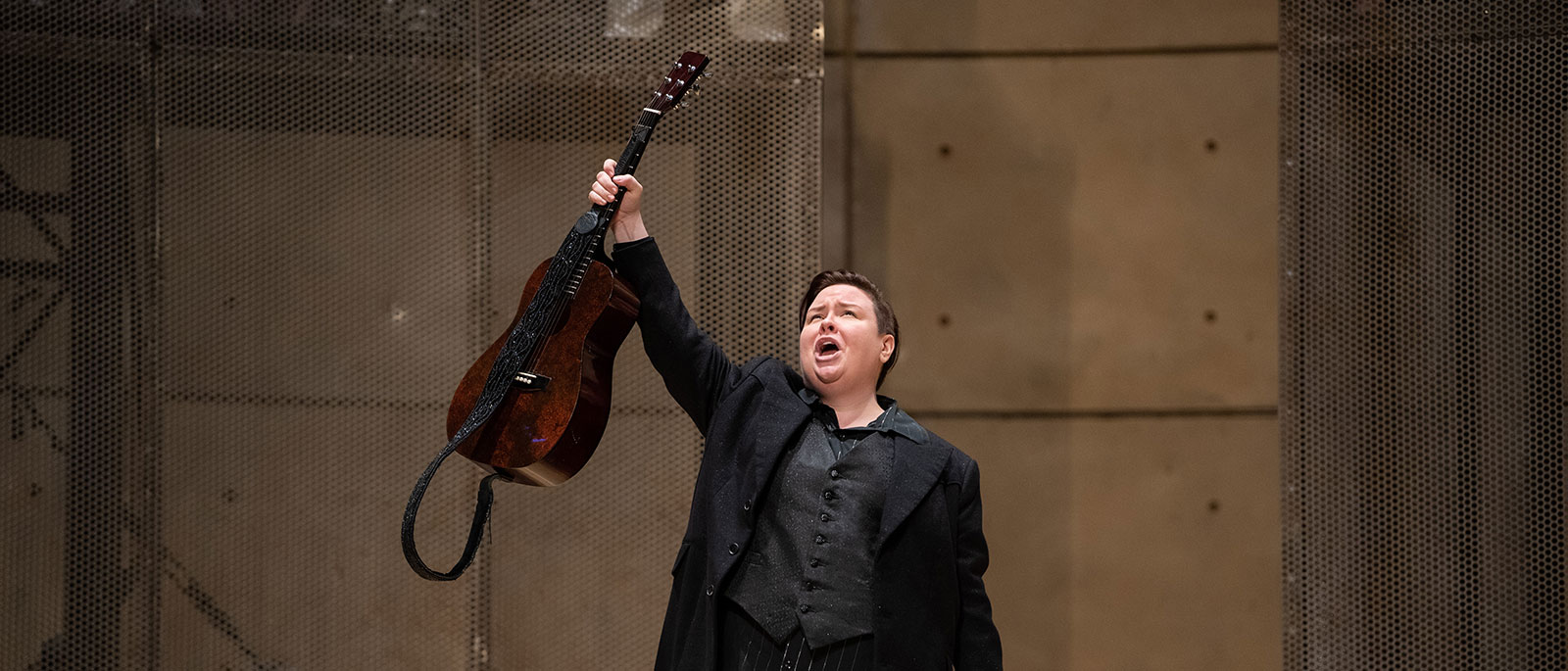 Orphic Diva
Hailed by the New York Times as the "leader of a new generation of opera stars," mezzo-soprano Jamie Barton has reached a new apex in her career recently, with a star turn as Fricka in the Met's Ring cycle last spring, a high-profile appearance at the BBC's annual Last Night of the Proms concert, prominent recitals at Carnegie Hall and the Kennedy Center, and performances in Verdi's Il Trovatore as the gypsy Azucena at both the Lyric Opera of Chicago and the Bavarian State Opera.
This month, the mezzo of the moment returns to the Met as the grieving title hero in Gluck's Orfeo ed Euridice, opposite soprano Hei-Kyung Hong as Euridice—a revival that is also notable for the return of renowned choreographer and director Mark Morris. His production, full of elegant movement and gravity-defying leaps executed by members of Mark Morris Dance Group, brings Gluck's shady underworld to invigorating life.
Gluck's 18th-century adaptation of the ancient Orpheus myth brings unique tests. Barton explains that learning to interpret its lyrical leading role—a mysterious figure who has been performed by a full spectrum of voice types, from countertenor to mezzo-soprano to baritone—has required scrupulous research, character study, and attention to detail. "Orfeo is presented as many things in the score—he's a hero and a romantic," she says. And she likes that the mythical protagonist, who risks everything to rescue Euridice from the underworld, "is a man who's ready to win his love back through his artistry, rather than sheer brawn."
"When I was learning this role, I really leaned into what was in the score, rather than spending a lot of my time trying to come up with ornaments or cadenza options," she continues. "The real beauty of this piece lies in its nobility, and so I've worked to create an interpretation that is both stylistically appropriate and capable of making the audience melt."
She also embraces Morris's dance-oriented production, and especially appreciates the director's choice of inspiration for the lead role: Johnny Cash. "I really love his idea of Orfeo as a man's man—as the Man in Black was—but with a creative soul," she says. "That's my kind of man!"
Joel Rozen is the Met's Staff Writer.