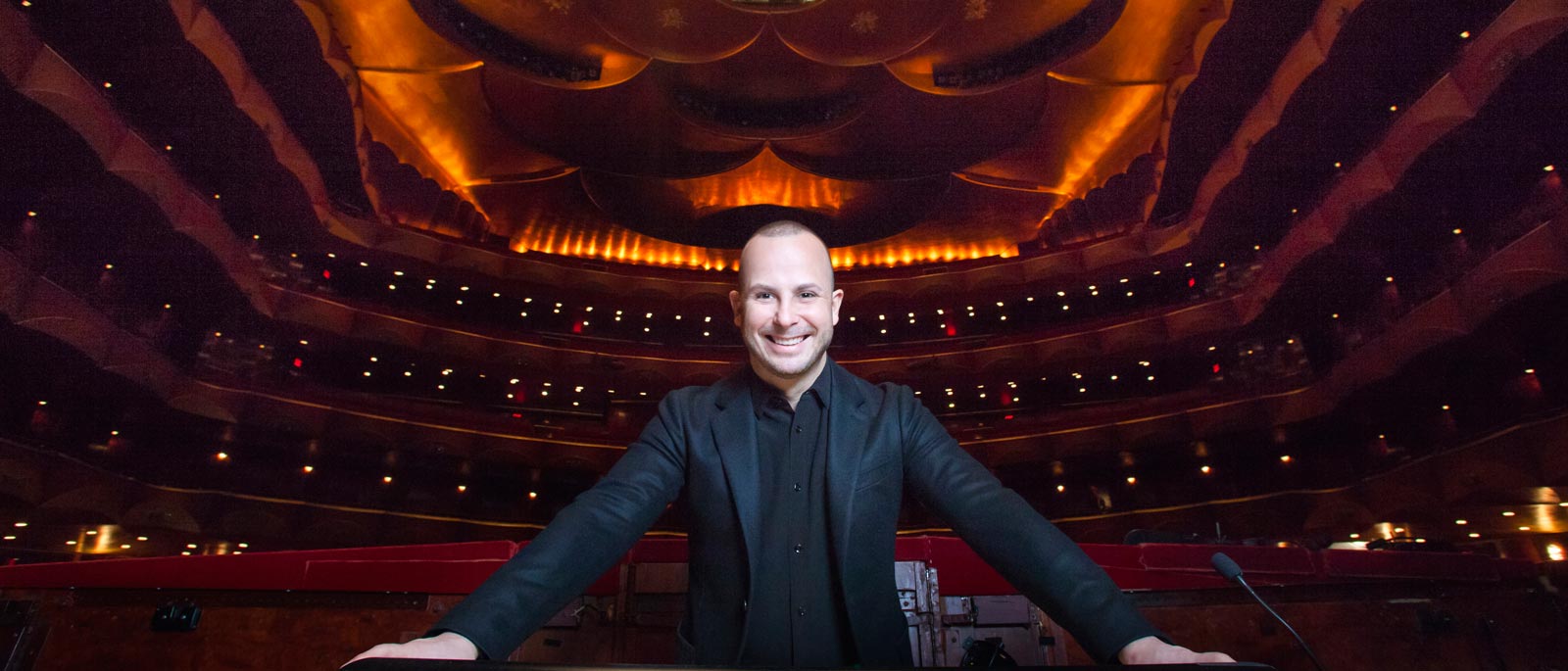 Open Score
October 08th, 2018
Since his Met debut in 2009 conducting Bizet's Carmen, Yannick Nézet-Séguin has become one of the Met's most popular and accomplished artists, beloved by audiences, singers, orchestra musicians, and staff for his superior musical gifts and all-around good vibes. With the start of the 2018–19 season, he becomes a central part of the company, taking on the role of the Met's Jeanette Lerman-Neubauer Music Director, an appointment that has the opera world buzzing with excitement. Can Nézet-Séguin really be as affable, open-hearted, and collaborative as he seems? As friends, family, and colleagues all say about the maestro from Montreal, what you see is what you get. By Matt Dobkin
Yannick Nézet-Séguin is inquiring about the humidity. It's about 10 o'clock in the morning, and the maestro has just driven three hours from his home in Montreal to Saratoga Springs, New York, where later tonight he'll be performing Mahler's Symphony No. 4 with the Philadelphia Orchestra. The east coast is in the midst of an epic August heat wave, and two movements into this morning rehearsal, Nézet-Séguin's peach-colored T-shirt (paired with striped shorts and gold-and-white Alexander McQueen sneakers) is starting to stick to him.
"Is this what the humidity is like here? This is what we get?" he asks his players.
The orchestra members nod and say this is actually better than it has been.
"Ah, okay—same as Montreal."
The rehearsal marks a reunion of Nézet-Séguin and the musicians of the Philadelphia Orchestra, of which he has been music director since 2012, after a four-week gap, and everybody is all smiles. The performances also signal the conductor's new focus on the east coast as he balances work in Philadelphia and at the Met. "It's good to make music with you again," he says, and it's clear the players agree.
Even in this early-hours rehearsal, Nézet-Séguin is intensely expressive on the podium. Half-perched on a stool, with one foot on the ground, his body telegraphs all the twists and turns of the score. As the strings lilt, his gestures turn fluid; a quiet passage has him in a crouch. His enthusiasm calls to mind a video, searchable online, of Nézet-Séguin conducting Ravel's Bolero as a child, in bow tie and sweater-vest, in a brightly painted school classroom. His mop of hair shakes as he wields the baton with a vigor that's startling in a kid who can't be more than nine, but who already seems the spitting image of the Yannick you can see on the podium today.
As golf carts whizz around the grounds of the Saratoga Performing Arts Center and fans whir on the sides of the stage, the maestro occasionally stops mid-movement to give notes, but most of the dialogue with the orchestra occurs at the natural breaks. "You have so much resonance here," he says to the double-bass section, referring to the acoustics of the venue, "so you can be even softer. Cellos, take a little more initiative in terms of color, expressiveness—stronger finger work. Right now it sounds a little plain." There is always a sense that he is focused not only on the quality of the sound and execution, but on what the music is communicating emotionally. "This piece is not a prayer," he tells the orchestra, "it's tenderness between two people." He interlocks his fingers.
"I love rehearsals," Nézet-Séguin says later. "I fell in love with music in part because it meant being part of a group. I love to be gregarious, and I love rehearsals when they are fully committed and intense—but I need to make sure the energy doesn't sag, to make sure it's a stimulating rehearsal for everyone. And I love the freedom that gives us later on, in performance."
They take the third movement again, and the sound is beautiful. "Ah," the maestro exhales, eyes closed, looking enraptured as beads of sweat form on his forehead. At the end of the movement, he says, "You see, in this section, it's like we need fresh air." A pause, as he shakes out the hem of his damp T-shirt. "We literally do."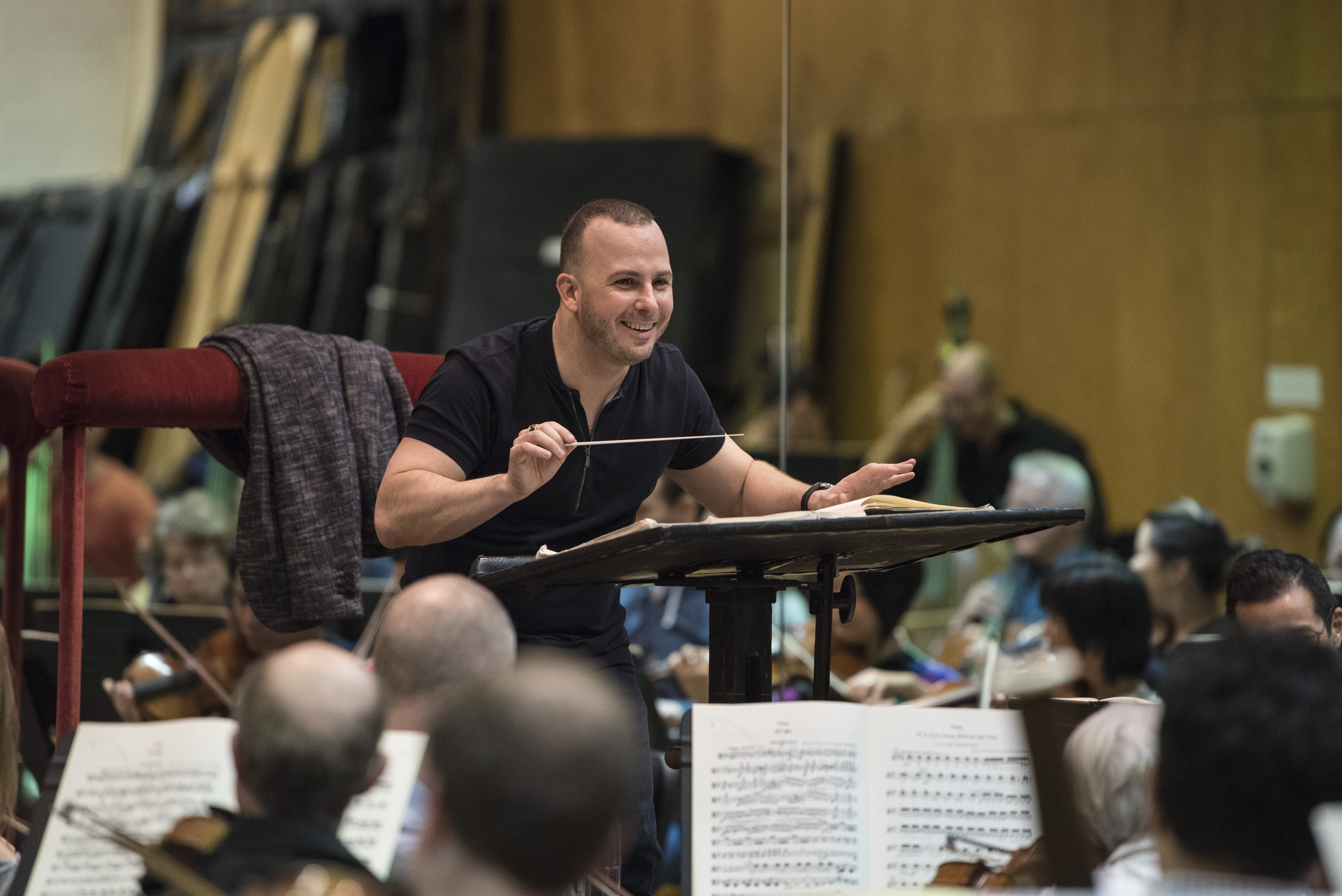 Fresh air is precisely what Nézet-Séguin is expected to bring to the Metropolitan Opera as he begins his tenure as the Jeanette Lerman-Neubauer Music Director at the start of the 2018–19 season. Since his debut in 2009 leading Bizet's Carmen, he has established strong ties to the company's artistic and administrative forces while continually expanding his Met repertoire, conducting operas by Verdi (Don Carlo, La Traviata, Otello), Gounod (Faust), Dvořák (Rusalka), Wagner (Der Fliegende Holländer, Parsifal), and Strauss (Elektra). This season, he adds Debussy and Poulenc to his list of Met credits when he leads performances of Pelléas et Mélisande and Dialogues des Carmélites. (He'll also conduct the new production of Verdi's La Traviata, reuniting with soprano Diana Damrau, who sings Violetta.)
It's this kind of stylistic range that made General Manager Peter Gelb realize, a number of years ago, that when it came time to appoint a new music director, Nézet-Séguin would be at the top of the list of candidates. "It's very difficult to find someone who has mastery of the wide-ranging musical styles we routinely present at the Met," Gelb says. "But Yannick is committed to exploring all the repertoire. He's also deeply invested in adding new works—whether commissions or operas we simply haven't done. When you add to that his charismatic ability to attract new audiences, he really checks every box in terms of what we need in our music director."
So much so that Jeanette Lerman-Neubauer and Joseph Neubauer, of the Met's Board of Directors, even decided to make a $15 million gift, through their Neubauer Family Foundation, to endow the music director position in tribute to the maestro. "Yannick's energy and inspired music-making will continue to be a major asset for the Met and will push the boundaries even further of what great opera can achieve," Ms. Lerman-Neubauer said at the time of the gift.
If those sound like weighty expectations, Nézet-Séguin is focused on the work, not the attendant buzz surrounding his appointment. Although his first reaction to the offer, according to his longtime partner Pierre Tourville, was "this job is too big for one man," Nézet-Séguin is too good-natured, too well adjusted, too emotionally at ease to get caught up in any new-job anxiety. Instead, he's thinking about fine-tuning the orchestra, establishing an even stronger rapport with Met singers, furthering the connection between the institution and the community. "I love the house so much," he says. "From that very first Carmen, it has felt like home."
In a sense, Nézet-Séguin has been preparing for his new post for his entire life. His parents became aware of his affinity for music when, at age two, little Yannick would implore them, "Again! Again! Again!" every time they put something on the family record player. (They had to teach him at that age how to put the needle on the disc so as not to scratch their collection.)
Soon after, Nézet-Séguin followed in the footsteps of his older sisters, Sylviane and Isabelle, with piano lessons. His parents also loved music, and at family gatherings, someone could generally be counted on to take a seat at the piano for after-dinner entertainment. But Nézet-Séguin's musical inclinations quickly exceeded everyone else's. "When he was five, he began piano lessons with a very nice teacher, Madame Lussier," Claudine Nézet, the maestro's mother, recalls. "She said at the first parents' meeting, 'I keep having to give him new repertoire, because he reads something once and has it memorized.'"
In fourth grade, he joined a choir, and that's when "he began to live with music and see music as a reason for living," his father, Serge Séguin, remembers. "He was the one who wanted to make music—we never had to push him. For us, as parents, it was only a matter of helping him do what he wanted—taking him to choir every Friday and Sunday, taking him to the conservatory on Thursdays. But because we are not musicians, we maybe did not know how completely his mind was made of music."
Nézet-Séguin himself recalls that music came naturally to him, but he did not consider himself a prodigy. "I always had to work hard for what I needed to do." That need, specifically, was to become a conductor, an idea that was born from his experience under the tutelage of various choir leaders. "The deal was sealed at age ten. From that point, I never envisioned a life in music without it being conducting," he says.
Nevertheless, he continued intense piano study, working from age 12 with pianist Anisia Campos, who enjoyed a career as a soloist in her native Brazil as well as in Europe before settling in Montreal in the early '70s. It was Campos who taught Nézet-Séguin the discipline required for a career in music. She knew of her young charge's ambition to become a conductor, but they made a deal: As long as he was in her class, he would have to study as if he were aiming to become a concert pianist. "She would force me to work on these highly demanding technical pieces on the piano—way beyond what came easily to me as a young child," Nézet-Séguin says. "I'm very thankful for this, because I think it's why I was able to learn how to make orchestras work today."
At 13, Nézet-Séguin entered the Montréal Consérvatoire, where several years later one of his roommates was Tourville, a violist, who would quickly become his boyfriend. (They've now been together for 23 years.) That same year, while still a student, demonstrating the kind of impresarial savvy he still employs today, he decided to form his own professional ensemble, with Tourville at his side. La Chapelle de Montréal made its debut in 1996 with a performance of Bach's St. John Passion, with Nézet-Séguin on the podium. The one hitch was that the young maestro couldn't find a tenor who was willing to tackle the difficult arias, so he did double duty, turning to the audience from the podium to sing the tenor parts himself, then doing a 180 to direct his baton at the players after delivering each tenor phrase. "We were amazed," Claudine Nézet recalls. "They had a great success with that first concert, and started to do three or four performances a year. They had their public, and Serge and I sold the tickets ourselves, on a table in the church."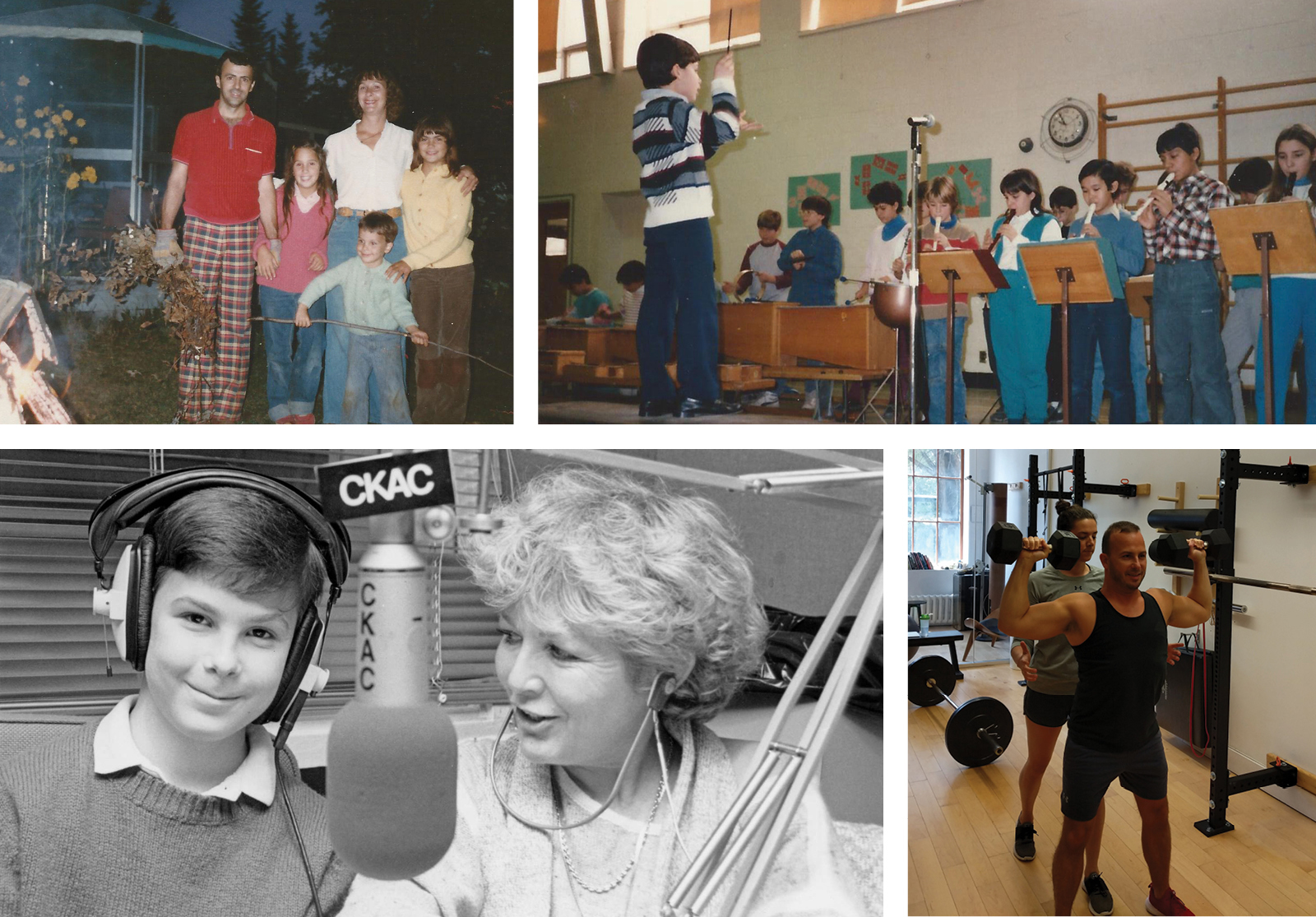 (Clockwise from top left) With parents and sisters in 1981; As a fourth grader conducting an ensemble at St. Isaac Jogues Elementary School; In the gym with trainer Patricia Lamarre; With Canadian actress Suzanne Lévesque at a radio program celebrating children in 1985
Today, more than 20 years later, Nézet-Séguin is still extremely family-focused, inseparable from Tourville, and with his parents traveling to the lion's share of his performances. His mother helps with his PR and oversees his website; his father handles his finances. Nézet-Séguin remains close to his older sisters and the eight nieces and nephews he has between them. He's godfather to two of the children and Tourville to a third. Two of Nézet-Séguin's nephews are musical too, and Nézet-Séguin is paying for their enrollment at Les Petits Chanteurs du Mont-Royal, a singing school in Montreal.
Of course, almost 20 years of near-constant travel has meant that spending as much time as he would like with family and friends is a challenge. Since his early 20s, Nézet-Séguin has been forever on the go, his career ascent fast. At age 22, he became assistant conductor and chorus master at the Montreal Opera—which is when, he says, he "just started to get crazy in love with opera." Then, at age 25, he took over as artistic director and chief conductor of Montreal's Orchestre Métropolitain. Having become the toast of Canada with a variety of acclaimed performances, he began picking up engagements as a guest conductor with organizations across the globe. He made his European debut in Toulouse in 2004 and his United States symphonic debut leading the Indianapolis Symphony Orchestra in 2006 (his operatic debut had come in 2002 with Così fan tutte at the Sarasota Opera Festival). These were followed, in short order, by debuts with the Staatskapelle Dresden, the London Philharmonic Orchestra, the Salzburg Festival, the Vienna Philharmonic, the Berlin Philharmonic, La Scala, and the Royal Opera House, among other eminent institutions.
Since 2008, Nézet-Séguin has been chief conductor of the Rotterdam Philharmonic, and since 2012, he's been music director of the Philadelphia Orchestra. He recently left his Rotterdam post, in part to free up time for the Met, and he and Tourville are selling their apartment there. They're keeping their loft in Philadelphia (while also looking for a place in Manhattan), though, since Nézet-Séguin will continue to lead that ensemble—a combination of positions that will allow for a number of intriguing Met-Philadelphia collaborations.
It all sounds like a lot to manage, but Nézet-Séguin, as most audiences know, is like the Energizer Bunny of classical music, possessed of seemingly boundless energy to go with his endlessly positive demeanor. Nothing seems to get Nézet-Séguin down or annoy him in any meaningful way. Can he really be this indefatigably upbeat? Apparently so. "He's a very positive guy, as he was as a little boy," Claudine Nézet says. "Everybody was always pleased to follow him and to listen to him, and it's exactly the same now. He is a leader, but a leader with a positive mind, never aggressive."
"He's not really different from what you see," Tourville concurs. "He's always trying his best to please everybody. And he's excited to bring to the Met his positivity and his natural way of communicating with people and making things flow."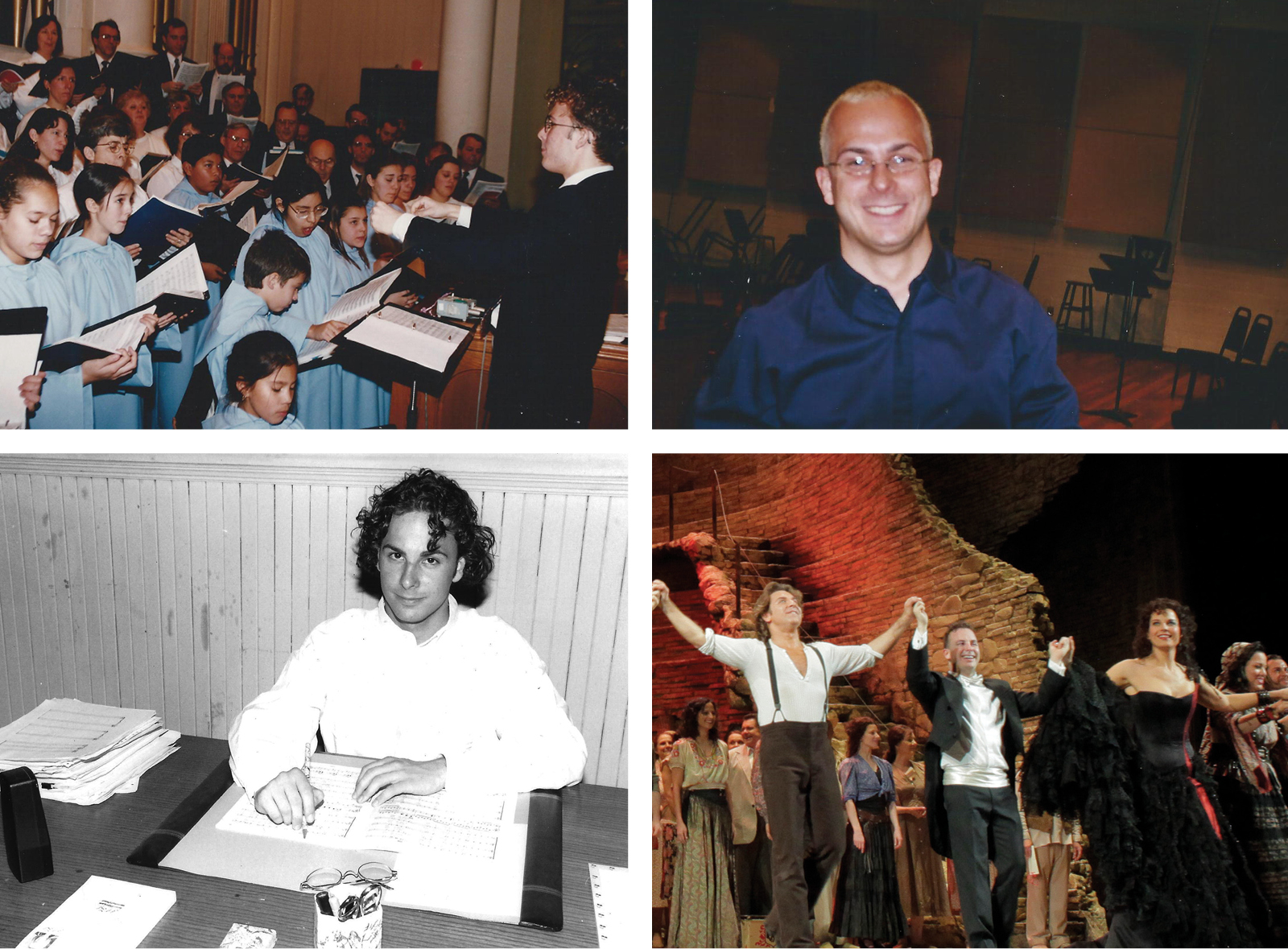 (Clockwise from top left) Conducting the Polyphonic Choir of children and adults (with his parents in the back), 1992; Experimenting with bleached-blond hair, circa 1995; The curtain call at his 2009 Met debut leading Carmen; Working in his office after being hired as music director of the Polyphonic Choir in 1994
Even Nézet-Séguin's personal trainer, Patricia Lamarre, who for 12 years has been subjecting the maestro to punishing workouts, can't recall ever getting under his skin. "We laugh a lot. It's always a happy-go-lucky environment," she says. Even ab work doesn't bother him? "No, he's really open to everything," she laughs. "Yannick is really what-you-see-is-what-you-get."
Nézet-Séguin, you could say, is the good-mood maestro—it's certainly how singers view him and why they're universally enamored of working with him. Mezzo-soprano Joyce DiDonato, who's collaborated with him many times (though never at the Met except for one aria during the company's 50 Years at Lincoln Center gala), remembers that she first sang with Nézet-Séguin after being coaxed into doing a performance as a favor to Barry Tucker (son of legendary tenor Richard who runs his father's opera foundation). "I'll never forget Barry's ominous warning, 'You're gonna love this guy—he's the real deal,'" DiDonato remembers. "He looked about 12 when we first met, and perhaps my expectations weren't too high. But within two measures, I knew Barry had spoken the truth. Yannick was fearless and oozing enthusiasm, and he swept us all up into the joy of the music with that gala. Fast-forward more than a decade, and of course he's taken over the world. I had the honor to be with him at his closing concerts with the Rotterdam Philharmonic, and his greeting had the same enthusiasm as all those years ago but with a deeper friendship."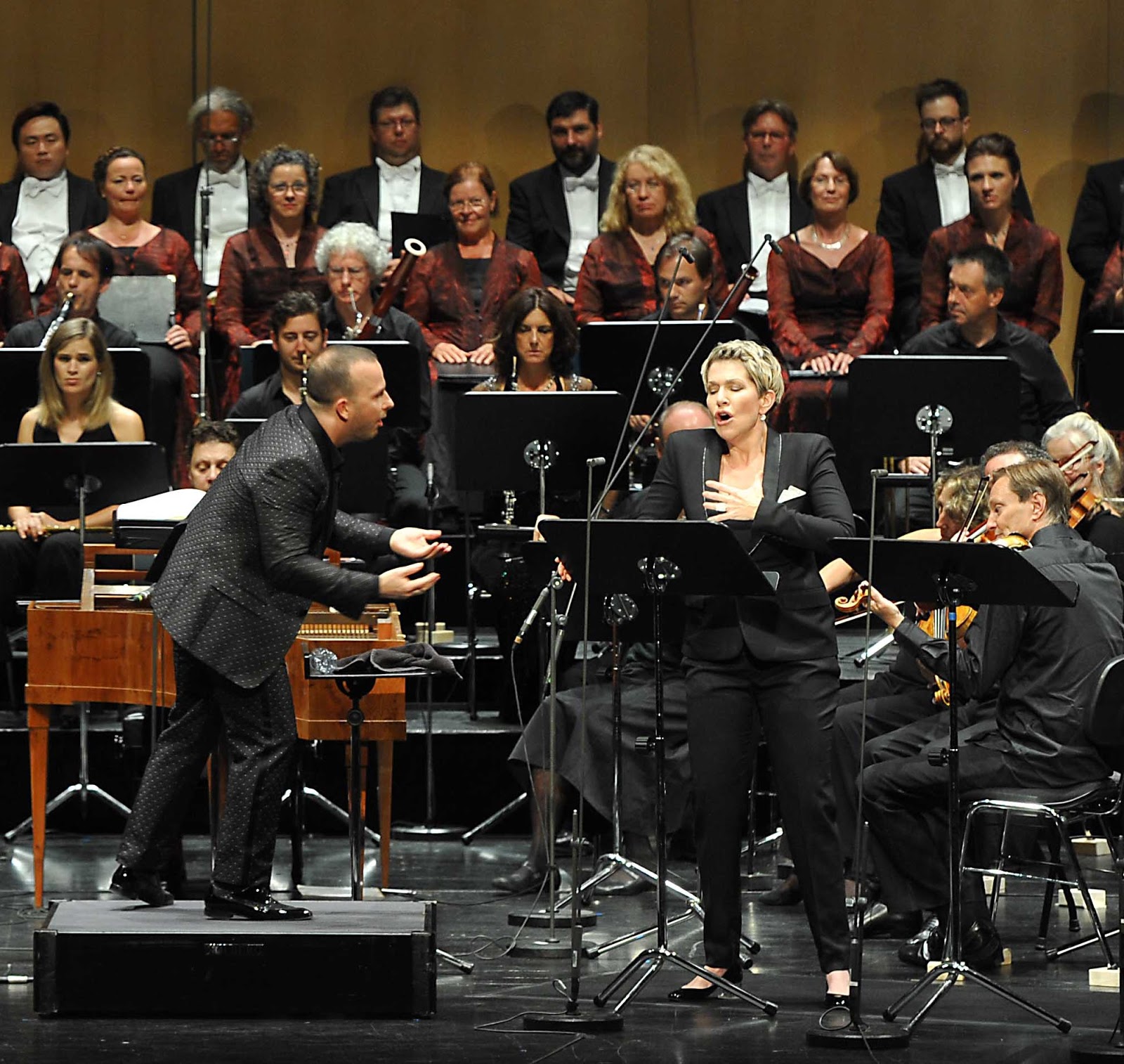 This goes to the heart of Nézet-Séguin's philosophy of working with singers, which he describes as depending more than anything on building rapport and a sense of trust. "When I do music rehearsals with singers, I like to do them without the whole cast present," he says. "We take just one or two of the principals and go into a room with one or two of the great Met music staff, and that's it—only four or five people in the room." Nézet-Séguin feels that this intimate work begins to build individual relationships that, over time, expand to create a sense of teamwork among the entire cast and creative team. "This is something I want to cultivate at the Met and make an even higher priority," he says. "For any production, there is a team that will work together for two or three months, and it has to feel like everyone is part of the same family."
Nézet-Séguin also believes that a conductor should always work to make the singers as comfortable as possible on stage. "I admire that not only do they have to sing, but also they have to remember to go right and left, and to express this, and remember that prop, and that lighting cue, and watch the conductor, and remember the words," he says. "There are a lot of demands on a singer, and the conductor should try to make this easier, not more difficult—that is the guiding principle."
Soprano Christine Goerke, who starred in last season's searing run of Elektra with the maestro on the podium, is as besotted with Nézet-Séguin as DiDonato. "He's so personable, lovely, and normal—and seemingly ego-less, which is astonishing," Goerke says. "He comes in with an idea of exactly what he wants, but he's not one of these conductors who says, 'This is what I want and that's it.' He listens to you, and it's very easy to find a way through, to come to a final product that is the art, if that makes sense."
Last spring's Elektra at the Met was Goerke and Nézet-Séguin's first official collaboration, but they had in fact met a few years before, when Goerke was summoned as a potential 11th-hour replacement for another soprano who wasn't sure she'd be able to go on for a live performance and recording of the Mahler Eighth in Philadelphia, a couple of hours away from Goerke's home in New Jersey. "So I hop in my 2004 Honda Element, which has a billion miles on it, and I throw in a gown and shoes that don't match, and I warm up in the car on my way down," Goerke says. The originally scheduled soprano, in the end, was able to sing, but Nézet-Séguin insisted on meeting Goerke during the intermission. "He said, 'How did you get down here so fast?' And I said, 'I came in my Honda POS!'" she relays using a popular, mildly crude acronym. "He didn't know the expression, so I had to explain to him what 'POS' means—I'm not proud of that, but I did. And then he says, 'I have to see this car.' He's in the middle of a performance! But he drags me out the back door and tells the security guard he'll be right back. I show him my POS, and he says, 'You got down here in that?!'—and then he went back in and did the second half of the performance. I fell in love with him that second."
Good will for the maestro is not reserved for singers. The members of the great Met Orchestra feel it too. And at a moment when strong musical leadership is needed at the Met, the players are champing at the bit for Nézet-Séguin's arrival. "We're ecstatic," is how clarinetist Jessica Phillips, chairman of the Met's orchestra committee, describes the musicians' collective feeling about Nézet-Séguin's new role. They've been fans ever since that very first Carmen in 2009. "He was exuberant, he had ideas, and he brought a lot of freshness to Carmen. He exuded all the drama of the opera on the podium, and it was really exciting," Phillips remembers. "He's also a great administrative leader. The little details behind how an orchestra works, how we do auditions, how we grant tenure—he's incredibly skilled at all those things, and I think that's very unusual. He kind of can do it all. And he has so much fortitude and vigor on the podium that you can't help get caught up in it. He's electric."
So, with all this fortitude, vigor, and electricity, does Nézet-Séguin ever unwind—and how? "We watch Caribbean Life on HGTV," Tourville laughs. They're also health nuts who like to exercise, with frequent visits to the gym and regular Skype sessions with trainer Lamarre using the LIFT Session app. They often jog along the canal in Montreal, where passersby recognize the maestro and wave or say hello. Any rare opportunity to lie in the sun is seized enthusiastically. And of course, they spend time with their three cats—two of them (Rodolfo and Mélisande) appropriately operatically named, with the third (Rafa) bearing the nickname of Nézet-Séguin's favorite tennis player, Rafael Nadal.
When they're relaxing, do they still talk about music? "All the time," says Tourville. "To have a career like Yannick's, you need to be completely submerged in music, almost 100 percent, even in downtime. It's a daily hike. That's what Yannick is trying to teach his younger colleagues now. If you want to climb that mountain, you've got to be trained. You can't just say, 'Okay, let's do Everest today,' if you've never climbed a mountain before. No, it's a lot of effort."
Pressed on what does in fact sour his mood, Nézet-Séguin says it's the avoidance of that effort that he can't tolerate. "What makes me angry is when I don't feel people completely committed. I cannot accept when people don't care. And I'm thankful because it doesn't happen often in my life. But because I'm fully committed, I expect people around me to be the same way." He doesn't foresee any problems on this front in his new post. "At the Met, I can feel in the orchestra, the chorus, and the music staff that it's an absolute priority for them that the concentration and focus is 100 percent at all times."
And that ceaselessly positive aura? "I think I've always been this way, and that is due to a certain philosophy in my own family, to be grateful in life—to always see the glass half-full, and that, I think, is a gift.
"Bringing music to the people is bringing beauty, bringing joy," he continues. "I see my role as a conductor, as a music director, as bringing beauty to the world. It's such a privilege to be able to do this and I am very grateful for it, every day. And that goes naturally with my positive approach. This," he asserts, "is quintessentially who I am."

Matt Dobkin is the Met's Creative Director, Marketing & Editorial.