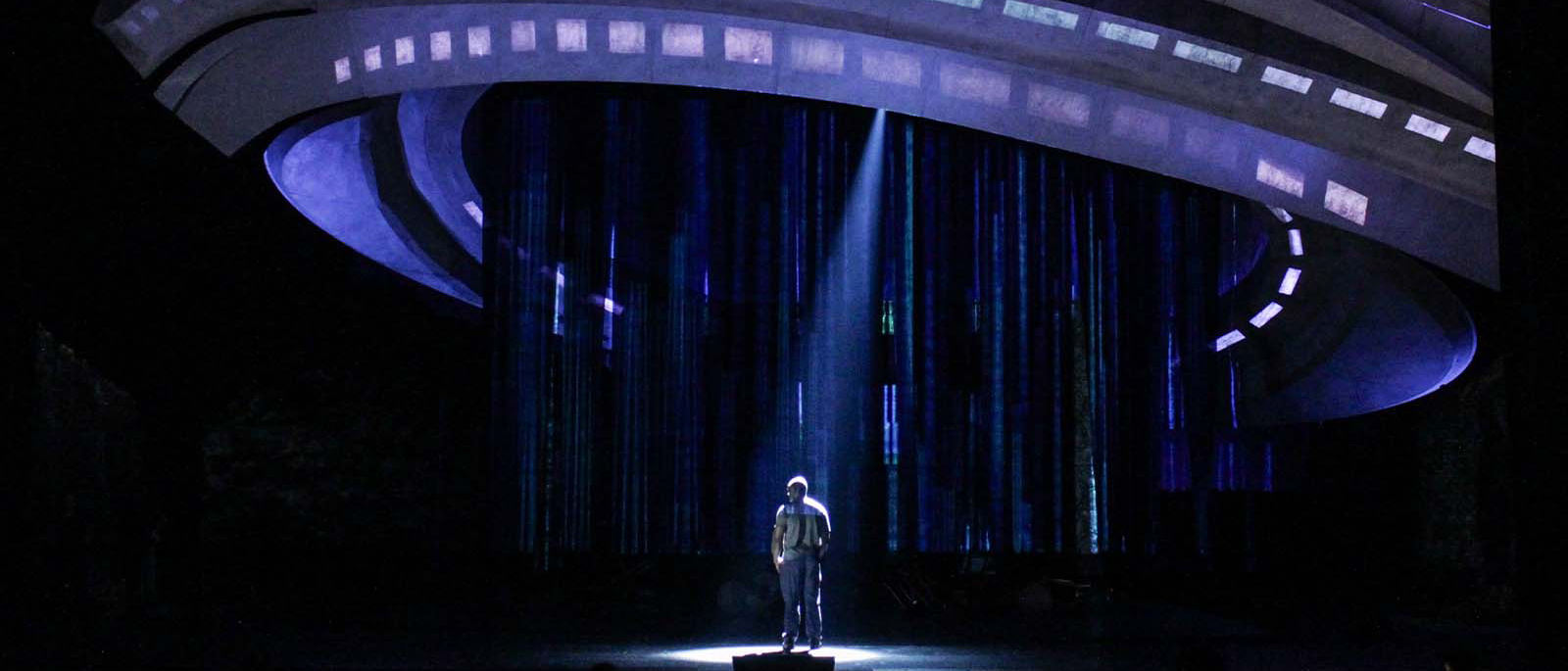 Mothership Connection
When X: The Life and Times of Malcolm X has its long-awaited Met premiere this season—in a newly revised and expanded version—it touches down in a visionary, Afrofuturism-inspired staging by Robert O'Hara, the heralded director behind Broadway's Slave Play. Baritone Will Liverman, one of the company's leading young stars, portrays the legendary civil rights leader, with Kazem Abdullah on the podium.
By Nicholas Rinehart
"I think he'd be spinning in his grave," says director Robert O'Hara when asked how Malcolm X would react to the Met premiere of Anthony Davis's opera. "I don't know if he would be spinning to the left or to the right. But I think that he would be asking, 'Who are these people who have the audacity to put my story on an operatic stage?'"
Whatever he might think, Malcolm X—who was born Malcolm Little, died el-Hajj Malik el-Shabazz, and went by Detroit Red in between—would certainly not recognize himself by sight. Baritone Will Liverman, returning after his triumphant 2021 turn in Terence Blanchard's Fire Shut Up in My Bones, looks nothing like the man he is set to portray. For O'Hara, this seeming disconnect between popular images of Malcolm X (tall, gray suit, skinny tie, thick-rimmed glasses) and his theatrical embodiment is less an obstacle than an opportunity. "There's no reason for you to be playing Malcolm X," he jokes to Liverman. "Except there's every reason for you to be playing Malcolm X, because he lives in all of us."


Costume sketches by Dede Ayite
O'Hara sees the resonance that Malcolm's experience and message have for people from all walks of life as an opportunity to portray the icon as an everyman. "There's a Malcolm X Boulevard in almost every city," he says. "And so there are people who look like us, who walk down those streets, who look up at the sign and think about how that name got there and how they fit into the story of that man."
The Met's production of X is thus not a "docudrama," O'Hara explains, but instead an abstract interpretation of the controversial leader's life and legacy. By exploring how Malcolm's message resonates across time and space, O'Hara's staging prompts audiences to consider the significance of human rights struggles—and especially movements for racial justice—in contemporary life. In one scene, for example, the names of recent victims of police brutality are projected upon the stage, as if conjuring voices from the future, conveying the long history of anti-Black violence in this country and the continued urgency of Malcolm's teachings.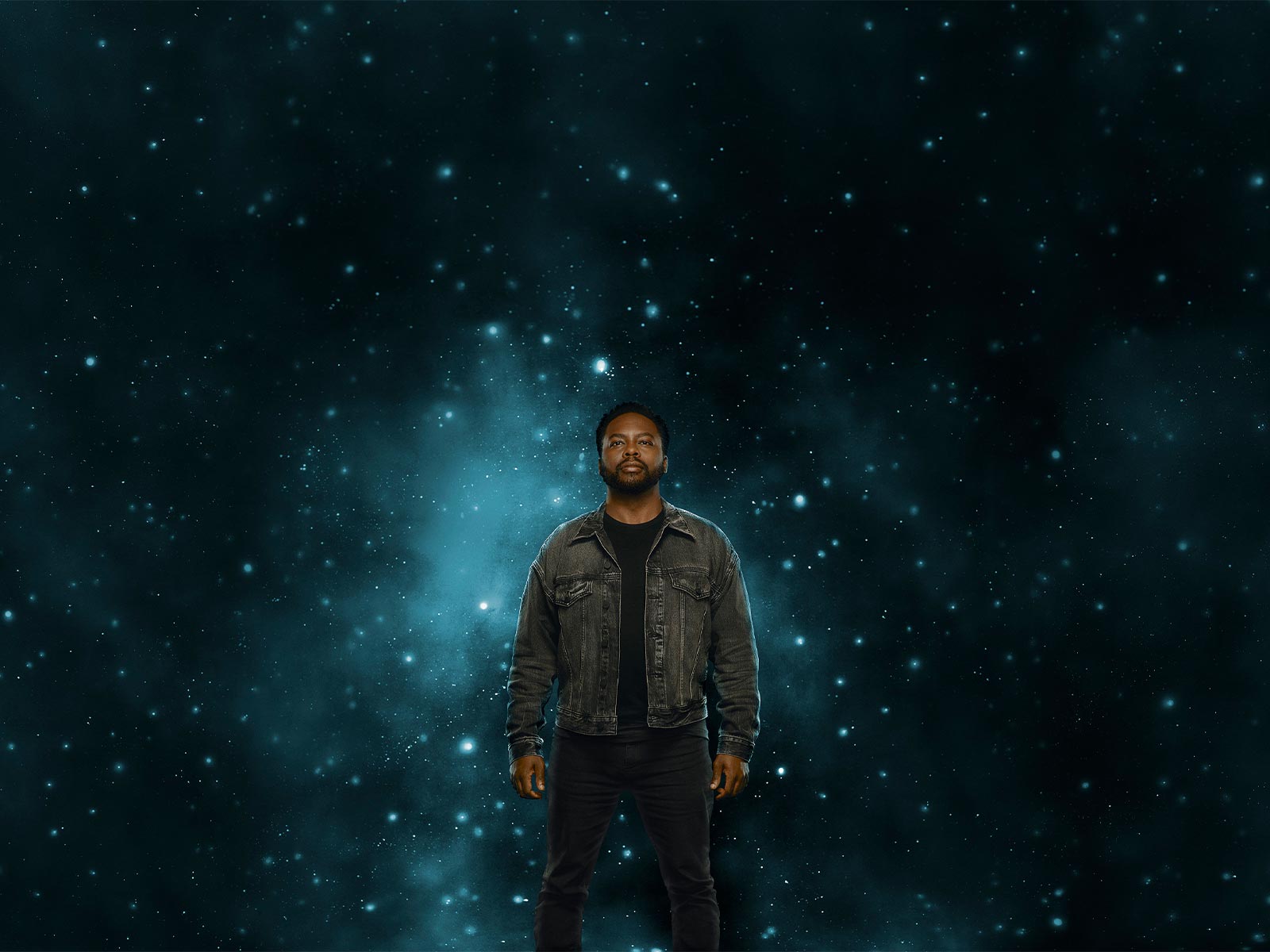 Will Liverman as Malcolm
In so doing, the production draws on the philosophy and aesthetics of Afrofuturism, a mode of expression that envisions alternate, liberated futures for people of African descent, often through images and ideas associated with science fiction and technology. X engages this perspective through various design and scenic elements, including a gigantic spacecraft hovering above the stage—an image that has important precedents in Afrofuturist art and thought. Experimental jazz composer Sun Ra, who renamed himself after the Egyptian sun god, claimed to have returned from Saturn on a mission to rid society of oppression. In its costumes, stage design, and artistic projects—notably the film and accompanying album Space is the Place (1974)—the Sun Ra Arkestra drew on symbols from both ancient Egypt and modern technoutopianism. Meanwhile, when legendary funk music collective Parliament-Funkadelic toured in support of their album Mothership Connection (1975), their elaborate concerts included a full-sized spacecraft called the Mothership, from which bandleader George Clinton would emerge as his alter-ego, Dr. Funkenstein, accompanied by lights and pyrotechnics.
For Liverman, portraying a different kind of X is an exciting challenge, especially since he grew up in a household immersed in Black history. "My dad was a history teacher at an elementary school," he recalls. "So every time February rolled around, he had everything plastered on the walls: King, X, Frederick Douglass." This production also presents Liverman with a unique opportunity to approach Malcolm's life and work from a fresh perspective. "We have so many versions and ways to access X," Liverman reflects, noting Spike Lee's 1992 film and recent Netflix documentaries. "So it's great to do this opera and find a different point of view."
But the responsibility that comes along with presenting this new vision of Malcolm X at the Met is not lost on O'Hara. "We have to earn the right to do the opera, and somehow we have to embody what X meant and represented." The director feels a duty to present a depiction that, despite the unique nature of opera and the incongruous venue, honors what Malcolm advocated during his lifetime as well as his significance to countless admirers following his assassination. Bringing that story to the stage requires nothing less than opening another world.
Nicholas Rinehart is the Met's Content Manager, Education.