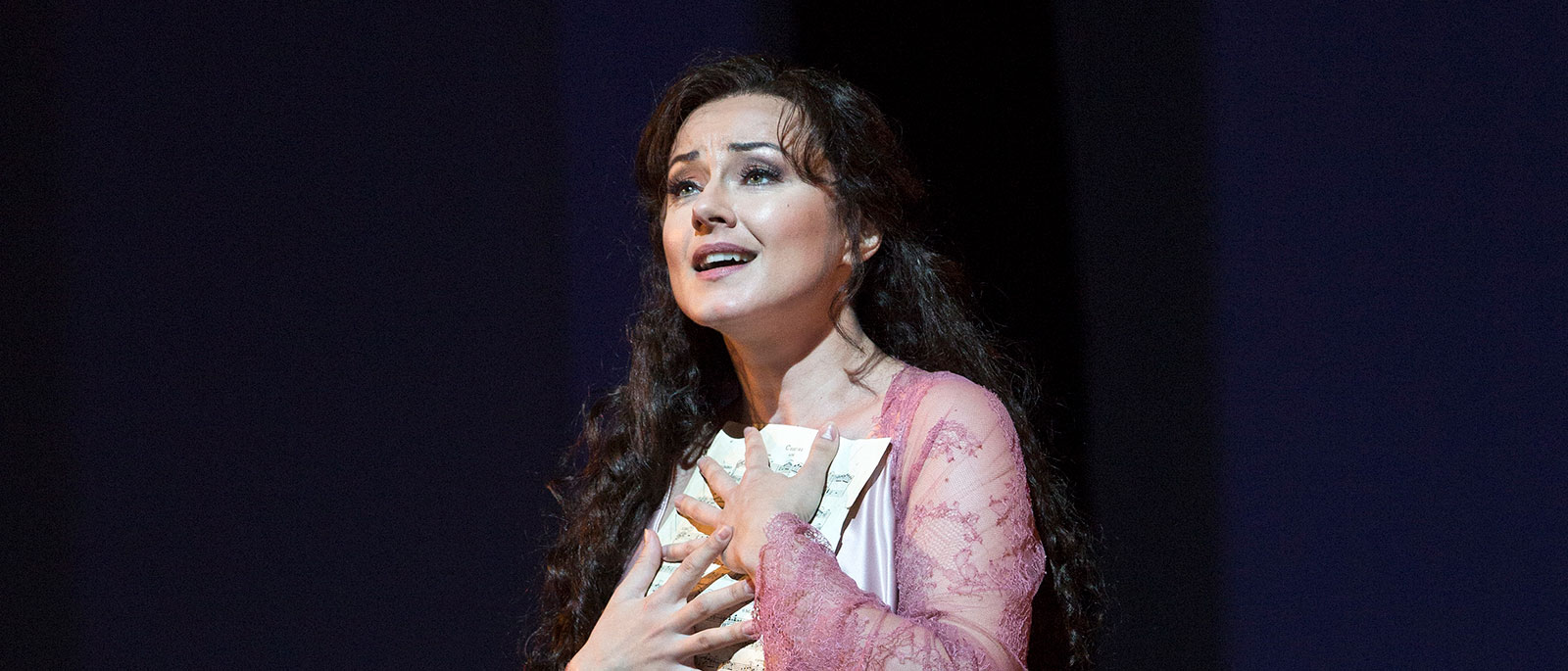 Modern-Day Diva
In recent seasons, Romanian soprano Anita Hartig has charmed audiences with memorable performances in La Bohème, Carmen, and Les Contes d'Hoffmann. This month, she brings her first Verdi role to the Met—the consumptive heroine of La Traviata. Speaking with the Met's Christopher Browner, Hartig discussed the challenges of embarking on Violetta's intense emotional journey.
What are the greatest challenges of this role?
It's intense from all perspectives—physical, emotional, everything. Violetta changes so drastically from the first act to the second. It's like two different women. In Act I, especially in "Sempre libera," with all that high coloratura, Verdi is showing Violetta's almost animalistic side. It's a fire that burns and that consumes. It's not like the love that she shares later with Alfredo.
How does this affect your singing?
Well, I have to step away from this idea that the first act needs to be sung like a coloratura soprano because I'm not a coloratura. This music is more an expression of her excitement and passion. So instead of thinking of it as coloratura, I just approach it as a moment of complete abandon to pleasure.
It's evident to anyone who has seen one of your performances how invested you are every moment on stage.
I try to translate all of my life experience into the opera. I like going into the depth of a role, to consider every phrase and every word. From the moment we start rehearsing, I am carrying the performance with me. It doesn't just start when the curtain goes up, and it stays with me well afterward.
How do you know when it's time to take on a new role?
I'm a very careful singer. I don't like to jump in too soon or to sing too much. There are many roles that I would love to sing, but I'm not rushing. Society might always be rushing, but I have time.
Why is it so important to take your time?
Our lives as modern singers can be very, very fast. But I'm not interested in being everywhere all the time. All of the travel, lack of sleep, nerves, changes in diet—they have a big influence on me. I don't just sing for the sake of singing. I try to give something to the audience beyond just an execution of the notes, and that demands a lot.
Next season, you'll take on another new role: the Countess in Le Nozze di Figaro.
Yes. I've loved singing Susanna in Nozze for a long time. To me, Susanna and the Countess can be very similar, and I want to put more Susanna in the Countess. Let's remember that the Countess was Rosina in Il Barbiere di Siviglia. She was very cheeky and full of independence. But now she's forced to behave a certain way, so I have to remind everyone that she didn't lose all these aspects of her character.


Christopher Browner is the Met's Associate Editor.