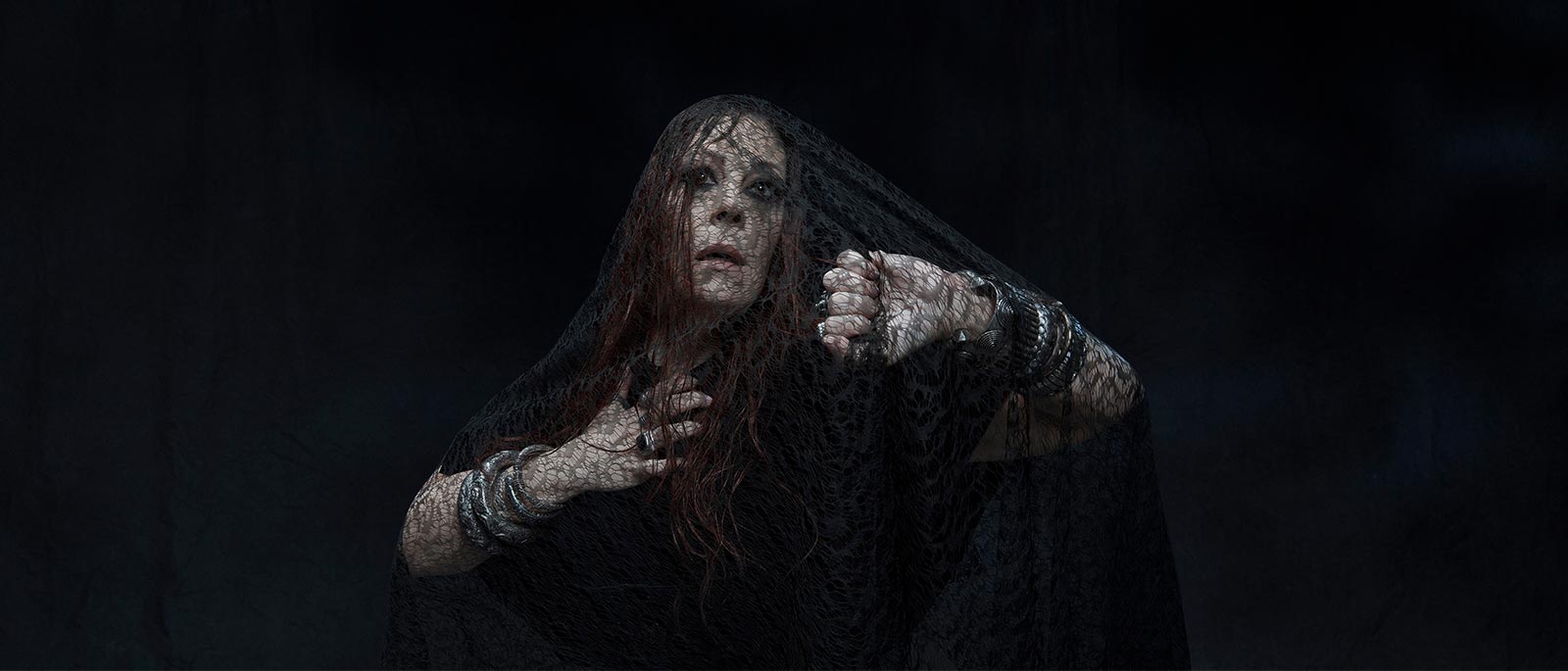 Medea's Mythic Power
On September 27, the Met season opens with the long-overdue premiere of Luigi Cherubini's Medea, an epic and tumultuous work composed during the French Revolution with scorching arias and startling drama inspired by Greek myth. More than anything, Medea is a showcase for the soprano singing the title role, and in Sondra Radvanovsky, David McVicar's production has a supreme artist at the peak of her powers. By Jonathan Minnick
Medea: surely the most notorious sorceress in all of mythology, literature, and theater. A source of inspiration for playwrights for millennia, her story dates to the original play by Euripides in 431 BCE—a raw, engrossing, and vicious tragedy unlike any other play from its time, and Cherubini's operatic adaptation does not shy away from the bloodiest moments of Medea's savagery, as she murders her own children in an attempt to exact revenge against her unfaithful lover. Resurrected and championed by Maria Callas in the 1950s, the character of Medea is one of the most challenging in the repertoire, requiring sopranos to not just tackle one of the fiercest diva roles musically but also to embody her complex emotional turmoil: The dissolution of her romantic relationship and subsequent exile from Corinthian society, her descent into desperation, and her violent quest for vengeance. The Met has never presented Cherubini's most celebrated work until this season, in part because pulling off such a challenging piece requires a singular soprano to conquer the demands of the role.
"Once Medea hits the stage, she does not leave, and the vocal writing is incredibly punishing, the drama incredibly demanding," says director David McVicar. "There is no point in trying to do Medea unless you've got that soprano."
Enter Sondra Radvanovsky.
McVicar calls her "one of the few sopranos in the world that could take this on," and if their six-production track record together at the Met is any indication, he's right. "The challenges of this role are not getting too emotionally close to the character," Radvanovsky says. "Vocally, you have to be very careful when you are attacking this role—because you do have to attack it. You can't give 50% when you sing Medea. But something inside of me says that this is going to be the most special production I've done in my career."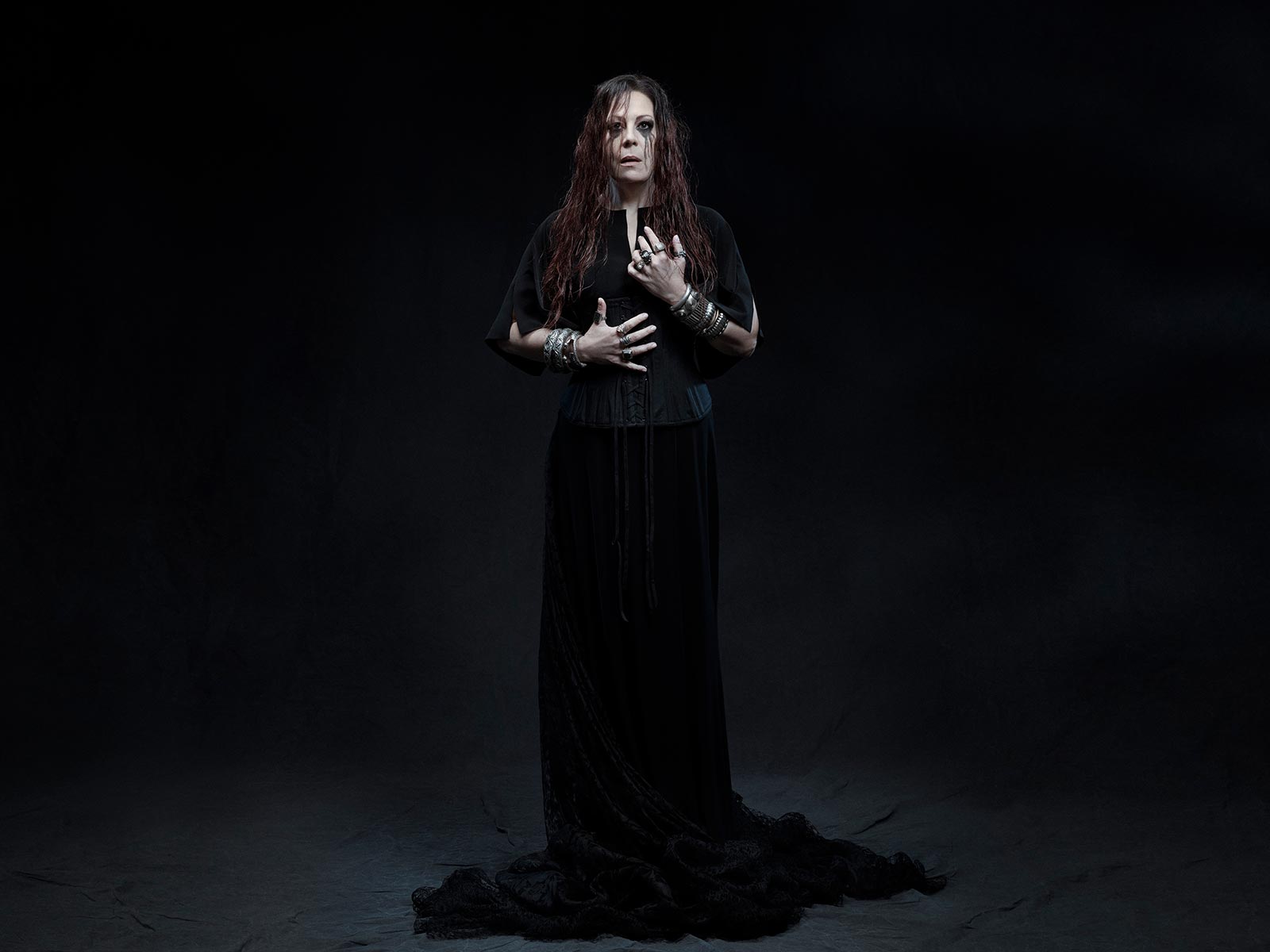 Sondra Radvanovsky in the title role of Medea
Medea, whether Euripides's play or Cherubini's opera, is principally about revenge. After partnering with Giasone to steal the Golden Fleece, using sorcery to save his life, and eventually winning his affection and bearing him two sons, Medea lashes out upon learning that not only has she been exiled from Corinth but that Giasone has broken his vows with her and instead plans on marrying Glauce, the daughter of King Creonte. Her revenge against Giasone takes a few different shapes, gradually intensifying over the course of the story: first, murdering Glauce and Creonte with poisonous wedding gifts, and then, murdering their own two children and igniting the temple as she self-immolates Brünnhilde-style. In the Met-premiere production, Carlo Rizzi conducts a cast that also features tenor Matthew Polenzani as Giasone, soprano Janai Brugger as Glauce, mezzo-soprano Ekaterina Gubanova as Medea's companion, Neris, and bass Michele Pertusi as Creonte.
Medea premiered in 1797 in French as Médée at the Théâtre Feydeau in Paris, and Cherubini's evocative score straddles the divide between the Classical and Romantic eras at the end of the 18th century—not quite Mozart, but not quite like early Beethoven or Bellini either. Yet the composer blends musical attributes of each era, occasionally dipping into moments of stunning bel canto, while also relying on distinctively Classical recitatives. McVicar says the score reminds him of Mozart's La Clemenza di Tito, evoked by Cherubini's "intense economy and spareness," yet paired with exceptionally challenging vocal writing for the entire cast. "You can really feel how Cherubini drew upon the upheaval of the French Revolution, embedding intense drama and emotion directly into his score," Radvanovsky explains.
That said, Cherubini's opera struggled to win over audiences at its premiere. More than 100 years after that, Carlo Zangarini's translation into Italian, with new recitatives replacing the old spoken dialogue, debuted at La Scala in 1909 and became the most performed version of the opera and the version that the Met will present. It was not until the 1953 revival in Florence, though, with Medea sung by Callas—who supposedly learned the role in just one week—that Medea would quickly become Cherubini's most celebrated composition. This production was so successful that La Scala opened their season with it that fall, also starring Callas. She performed the role throughout Europe during the 1950s and 1960s and even brought her portrayal to Dallas.
Despite the popularity of the work at the time, it never reached the Met's stage. General Manager Rudolf Bing pursued bringing Medea and Callas to the Met on several occasions through the late 1960s—albeit unsuccessfully—and Radvanovsky sees herself as picking up the Callas torch. "I feel like I'm following in her footsteps in a way, and what an honor," she says. "She will forever be an operatic icon, and I pay homage to her and thank her for all the work that she did paving the way for opera today. But I hope that people allow me to put my personal stamp on this and let the comparisons be pushed aside, because I think there's room enough in the world for two separate versions of Medea."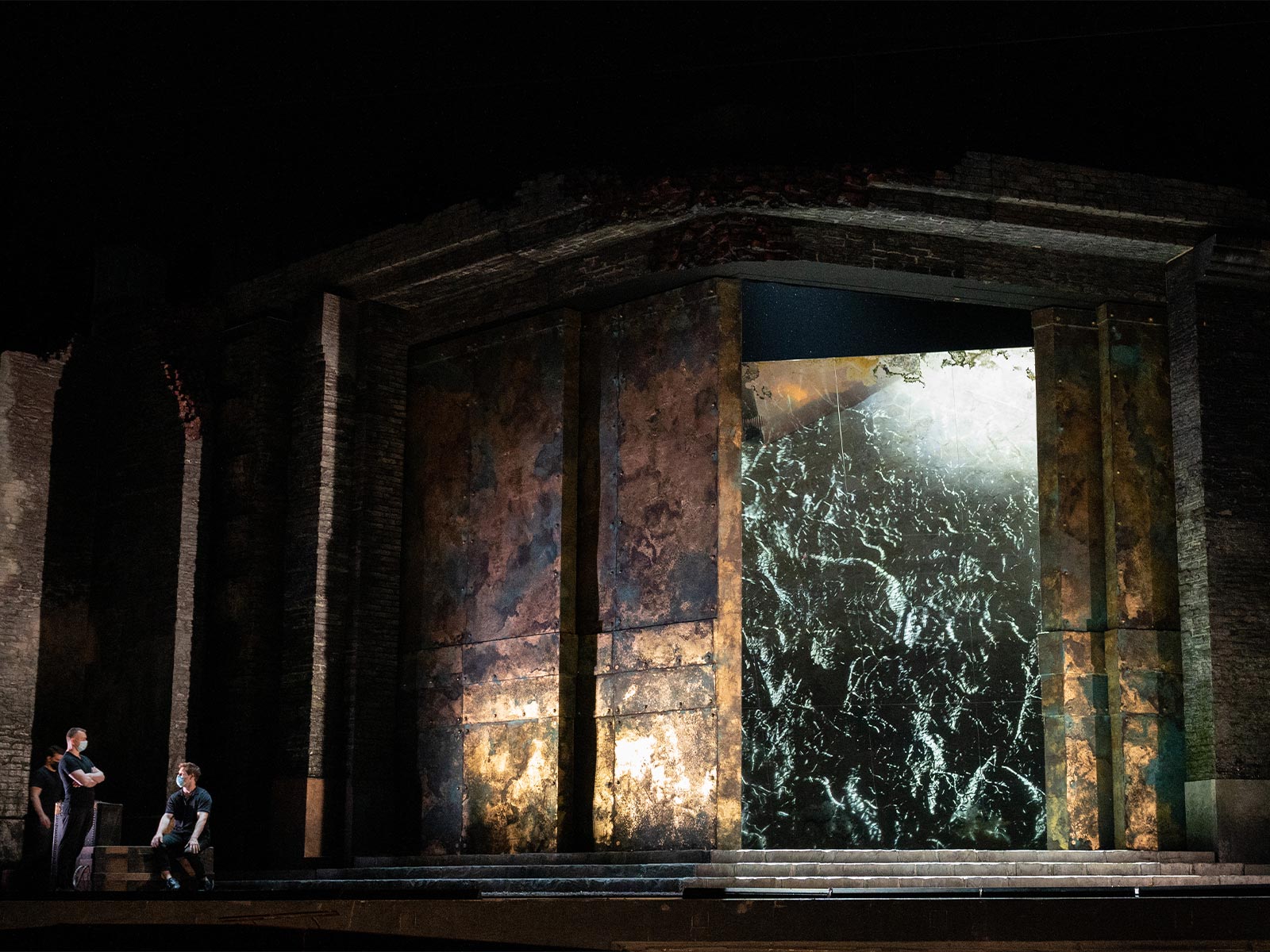 An early onstage technical rehearsal for Medea
Having performed more than 200 times at the Met, Radvanovsky has breathed new life into some of the biggest principal roles in the repertory, appearing as Tosca, Aida, Norma, and the three queens of Donizetti's Tudor trilogy (on which she collaborated with McVicar). Yet few roles truly compare to the immense challenge that is asked of sopranos who wish to tackle Medea. The physicality of the role tests a soprano's endurance, and the tessitura reaches the uppermost parts of the soprano range—a place where Radvanovsky excels.
The soprano hopes to draw out every bit of desperation from the character, painting her as powerful yet vulnerable: "She is a fatal woman, but she is also very tragic. Her whole life, she has been driven by desperation and hopelessness. This is a woman who is powerful, who knows no limits, even murdering her own children."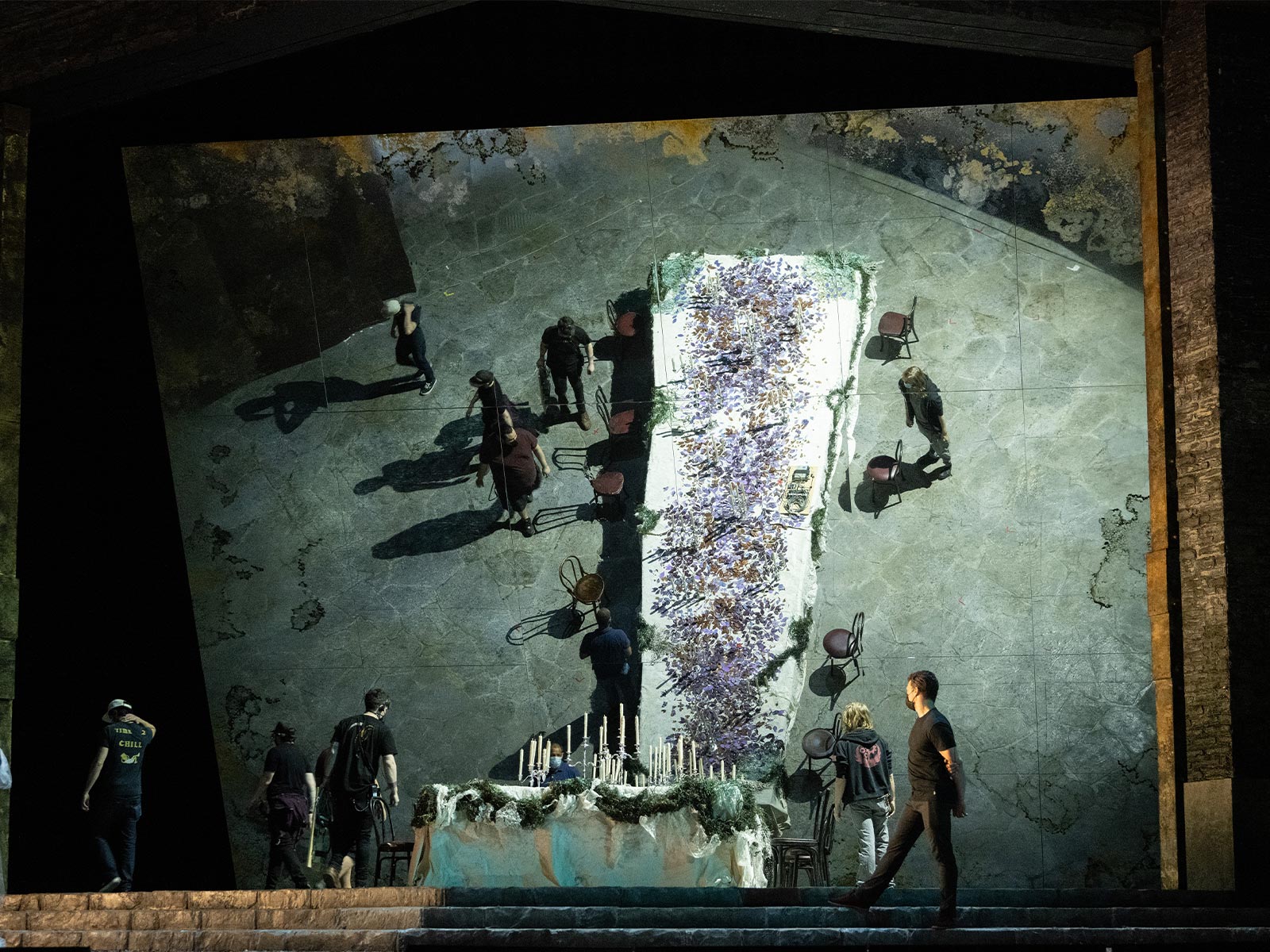 An early onstage technical rehearsal for Medea
McVicar says of Radvanovsky's approach to the role, "She's very interested not just in the sheer drama of it—she's interested in the sexual politics of it: What kind of judgment are audiences being invited to make about the crime that she ultimately commits? Is it justified? What does it mean?"
Directing his 12th production at the Met, McVicar has also designed his own sets, creating a Corinth in disrepair, with deteriorating buildings that allude to the aristocratic downfall at the time of the opera's premiere. His set design, centered around walls, barriers, and doors, emphasizes Medea's exclusion, even excision, from Corinthian society. "I wanted the set to physically marginalize Medea," McVicar says, "just as Giasone marginalizes her." In Euripides's play, Medea has a female chorus supporting her and amplifying her voice and perspective, but Cherubini instead depicts Medea as an outsider, excluded from all aspects of Corinthian society. McVicar says that it is this isolation that catalyzes her rage and desire for revenge, and was the main inspiration for his design, which he developed while quarantining at his home in Scotland during the pandemic.
It's all designed to foreground the plight and power of the title character, and Radvanovsky, for her part, looks forward to leaving everything on the stage. "The Met is my home," she says. "It's where I grew up artistically, vocally. It's a great honor to be the star on Opening Night, and I hope that all the love, joy, passion, pathos, and energy that we've put into this production will leave audiences transformed, transfixed, and wanting more."
Jonathan Minnick is the Met's Associate Editor.