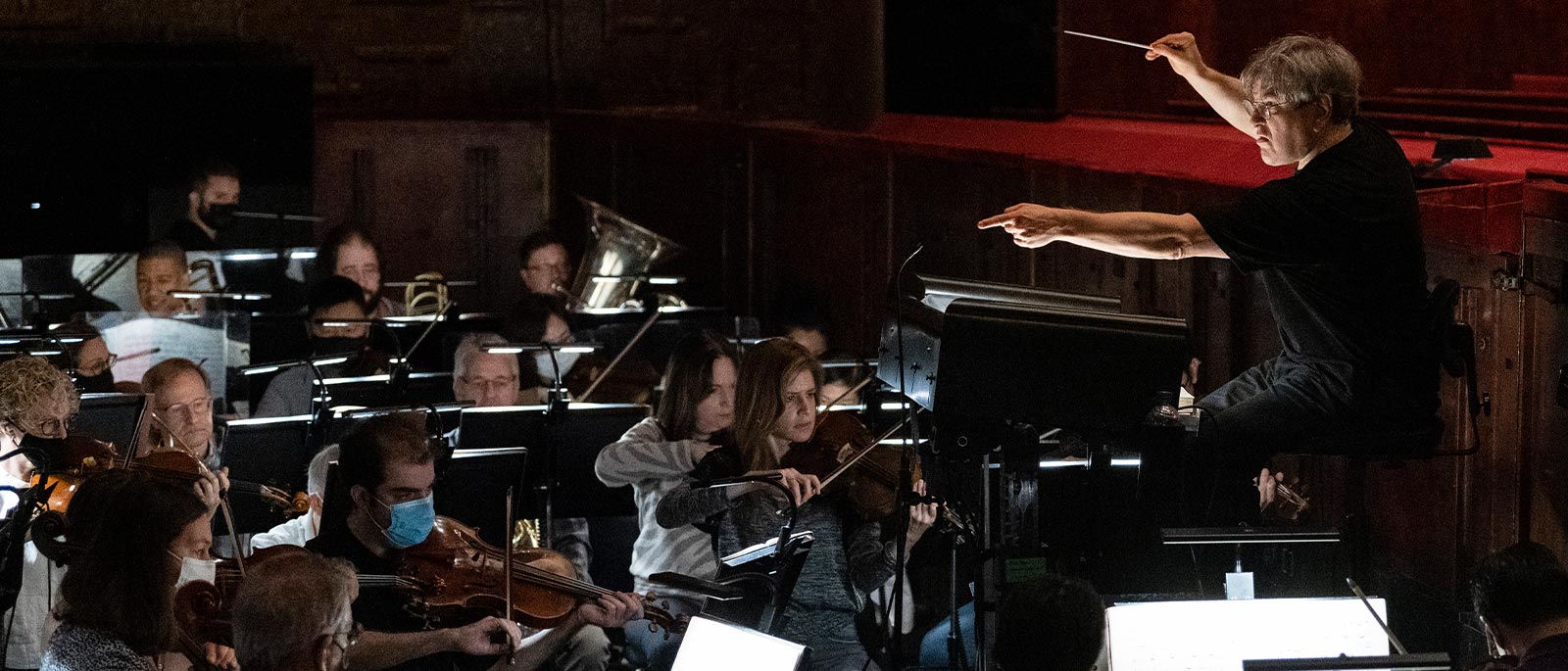 Master of Meistersinger
This month, Maestro Antonio Pappano returns to the Met after an absence of nearly 25 years to conduct Wagner's sublime comedy Die Meistersinger von Nürnberg, starring a magnificent cast led by baritone Michael Volle as Hans Sachs, soprano Lise Davidsen as Eva, and tenor Klaus Florian Vogt as Walther von Stolzing. In between rehearsals, the renowned conductor and music director of London's Royal Opera spoke with the Met's Jay Goodwin about Wagner's monumental, thrilling, and philosophical masterpiece—a paean to music itself.
On its face, Meistersinger is a pretty straightforward story of the knight Walther, who comes to Nuremburg and falls in love with the beautiful Eva, whose hand has been promised to the winner of a singing competition. But it's such a rich, complex work, with so much going on below the surface. What are some of the meanings in it that you find most compelling?
At the end of the day, it's about music—a celebration of the workings of music. So for any musician, it's a gift and so full of joy. But you could also say that the character of Walther is Wagner himself. He is a firebrand who is showing the new path in music. At first, it seems that he absolutely will have none of the rules and the traditions of the music that has gone before him, until he is shown by the great meistersinger and cobbler-philosopher Hans Sachs that to stay within certain rules and respect what has gone before lays an important foundation. And this combination of tradition and new gospel, as it were, is exactly what Wagner's music did.
Do you think that combination of tradition and innovation are somewhat mirrored in Meistersinger and Tristan und Isolde, which he wrote immediately prior?
Well, in terms of harmonic language, Meistersinger is certainly less tortured than Tristan, and its complexity is mainly textural—the kind of complexity one thinks of in a fugue, rather than ever-wandering harmony. And he does pay incredible homage to the past in Meistersinger, especially to Bach. So compared with Tristan, it creates a completely different way of listening.
Meistersinger is also unusual for Wagner in that it's his only mature comedy. But that distinction belies quite a bit of profound soul-searching and philosophical inquiry.
Yes, and Wagner especially explores this idea of "wahn"—a German word whose meaning is difficult to pin down exactly, but which communicates insanity or craziness or delusion. In this piece, Wagner makes us feel that the world is going crazy. When faced with something new, something challenging, you're going to have rebellion. And Hans Sachs laments this reaction as he sees the fear of change lead to division and therefore derision and anger and violence, rather than listening, collaboration, and understanding. That speaks volumes to us today, doesn't it?
Sachs has become one of opera's most beloved characters. Why do you think he makes such an impression?
In the opera, Hans Sachs is revered not only because he's considered the greatest of the meisters, but also for his humor and his wisdom. And despite his frustration with seeing his life going by and a new guard coming up, in the end, he accepts it. He understands that it has to be this way, that there has to be new blood. In poetry, in music, and in life, it's now youth's turn. All of this understanding and these human qualities are beautifully drawn into the character and shown in the music.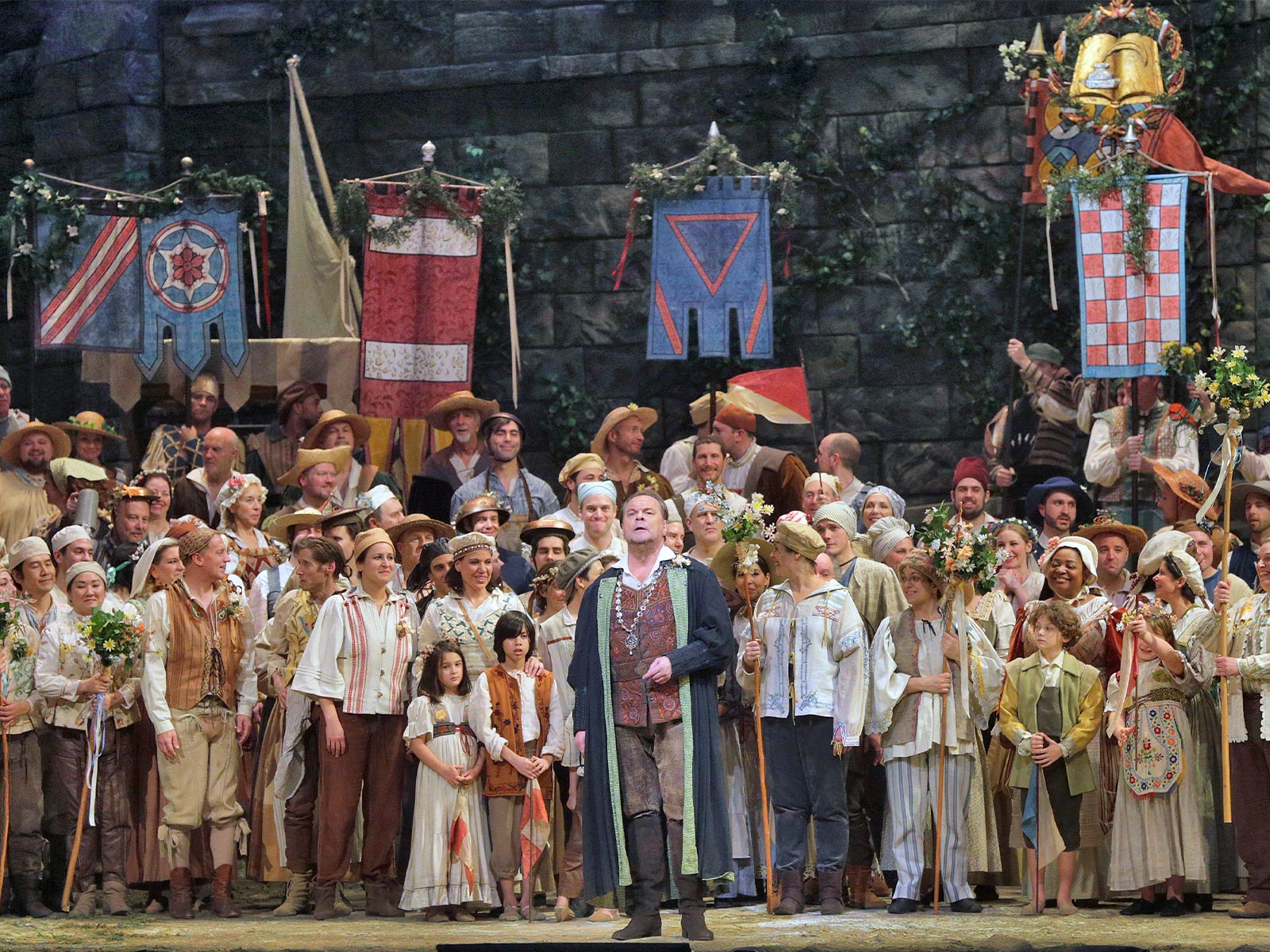 Michael Volle as Hans Sachs
What makes Michael Volle such a great master of the role?
Well, one of the greatest challenges of performing Hans Sachs is just learning it. It is certainly the longest role in the core repertoire—by far. And there are so many components: it's wordy, it's lyrical, it's declamatory, it's sensuous, it's comic, it's tragic. Michael has a tremendous amount of experience with the role and is an extremely charismatic performer who can do all of that. And his is an ideal voice. A deeper baritone, or what you'd call a Wagnerian baritone—not a bass-baritone, but a baritone with the same amount of power in the bottom of the voice as in the top.
This will be the first opportunity for Met audiences to hear Lise Davidsen sing a Wagner role. Why should they be marking their calendars?
Well, the voice is so sensational. You hear that kind of voice maybe once in a generation— I think even less, to be honest. The voice has a healthy gleam, and it sails effortlessly. She will definitely go on to do all the bigger Wagnerian heroines, but doing Eva is important because it's a lyric role, yet it has outbursts that require incredible reserves of vocal and emotional power. It's also a fantastic role for a young singer because of the acting challenges. Eva is impulsive, questioning, sometimes frustrated, and she gains in pathos as the evening goes on. She realizes just how much in love she is, not only with Walther, but as a result of the accumulated affection and admiration that she has for Sachs, which is such a beautiful thing but also a conflict for her.
Lise Davidsen, pictured in her 2019 debut in The Queen of Spades
How have you been enjoying your reunion with the Met Orchestra after more than two decades?
As with all Wagner operas, the psychology of what is being said is portrayed in the orchestra, and in Meistersinger, the orchestra is teeming from the first note to the last. And the musicians of the Met Orchestra are just absolutely wonderful and so quick and focused and concentrated in the rehearsals, and they have such a history with the piece. So for me, it's a joy.

Jay Goodwin is the Met's Editorial Director.