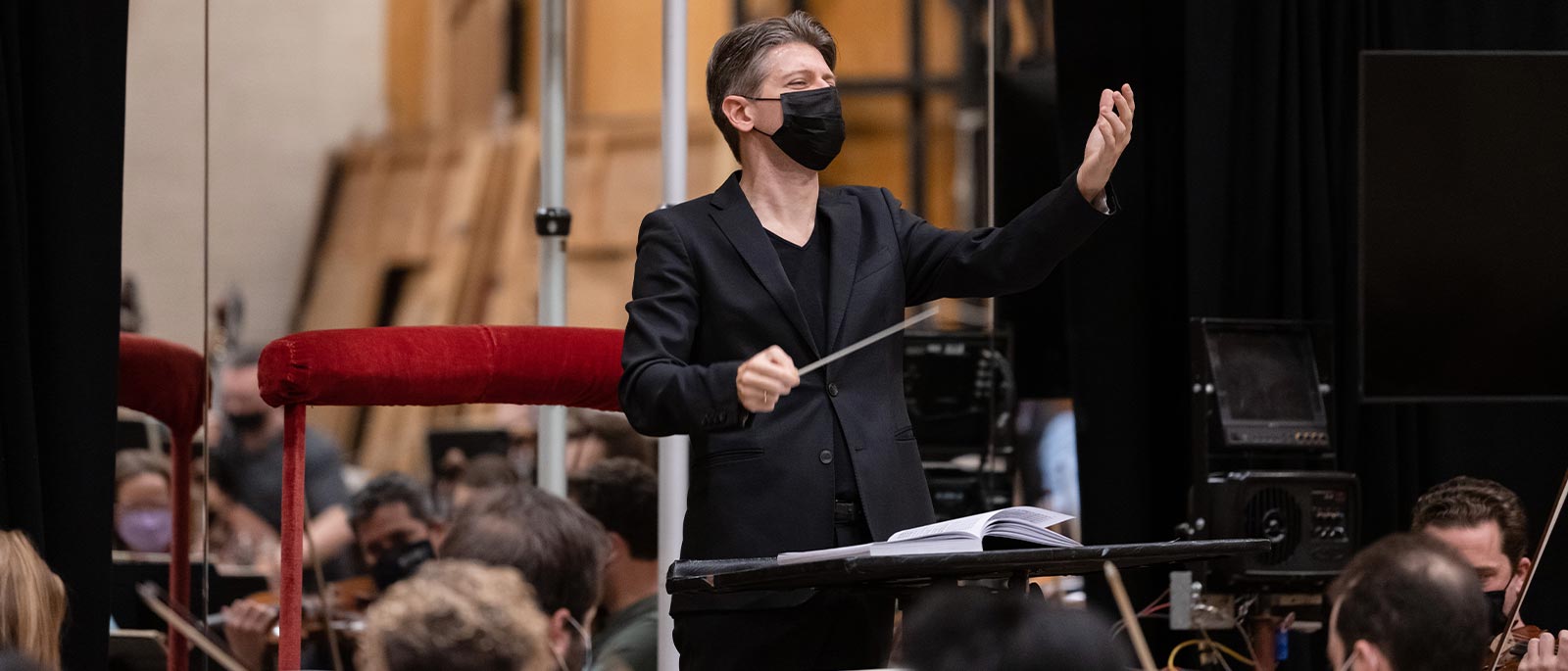 Maestro of the Month
In the five years since his 2017 Met debut leading Aida, dynamic young Italian conductor Daniele Rustioni has built an impressive operatic resume, becoming principal conductor of Opéra National de Lyon later that same year and, this season, adding the post of principal guest conductor at Munich's Bavarian State Opera. Now, he returns to New York for a whirlwind month at the Met, overseeing the premiere of the new production of Rigoletto and conducting a revival of Le Nozze di Figaro—a total of 14 performances in 30 days. In the midst of his many rehearsals, he spoke with the Met's Jay Goodwin about Verdi, Mozart, and the connections and contrasts between two of the repertory's most beloved operas.
How are you feeling about your massive January at the Met?
I was so much looking forward to coming back in 2020 for Les Contes d'Hoffmann, but of course that was lost to the health situation. It feels like a big gap between the Aida in 2017 and this fantastic opportunity to return for Rigoletto and Le Nozze di Figaro, so I'm euphoric to be back. And I think, like everyone else, I have an extra charge following the closures and lockdowns. We are all conscious that the opportunity to perform has even more meaning now. I'm also especially excited to work more extensively with the Met musicians on the new production of Rigoletto, with more time to get to know each other. It is a great pleasure to drive this Ferrari of an orchestra and chorus—an incredible joy and responsibility.
Rigoletto is a such a dark story—a tale of corruption, cruelty, and death—but it contains some of Verdi's most beautiful music. What do you think he had in mind with that juxtaposition?
He definitely focused on the contrast of darkness and light. The opera's setting is even literally dark—it all takes place at night, or inside. But in the end, it's about his very specific depictions of the characters. For example, we'll be in a dark minor key, and then all of a sudden, when Gilda comes in, it becomes bright and beautiful. Her character is pure, so her music is all purity. The Duke's music is also elegant—Verdi even writes in the score "con eleganza"—but it's an egocentric, egomaniacal, false elegance.
And much of the opera's power comes from the evolving relationships among these very carefully drawn characters.
Absolutely. An interesting comparison is Verdi's Macbeth, which I just conducted at the Royal Opera House. That is another dark opera, but more importantly, it is senza amore: There is no love between Lady Macbeth and Macbeth. Rigoletto is the opposite, the opera with too much amore. The Duke, of course, feels love in 360 degrees. Gilda has a powerful filial love for her father, but also a naive, idealistic love for the Duke. And Rigoletto maintains a tragic love for his dead wife and also a paternal, protective love for his daughter. There is even the love for God, which gives Gilda the strength to sacrifice herself, to take a leap of faith at the end. It's all too much, and it touches our souls in so many directions. By the end of the third act, we are completely overcome.
Like Rigoletto, Le Nozze di Figaro is a scathing critique of the abuse of power, but Figaro delivers its skewering with a smile rather than a scowl. How would you describe their two different approaches?
The operas have completely different colors. The light that shines from Mozart's music is almost unbearable to look at without squinting, and it has such nobility and finesse. Whereas with Verdi, il compositore della terra, you can really see the dirt. It gets on your hands, gets all over you. So even though we are speaking about the same problems and the same ugly behavior in both operas, they reach you in different places and in different ways. Where you come out of Rigoletto emotionally wrought, you leave Le Nozze di Figaro laughing, but enlightened and wanting to do better for society and for yourself.
Do you also find similarities in the operas?
Well, Verdi coined the term parola scenica [roughly, "scenic utterance"] to describe his vision for unity in his work, how text becomes drama, and drama becomes music. But Mozart's trio of operas with librettist Lorenzo Da Ponte anticipate all of that. For example, Mozart didn't write a single dynamic marking or accent on the vocal line, meaning that you apply what is written in the orchestra to the vocal line. But it also works in reverse: All of the accents of the words can be applied to the orchestra even if nothing is specifically written there. And because we are speaking about two masterpieces, this also applies to what is not written and to what the singer is not singing—to the characters' thoughts and silences. So I think we can play both operas with a lot of mystery, a sense of double meanings and unsaid things.
I imagine that as an Italian, you take particular joy in Da Ponte's work on Figaro. Can you describe why it's considered one of opera's greatest libretti?
Well, you should know that at school—not conservatory, but regular school—the great libretti from the Mozart–Da Ponte and Verdi–Arrigo Boito operas are taught as part of Italian lessons. That's because of the way they choose and use words—sometimes onomatopoeic words that aren't even in the dictionary—so that when joined with the music, they assume three times the force. They allow the singers to play with the openness of the vowels, or with doubling consonants that are not supposed to be doubled, for example, to strengthen the meaning and the thought behind it. The words are like a gold mine, and when joined with the genius music of Mozart, there are always five or six possibilities for how to interpret each moment. That really keeps you on your toes, both playing and listening.
And keeps us coming back to the piece again and again.
Exactly. And it's the same with Verdi. I've conducted 18 of his operas, and this is my sixth production of Rigoletto. And even though I already have four fully annotated scores, I brought a brand new one for these performances, to start again from the beginning. This is what I do when something special is happening and I really want to start fresh. I'm putting in my new notes and markings now, and I'm not feeling a hint of routineness in a single second of rehearsal. I just feel good.
Jay Goodwin is the Met's Editorial Director.