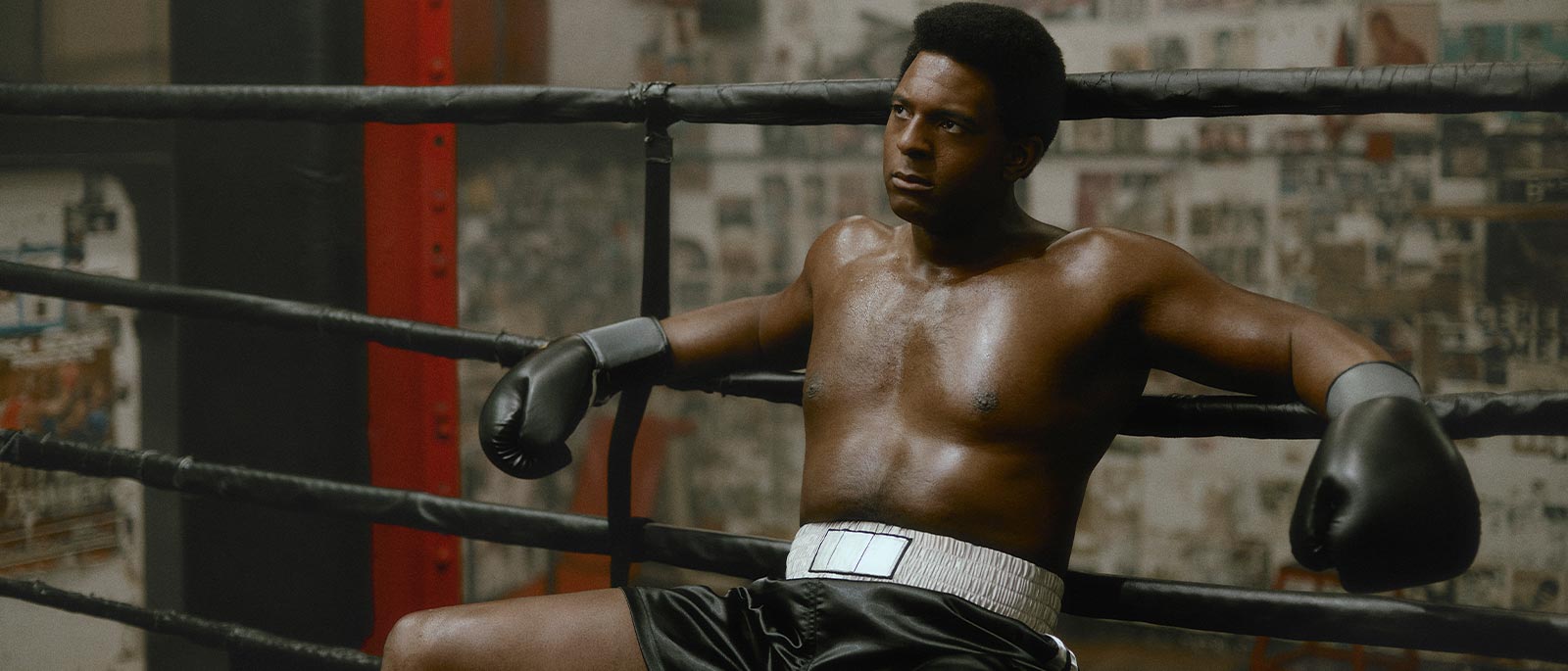 Love and Boxing
Last season, Terence Blanchard's Fire Shut Up in My Bones caused a sensation at the Met, drawing untold new audiences for one of the most notable premieres in recent memory. Now, the composer is back with Champion, starring bass-baritone Ryan Speedo Green as a tormented boxer balancing life in the ring with his secret desires. Yannick Nézet-Séguin is on the podium for James Robinson's action- and emotion-packed production. By Matt Dobkin
The year is 1962. A young welterweight boxer named Emile Griffith arrives at Madison Square Garden in New York City to weigh in for a bout later that night. His opponent, Benny Paret, seizes the moment to taunt Griffith, hurling homophobic slurs at him. The hazing hits home, and hours later in the ring, at once ashamed and enraged, Griffith unleashes a torrent of fearsome blows on Paret, ultimately killing the man. For years, Griffith would be haunted by the incident, at the same time as he struggled with his sexuality.
This true story of Emile Griffith (1938–2013) is the inspiration for Terence Blanchard's Champion, his first foray into opera after a wildly successful career as a jazz artist and composer of film scores. It's his second opera at the Met after last season's landmark presentation of Fire Shut Up in My Bones, which was the first opera by a Black composer in Met history.
"The thing that really got me about Emile's story is the whole idea of accomplishing something major in your life but not being able to share that openly with someone you love," Blanchard says. "Thinking about the inequities that people experience in the world because of social dogma—that really appealed to me as a subject. There's a moment when he says, 'I killed a man, and the world forgave me. Yet I loved a man, and the world wants to kill me.' That, to me, was a very, very, very powerful notion."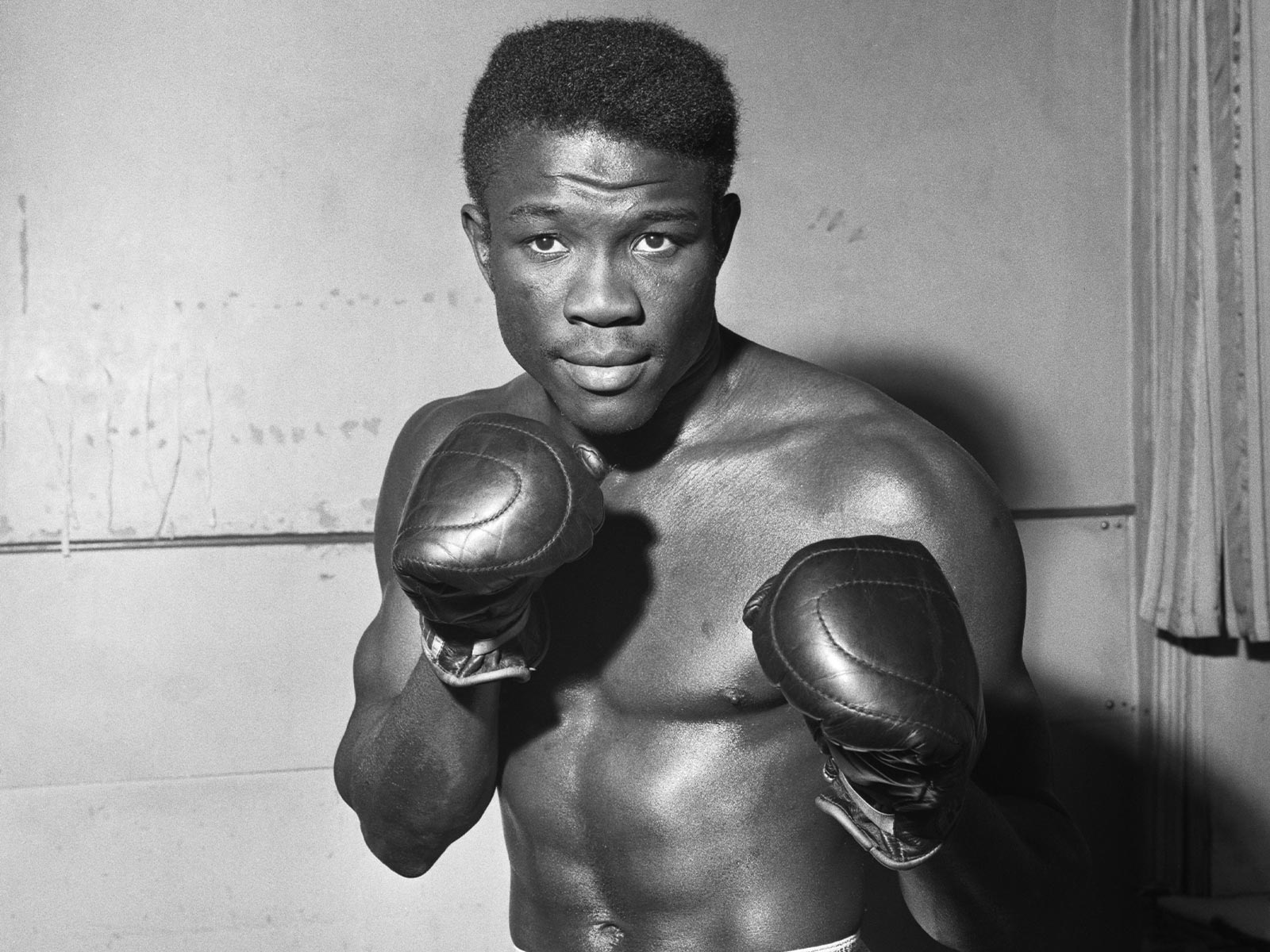 The real-life boxer Emile Griffith
Griffith's singular story has been told in a book, Nine… Ten… And Out!, by Ron Ross, and in a documentary film, Ring of Fire: The Emile Griffith Story, directed by Ron Berger and Dan Klores. In the opera, his tale is told in flashback, opening on the elderly Griffith, portrayed at the Met by bass-baritone Eric Owens, suffering from dementia in a nursing home on Long Island on the eve of a planned meeting with Benny Paret's son. We then move back to the 1950s, when young Emile, sung by bass-baritone Ryan Speedo Green, arrives in New York from his home in the U.S. Virgin Islands, hoping to establish a career in boxing, music, or, improbably, hat-making. In New York, he is reunited with his mother, Emelda, sung by soprano Latonia Moore (like Green, a veteran of Blanchard's Fire Shut Up in My Bones at the Met). He also encounters gay nightlife and turns to bar owner Kathy Hagen, played by mezzo-soprano Stephanie Blythe, who becomes his confidante as he struggles with his sexuality. Met Music Director Yannick Nézet-Séguin, who collaborated to great acclaim with Blanchard on Fire Shut Up in My Bones, will conduct.
Helping Blanchard harness the many facets of the piece since the beginning was director James Robinson. In his role as artistic director of Opera Theatre of Saint Louis, Robinson (who also commissioned and directed Fire Shut Up in My Bones when it had its world premiere in St. Louis), had been contemplating an education project, perhaps an opera for kids, maybe something in a jazz idiom. A colleague from Jazz St. Louis suggested five possible composers, including Blanchard, whose work Robinson knew well. They quickly agreed not just to collaborate but to expand the ambition of the piece to a full-length mainstage work, an "opera in jazz," as Blanchard calls Champion, that would appeal to a broad audience. The next step was to settle on a subject.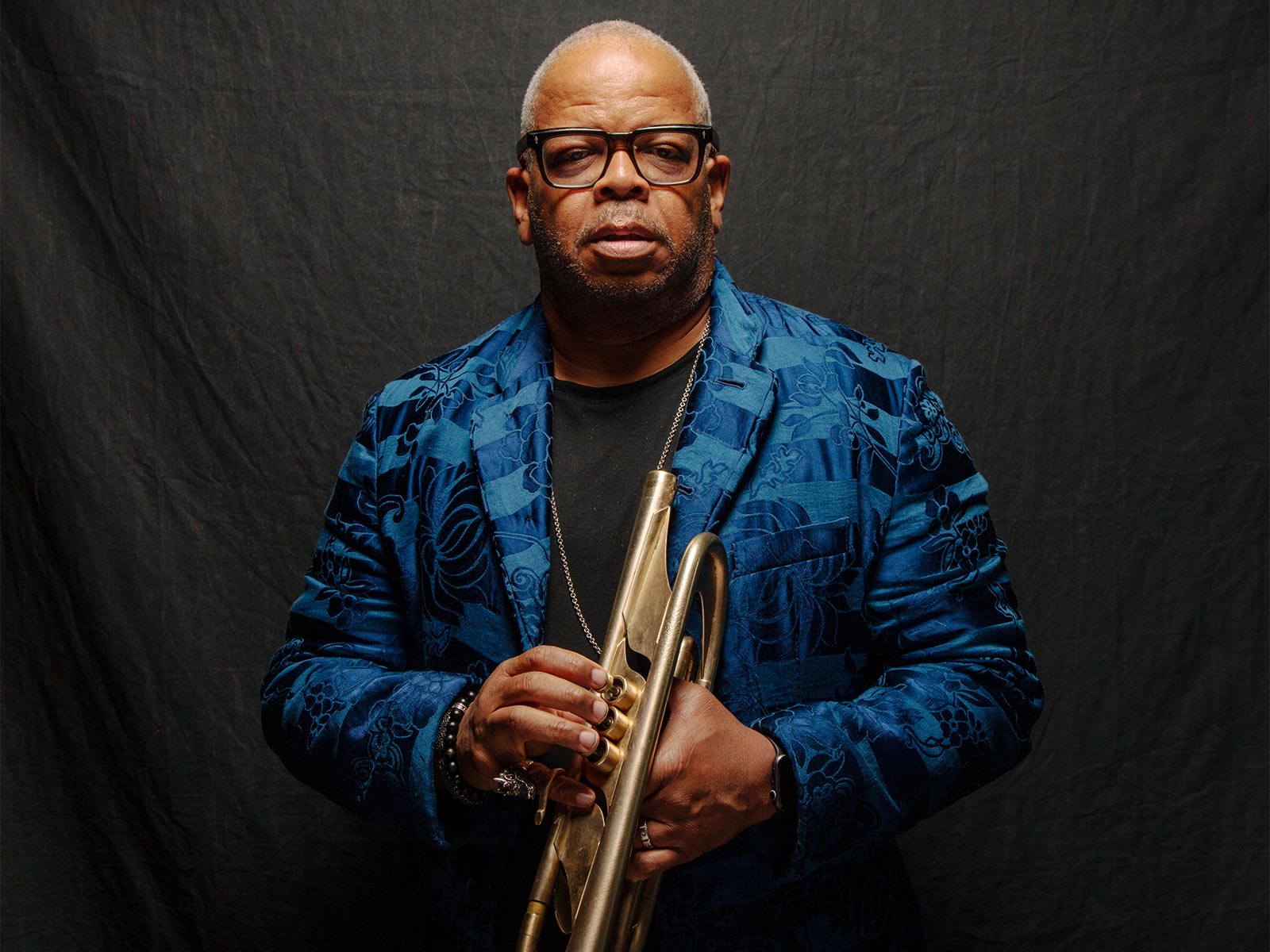 Six-time Grammy Award–winning composer and trumpeter Terence Blanchard
"Terence is passionate about boxing and has a great knowledge of boxing history," Robinson says. "And he was particularly attracted to the idea of Emile Griffith, somebody who really couldn't live his life openly. Griffith was suffering from pugilistic dementia, and before he was totally incapacitated, he wanted to be forgiven by the family of the man that he had killed. All of this was in Terence's mind. And I thought, 'Wow, that's a great story. That is purely operatic.'"
To transform the idea into a libretto, Blanchard and Robinson turned to playwright and filmmaker Michael Cristofer, who won both a Pulitzer Prize and a Tony Award for his play The Shadow Box, which addresses similar notions of end-of-life reckoning and hidden sexuality. "We called Michael, and he said, 'I've never done an opera before,'" Robinson remembers. "I said, 'Well, neither has Terence, so let's all have a good time!'"
Blanchard looks back and recalls, "I really had no ambition to write an opera, zero. And I was already consumed with my film work. But it's funny how things go." Once he started work composing Champion, he found himself totally taken over by the project, as he would later be working on Fire Shut Up in My Bones. "You become extremely focused—you live, eat, and breathe the project," he says. "When I was writing Fire and Champion, I'd wake up in the morning and go right to work, because it's like there's a burning desire within you to say something. It's almost like you get into a Zen mode, and once it's finished, you feel like you didn't write it. You think, 'I hope it's good. I don't know. Let's wait and see.'"
Champion was enormously successful, thanks to a score that calls on all of Blanchard's orchestral mastery, with jazz and gospel inflections that instantly hook the ear. Robinson's fast-moving production provided a compelling visual backdrop for the drama. The Met stage, though, is larger than the one in St. Louis, so set designer Allen Moyer is reconceiving the scenic design to be even more involving and impressive for the audience. "When we did it in St. Louis, we didn't have a proper boxing ring. There was a section of the floor that lit up, and four dancers came out and held up ropes around the edge," Moyer recalls. "At the Met, we'll have a real ring, which will emerge out of the upstage darkness. We see it several times over the opera, and we thought, 'Wouldn't it be exciting if the boxing ring could spin around?' So that's what we're doing this time, because the ring is like this whirlwind in Emile's life."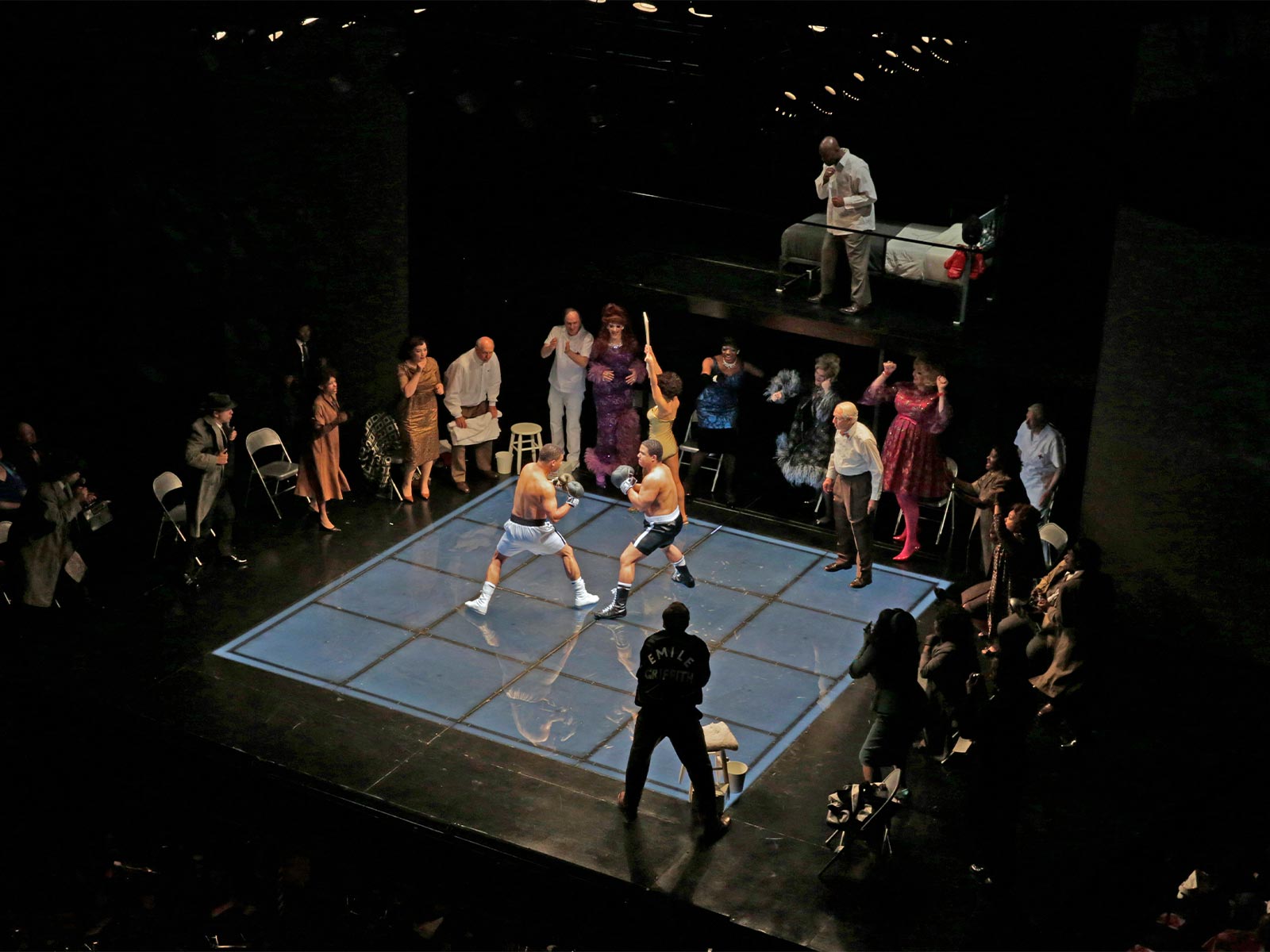 Allen Moyer's boxing ring set design at Opera Theatre of Saint Louis
Griffith's life was indeed a whirlwind, making for an operatic character that requires not just vocal ability but intense emotional and physical commitment from the man who portrays him. "With Speedo, it's not just that he can produce big sound," Blanchard says. "He has a way of expressing himself that's compassionate, while still being powerful. I think the complexity in this role, what makes it hard, is that you have to be strong and powerful and still very vulnerable at the same time. That's a hard thing for some people to pull off, but I know Speedo has the chops to do it."
Green, for his part, is relishing the opportunity. "Emile is an amazing character to me because he has so many facets," he says. "He's not only vivacious and alive, an in-the-moment type of personality, but he also has these deep emotions, not knowing who he is and where his place is in this world." He continues, "I think Emile Griffith would probably be one of the most popular people on the planet if he were young today. He was a person who was not afraid of expressing himself. And that made him awkward and weird to some of the people around him. But he tried to be true to himself. The fact that he was a hat-maker as a teenager, before he ever started boxing, and that a hat-maker could literally become a weapon in the ring is an amazing thing."
Despite his enthusiasm for the character, Green wasn't convinced he was right for the role when he initially got the offer, as it was originally composed for a baritone with a higher tessitura. But when he learned Blanchard would re-work passages to bring it in line with his vocal sweet spot, Green was all in. Robinson explains: "Terence always says, 'Let's not be too precious about what notes are here. If we need to pop it up an octave or take it down a fifth or whatever, let's do it.'" Green is especially looking forward to singing "What makes a man a man," an aria of Puccinian splendor that's sure to be a showstopper.
The hope is that Champion will resonate with Met audiences the same way Blanchard's Fire Shut Up in My Bones did. The composer describes the experience of Fire's premiere as "surreal. It's still one of those things where I have to pinch myself to believe that it actually happened. A lot of these young African American singers don't get the opportunities to be a part of big productions. And with Fire, they were all part of something that was successful and that's going to be with them for the rest of their careers. I loved watching them take ownership of the material and the music, making it their own."
Like Fire Shut Up in My Bones, which explored the same sex attractions that caused author Charles Blow such early anxiety, Champion is another work with queer themes from a straight male composer. What draws Blanchard to these stories? "When I won my first Grammy, I remember, I turned to my wife and without thinking gave her a kiss, and then ran up on the stage. And later I thought, 'There are so many people who that moment has been taken from, through no fault of their own.' I grew up in New Orleans, Louisiana, going to Central Congregational Church. And if you truly believe in a higher power, then you have to believe that we're not all going to come in the same flavor. We need to celebrate our differences."
Matt Dobkin is the Met's Creative Director, Content & Strategy.