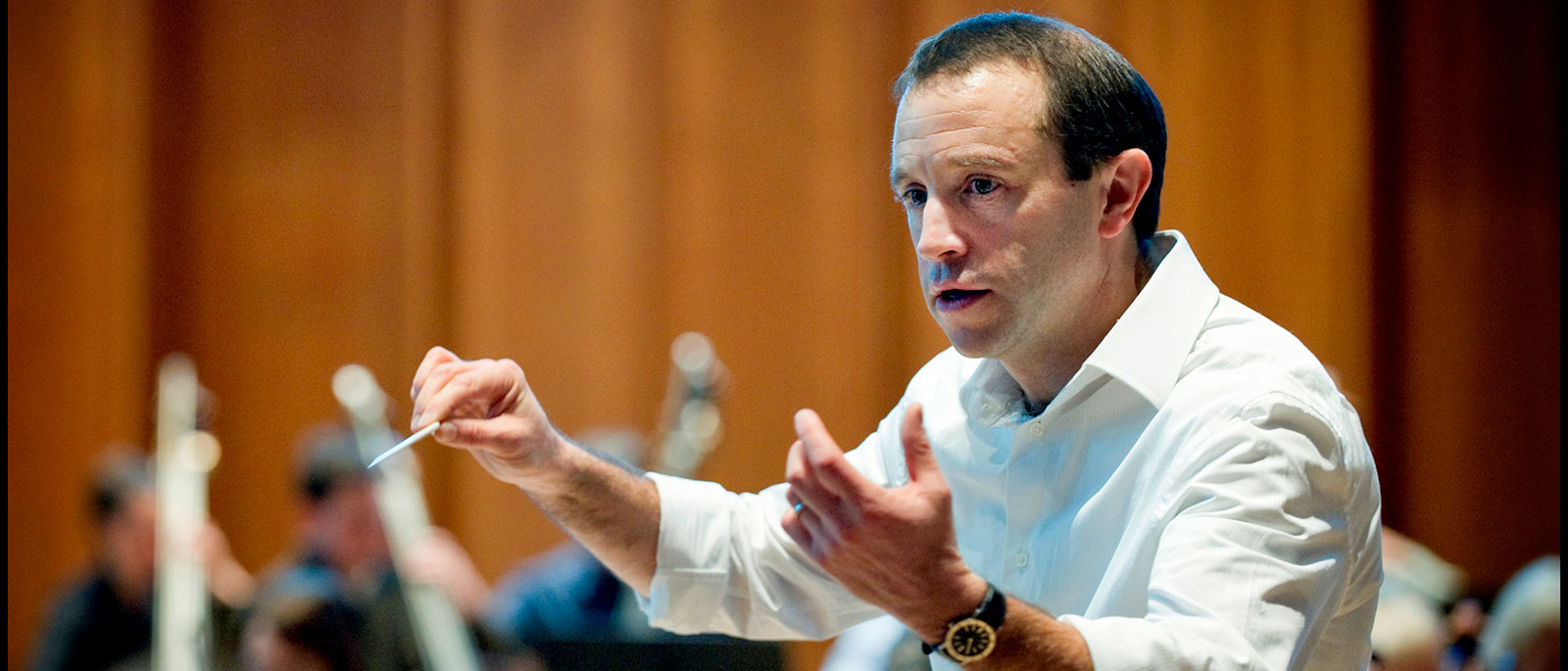 Lord of the Underworld
English conductor Mark Wigglesworth returns to the Met this season for the first time since 2005 to lead Mark Morris's spirited take on Gluck's Orfeo ed Euridice, starring Jamie Barton and Hei-Kyung Hong in the title roles. Between rehearsals, the former music director of the English National Opera spoke to the Met's Joel Rozen about his affinity for Gluck, his unique approach to conducting classical dance music, and his new book, The Silent Musician: Why Conducting Matters.
I understand this is the earliest opera you've ever conducted. What attracts you to Gluck's Orfeo?
I think it's a revolutionary piece, because when it was written, the Baroque musical style had been dominating opera, often at the expense of the drama. All these da capo arias, where the singer repeats his or her thoughts over and over again, were unrealistic, at least in a dramatic sense. The Baroque interest in showing off the voice had become, in Gluck's mind, counter to telling a good story. So in Orfeo, he decided to cut everything that's not related to storytelling—and as a result, the opera is only 90 minutes. In my opinion, this move toward realistic storytelling paves the way for Mozart, for Verdi, and for many of the operas that we are familiar with. I don't think Gluck gets quite enough credit for this revolution that he started, in which composers put the words first.
It's interesting that Gluck applied his pioneering "realistic" approach to retelling an ancient Greek myth.
Isn't it? The story could not be more simple. Yet that enables operagoers to invest a lot of their imagination as they experience the opera. Gluck doesn't tell us what to think or what to feel; he keeps the story simple but true to life, and this forces all of us to really think about what we feel the story—and his music—might be saying.
How would you describe that music, and what does it demand of the conductor?
Most of the opera is accompanied recitative, or sung dialogue, which is commonplace in 18th-century opera. But it's not just recitative with harpsichord—it's all accompanied by the orchestra. What's thrilling about that is that the singer and the conductor really have to feel the drama together.
In your recent book, you write that "most 18th-century music was not intended to be conducted at all. Either the first violinist of the orchestra or the continuo keyboard player took whatever practical responsibility was necessary." How does that knowledge affect your approach to this music?
Well, practically speaking, it's certainly helpful to have a conductor there, forging the connection between the orchestra and the singer. If I've done my preparation with the players well, I'm there to serve more as an enabler, finessing the connection between the orchestra and the stage. Two hundred and fifty years after Gluck, musicians are aware of so many different ways a work could be performed, it does help to have somebody deciding which way it's going to go.
Mark Morris's take on Orfeo is particularly renowned for its dance-oriented approach to the opera. How do you make the music more hospitable to dance?
I mean, all music is dance music, really—sound is a physical thing. And all music has to dance, even if it's not a dance, even if it's a Beethoven symphony. I must say that it doesn't feel like a construct or an imposition to put so much dance into this opera, even over and above the specifically indicated dances. Everything feels like it's come out of the musical gesture.
Does one conduct differently to bring out the choreographic or rhythmic elements of a score?
Hopefully not! The trick is to persuade an orchestra to find that physicality in the music themselves. I reckon a lot of it has to come from my own physicality: A conductor can't dance along to the music, but dancers will say they are not "dancing along" to the music either. Obviously I'm not a dancer, but the physicality of the musical gesture is always what I'm looking for in the way I conduct.
Joel Rozen is the Met's Staff Writer.