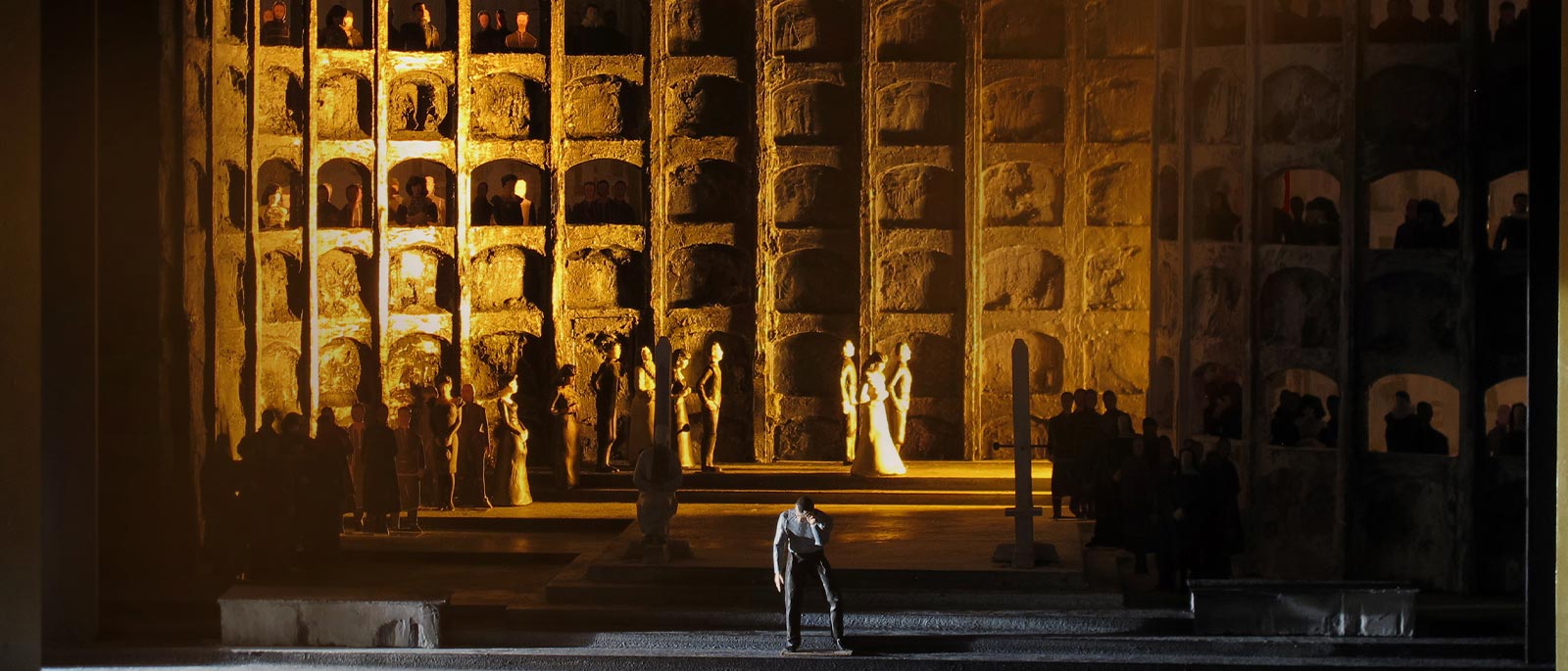 Liberty or Death
In Don Carlos, his grand drama of Inquisition-era Spain, Verdi wages a war of ideas, pitting his own humanist ideals against an unholy union of church and state. This season, the Met rallies its troops for a new production of this innovative and complex masterpiece, presented for the first time in company history in the original five-act French version. Music Director Yannick Nézet-Séguin leads an unbeatable cast in a staging by David McVicar that taps into the darkness and despair of a people suffocated by tyranny, as well as the poignancy of their hopeless yet heroic struggle for freedom. By Jay Goodwin
A work of towering ambition and sprawling scope, Verdi's Don Carlos is many things at once: a political drama, an ideological manifesto, a grand spectacle, an intimate story of thwarted love, a chronicle of familial strife, a meditation on death and the nature of the afterlife, and more besides. For any opera company hoping to successfully bring it to the stage, it presents similarly multifaceted challenges, not only with its monumental production demands, but also thanks to its requirement for no fewer than six premier singers and the need to sort through a complex catalog of versions and revisions. Once these hurdles are cleared, however, Verdi repays the effort many times over, bringing his many dramatic and musical threads together into one of the most profound explorations of human nature to be found anywhere in the repertory.
Verdi's imposing masterpiece was composed for the Paris Opera and premiered there in 1867. This season, that original five-act French version takes the Met stage for the very first time, the opera having previously always been presented in the more common Italian translation as Don Carlo, sometimes cut down to four acts. Particularly excited by this belated Met premiere is Music Director Yannick Nézet-Séguin. "I've been talking about bringing the French version of Don Carlos to the Met since I first conducted it in Italian here more than ten years ago. The opera was composed in French, and that is evident in the way the words connect to the notes and the melodies," he explains.
David McVicar, who directs the new staging—his 11th Met production, more than any other director in recent decades—agrees. "Writing in the French language changed the way that Verdi composed," he says. "When you do the French version, you're throwing yourself into the original conception of the piece as a French grand opera, which is a very different beast from an Italian opera."
Based on a play by Friedrich Schiller, Don Carlos is set in 16th-century Spain, a land trembling beneath the iron rule of Philip II and the theocratic terror of the Inquisition. In addition to Philip himself, the principal characters are all members of the king's court: his homesick young wife, the French princess Élisabeth de Valois; his discontented and conflicted son Don Carlos, secretly in love with Élisabeth; the beautiful and conceited noblewoman Princess Eboli; Rodrigue, Marquis of Posa, an idealistic and fearless agitator for reform; and the implacable Grand Inquisitor. The action follows this sextet as they deceive, threaten, conspire with, and plot against one another, their individual intrigues juxtaposed with the weightiest matters of society and statecraft.
Many of Verdi's operas display this dual focus on public and private affairs, but nowhere is it taken as far as in Don Carlos. Here, the characters are obvious avatars for ideas and principles, turning domestic disputes into a proxy for the battle between Schiller and Verdi's liberal values of humanism and freedom on the one side, and the twin tyrannies of authoritarian government and religious dogma on the other.
"Philip, hand in hand with the Church, has created a dictatorship of thought and an empire of fear—an empire ruled by death," says director David McVicar, explaining the concept at the core of the opera and of his production. "Set designer Charles Edwards and I researched a great deal about catacombs and ossuaries because we wanted to entrap all the characters in a world almost without sunlight, and make death an ever-present theme in every visual picture." This vision carries over into the predominance of black tones in the production's costumes, designed by Brigitte Reiffenstuel, signifying "the approach of death—that there are maggots gnawing away at the heart of this empire."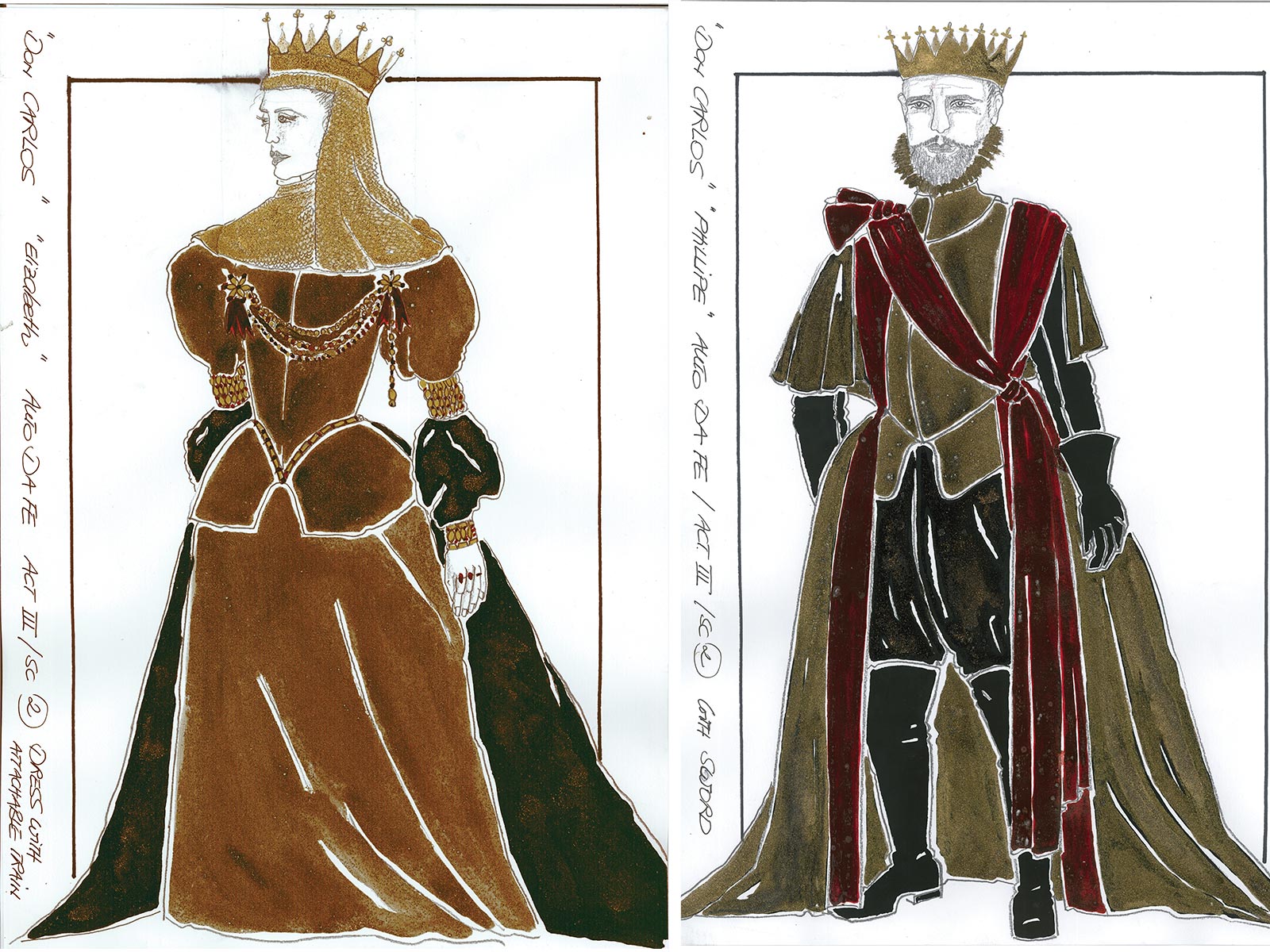 Costume designs by Brigitte Reiffenstuel
"The Church only has power over people because it tells them to be good and obedient, and not to think in this life, and they'll be rewarded in the next," McVicar continues. This makes the inevitability of death, and the threat of an ensuing judgment, an extremely powerful instrument of control wielded by both church and state. The director wants the audience to feel the claustrophobic imprisonment of that ideology, and describes the look of his staging as a visual representation of Philip and the Inquisitor's worldview. "It's the reason why we're using a single set—the idea that there is no escape for any of these characters," he says. "It's like Jean-Paul Sartre's Huis Clos. There's nowhere to go."
What truly raises Don Carlos to stand among Verdi's best works is that the characters who rule over and struggle against this oppressive regime are some of opera's most complex and fully drawn. "Even the Inquisitor has a real, believable point of view," McVicar says, as opposed to a more typical one-dimensional operatic villain. "We see that the Inquisitor has worked his whole life for what he has achieved—the suppression of thought, the suppression of dissent, which he truly believes is for the good of the empire and for the glory of Christ. So he's rounded." Philip is even more so. In contrast with the Inquisitor's iron conviction, the king is given an especially penetrating flash of doubt in Act IV. "Philip, who supports this world order on his shoulders," McVicar says, "has his moment of bending, of feeling that it's all too much for one man." In this opera, Verdi moves far beyond knocking down straw men, and as a result, the drama becomes visceral and genuine, making the audience feel that they, too, have something at stake.
The title character is especially fascinating. "Verdi manages to create a completely credible, three-dimensional tenor. He's not simply a hero or a lover," McVicar says of the frustrated, directionless title character, tortured by his forbidden love for Élisabeth, contemptuous of his father, but hesitant to throw himself fully into Posa's rebellious schemes. "He's something akin to Hamlet—something very sensitive, fluid and multifaceted, a little bit crazy, a little bit sick in his obsessions and his passions, but infinitely more interesting, I think, than any other role Verdi put into the tenor voice."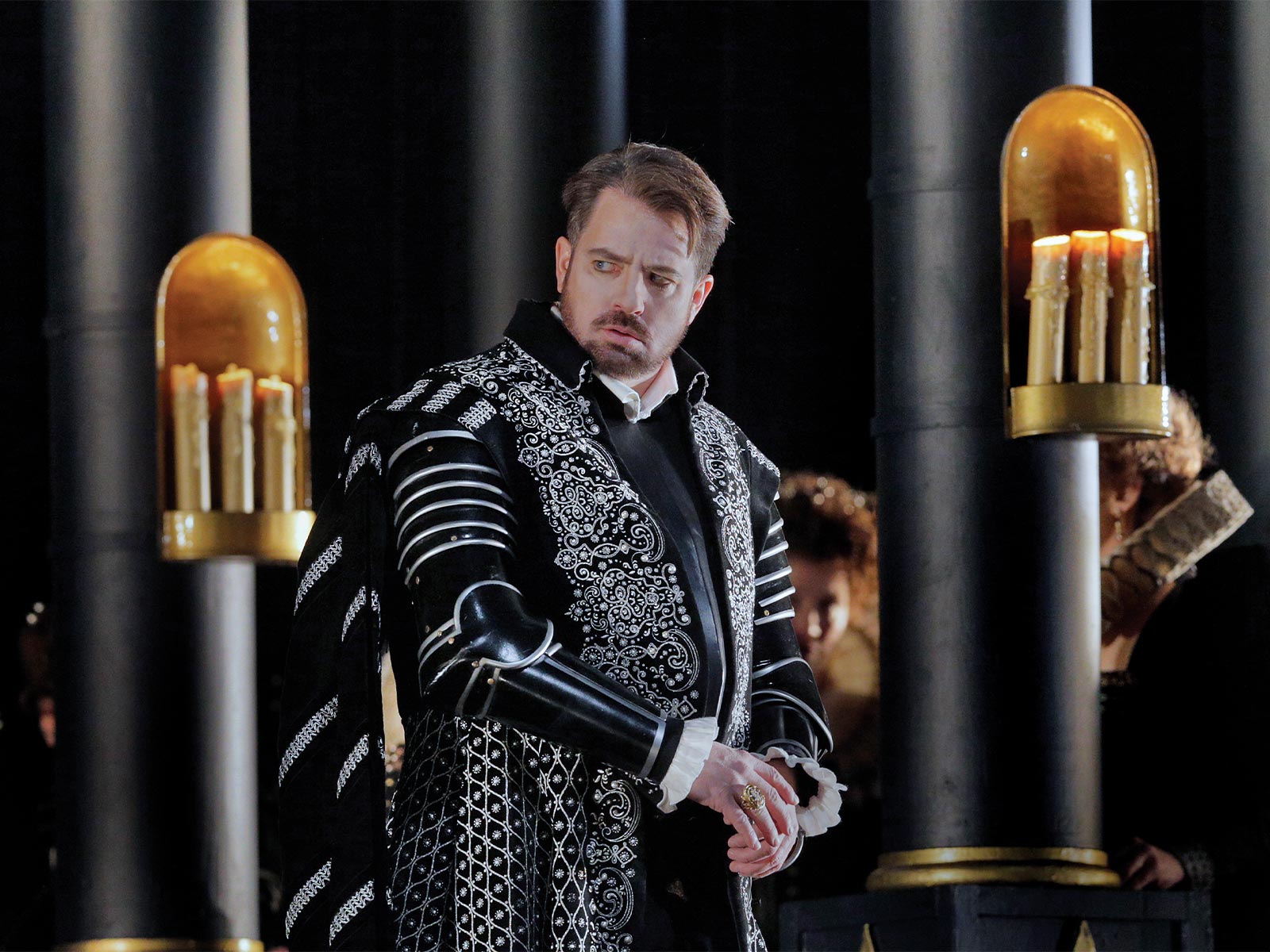 Matthew Polenzani
As compelling as the personalities of Don Carlos are, they are equally challenging to cast. Though the libretto, and Schiller's original text, build the foundations of the characters, it is Verdi's music that gives them the spark of life—and in this case, not through the traditional tearjerking arias and rousing ensembles, but largely by way of nuanced scenes and conversations. In order for this to succeed, all six principal singers must not only meet Verdi's usual formidable technical demands, but also wring out every subtlety of inflection and shading that the composer packed into the score.
This season's new production boasts a lineup of proven Met stars that are capable of exactly that: tenor Matthew Polenzani in the title role, soprano Sonya Yoncheva as Élisabeth, mezzo-soprano Jamie Barton as Eboli, baritone Étienne Dupuis as Posa, bass-baritone Eric Owens as Philip, and bass-baritone John Relyea as the Grand Inquisitor. "The cast is amazing," says Nézet-Séguin. "It's always been a known fact that you can't do Don Carlos without six extremely fabulous singers, and this cast is no exception."
For McVicar, it's not only the vocal chops but also the intelligence and acting ability of the singers that have him excited. "There has to be an intellectual curiosity in the cast to be able to really discuss what things mean and decide what we're trying to say," he says. "These guys are all curious. They all want to go on that journey." And he is champing at the bit to get started. "Coming out of the pandemic, what could be better than getting your teeth stuck into the red meat of Verdi? It's just fabulous."

Jay Goodwin is the Met's Editorial Director.