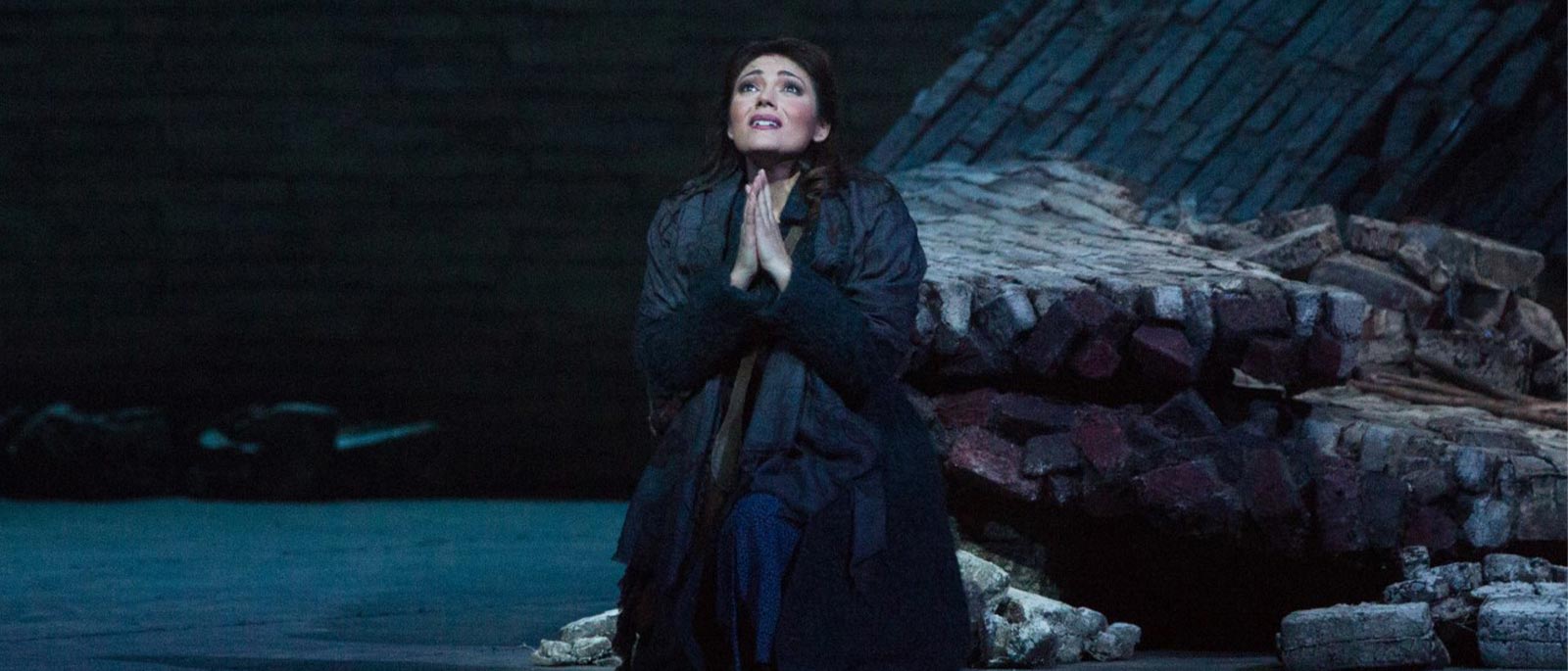 Leap Of Faith
Soprano Ailyn Pérez has given unforgettable performances on the Met stage in recent seasons as Tatiana in Eugene Onegin, Mimì in La Bohème, and Alice Ford in Falstaff, among others. This month, she returns for her role debut as Blanche de la Force in Dialogues des Carmélites, Poulenc's dramatic retelling of the executions of Carmelite nuns during the French Reign of Terror. Pérez spoke to the Met's Jonathan Minnick about how she plans to approach the complex central character and the significance of the opera in our current world.
What aspects of Blanche's character are you most drawn to?
You have to treat Blanche as an enigma. As she's searching for purpose and identity, she hopes to bring some honor to her own persona. The fact that her mother died during childbirth—her father and brother can't fully grasp the impact of that event on her life. She's trying to grapple with the realities of life and death and a sense of guilt that she can't shake. But oddly, by the end, she realizes that it doesn't matter. She surrenders her life for the purpose of love. Her story is fascinating because the things that she is certain about at the beginning of the opera become the things that she is not certain about at the opera's end. It's really a path of discovering love and surrendering to the greater good.
Despite this being your role debut, you have a history with this opera …
I first sang this opera in the role of Sister Constance, one of my very first jobs, and I loved the role so much. I relate to her because she's this bright sunlight and always uplifting and happy. And because of that, I was terrified to do Blanche! I want to tell you—I've been crying my eyes out for a couple of days. I actually met and studied a little bit with Romanian soprano Virginia Zeani, who debuted the role of Blanche under Poulenc. But I never had a chance to talk with her about this piece. I've been trying to reach her, but sadly her health is in decline now, so that's why I'm crying because I know she would have all the answers for me.
How would you characterize Blanche's dramatic journey?
I think what's extraordinary about this role is that it's a dramatic and emotional pilgrimage, and one of the most difficult pilgrimages for her is to go from her personality at the beginning of the opera, and then to arrive as all the women, all her sisters, are being executed, with the spirit of change and light, of bliss and acceptance. She becomes someone else—she surprises us all at the end. I think she's trying to avoid life as much as she can. I don't think she's a hero—I think she's a pilgrim. She's just trying not to cause anybody any more pain.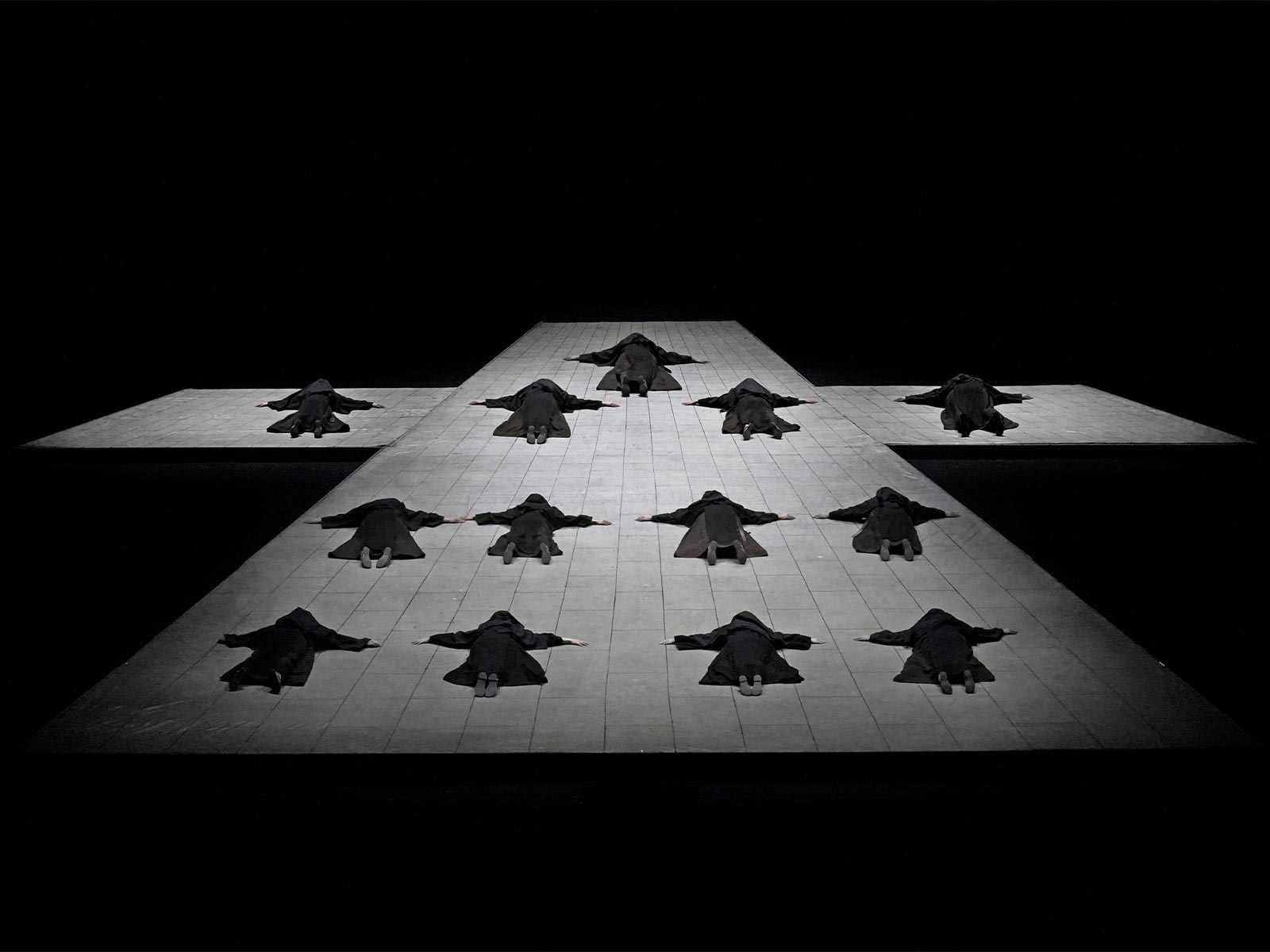 A scene from Dialogues des Carmélites
What themes in this opera are important to you?
I feel like there is a trauma to being born without a mother. I can only imagine how difficult that must be. I think that having that information in terms of the culture we live in, where people are open about discussing their issues, we start to understand more about Blanche, being born of fear and living in fear. She feels like she deserves to be condemned. What other life is there for her? In a way, she feels guilty that she killed her mother, and she's searching for meaning. We assume that other people just understand or have it more together than we do. And then, you find out everyone has uncertainty, fear, and things that they have to overcome, and no human being is privileged to not experience that.
And those themes are still relevant today.
Absolutely. I think now about all the women in Iran who are cutting their hair to try to bring attention to their freedom—it's a part of the same story. To stand for and defend the rights of women has been a fight for centuries, and we're still not there.
You have another exciting project coming up, starring in the Met premiere of Mexican composer Daniel Catán's Florencia en el Amazonas next season.
Being born in Chicago to immigrant parents from Mexico, it may be the most profound and important time of my life, certainly of my singing career, to be a part of Florencia, to be a part of the fabric of this brilliant Mexican composer. I think there is so much soul, expression, and poetry in the Spanish language. For me to sing in Spanish, it's like I become more myself. To be a part of this project, especially with how the Met has embraced cultural representation, it's an honor and a joy.
Edited by Jonathan Minnick
Jonathan Minnick is the Met's Associate Editor.