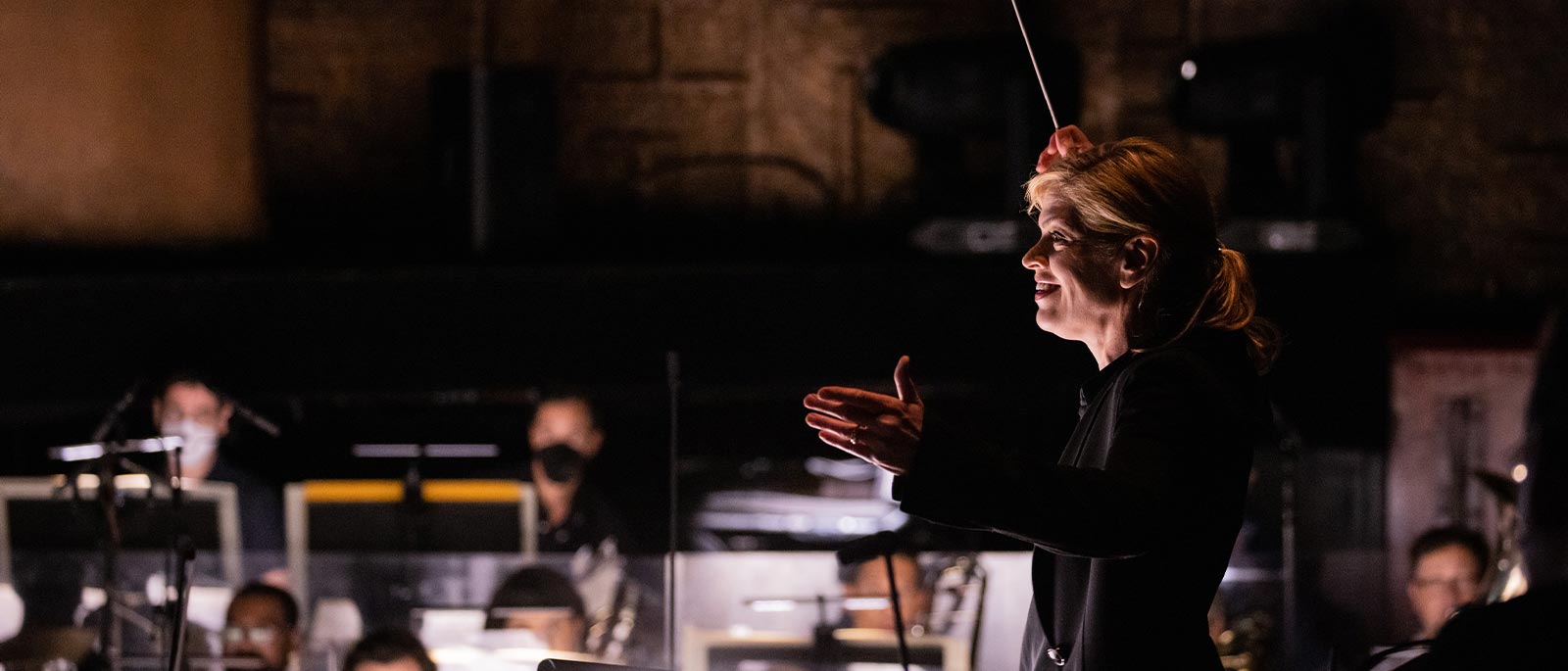 Leading Lady
Having recently led the Ukrainian Freedom Orchestra on its inaugural tour, Keri-Lynn Wilson makes her Met debut this fall conducting Lady Macbeth of Mtsensk. As she prepared to take the podium for Shostakovich's blistering satire, Wilson spoke to Christopher Browner about her extensive research into the score and why this opera continues to resonate nearly a century after Soviet critics dismissed it as "Muddle Instead of Music."
When did you first encounter Lady Macbeth of Mtsensk, and what was your initial impression?
It was actually when I was asked to conduct it for the first time in 2011. I've been a fan of Shostakovich since childhood, but I focused largely on his orchestral music, so what I loved most was how symphonic this opera is. The orchestra is the major driving force throughout, and it's on a massive scale—you could probably find at least four symphonies in there.
How does Shostakovich use the orchestra to complement the onstage action?
Everything that he writes is connected to what's happening emotionally with the characters. Maybe the most obvious example is the sex scene, where he uses trombone glissandi to illustrate the actual sexual movements. But he incorporates this detail seamlessly into the score and develops the entire scene so organically that it all builds to a powerful collective crescendo. In rehearsal, I kept telling the musicians to just really go for it. It can't be raw enough or crude enough. We can't have any inhibitions when interpreting this music.
Tell me about the research you did at the Dmitri Shostakovich Archives in Moscow.
A few years ago, I was conducting at the Bolshoi Theatre and met Olga Digonskaya, the chief archivist of the Shostakovich Archive. She gave me special access to original manuscripts, drafts, and sketches, and I was able to see not only the opera's manuscript but also the later version, Katerina Ismailova, which Shostakovich created after Stalin criticized the score. When it came to the sex scene, Shostakovich actually had crossed out the orchestral part in big, red Xs! By comparing the original version to that watered-down version, I gained greater insight into his raw approach to this opera and saw how, at 26 years old, he already understood the depth of character and musical expression.
In light of Russia's aggression in Ukraine, it seems timely to be presenting this opera, which was famously a victim of totalitarian censorship.
I am so happy that this is my first engagement following my work with the Ukrainian Freedom Orchestra. As a proud Canadian Ukrainian but also a lover of Russian repertoire and Russian culture, performing this piece is a way for me to scream out through music that oppression will not win. Lady Macbeth lives on because it's a great piece of art that reflects humanity, and no one can silence that.