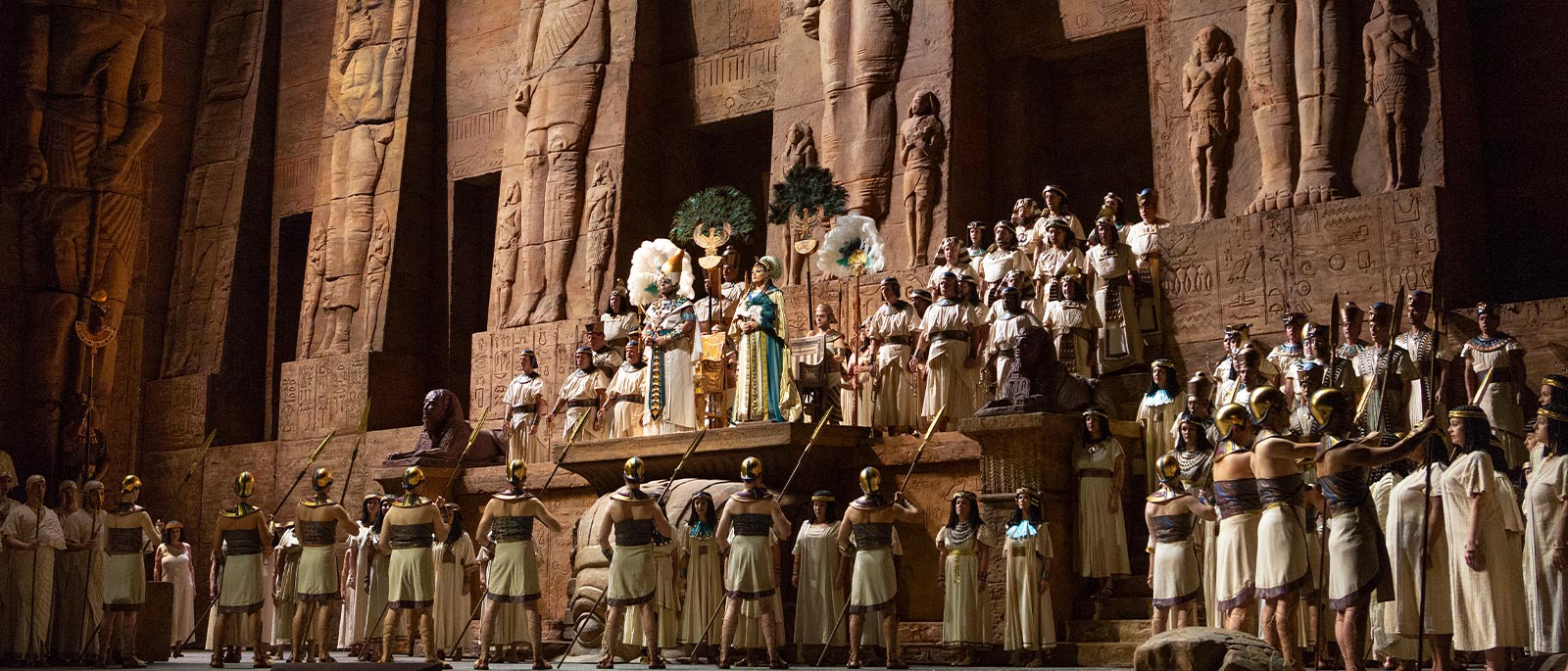 Latonia: Warrior Princess
The stakes couldn't have been higher for soprano Latonia Moore when she made her last-minute Met debut in the title role of Aida in 2012, in a performance broadcast live on the radio around the world. But the Houston native seized the moment, and in the decade since, she has had a meteoric rise at the Met, not only reprising her signature portrayal of Verdi's captive princess but also delivering memorable turns in Terence Blanchard's Fire Shut Up in My Bones and the Gershwins' Porgy and Bess. As she prepared to headline this month's revival of Verdi's grand Egyptian drama, Moore spoke to the Met's Christopher Browner about her ever-evolving approach to Aida, as well as the exciting roles that await her in the spring.
Take me back to your Met debut. What was it like to go on with only a few days' notice?
It was a whirlwind. I got the call Thursday night before the Saturday matinee, and as a cover, I had never actually been on the set. So I was like a deer in headlights at my first entrance. When Stephanie Blythe, as Amneris, sang her first line to me, telling me to come to her, I didn't even move. I just went blank. But then I recovered and told myself, "Just do the damn thing," and I was okay— more than okay! The audience went ballistic. They love an underdog debut, so they made me feel right at home.
How has your approach to the role evolved in the years since?
It wasn't like I was the perfect Aida right out of the box. When I first sang the role in 2009, my voice was probably a bit too light, but after a few years, maybe it was after I gave birth to my first child, my voice deepened and became richer, and I really found my stride. Even now, having sung almost 160 performances of Aida, I'm still trying to add more colors and more depth, because life experience always gives me new ideas for interpreting my roles.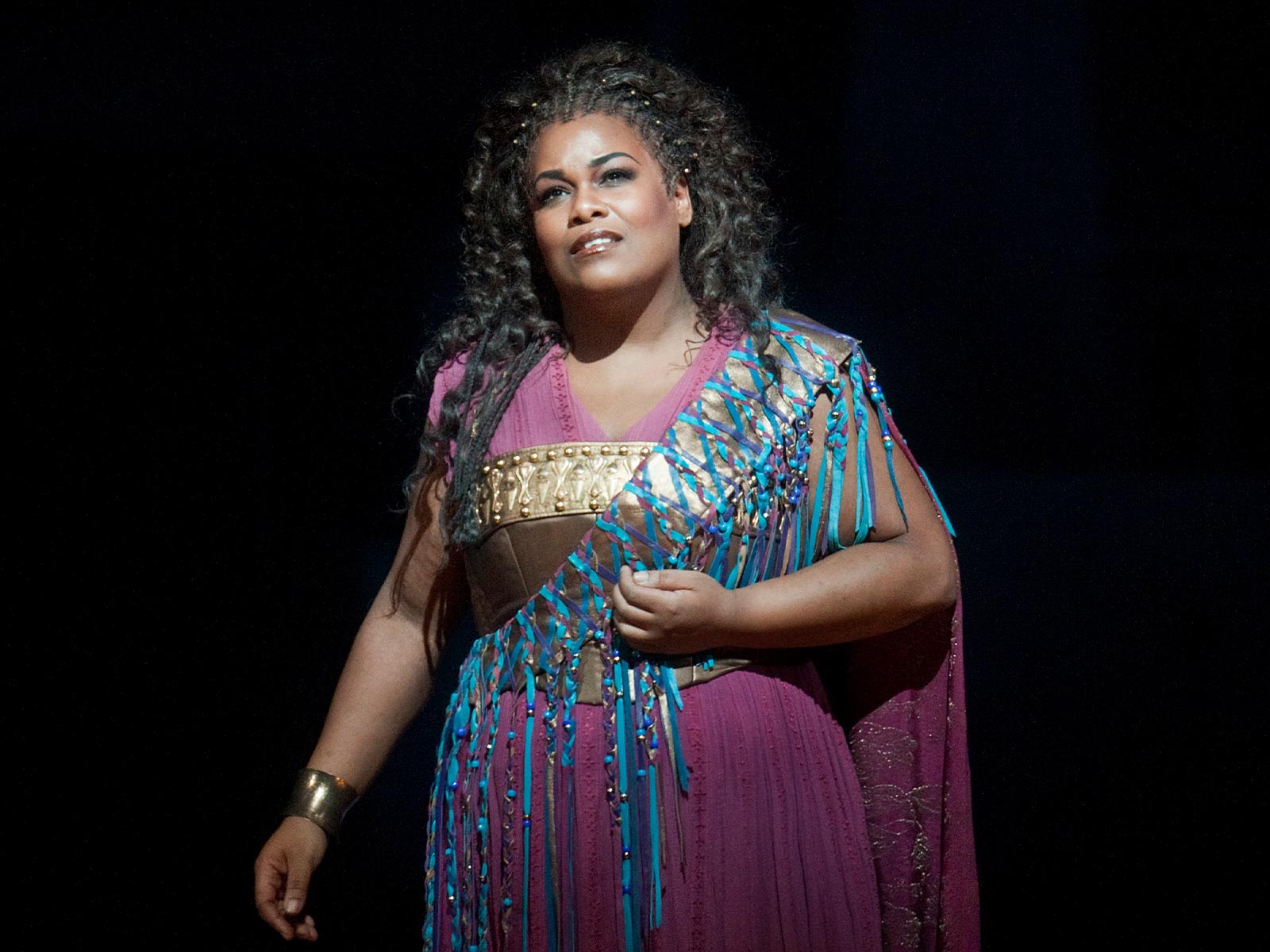 Moore as Aida in her 2012 debut
What has changed over time about your understanding of Aida's character?
I find her immensely complex compared with most of the roles I sing, but that's not what I thought initially. With experience, I realized that what we see of Aida in the opera is only one part of her life, and it's the very end. But for me, this is a warrior princess. She was raised by warriors—her brothers were warriors, her mother was a warrior, and obviously, her dad is the ultimate warrior. Although she's been in captivity, this is not a submissive person, and when everyone leaves the stage, she tells us the truth about her inner conflict. For instance, in "Ritorna vincitor" in Act I, she's letting the inner princess out, but then trying to pull it back in because she's been forced to hide for so long. She's a very strong person, who in the end makes a terrible choice—one that I, Latonia, would never make.
No? You wouldn't sacrifice your life for love?
Are you kidding me? I would never have gone to that tomb. Who's going to lead my people? She's next in line for the throne. No one is left alive—maybe a random cousin! There's no way I would go and die in that tomb and not avenge my people. But I'm not Aida, and in the end, she succumbs to guilt, knowing that the love of her life was sentenced to death because she forced him to betray his duty. She'd rather die and spend her last moments in love than to go on living without it.
There's nothing quite like the exhilarating Triumphal Scene in the Met's towering production of Aida. What is it like to star in Sonja Frisell's classic staging?
It's just so epic! I've done Aida all around the world, but this one is by far the most grand. It's everything you want from the opera. I've done lots of updated productions, too—I've played a housemaid with yellow gloves cleaning up vomit, and I've given someone a pedicure on stage, and that can bring out different sides of the character. But nothing beats this Aida.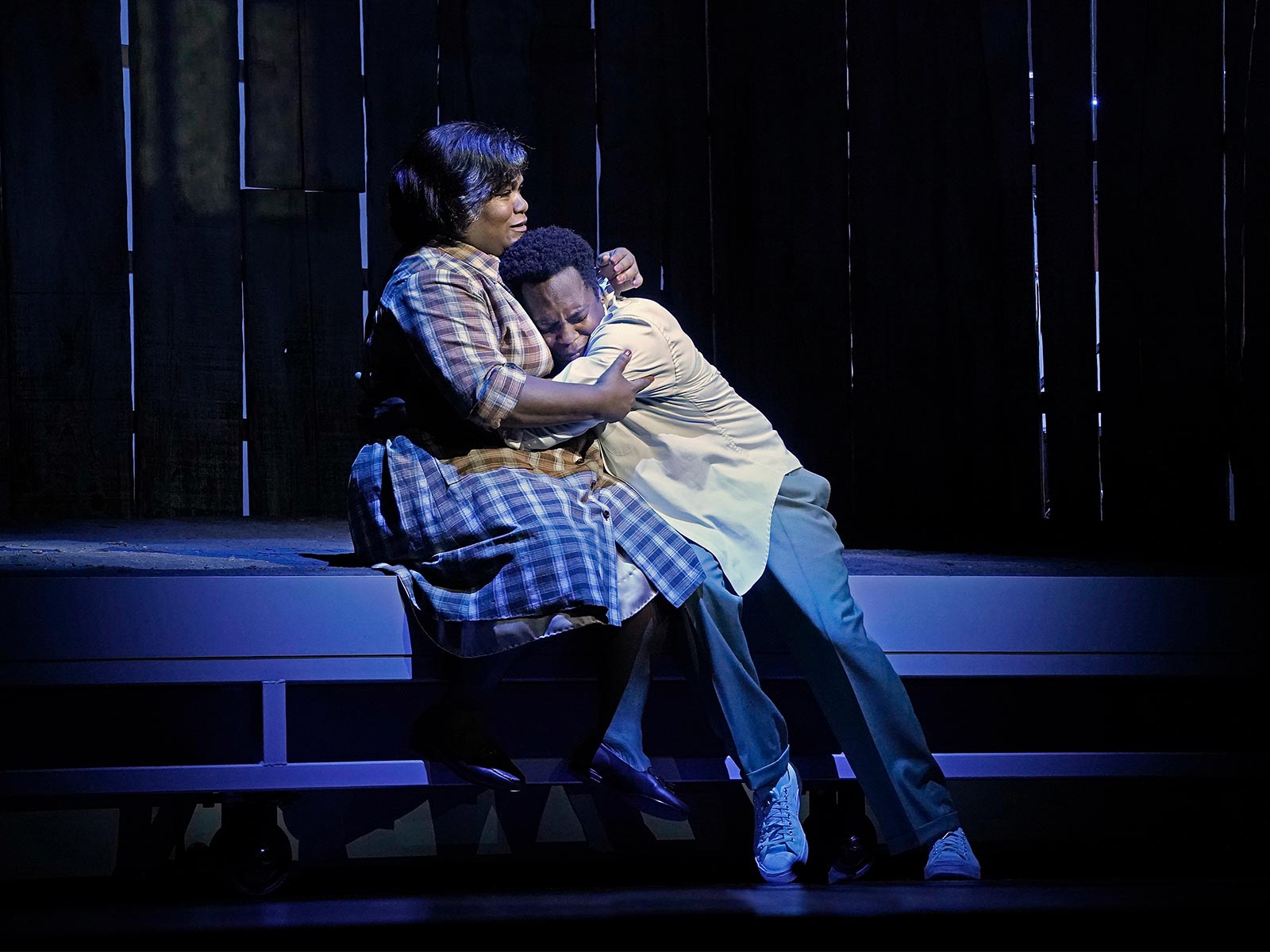 Moore with Will Liverman in Terence Blanchard's Fire Shut Up in My Bones
Aida is the just the first of three roles that you'll take on at the Met this season. Tell me about returning in April to sing Emelda Griffith in the company premiere of Terence Blanchard's Champion, about real-life boxer Emile Griffith.
After Fire Shut Up in My Bones, I knew that Terence definitely has a certain musical style, but Champion is much jazzier. There are times where the music has a disjointed feeling as it explores this man's inner turmoil and what's going on in his brain after all those years fighting in the ring. Terence does a really good job of capturing that uncomfortable, unsettled feeling. I was also surprised by the contrast in my character. As in Fire, I'm playing a mother, and I assumed that the roles would be similar, but Emelda is actually kind of nasty. I don't want to give too much away, so I'll just say that I'm going to play on an element that I think is very taboo for a mother, and maybe cross a line that is going to make people uncomfortable—I just can't wait to make people squirm.
And then you sing Musetta in Puccini's La Bohème—quite the change!
This is such a bangin' season for me, with so much great music to sing, but I've always especially loved the role of Musetta. I started my career singing lots of Mimìs, and this will actually be my role debut as Musetta. Of all the characters I'm portraying this season, she is the closest to my personality. I am naturally flamboyant and like to stir the pot just like her. And it'll be nice not to die for a change!