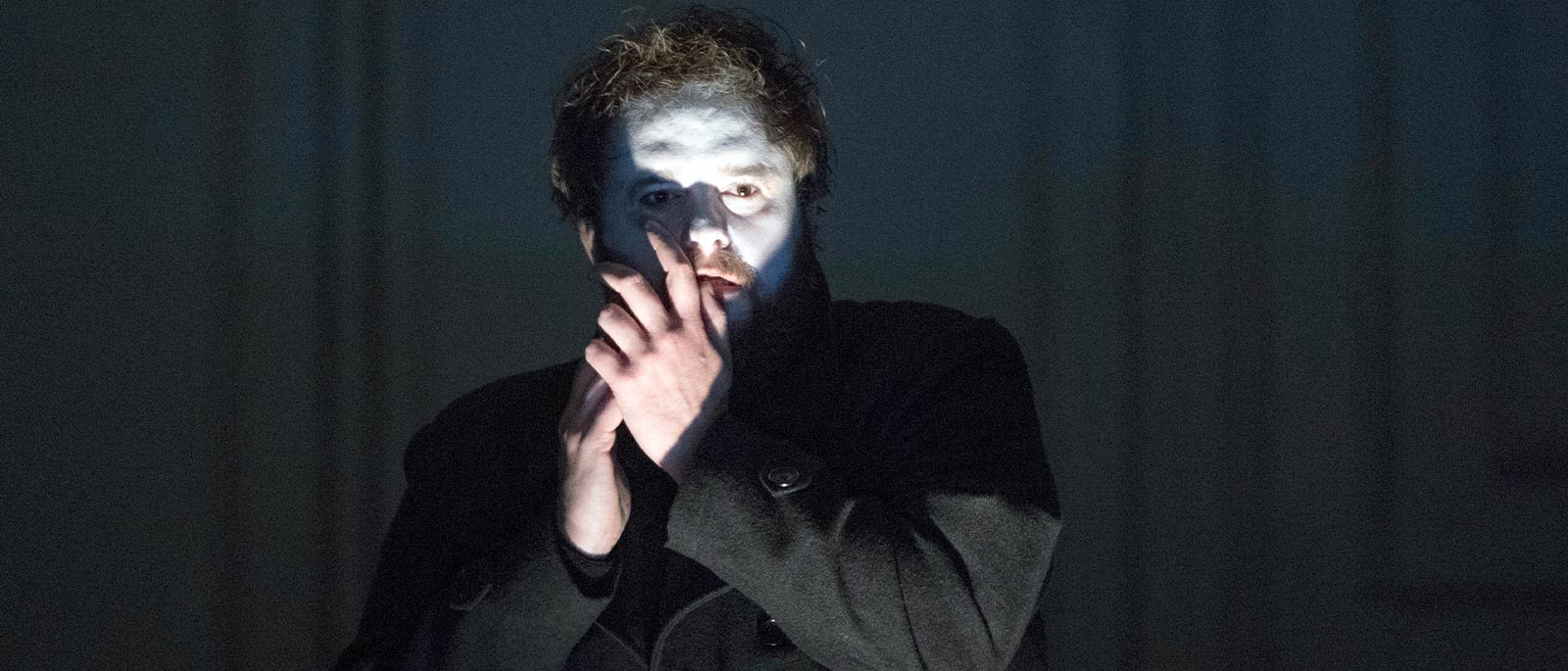 Inside the Mind
The plays of William Shakespeare have provided fertile ground for many of the world's greatest composers, with everyone from Verdi and Gounod to Benjamin Britten and Thomas Adès adapting them for the operatic stage. In 2017, Brett Dean joined their ranks, unveiling a sometimes humorous, often unsettling, and entirely engrossing setting of Hamlet. This season, Dean's bold opera, which captures the title character's tortured inner struggle with one of the 21st century's most electrifying scores, arrives at the Met, in a riveting staging by director Neil Armfield that stars tenor Allan Clayton as the Danish prince out for blood. By Christopher Browner
To adapt, or not to adapt? For Australian composer Brett Dean, that was the question when considering an operatic take on Shakespeare's immortal tragedy. "Was I daunted by Hamlet? Of course I was!" he says. "At first, I balked at it, but the more I thought about it, the more the idea gripped me. And then, in finding the ideal librettist in Matthew Jocelyn, finally I felt I had the right companion to go down that path." Working with Jocelyn—himself one of today's leading librettists, directors, and arts administrators—Dean fashioned a version of the story that adheres closely to the original while also keeping audiences on the edge of their seats with tour-de-force vocal writing, imposing choral forces, and an intricate yet expansive orchestral sweep. As The Guardian proclaimed at the work's 2017 world premiere at the Glyndebourne Festival, "New opera doesn't often get to sound this good ... Shakespeare offers a gauntlet to composers that shouldn't always be picked up, but Dean's Hamlet rises to the challenge."
Following the prince of Denmark as he plots to avenge his father's murder, only to be imprisoned by his inability to act, Hamlet is, of course, one of the pillars of English drama, endlessly analyzed and dramatized for the past four centuries. But as Jocelyn is quick to point out, "there is no such thing as Hamlet. Any production we've ever seen and any edition we've ever read is actually a conflation of multiple sources. That was a great liberation for our project because it meant that nobody could tell us 'No, that's not Hamlet.'"
Still, Dean and Jocelyn soon found themselves confronted with another dilemma—one that all operatic Shakespeare adaptations face: "We realized we could only keep 15 to 20 percent of the original text," Dean says. "So we started by each writing down the six most important things that we felt the opera had to include. And then the next six. Then, we compared notes." From there, Jocelyn took over, first reducing the drama to 15 key scenes, and then further whittling it down to 12.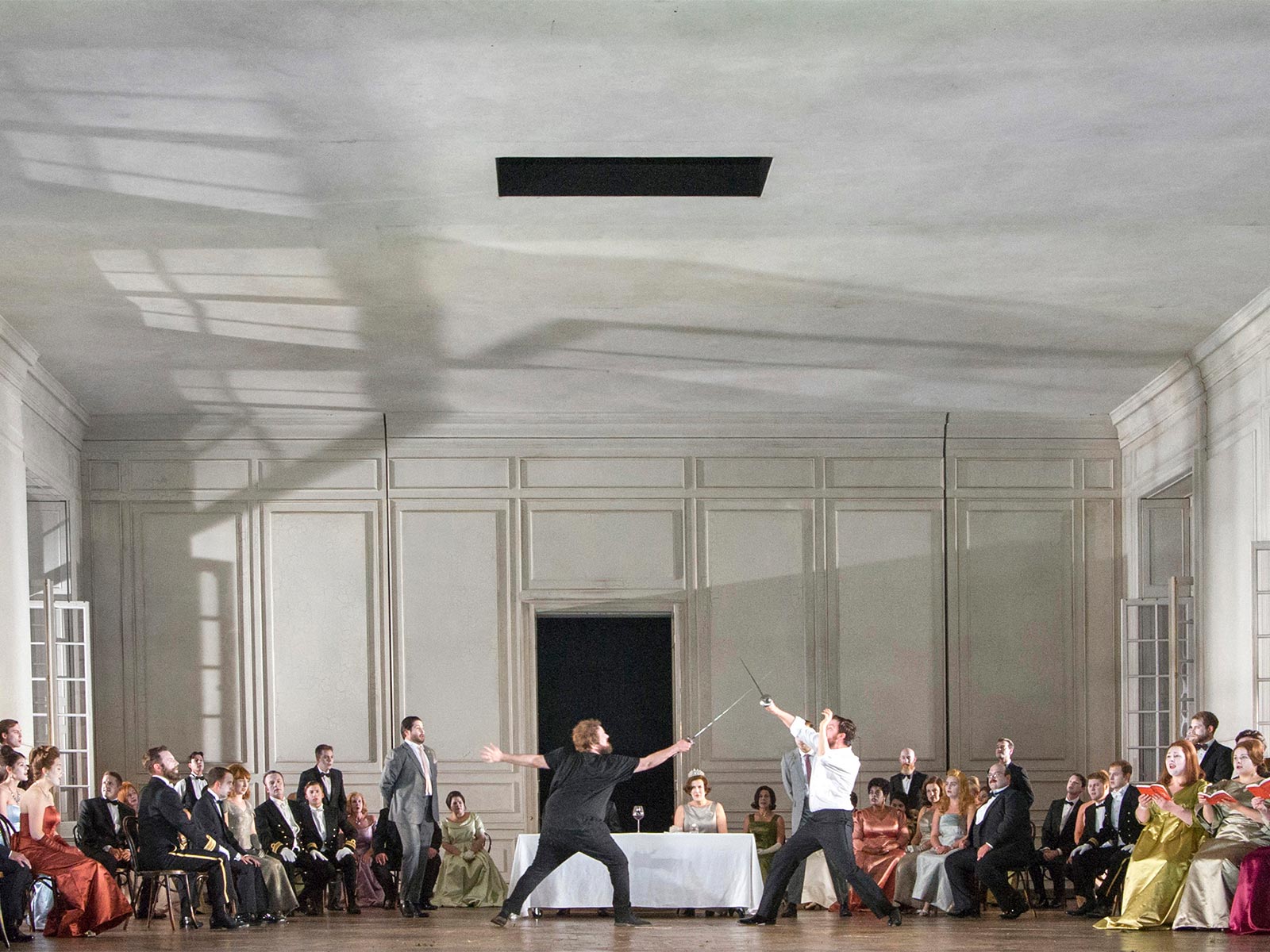 Around this same time, Dean and Jocelyn sought the input of celebrated director Neil Armfield. With experience in theater, film, and opera—including staging the 2010 world premiere of Dean's first opera, Bliss—Armfield jumped at the chance to be a part of the process. "Hamlet is my favorite play in the world," he says. "I did a production in 1994 in Sydney that starred Richard Roxburgh, Cate Blanchett, and Geoffrey Rush. I still feel it's the best thing I ever did, and it remains at the heart of my interpretation of the play."
In devising their Hamlet, the creators stayed faithful to the Bard while also playing with audiences' expectations, even delivering some of the most oft-quoted lines in unexpected ways. This is immediately evident in the opera's opening scene: Tormented by a choir of disembodied voices, Hamlet stands alone and recites a number of the play's most recognizable lines in quick succession. "We knew that we were going to have to address the elephants in the room—for instance, what were we going to do with 'To be, or not to be,'" says Dean, "so Matthew came up with this quite ingenious monologue that sets up some of the touchstone moments, which also become important recurring musical motifs."
It is just the first of many touches of metatheater that populate the opera—fitting, Dean says, for source material that is, "as much as anything, about theatrical machinations." This concept of "theater about theater" also extended into Armfield's staging. Working with set designer Ralph Myers and lighting designer Jon Clark, he developed a production that took its cues from centuries of theatrical tradition. "At first, we have this beautiful 18th-century room, like an aristocratic ballroom, but over the course of the opera, it fragments, with all of the set pieces turning around and reconfiguring. At times, it's almost as if we're looking backstage," the director says. "So we're provided with very intimate spaces as well as quite grand spaces."
But despite this regal setting, Armfield's vision of Hamlet isn't necessarily rooted in one specific time period, a quality reflected in the costumes by Alice Babidge, who was inspired by the timeless silhouettes of 1950s couture. The ladies appear in elegant gowns, while the men are clad in classic black tie. Standing apart from this dolled-up glamour, though—clad in all-black T-shirt, jeans, pea coat, and sneakers—is Hamlet, portrayed at the Met, as in the world premiere, by tenor Allan Clayton. "Meeting Allan was one of those pivotal moments in how this piece developed," Dean remembers. "He was made to be Hamlet. He brings a heartbreaking vulnerability to any part he sings, and as you find in the best tenor voices, his singing has this sense of heroism—tragic heroism in this case."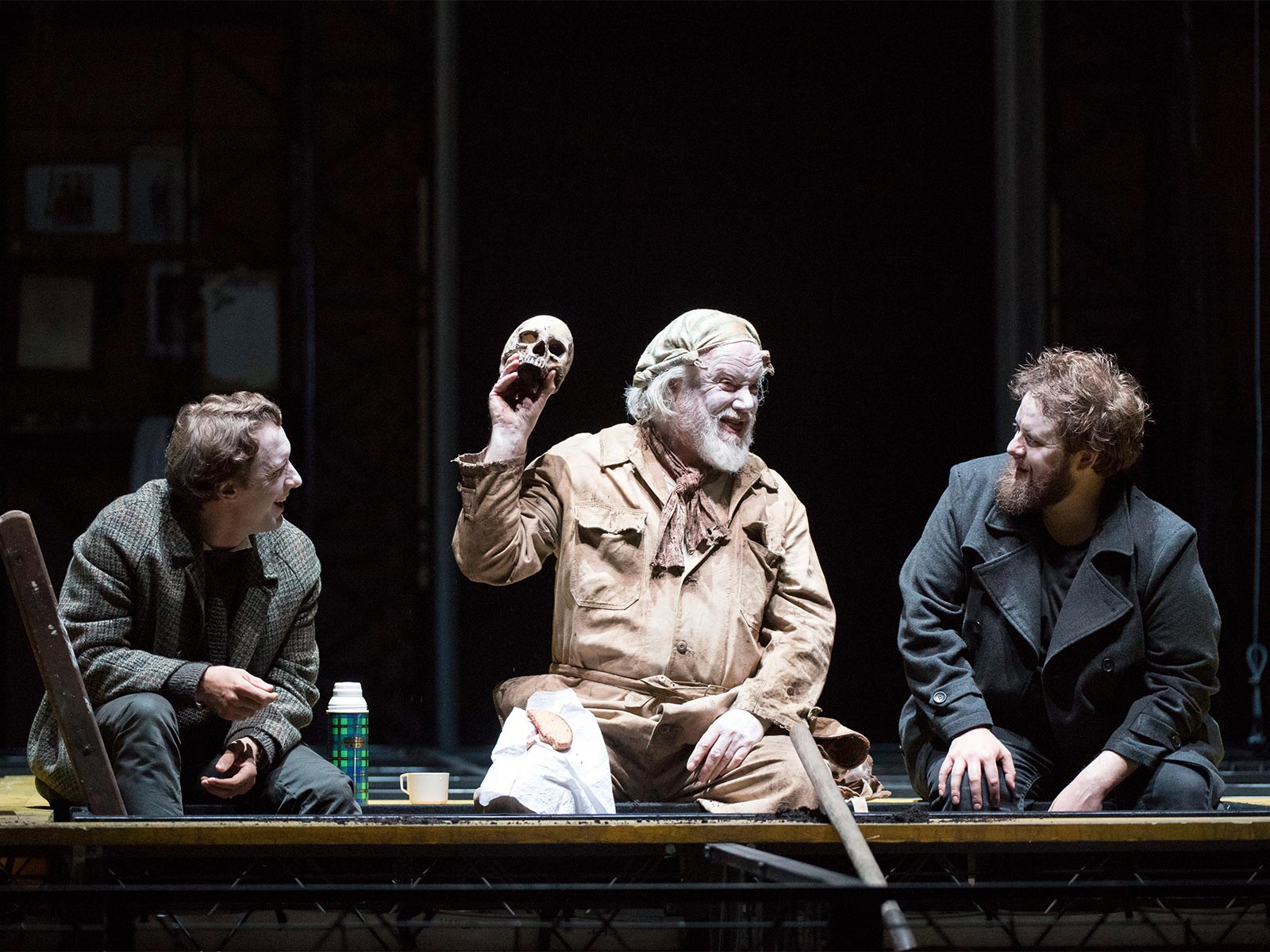 Sharing the stage with Clayton are many stars of the original Glyndebourne production. Mezzo-soprano Sarah Connolly and baritone Rod Gilfry reprise their portrayals of Hamlet's underhanded mother Gertrude and stepfather Claudius, with bass John Tomlinson doing triple duty as the Ghost of Old Hamlet, the First Player, and the Gravedigger. New to the proceedings, however, is soprano Brenda Rae, who, following a triumphant 2020 Met debut as Poppea in Handel's Agrippina, appears as Ophelia—sure to astound in what Armfield calls "one of the great mad scenes."
And on the podium, prominent Australian conductor Nicholas Carter makes his Met debut, leading a score that Dean describes as a vessel for Shakespeare's incomparable text. "So much of this language is full of music already—its rhythms and shapes are so enticing—and so my biggest challenge was to make sure that I wasn't getting in the way of the message," he says. In crafting the opera, Dean drew upon his 14 years as a violist in the Berlin Philharmonic. "I have great admiration for pieces in which the orchestra is a protagonist—operas like Wozzeck and Elektra, in which the orchestra is not just coloring the drama but really driving it."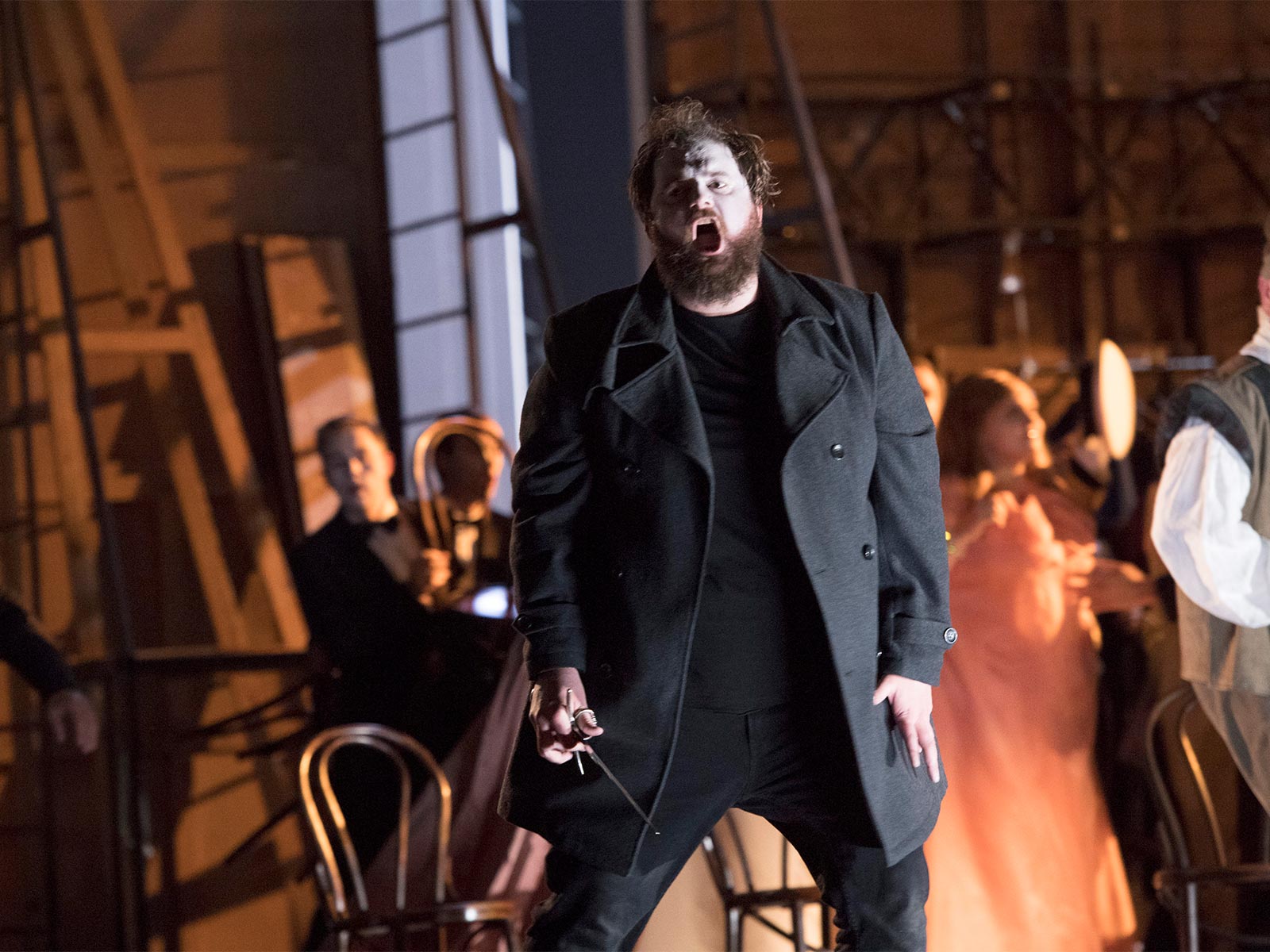 Just as in those early–20th-century masterpieces, the score for Hamlet runs the musical gamut. Fraught confrontations and moments of near cacophony suddenly telescope down into eerie stillness. At other times, as in the arrival of the rag-tag troupe of players or the antics of Rosencrantz and Guildenstern—cast as a couple of not-quite-in-sync countertenors—the opera is terribly funny. Dean was particularly interested in immersing the audience in a "theater of sound," so the orchestration also incorporates musicians placed in the auditorium, as well as an array of electronics and unexpected instruments, including accordion, sandpaper, a percussion instrument called a "lion's roar," a Japanese singing bowl played by swirling a marble inside, and a tam-tam rubbed by a rubber ball with the pitch electronically lowered a few octaves—according to Dean, "the creepiest sound imaginable."
The composer also makes extensive use of the chorus: In addition to the large chorus on stage, the score calls for a smaller semichorus of eight vocalists in the orchestra pit. "They function as both an amplification and a commentary on what's being sung on stage," he explains. "Sometimes, it's just the repetition of a certain word or consonant sound to draw an accent out. Or they can pluck awkward notes out of thin air or color the sound immediately around them in the orchestra."
For Armfield, Dean's score is more than a mere setting of Shakespeare; it succeeds in elevating the source material in a way that only opera can. "Shakespeare dramatizes the passage of thought, and Brett's music similarly takes us inside the mind," he says. "He has really created an extraordinary sonic experience."

Christopher Browner is the Met's Associate Editor.