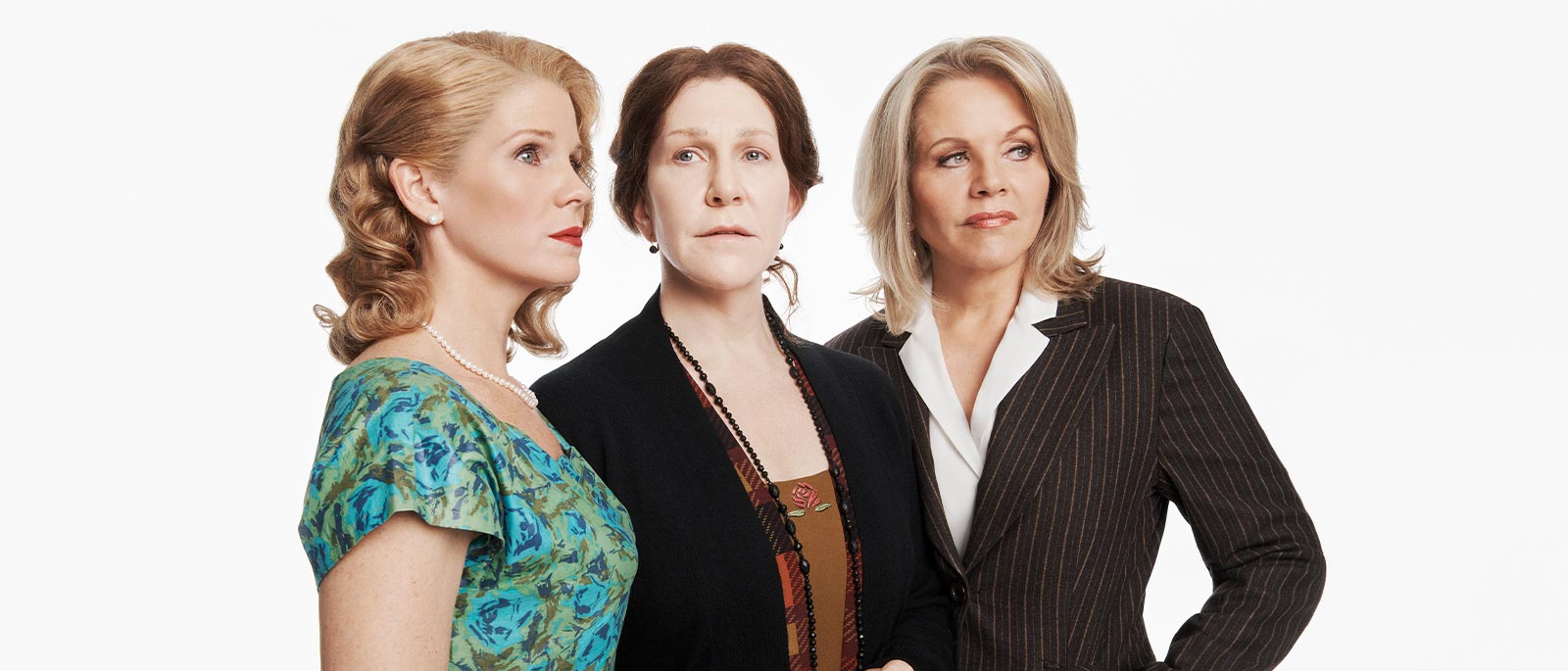 In Their Own Time
The Met's commitment to presenting the work of living composers is showcased brilliantly this fall with the premiere of The Hours, commissioned from Pulitzer Prize–winning composer Kevin Puts. An adaptation of Michael Cunningham's celebrated novel—and the Oscar-winning film it inspired—the drama centers on three women from different eras and brings together an incomparable trio of stars: sopranos Renée Fleming and Kelli O'Hara and mezzo-soprano Joyce DiDonato. Met Music Director Yannick Nézet-Séguin, an ardent champion of new works, takes the podium to conduct an evocative staging by Phelim McDermott. By Christopher Browner
Early in the film The Hours—based on Michael Cunningham's Pulitzer Prize– winning 1998 novel—Virginia Woolf (portrayed in an Academy Award–winning performance by Nicole Kidman) characterizes the novel that she is writing as "a woman's whole life in a single day. Just one day. And in that day, her whole life." The book in question is Mrs. Dalloway, but this description applies equally to the stories of the protagonists of The Hours: three women across time who are connected by Woolf's seminal masterpiece—one who is writing it, another who is reading it, and a third who is seemingly living out its plot. In the film, these roles were taken by modern-day Hollywood legends Kidman, Julianne Moore, and Meryl Streep; when Kevin Puts's new adaptation of The Hours premieres this season, their operatic counterparts—mezzo-soprano Joyce DiDonato, Tony Award–winner Kelli O'Hara, and soprano Renée Fleming, who returns to the company for the first time since 2017—will inhabit them on the Met stage.
The fourth opera from the St. Louis–born composer—who himself won a 2012 Pulitzer Prize for his debut opera, Silent Night—and featuring a libretto by playwright and lyricist Greg Pierce, The Hours received early acclaim when the Philadelphia Orchestra premiered it in a concert version last March under the baton of Yannick Nézet-Séguin, who also leads the Met's performances. The Philadelphia Inquirer declared it "a historic event … the opera is immediately lovable, with a lush orchestration that hits you in the solar plexus," while The New York Times lauded the "cinematic quality in its plush, propulsive underscoring … the emotions sincere and persuasive, the music fervent."
The idea of adapting The Hours initially grew out of conversations between Puts and Fleming, who previously collaborated on The Brightness of Light, a song cycle based on the letters of Georgia O'Keeffe. "During the process of putting that together, I asked Renée if she might want to work on an opera together," the composer recalls. "She suggested that it would be great to do something that takes place in different time periods all at the same time, like The Hours, and right away I thought it was an amazing idea."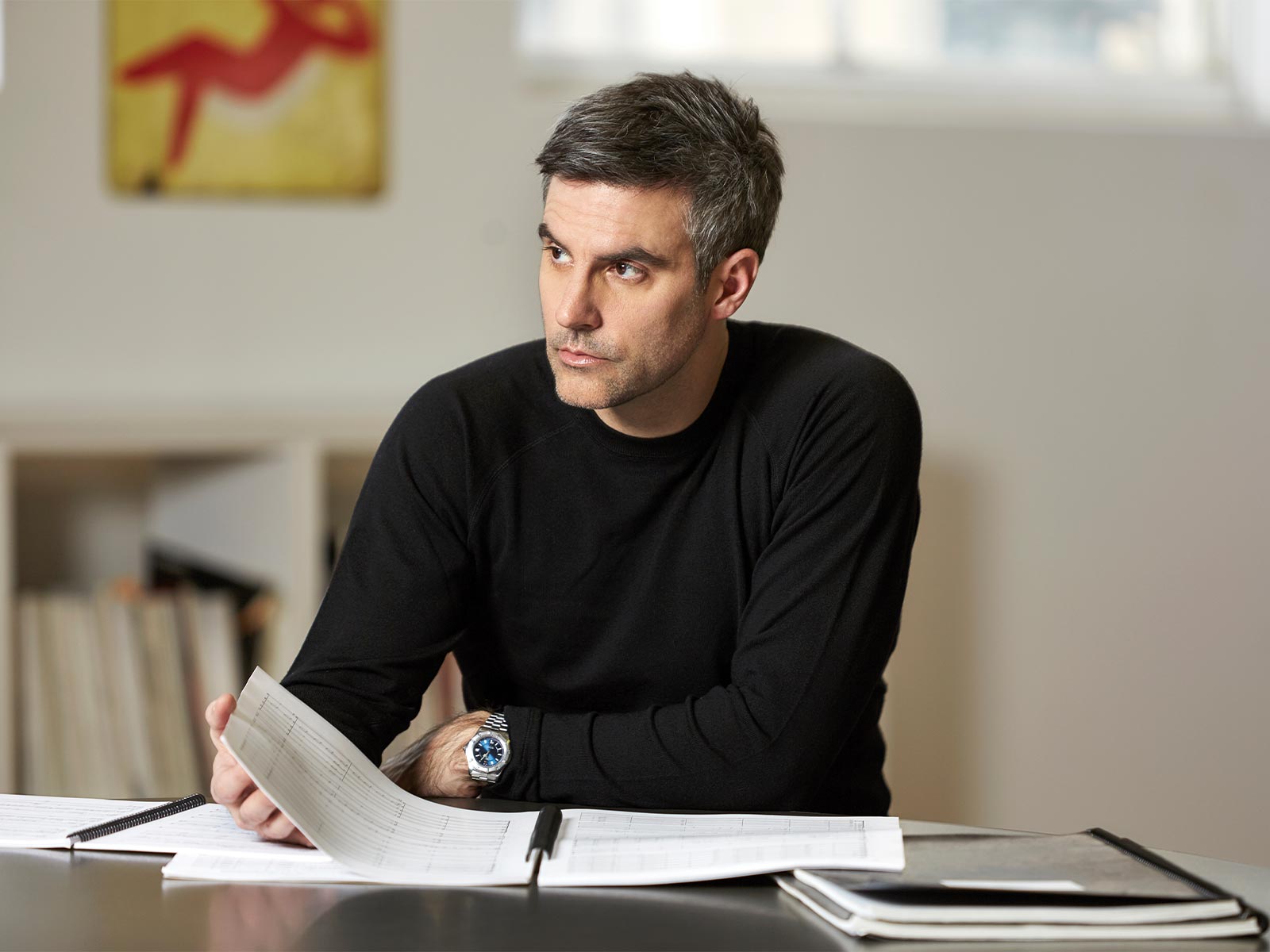 Kevin Puts
As in the novel and film on which its based, Puts's opera unfolds during a single day in the lives of three women: Virginia Woolf, who is beginning a new novel outside London in 1923; Laura Brown, a pregnant housewife in the Los Angeles suburbs in 1949; and Clarissa Vaughan, a New York City editor throwing a party for her dearest friend who is dying of AIDS in 1999. Yet while they are separated by time and place, all three are connected by shared struggles with sexuality, mortality, and regret.
For Fleming, who stars as Clarissa, these meditations on life's meaning were the key to the work's potential as operatic source material. "I remember when the film came out, I went crazy for it," she says. "The way Cunningham took Mrs. Dalloway and put it together into this story that spans three different periods and explores these character's inner lives—it's so moving and effective."
The experience was similar for Fleming's co-stars—O'Hara, who sings Laura, and DiDonato, who takes on Virginia. "I've always held the standard that an opera should be written only when it needs to be sung—the emotion is so big that speaking is just not enough. And that's exactly what we have here," DiDonato says. "Even though it deals with death head-on, it's actually life-affirming and tells a timeless story. The characters' struggles are shared universally, and by highlighting them through the different personalities and periods, everybody that watches it is going to be able to find a part of themselves in the story."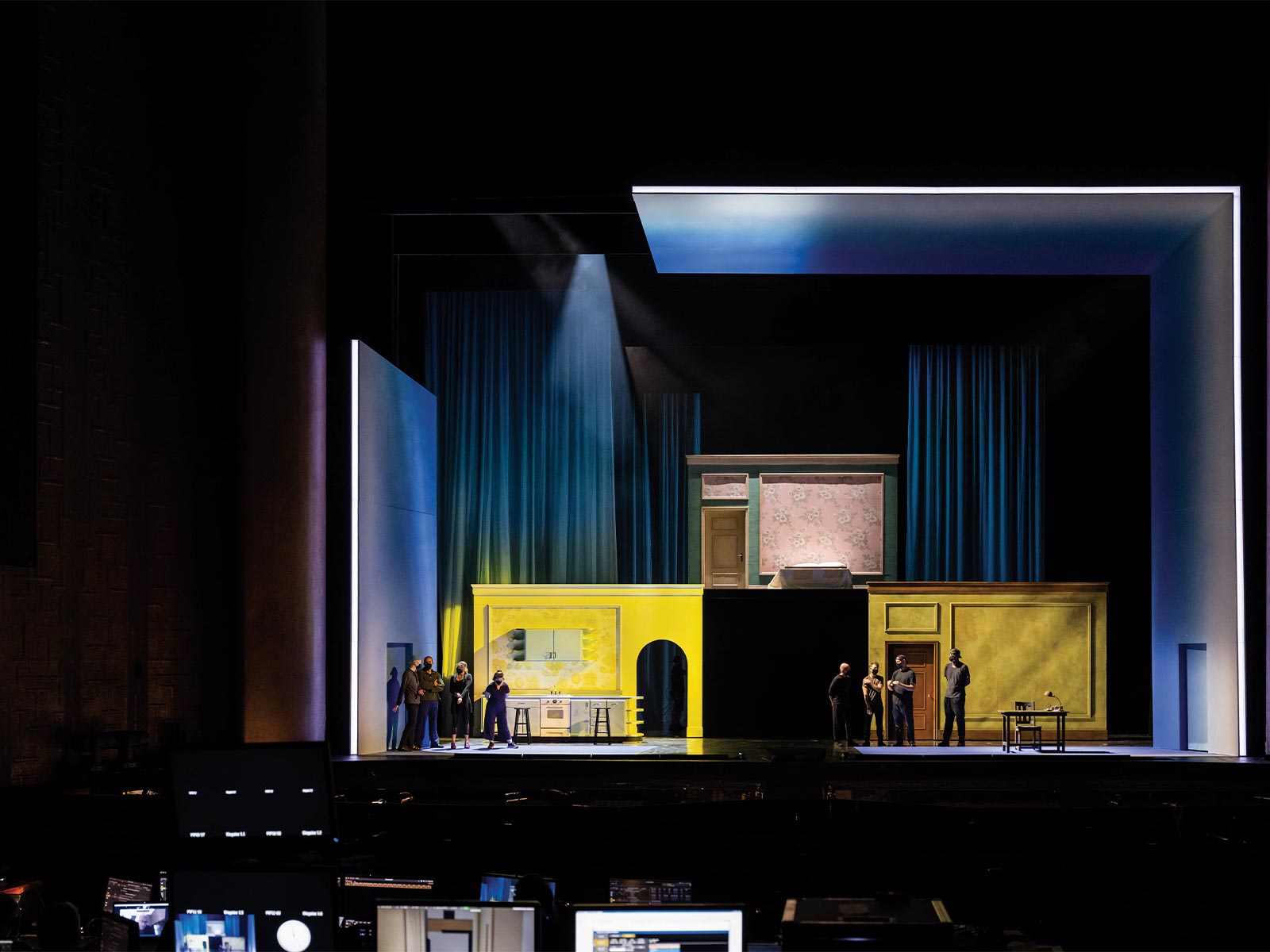 An onstage rehearsal for The Hours
In setting this story to music, Puts saw an opportunity to go beyond what was possible in either the novel or the film, in which the focus shifts from one heroine to another without really bringing them into contact. "In a way that is only possible through music, the lines between the stories gradually begin to blur," he explains. "The worlds come together and apart, and we get these duets and trios which essentially transcend time."
To do that, Puts first establishes a unique musical environment for each woman. Virginia's music takes on a spare, quasi-Baroque quality, with unexpected harmonic shifts that reflect the "complexity of her mind and the unpredictable paths that her writing takes," as Puts explains. Clarissa's life in the heart of Manhattan explodes in a bold, dynamic soundscape with roots in the music of Samuel Barber and Leonard Bernstein, while for Laura, who feels out of place in buttoned-up postwar domesticity, Puts instead riffs on the chirpy style of Henry Mancini and Lawrence Welk to create an atmosphere that is entirely alien to her. Only once he has placed each woman in her own distinct sound world does Puts begin to interweave them, culminating in the opera's final scene, in which—not unlike the famous finale of one of Fleming's most performed operas, Strauss's Der Rosenkavalier—all three protagonists come together to take stock of their shared experience in a moving trio.
Puts also sought to capture the "inexplicable kind of magic and sense of mystery" that pervade Cunningham's prose, a quality that comes through in the large role that he has written for the chorus, who give voice to the vivid inner monologues that feature so prominently in the novel. And surrounding it all is a sweeping orchestral score, which Fleming says is one of her favorite aspects of the piece. "Kevin is really a master orchestrator, and his music is just full of light and energy and an extraordinary use of instrumentation," she says, "I know the Met Orchestra is going to enjoy playing this."
Maestro Nézet-Séguin, too, is eager to sink his teeth further into Puts's score. "Having the opportunity to perform the score in concert with the Philadelphia Orchestra earlier this year was a great way to focus on just the music, and I cannot wait to bring it to the Met stage with the Met Orchestra," he explains. "Immersing ourselves in Kevin's music was a pleasure, and it became apparent very quickly that this is clearly the work of someone who is not only adept at writing for the opera house but is also a master of the symphonic repertoire."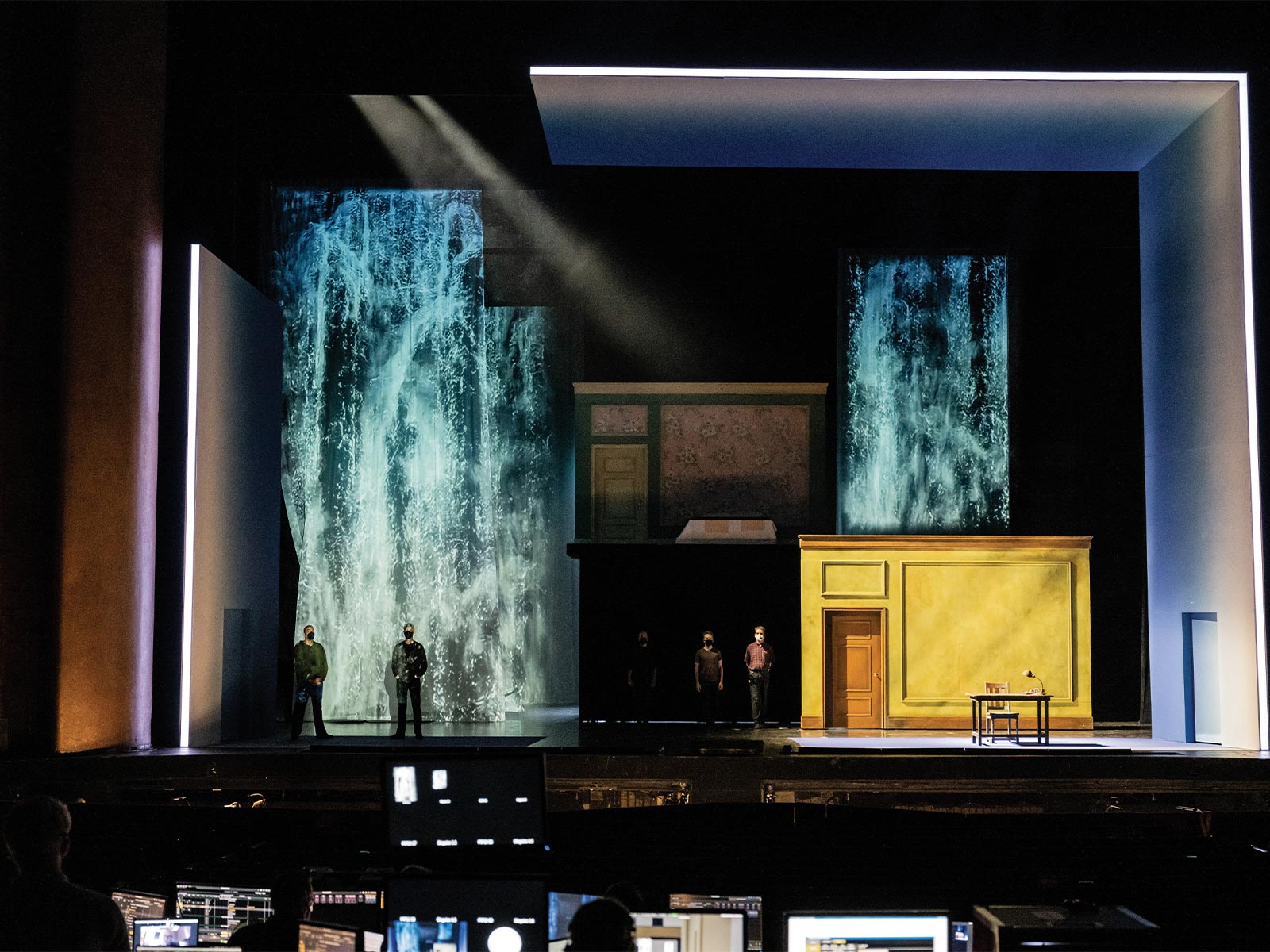 An onstage rehearsal for The Hours
The overlapping nature of the storylines also forms a key component of Phelim McDermott's approach to staging the piece. Known for his innovative and visually striking productions—including recent Met stagings of Philip Glass's Akhnaten and Satyagraha and Mozart's Così fan tutte—the English director admits that he was somewhat apprehensive to tackle Puts's opera. "Someone actually said to me that this might be unstageable," he chuckles, "but that actually makes for an exciting challenge. What I've found is that if we start by constructing really clear worlds for each heroine—as Kevin does musically— when the audience then moves between those worlds, they're actually enjoying the collisions and the rhymes between them."
Working with set and costume designer Tom Pye and lighting designer Bruno Poet, with whom he previously collaborated on Akhnaten, and projection designer Finn Ross, McDermott has devised a series of small rooms that float on and off stage, seamlessly transitioning from one period to another—while also allowing multiple stories to play out simultaneously. "Musically, you can hear the worlds butting up against each other," he says. "As one comes into focus, the other's disappearing and echoing off, or it's still present as a dream in someone else's mind. And the set pieces will function in the same way."
McDermott also engaged his experimental theater troupe, Improbable, and partnered with choreographer Annie-B Parson to assemble a "skills ensemble" of dancers and actors who both facilitate set changes and lend a visual throughline to the production. "A lot of the story is about these women's internal lives, their internal emotional landscapes," he says, "so the dance that Annie-B is creating is like the emotional weather of a scene, adding a visual metaphor to what the music is doing."
In the end, the cast and creative team hope that this new opera will have a transformative effect on the audience—especially at a time of great unease and anxiety. "It feels so timely, when we've all been through the pandemic," O'Hara says. "We really had to think about how we spent hour after hour after hour, and now, we have this piece of art that can help explore that. That's what this opera is really about—life's struggles, and sometimes the joys, but also the regrets, and always wondering if we've done the most we can with the time we have."
Christopher Browner is the Met's Senior Editor.