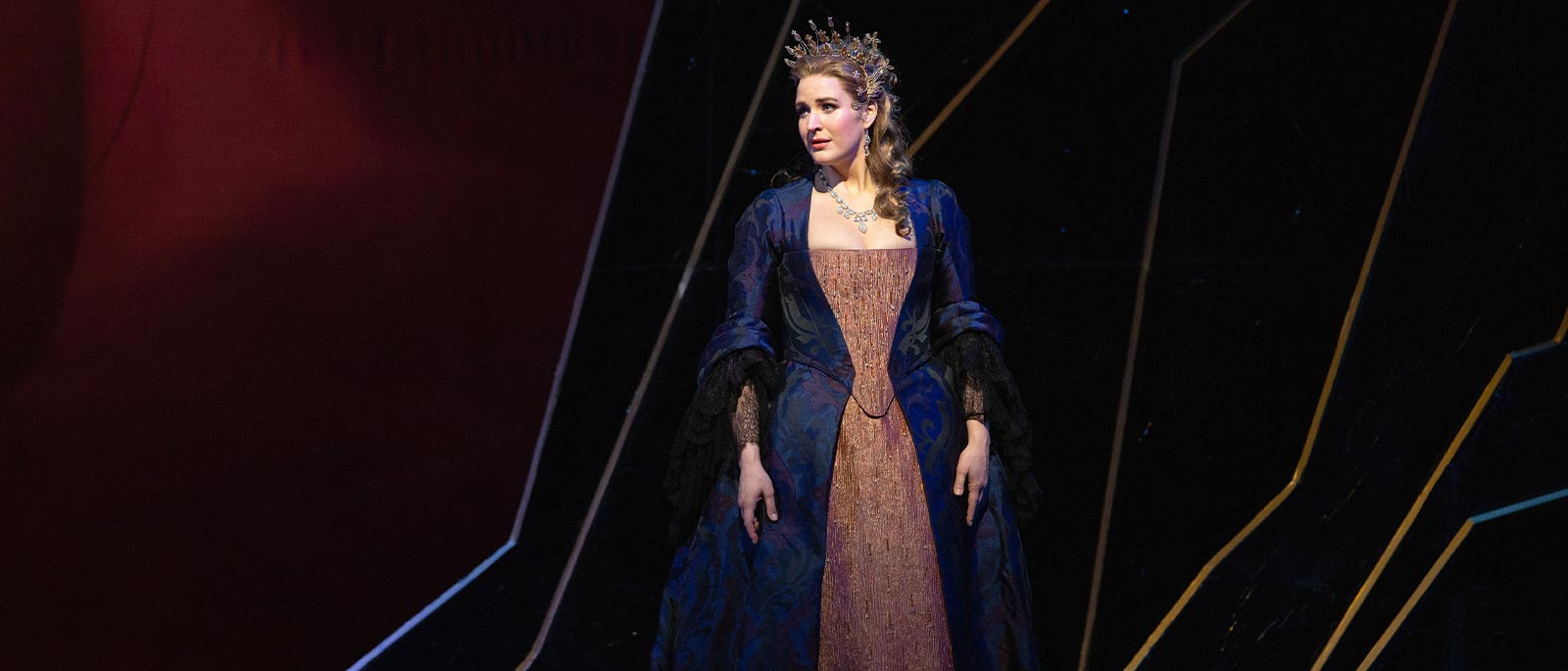 In Her Element
This month, on the heels of her acclaimed turn earlier this season in Die Meistersinger von Nürnberg, soprano sensation Lise Davidsen returns to the stage in one of her signature roles: the mythological Greek heroine of Strauss's Ariadne auf Naxos. It's the beginning of a trilogy of the composer's operas for Davidsen at the Met, with Chrysothemis in Elektra coming up this April and the Marschallin in Der Rosenkavalier following in the newly announced 2022–23 season. Recently, she sat down with the Met's Jay Goodwin to talk about the endless joys of Strauss's music, and how it became central to her career.
What keeps drawing you back to Strauss?
First of all, I think his music is a good fit for my voice and that his characters suit me. But what I like most is that you can't get tired of Strauss because as soon as you think you know the music, you find something else in it, and then something else. I love to just keep discovering more and more.
From a singer's point of view, how would you compare his music with Wagner's, and the different demands they make on you?
From a purely musical point of view, Strauss is more complex to learn in terms of actually getting to know the notes. Wagner usually writes for the voice together withhis orchestra, but Strauss makes the voice another piece of the orchestra, so you're much more on your own. But he is not usually as heavy in his orchestration as Wagner has a tendency to be, so there is a bigger variety in who can sing many Strauss roles.
Ariadne is a particularly extreme example of that, with its chamber-sized orchestra. Do you find yourself singing differently as a result?
I think it opens up space for more dynamic variety, though you always want to make sure the last balcony can hear you. But you're definitely one instrument in a room, so to speak, with the orchestra, and can really blend with them, which I love. It's a very different way of singing.
Ariadne is a role that you have sung a lot, and even recorded selections from. How did it become so important in your repertory?
The orchestration is a big part of it. It's been quite clear that I have this dramatic type of voice since the beginning, but early in my career, I auditioned for Mozart roles—Fiordiligi, Contessa, all of those. But they were casting them very light, and that didn't fit my voice. So I started to do Ariadne because it's a long role, a big role, but not with a huge orchestra, so I could sing with my true voice type but didn't have to push. It was a very good role for me to start with, and to sort of make into my Mozart, in a way.
Ariadne will also mark your first Live in HD transmission. How are you feeling about your cinema debut?
Well, Covid has definitely prepared singers for that, with so much filming and recording of performances. But I love it because, with the pandemic, my family can't come to New York right now. I am really so proud that I can do something at the Metropolitan Opera, and I love knowing that people in my country can watch it.
In April, you'll be back as Chrysothemis in Elektra, which you'll be singing for the very first time on the Met stage.
Yes—and it's not the opera I would have chosen to do like that! [Laughs.] I was supposed to do both Meistersinger and Elektra in concert last year, but none of them happened because of the pandemic.
How is Chrysothemis different from the rest of your repertory so far?
It's definitely a preview of more dramatic roles. Ariadne is dramatic too, but Elektra is a completely different level of intensity. It was one of the first operas that I saw, and I remember being physically tired afterward just from watching it.
It's also unusual because Chrysothemis's big moments are shared with Elektra, so you get to go back and forth with another voice similar to yours—not such a common thing.
Yes, and I look very much forward to working with Nina [Stemme] again. I've done Walküre with her, but she's one-of-a-kind as Elektra. That's why I'm even more nervous. She knows it so well, and I'm afraid that her little sister will go completely off the rails. [Laughs.] But seriously, it's a very intense role for her, so I want to be a good colleague and do my part properly. It's very inspirational to sing with a voice like that, and an artist like that.
Jay Goodwin is the Met's Editorial Director.