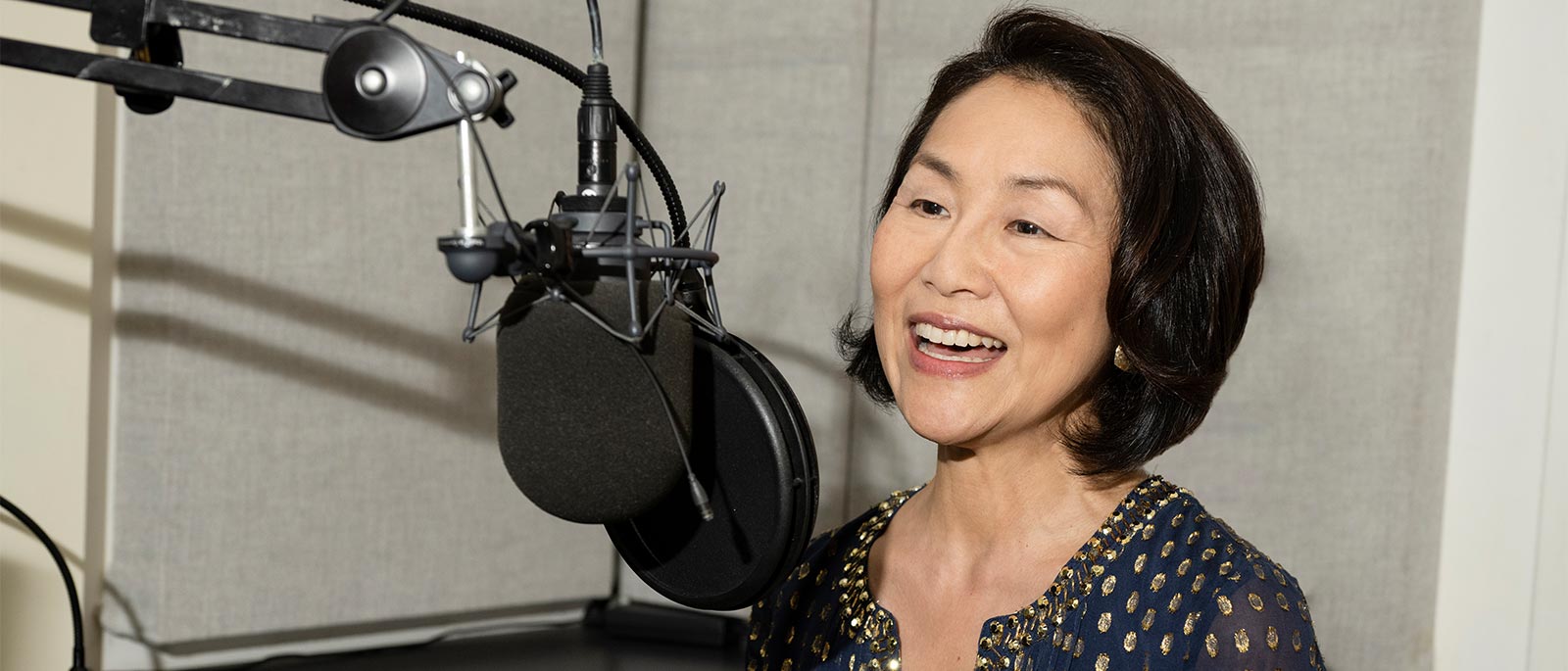 Host with the Most
Since the inception of the Met's Saturday Matinee Radio Broadcasts in 1931, the series has had just four official hosts. This season, the company welcomes a new voice, as pianist and radio presenter Debra Lew Harder—who began her career as a doctor of emergency medicine—takes her place at the mic. Before the launch of the broadcasts' 90th-anniversary season, beginning December 4 with Matthew Aucoin's Eurydice, Harder spoke to the Met's Christopher Browner about her lifelong musical journey and the thrill of sharing live opera with listeners around the globe.
I imagine you've been interested in music from a young age.
Absolutely. I began piano lessons when I was six, but my earliest memories are listening to my dad sing. He has a gorgeous tenor voice and is a big opera fan. Actually, when my siblings and I were young, he would often wake us up by blasting Verdi at full volume. That was our alarm clock.
I hope that didn't turn you off to Verdi for life!
Oh no! We had this great big book of grand-opera piano sheet music, with lots of wonderful illustrations, and one of my favorite pastimes was sight-reading through it—instead of practicing for my lessons. We often listened to my dad's collection of LPs and to the Met broadcasts, and as a young adult, I loved visiting the Santa Fe Opera in the summertime.
When did you add radio hosting to your long list of skills?
About 20 years ago, I started giving recitals that had a presentation aspect because I discovered people responded in a much deeper way if I talked to them beforehand. The emotional impact of the music was just so much greater. And then, about five years ago, when one of the longtime hosts of Philadelphia's WRTI retired, I took over and learned to present music on the radio in a way that would connect with people.
How does it feel to now join the Met?
I almost can't imagine a time when I didn't work here. I've been attending Met performances since high school, when my glee club came to see The Magic Flute, but now as a member of the company, everyone's embraced me so warmly that I really feel part of the family. And it helps to have colleagues who are so hardworking, smart, and on top of their game.
What does it mean to you to take on this legendary role as the broadcasts celebrate their 90th anniversary?
Of course, it's a great honor. But I try not to think too much about the legacy because I don't want to get clammed up about it. Really, I see it as a tremendous opportunity to reach people across the world with this great art form—to make a connection in people's homes, living rooms, cars, wherever they may be listening, and in the hearts—and present opera in a way that draws in new audiences while also making longtime listeners appreciate it that much more.
Christopher Browner is the Met's Associate Editor.