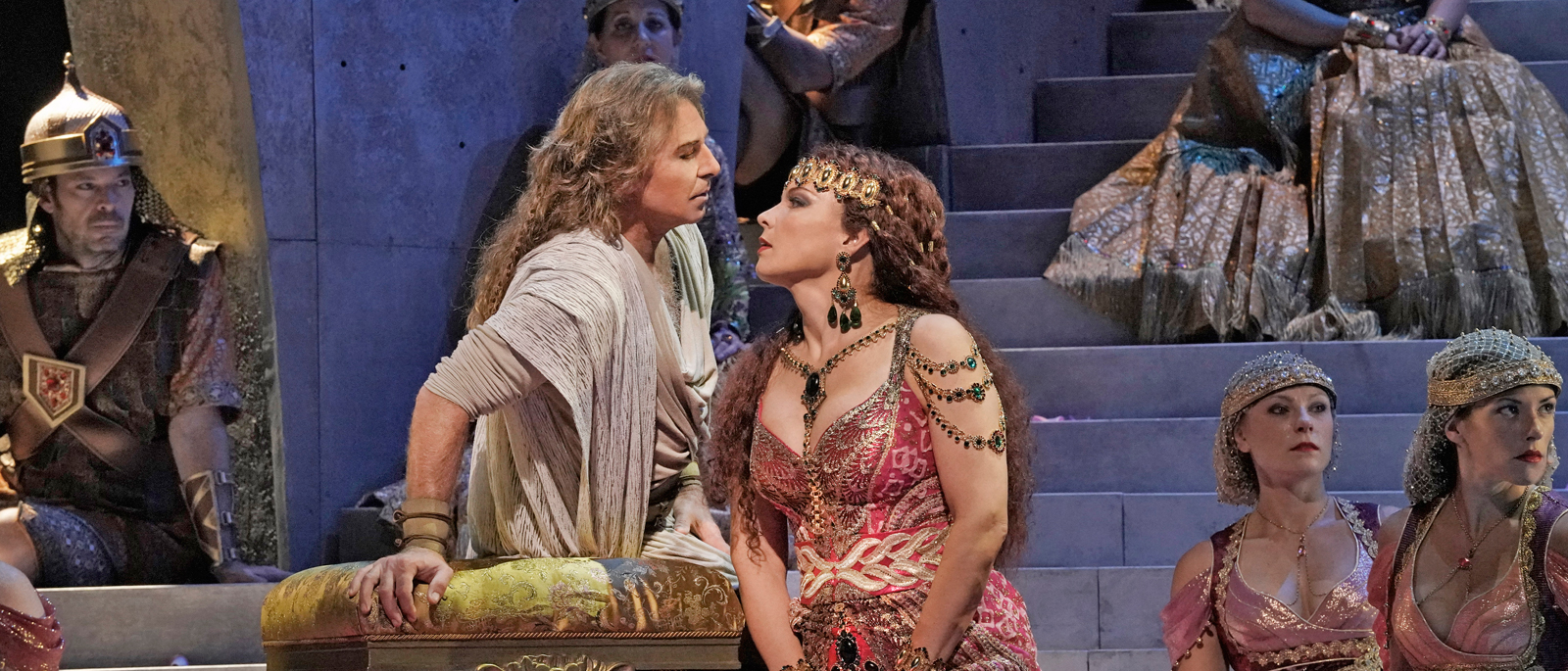 Holy Communion
September 24th, 2018
When Elīna Garanča and Roberto Alagna first teamed up at the Met, for Sir Richard Eyre's 2009 new production of Bizet's Carmen, it's not a stretch to say that audiences and critics went wild. "Beautiful and smart, sexy and gutsy," said the Financial Times of the Latvian mezzo-soprano. "Fabulous," the Wall Street Journal agreed. "A searing portrayal," declared the Associated Press of Alagna's Don José. The Live in HD transmission of their Carmen remains the bestselling cinema screening of the 119 the Met has presented to date.
Now, these two formidable artists are back together at the Met in another sultry and dramatic piece of French repertoire. They just scored a major triumph in Samson et Dalila in Vienna last spring ("the dream couple for Samson and Dalila," as Die Presse put it), so the prospects for a remarkable opening night are strong to say the least.
Met audiences got a tantalizing preview of Garanča's Dalila when she sang the character's touchstone aria "Mon coeur s'ouvre à ta voix" at the company's 50 Years at Lincoln Center gala in May 2017, and she's been enjoying absorbing the complete role. "Moving into heavier repertoire and accepting roles like Dalila shows a natural development of my voice, which is very exciting," she says. "I think you need to have experience in life and on stage to look at characters like Dalila in a new and different light. She's been put in a box of being this vindictive, outrageous woman, who just wants to cut Samson's hair. But I believe that strong women—the same as every other woman—want to be loved and cared for and unique in somebody's life. I would like to show that, in certain moments, she's really in love with Samson and is not just this cold-blooded, calculating woman."
For his part, Alagna too sees nuances in his role that aren't always explored. "He's an extraordinary character, because he's very strong—he's received the power of God," explains the tenor, who fondly recalls his grandmother reading him the biblical tale of Samson and Delilah when he was a child. "But at the same time, he's very fragile, and it's this fragility that touched me. The evolution of the character is fantastic, because at the beginning, he's a bit arrogant, but by the end he understands that what's really important is to have faith in God."
If the prospect of a Garanča-Alagna reunion is exciting for audiences, it is for the artists as well. "Samson, like Carmen, is a real exchange between the two characters—you must have a real communion," Alagna says. "And with Elīna, we have that. Onstage, we understand each other very well. We have the same perception of the characters, of the music, of the sentiment." Or, as Garanča puts it, "Roberto is a very generous, very honest performer, and with him you sometimes forget you're performing. Something just happens onstage and becomes like real-life experience."
—Matt Dobkin
Matt Dobkin is the Met's Creative Director, Marketing & Editorial.