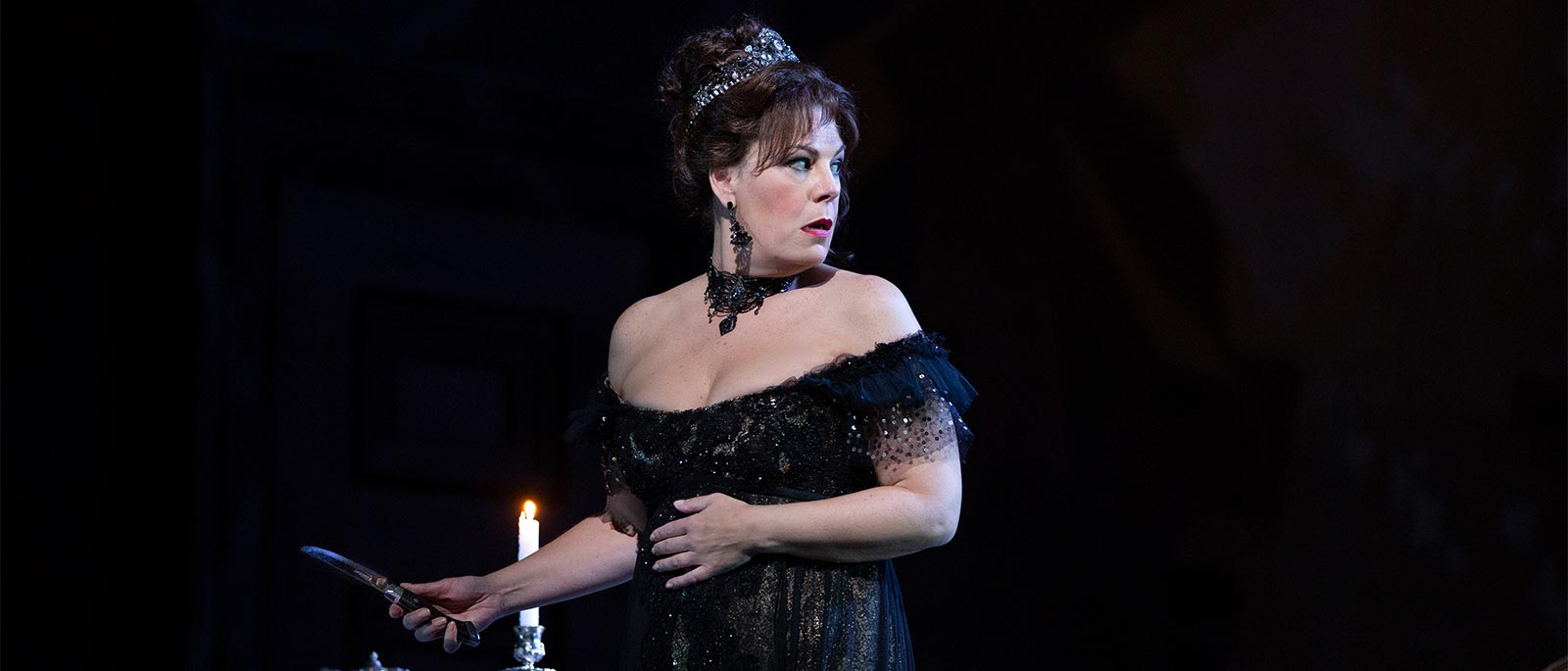 Getting Emotional
Since her company role debut as Puccini's knife-wielding diva in 2011, soprano Sondra Radvanovsky has captivated audiences with her take on Tosca, a portrayal of smoldering intensity and burnished vocalism. Among her admirers is Met Music Director Yannick Nézet-Séguin, who teams up with Radvanovsky for the first time at the Met in this month's revival of David McVicar's lavish production. "Sondra is one of the true legends in today's operatic world," Nézet-Séguin says. "She is one of the very few with the charisma to hold everyone's attention in these larger-than-life roles." Ahead of opening night, Radvanovsky discussed her history with Tosca and how she gets in tune with the many facets and feelings of Puccini's tempestuous heroine.
Do you identify with Tosca?
Yes—we share a profession, of course, but she is similar to me in so many other ways. I feel like I am her when I am on stage. Like many artists, she wears her heart on her sleeve and can be very sensitive. And who hasn't been young and terribly in love? Who hasn't said that they love someone one minute and then, during a fight, yells that they hate them?
Do you have to get into a certain mindset before you sing the role?
I actually do. Before I go on stage, I take a few minutes to sit down, look inside myself, and see what emotional issues are bothering me that day. I find singing Tosca very therapeutic because if I have any aggression or strong emotions, I can live them out on stage and use them to make her a richer character.
Has your interpretation evolved over the last decade?
I think it has changed so much, actually. I used to look at Tosca as frenetic, impulsive even, with very raw emotions. But as I have gotten to know her more, through so many different productions, I have found that she is simpler, the type of woman who would risk everything for love—both her love of Cavaradossi and her love of God. I keep searching for the softer side of her: less diva, more young woman with a God-given talent.
Vocally, what sets the role apart?
For me, what makes Tosca unique and rewarding is her emotions. But, as a singer, if you get too caught up in the emotions of the character, it is easy to get "tight" in your body and your throat. Tosca has a large vocal range and asks the singer for every dynamic and nuance possible, and if you are tight, it can harm your voice and result in a vocal production that is not as beautiful. So the thing I love most about the role can also be the most difficult part!