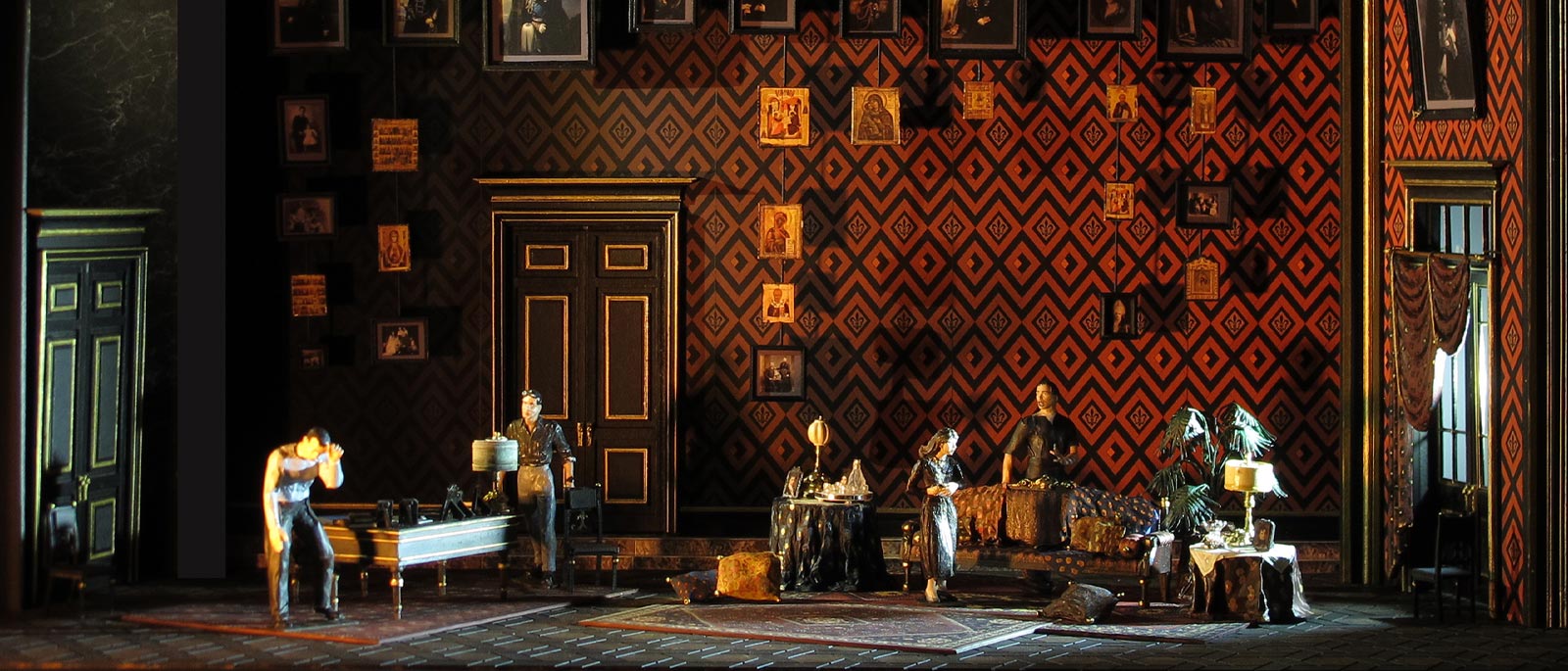 From Russia with Love
With its lush score, gripping melodrama, and prima donna for the ages, Umberto Giordano's Fedora is an opera lover's opera. Lesser known but a solid fixture in the verismo canon, the work follows a 19th-century Russian princess who falls in love with her fiancé's murderer, only to destroy her second chance at love. The success of the piece hinges on the virtuoso talents of its leading soprano, as Giordano has crafted a profoundly challenging role that requires a true singing actress. In David McVicar's new production, the first at the Met in 25 years, the luminous Sonya Yoncheva is sure to rise to the occasion when the staging premieres on New Year's Eve. By Nicholas Lord
At its core, Giordano's Fedora is one woman's reckoning with the deaths around her—a journey that takes the title character from St. Petersburg to Paris and on to the Swiss Alps. It's also about the deaths that cause her own demise. The heroine is initially hell-bent on avenging the murder of her fiancé, Count Vladimir, only to discover his past infidelity. The man who reveals the affair is also Vladimir's killer, Count Loris Ipanoff, whose wife was his victim's lover. Though Loris woos Fedora and they fall in love, the romance is foiled once again by untimely death. With its rapturous score filled with showstopping arias and enchanting duets, Fedora explores opera's most adored themes—love, adultery, revenge, murder, suicide—in a glittering melodrama that delivers passion in every breath.
"Fedora is incredibly entertaining," says director David McVicar, a company veteran who's also behind the season opening new Medea. "It's a great opportunity for the leading lady to chew the scenery up." Over three short acts, the capricious Fedora must embody a wide spectrum of emotions ranging from hopelessly infatuated to paralyzed with grief, relentlessly vengeful to desperate and suicidal. She must sing with both opulence and intensity, flexing her voice over challenging arias while seldom leaving the stage. She must also maintain her regal poise while showing her weakness and vulnerability, allowing the audience to sympathize with her mistakes and pity her demise. In other words, it's a major challenge for any singer—yet renowned soprano Sonya Yoncheva promises to deliver. A Met superstar since her triumphant debut as Gilda in Verdi's Rigoletto, Yoncheva has won acclaim for her acting skills and versatility, hailed for her "thoughtful," "heartrending," and "detailed" performances (The New York Times). She'll also be a knockout in Brigitte Reiffenstuel's ravishing costumes.
Fedora originally began as a play by Victorien Sardou, written in 1882 for the leading actress of the day, Sarah Bernhardt, who had also starred in the title role of Sardou's earlier work La Tosca, which inspired Puccini to compose his own melodramatic masterpiece. The role of Fedora proved to be one of Bernhardt's greatest triumphs; in fact, so influential was her performance that the brimmed hat she wore in the play provided the name for the famed felt hat we know today.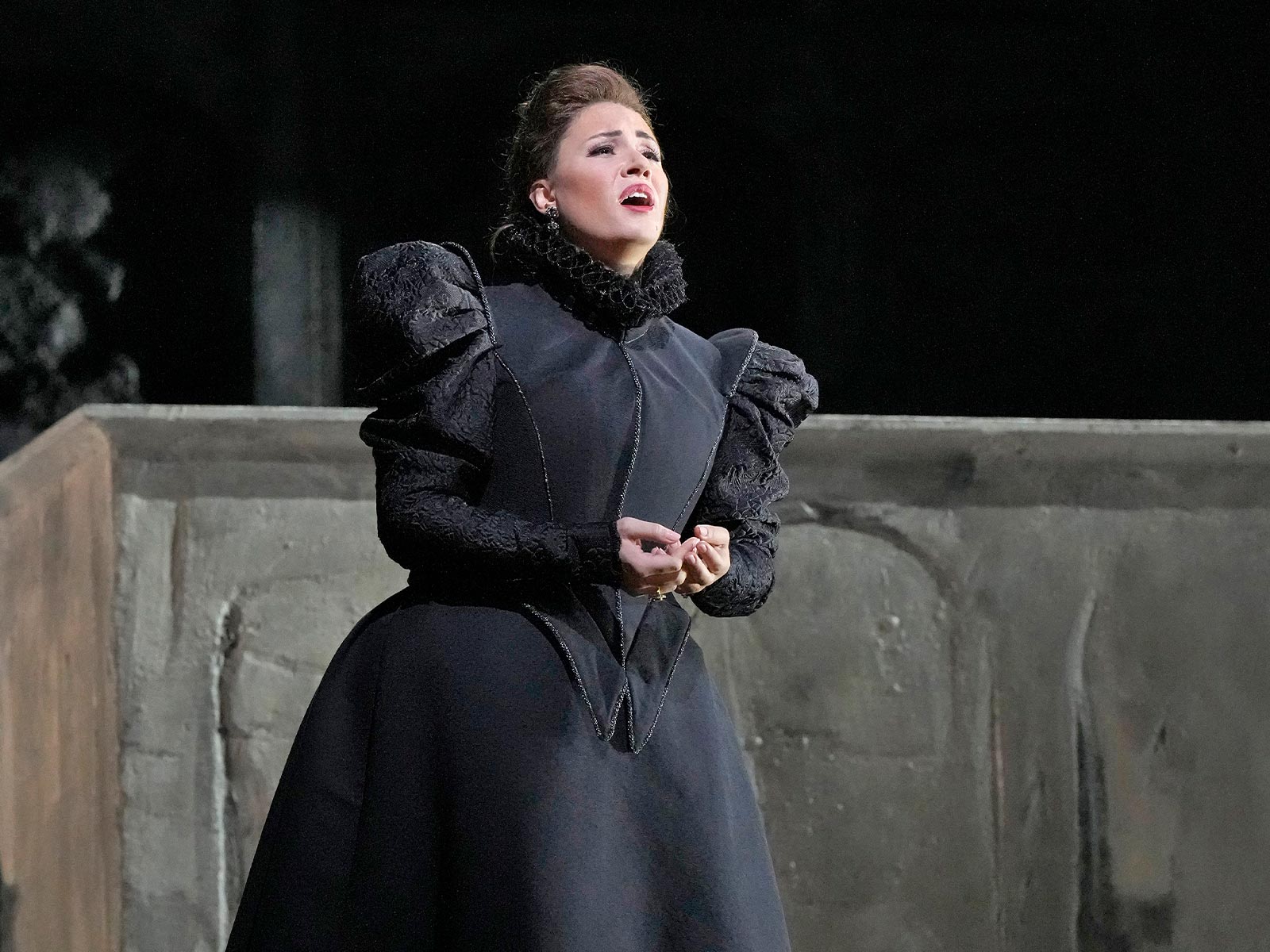 Soprano Sonya Yoncheva stars as Fedora; here, pictured in Verdi's Don Carlo.
Giordano was determined to adapt Fedora for the operatic stage; Sardou, however, withheld permission until after he saw the composer's hit Andrea Chénier. Fedora premiered on November 17, 1898, at the Teatro Lirico in Milan, set by Giordano to a colorful libretto by Arturo Colautti. Gemma Bellincioni, one of the great singing actresses of her day, sang the title role to great acclaim. The premiere also launched the career of a then-unknown tenor named Enrico Caruso, who originated the role of Count Loris Ipanoff.
The opera had its U.S. premiere at the Met on December 5, 1906, with soprano Lina Cavalieri as Fedora and Caruso reprising his star-making turn. In the 115 years since, it has appeared on the Met stage only 35 times, though it has always boasted star power: Legendary voices of several generations have brought Giordano's passionate score to life, including sopranos Maria Jeritza and Mirella Freni, and tenors Giovanni Martinelli, Edward Johnson, Beniamino Gigli, and Plácido Domingo. The Met's last presentation of the opera, in the 1996–97 season, marked Freni's final fully staged production with the company, for which she was honored with the Key to the City of New York on the Met stage.
Following in these prodigious footsteps, the new production marks the first reunion of Yoncheva and tenor Piotr Beczała since their thrilling partnership in Verdi's Luisa Miller. Fedora also marks Yoncheva's return under the direction of McVicar after her acclaimed performance in the title role of Tosca during the 2017–18 season. Rounding out the exceptional cast is breakout star Rosa Feola, whom Met audiences will remember for her radiant performance as Gilda in last season's new production of Rigoletto. Opposite Feola in the role of the French diplomat De Siriex is baritone Artur Ruciński, returning to the Met following his impressive performance as Enrico in Simon Stone's riveting Lucia di Lammermoor.
Giordano was a member of the "giovane scuola" ("young school") of composers to succeed Verdi and extend the verismo tradition, and Verdi's influence appears in Fedora; fans will hear echoes of La Traviata throughout, notably in the lush prelude and Act II opener, "Signori, vi presento Lazinski," reminiscent of Traviata's party scene. For contemporary listeners, Fedora's music also evokes the glamorous scores of Old Hollywood epics. Fedora's lovely entrance aria, "O grandi occhi lucenti di fede," conveys her infatuation with exquisite sensitivity. The lead tenor claims the opera's most famous aria, Act II's "Amor ti vieta," a romantic solo that has achieved popularity far beyond the opera house. Other highlights include Fedora's devastating final aria, "La montanina mia," which takes on an almost-biblical quality as she begs God for forgiveness.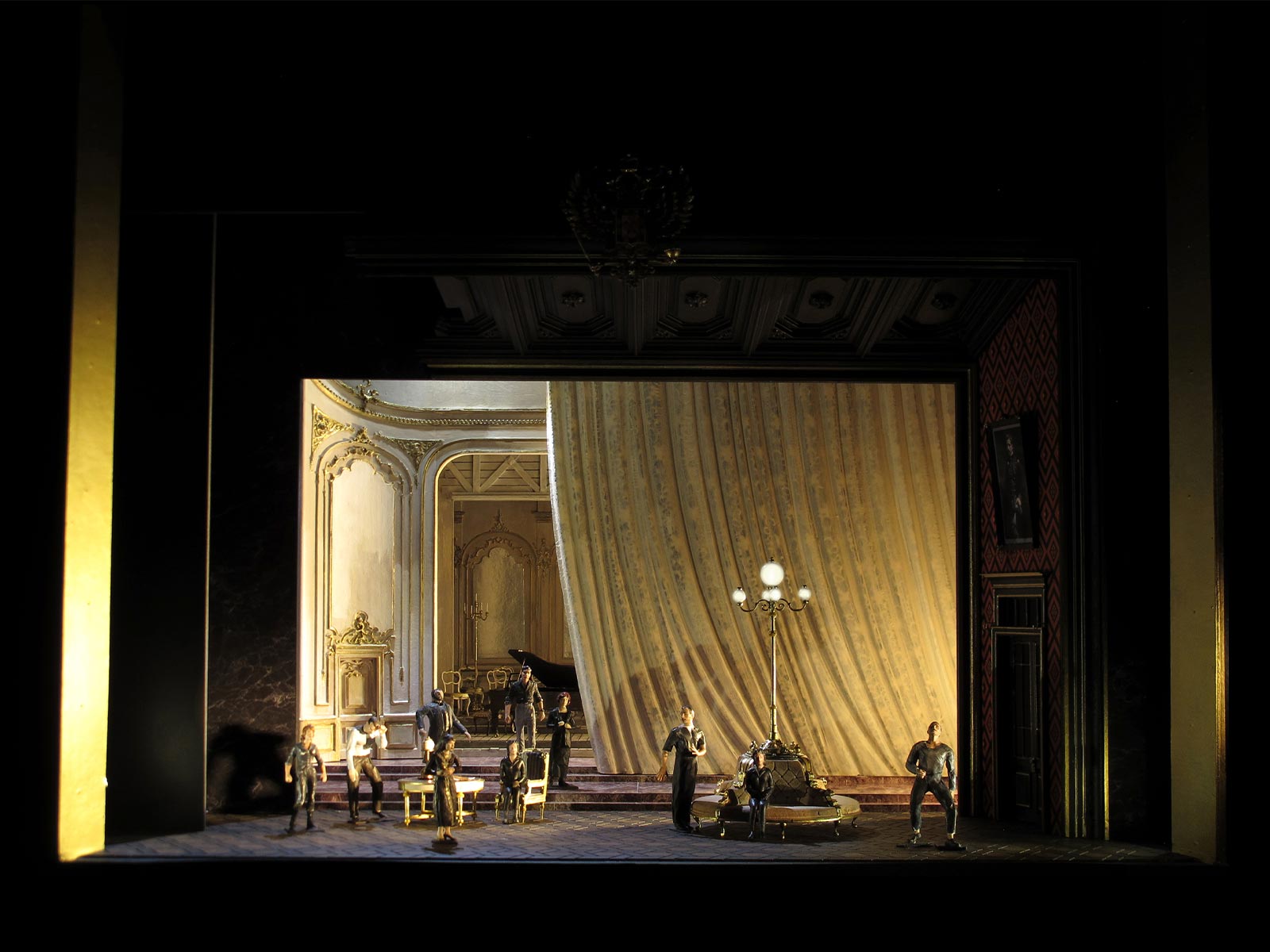 A set model for Act II of Fedora
Embedded in the score is also Giordano's talent for composition that reflects its local and historical setting, which is especially crucial for depicting the world of Fedora. To evoke St. Petersburg in Act I, he layers in undertones of Russian folk music. In Act II, after we meet the pianist Lazinski—whom Countess Olga describes as the "grandson and successor to Chopin"—Giordano adds delicate, Chopin-inspired melodies. At the beginning of Act III, as Fedora and Loris travel to Switzerland, Giordano incorporates poignant Swiss Alpine melodies to foreground the lovers' brief honeymoon before tragedy strikes.
McVicar gravitated toward Fedora for its formidable leading lady but also because of its classic verismo charm. "Verismo tugs at the heartstrings," he says. "These operas have a raw, visceral drama at their center, and they're very fun to do." Adding to the fun are Fedora's three international settings, which inspired set designer Charles Edwards to construct an ingenious fixed set that, like a Russian doll, reveals itself as the evening progresses.
"The idea of the set is memory, so each act morphs into the next one," McVicar says. "So there's always an element of the Russian scene present in the Paris scene, and there's always an element of the Paris scene present in the Swiss scene." Though the set unfolds, the portrait of Fedora's fiancé, Vladimir, remains hanging throughout. His image haunts Fedora, first as she seeks to avenge his death and then when she learns of his betrayal—a reminder of the mainspring of her tragedy and the past that she cannot escape. Because the audience only sees glimpses of Vladimir before he dies, we too remember him as the portrait; with this motif, he becomes a memory to us just as he is a memory to Fedora, a specter that fades into the background but never truly leaves.
What does McVicar hope audiences will take away from his production? "Fedora is sumptuous, and it's romantic. It's something we can indulge in," the director says. "Sometimes, that's all we need—a good night at the theater."
Nicholas Lord is a freelance writer and arts administrator.