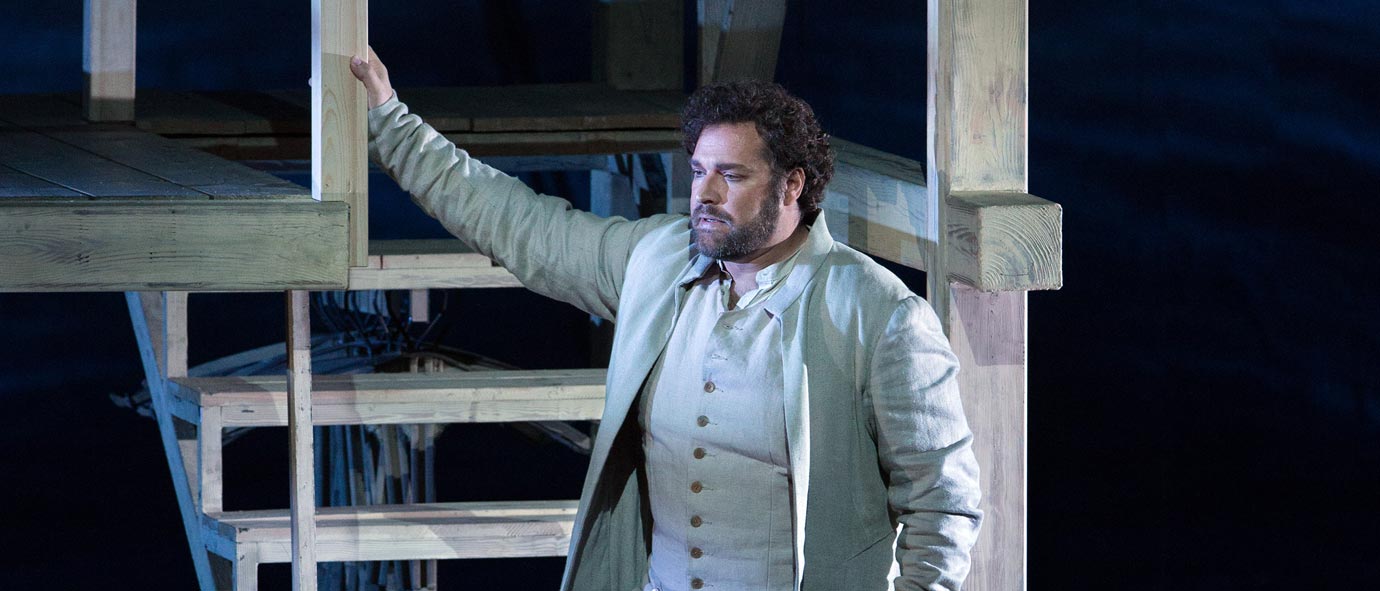 French Connection
March 19th, 2018
Tenor Bryan Hymel created a sensation in 2012 with his last-minute Met debut as Aeneas in Berlioz's epic Les Troyens. Since then, he has captivated audiences with memorable performances as some of opera's most commanding leading men, including the heroic Arnold in Rossini's Guillaume Tell last season. As he prepared to make his role debut this month as Roméo in Gounod's Roméo et Juliette—another touchstone of French opera—Hymel spoke to the Met's Christopher Browner about singing Shakespeare's iconic young lover.
How did you know that it was the right time to add this role to your repertoire?
Roméo's Act II aria "Ah! lève-toi, soleil!" was actually one of the first French arias I ever learned. But when I was starting my career, there were fewer singers who could sing the heavier French repertoire, so many companies scheduled me to sing those parts. Then people started to think of me as just specializing in Berlioz or Meyerbeer, so three years ago, I made the conscious decision to strike a better balance between standard repertoire and the more specialized music.
That balance must help keep your voice healthy as well.
Yes, you can burn out your voice really quickly singing all of that strenuous music without taking a break. Every time I sing something that's on the heavier side, it takes a little while for my voice to readjust. It's like going to the gym. You might focus on weights for a period of time in order to get more strength and mass, but once you acquire that, then you need to strip away all the extra stuff that came along with it. That way, you keep the strength but also maintain your flexibility.
What are some of the vocal challenges and rewards of singing Roméo?
It is challenging. Roméo sits considerably high—there are a lot of B-flats and B-naturals. But the biggest reward will be to finally sing "Ah! lève-toi, soleil" in the course of telling this gorgeous story. Not to mention the last scene. It's a stunner for me—just devastating. Not only in the music but also the words. I remember studying Shakespeare's Romeo and Juliet when I was in high school and just thinking, "Oh, that's sad." At that point, I didn't really have the kind of understanding that I do now, having lived and loved and lost.
The title characters are only teenagers, but they grapple with such mature obstacles. How do you strike that balance?
I have to continually put myself in a place of hope and excitement. When you're young, you're open because you don't know any better. But as you get older, you can open yourself in a way that is even more profound because you know what you're doing. So if I can stay true to the message of the piece—that love in its sincerest form will not be held back by the problems of society—that hopefulness will come through.
Helping you to tell this story are soprano Ailyn Pérez as Juliette and Plácido Domingo on the podium.
Ailyn and I have known each other—gosh—for almost 20 years. We met when we were both still undergrads, and then we studied at the Academy of Vocal Arts together. And Plácido—I remember listening to a recordingof him singing Roméo back when I was a freshman in college. So to have him as the conductor, it's even more special.
Next season, you'll be returning to the Metas the Duke in Rigoletto—your first Verdi role with the company. Is this a character that you enjoy singing?
Absolutely. The Duke's not the character that I love the most—I can't identify with his disregard for anybody other than himself. At the same time, I believe in the story that the opera tells, especially as a father of two daughters myself. Unfortunately, I have to play the wolf. The music is fun, but it can be tricky to inhabit this character that you know is not sincere but sings such beautiful music.
Why do you think that Verdi gave the Duke moments of such seemingly sincere music?
I think there is something buried deep down, and he's realized that a piece of his life is missing. He's been living his life without putting much faith into anybody else, but then he's drawn to this girl who is so pure and naïve and innocent, and he's almost pushed to being virtuous.
Clearly you've considered all sides of his character.
Well, it's one of the first roles that I sang professionally, and now that I know the music so well, I have more time to invest and to spend in the moment of the performance playing out the psychological contradictions and conflicts. It's just so rich.
Christopher Browner is the Met's Associate Editor.