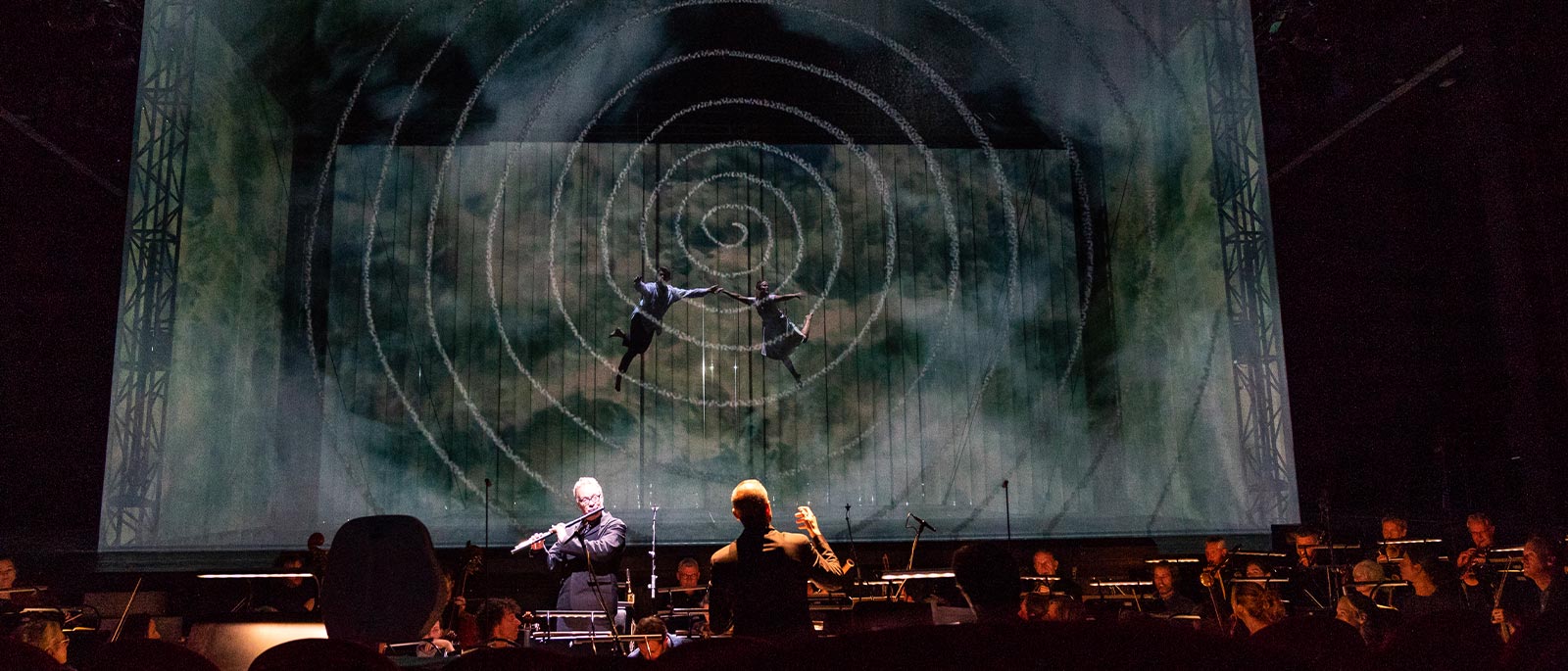 Flight of Imagination
There's no better accompaniment to springtime than Mozart's Die Zauberflöte (The Magic Flute), perhaps the most renewing and life-enhancing of all operas. It returns to the Met on May 19 in a beguiling, wildly creative new production, led by two extraordinary artists in their first season with the company: British director Simon McBurney and French conductor Nathalie Stutzmann. Together, they'll guide a top-flight cast—led by soprano Erin Morley and tenor Lawrence Brownlee—on this journey to wisdom, love, and light, leaving audiences in today's troubled world with a glimpse of a more hopeful future. By Roger Pines
Premiered in 1791, Die Zauberflöte wasn't created for aristocrats or presented at a fancy court theater. Instead, Wolfgang Amadeus Mozart and librettist Emanuel Schikaneder introduced it at Vienna's Theater auf der Wieden, a venue for the common people who cried for the heroine and sang along with the comedian. No doubt the first-night audience was utterly exhilarated and convinced that all was right with the world. Audiences everywhere have felt that way ever since.
Director Simon McBurney gets that. His Zauberflöte—equal parts mystery, drama, comedy, and romance—was hailed in London's Observer as a "rich, inventive production" with "moments of startling humor and theatrical wizardry," conceived by a director who "has music in his bones."
With brilliant imagination, McBurney's production carries on the Met's long tradition of memorable Flutes, among them those designed by legendary artists Marc Chagall and David Hockney. More recently, theater artist extraordinaire Julie Taymor's staging has been seen during 14 Met seasons since its 2004 premiere. For the holidays, the Met will still present the Taymor production as an abridged English-language version, while audiences craving a full-length, German-language Zauberflöte will now enjoy it in McBurney's production.
McBurney has directed on Broadway (The Chairs, All My Sons, The Encounter), and in London, he's co-founder and artistic director of Complicité, one of Britain's most adventurous theater companies. An actor in major films—from The Theory of Everything to Harry Potter and the Deathly Hallows, Part 1—he's also been featured in television's Rev (BBC) and The Borgias (Showtime). When it premiered at London's English National Opera in 2013, his Zauberflöte production triumphed, with successful subsequent runs at co-producers Dutch National Opera and the Festival d'Aix-en-Provence. The staging also earned acclaim at Theater Basel, and it will open Bergen National Opera's 2022–23 season before traveling to the Met.
It's surely this opera's often harrowing but ultimately triumphant journey to enlightenment that prompts McBurney to remind us that "society should evolve. What kind of society are we moving towards?" At the same time, "the question is, how are people's consciousnesses changed, if you can use such a word? How do we transform the consciousness of the audience—or the consciousness of society, for that matter?" Perhaps at the heart of Flute, says the director, is that "Mozart himself is meditating on the idea that music itself changes consciousness. A few of those thoughts have infiltrated what we're trying to do."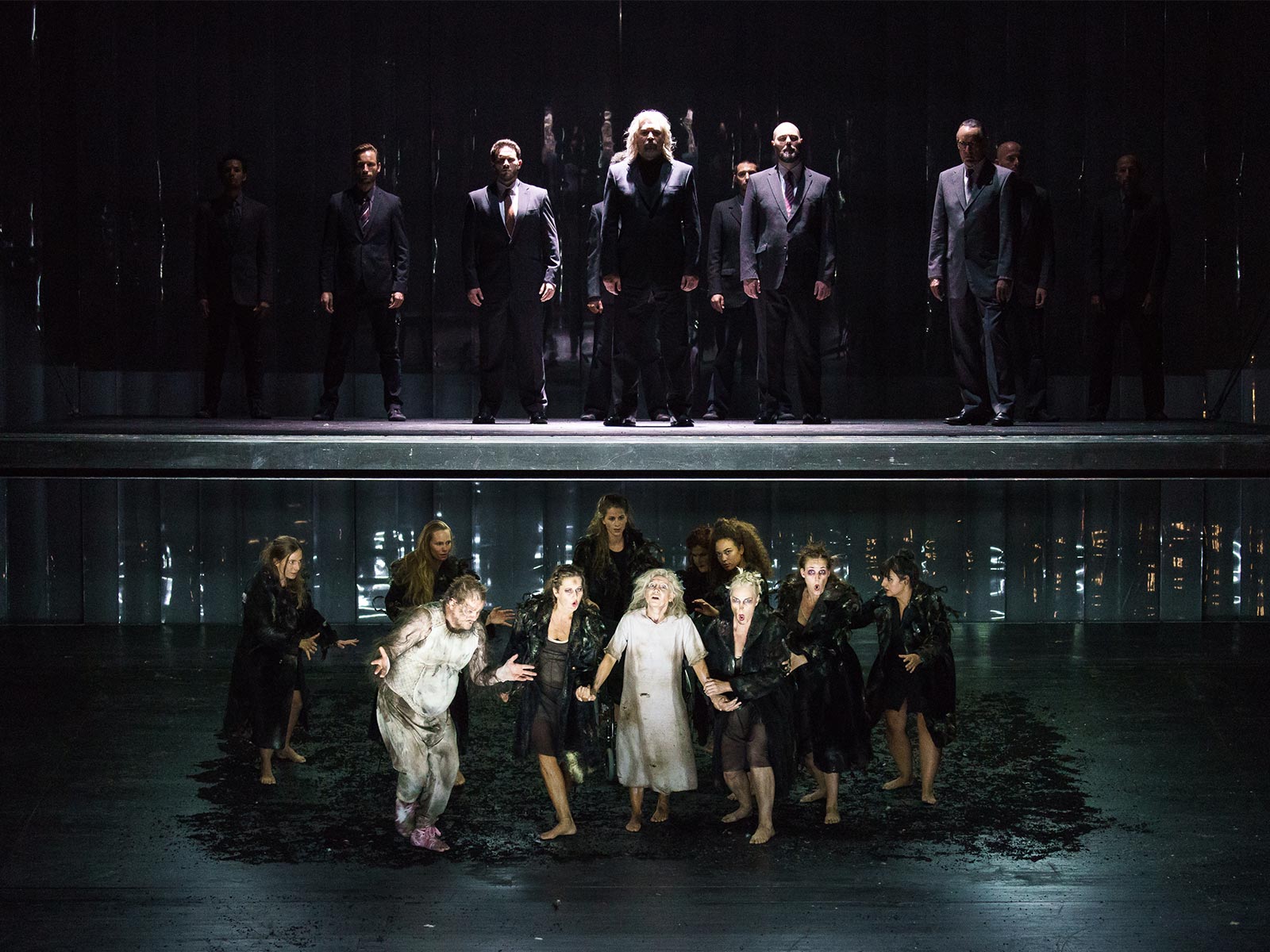 A scene from Die Zauberflöte at Dutch National Opera
There's an accumulation of images associated with this opera (elements of Mozart's interest in Freemasonry, the potent presence of the number three, etc.), but McBurney hopes to strip all of that away. "There are all sorts of traditions about how you perform The Magic Flute," he says, "but people perhaps can have something of the same surprise and delight that they had in 1791." Most important is that on stage McBurney wants to make simplicity the keynote and leave as much to the imagination as possible, striving "to make something which is taking its cue from the music."
The production mixes projections, physical comedy, aerial and sound effects, and choreography to riveting effect. A central element of the set is what The Guardian has described as a "wobbling, tilting, swinging, hovering platform," creating "a visual metaphor for humanity in crisis. After the Queen of the Night's attendants tumble off, the platform rights itself like a mechanized flying carpet, and Tamino and Papageno head off to endure further ordeals before they can get their girls and achieve enlightenment." Clearly, it's also important to McBurney to let the audience in on the theatrical magic. For example, there's a Foley sound artist on stage, working to create effects in a structure that critics reviewing the production have likened to a kitchenette.
Inevitably, every Flute audience looks forward to seeing how the opera's extravagantly self-dramatizing Queen of the Night will be presented. In McBurney's production, she wields a cane and, in her vengeance aria, propels herself furiously in a wheelchair, both props effectively emphasizing her increasing powerlessness. (McBurney adds to the opera's essential humanity by having Sarastro actually reconcile with the Queen, which has rarely occurred in any previous Flute staging.) The orchestra pit is raised high enough to bring certain players into the action in full view of the audience—a special strength of this production, as when Papageno interacts with the celesta player during his endearing second aria.
The contemporary costumes are just right for every character. You'll especially remember the patchwork jackets for Papageno and Papagena and the Three Ladies' battle fatigues, which they peel off to reveal sleek black slips that they wear in attempting to charm Tamino.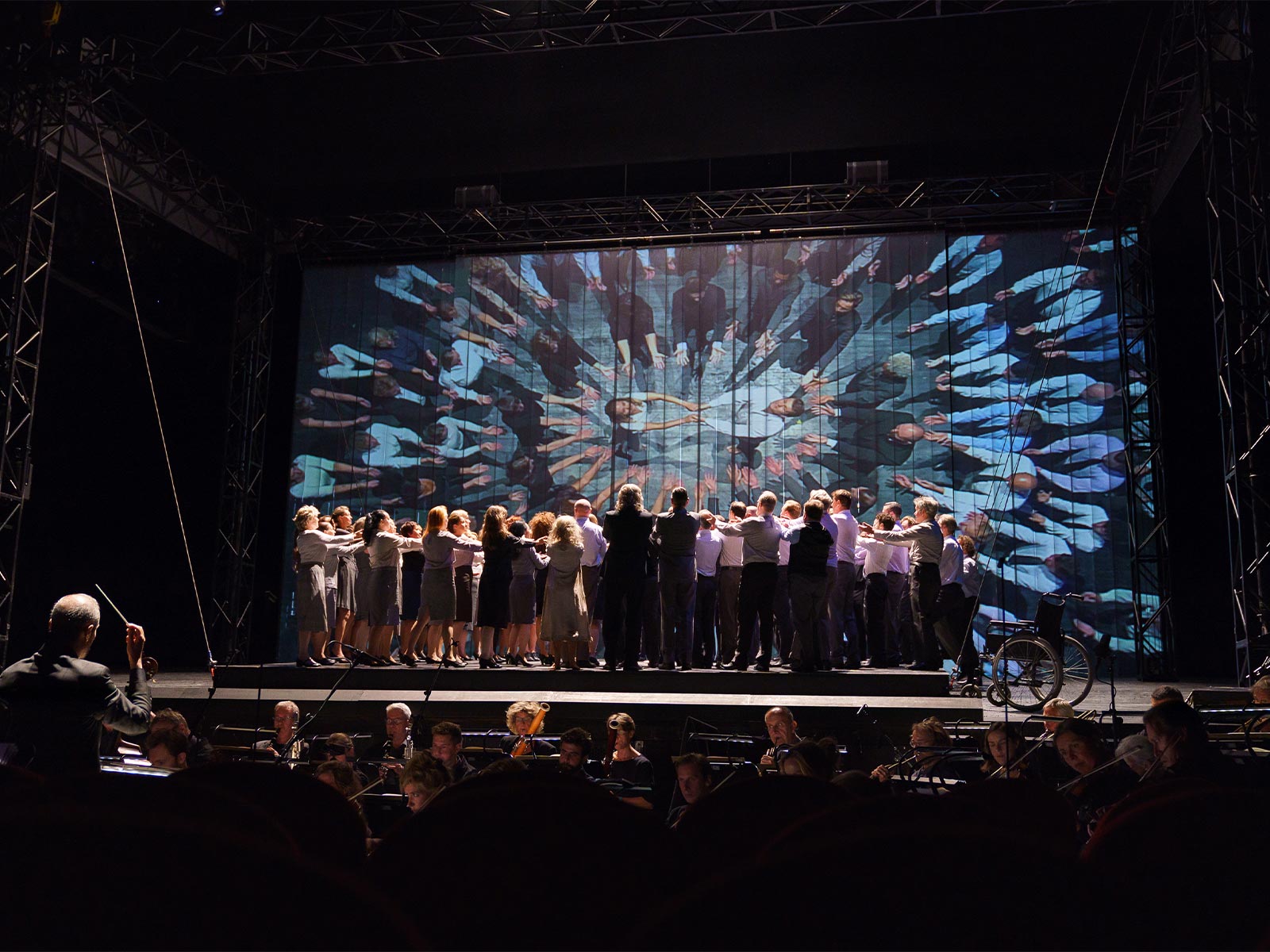 Set designer Michael Levine's suspended platform at Dutch National Opera
Among McBurney's exceptional collaborators for this production is Michael Levine, who designed the sets of much-acclaimed Met productions directed by Robert Carsen (Boito's Mefistofele, Tchaikovsky's Eugene Onegin), Anthony Minghella (Puccini's Madama Butterfly), and Francois Girard (Wagner's Parsifal). Others in the creative team are similarly distinguished, including Nicky Gillibrand (making her Met debut designing the costumes), Jean Kalman (lighting), and Finn Ross (projections). McBurney, a 1998 Olivier Award winner for choreographing The Caucasian Chalk Circle at London's Royal National Theatre, has choreographed Flute himself.
Steering the production musically will be one of the most electrifying figures on today's classical-music scene: conductor Nathalie Stutzmann, who will have debuted at the Met only two weeks previously, leading the new production of Mozart's Don Giovanni. After more than three decades as one of the most celebrated contraltos of our time, Stutzmann is achieving equal renown on the podium. Newly appointed music director of the Atlanta Symphony Orchestra, she's also guest conductor of the Philadelphia Orchestra and chief conductor of Norway's Kristiansand Symphony Orchestra. At the Met, everyone collaborating with Stutzmann will certainly feel inspired by her passionate commitment to achieving stylish, insightful, thoroughly distinctive music making.
The Met has always boasted magnificent Flute casts, and this season is no exception. Silver-voiced soprano Erin Morley, who reprises her Pamina (heard here in the 2018–19 season), has dazzled the house in both lyric and coloratura parts, from Gilda to Olympia, Sophie, and the title role of Matthew Aucoin's Eurydice in last year's Met premiere. Opposite her as Tamino—his first Met appearance in Mozart—is tenor Lawrence Brownlee, who starred with the company most recently in Rossini's La Donna del Lago and is idolized worldwide as one of today's greatest exponents of bel canto repertoire. Count on him for shining vocalism, elegant style, and captivating personality.
The opera's two antagonists have been cast with today's definitive interpreters: coloratura soprano Kathryn Lewek, the most frequent Queen of the Night in Met history (44 performances to date), and world-renowned Danish bass Stephen Milling, whose majestic Sarastro was first heard at the Met in 2006. And in his company debut as Papageno, Dutch baritone Thomas Oliemans continues his association with this production, having won hearts with his irresistible singing and comic flair at ENO, DNO, and Aix.
With all these artistic factors in place, the Met stage is set for the arrival of an enchanting, exhilarating and—yes—truly magical production. "We have to assume that Mozart put something very deeply of himself in this," McBurney continues. "The opera came out just after the French Revolution. All of Europe was changing. Everything was in a political ferment. Mozart was dying—he died a few months later. But he was at the height of his powers. The Magic Flute is both fantastic and political. It is both a social comment and a great flight of the imagination. With this production, I wanted to be sure to listen to its own beating heart."
Roger Pines has previously written for the Met's Season Book and Playbill, as well as for many other opera companies throughout North America, and for Opera News, Opera magazine (U.K.), and eight major recording labels. He has appeared annually as a panelist on the Met broadcasts' Opera Quiz since 2006.